Online vets for pets in Singapore: We tried out Pawlyclinic (get it?)
Need a vet to check on your furkid? This online portal lets you do it at home. Here's how it went down with our volunteer doggo Jazzy.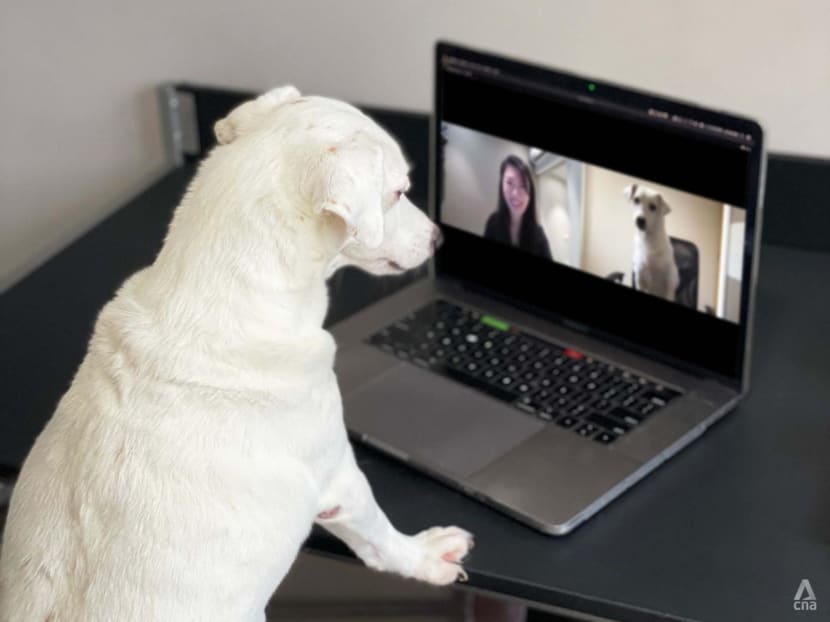 For many pet parents, a trip to the vet can be quite the event, especially for those with fussy and easily agitated furkids. The journey from home to clinic can be an ordeal for both, involving a bit of coaxing and bribing, and loads of patience to get them into a carrier and take that drive all the way to their appointment. 
Alternatively, why not just book a slot with the vet from the comfort of your home?
It was probably just a matter of time for the teleconsultation trend to extend to animals, which is what Pawlyclinic (polyclinic, get it?) is offering.
Launched on Sep 1, the online portal offers virtual appointments and medicine delivery services for pets – just like how us hoomans dial in for medical help.
It's a pretty stress-free way for everyone involved, and especially good for first-time visits. "Some owners may prefer to try teleconsultation first to assess if a trip is necessary," said Dr Rachel Tong, a veterinary surgeon with Spring Veterinary Care and one of the vets you can book on Pawlyclinic.
"Teleconsultation can also be more accurate for us vets to assess the pet's condition as it isn't scared or stressed," she added.
It has even got pet parent and actress Zoe Tay's attention.
Video calls are certainly useful for anxious owners who are unsure if their pets are having an emergency. For instance, is the 2am puking reason enough for an immediate trip or can it wait till the morning? "The vet can help owners assess the situation," said Dr Tong, who is herself, the pet parent of a malamute-husky mix.
It would also save you money if an emergency visit in the wee hours of the night isn't necessary; in-clinic sessions can start from S$200 each (medicine not included) as they include surcharges like your post-midnight taxi fare.
WHERE ARE THE VETS FROM?
The Pawlyclinic website currently lists vets from Amber Vet, Gaia Veterinary Centre, Point Veterinary Surgery, Spring Veterinary Care, The Pet Doctors and West Coast Vetcare. "Additionally, we have some individual vets who have joined us as well and we continue to engage with more," said Dr Tong.
These vets aren't only available online at Pawlyclinic; they can also be consulted in person at their respective clinics. So, if the vet advises that your pet's condition isn't suitable for teleconsultation after getting on the call with you, he or she can still see your pet physically in real life.
WHAT KINDS OF PETS CAN USE THE SERVICE?
As long as the animal is legal to keep as a pet in Singapore, Pawlyclinic will see it. Exotic pets such as hedgehogs, ferrets and sugar gliders aren't legal here but if they're kept overseas and the owner is calling from abroad, there are plans to make the online portal available to them.
You'll also have to be 18 years old and above to use the service, or you'll need to be accompanied by a parent during the teleconsultation – your own parent, not someone who owns a pet.
HOW DO YOU GET STARTED?
Register for a free account on the website, select the vet, date and time, and you're set for a teleconsultation session. Don't skip your pet's details and home address as those are needed for the right medicine to reach you, reminded the website's FAQ section.
To help the vet out, you could upload relevant pictures, videos or previous test reports onto Pawlyclinic before your scheduled consultation, suggested Dr Tong. It is also a good idea to prep a list of questions to ask the vet. And look for a spot at home with good lighting to conduct the video call, she advised.
But if you need a vet's attention pronto, click on the Instant Care button, instead of scheduling a slot. The caveat: You can't choose the vet.
WHAT HEALTH CONDITIONS ARE SUITABLE FOR TELECONSULTATION?
Mild skin problems are commonly brought up during these Zoom calls, said Dr Tong, as are eye problems and ear infections that don't affect your pet's behaviour much or cause it to show signs of discomfort.
Other suitable concerns include pain/lameness or issues that are dental, gastrointestinal, urinary, neurological, respiratory or parasitic in nature.
"This service is useful for pets that are on home or palliative care. Most of these pets have chronic or end-stage illnesses, so owners may need advice frequently on caring and managing their pets' conditions," she said.
However, don't arrange for a video call if your pet has a serious and urgent condition or injury, such as breathing difficulties, motor accident involvement, fallen from height or there is loss of consciousness, said Dr Tong. Take your pet to see a vet in person immediately.
REALLY, ANY TIME OF THE DAY AND NIGHT?
The online availability of the vets will differ at any point in time, said Dr Tong. "But we will have vets from the Spring Veterinary Care clinics on standby on Pawlyclinic at any point in time. Currently, there are vets available till 2am daily but we are aiming to have vets available 24/7 soon."
After the video call, an email detailing the consultation and any medicines or tests required for your pet will be sent to you. You can pay via the link in the email. If the vet mentioned tests during the teleconsultation, they would already be included in your online bill. However, if further medicines or tests are needed when you're at the clinic, you'll be charged separately.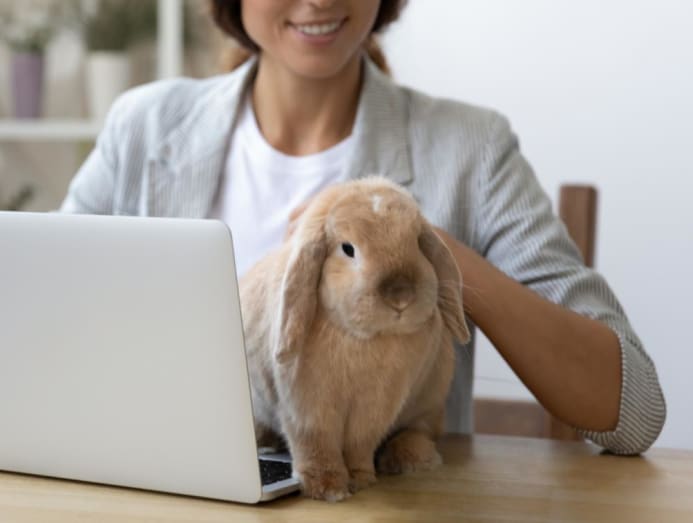 The medicine will be delivered on the same day as the video call if payment is made between 7am and 7.30pm; otherwise, it will reach you the next morning.
As for cancellations, you will be charged the full amount for cancelling less than 12 hours before the scheduled call.
WHAT'S THE COST?
You can expect to pay between S$34 and S$60, according to Dr Tong. There is a range because the vets using the platform can set their own teleconsultation fees. "Think of Pawlyclinic like Deliveroo or Grab but for vets instead of restaurants," she said.
This fee, however, does not include medications or diagnostic tests. Calls that take place between 9pm and 7am will carry a 50 per cent surcharge.
CNA LIFESTYLE PUTS IT TO THE TEST
Is teleconsultation for pets as good as it sounds? CNA Lifestyle's resident video journalist Joyee Koo kindly volunteered her 13-year-old Jack Russell terrier, Jazzy, to find out.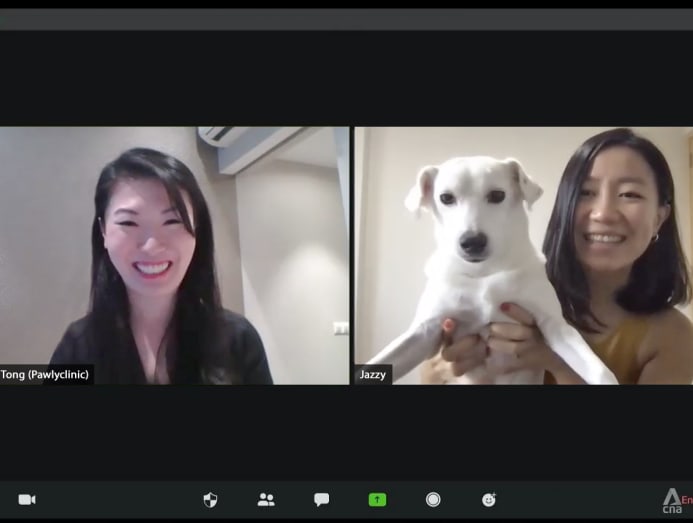 There was no room for shyness. "Can you show me her bottom?" asked Dr Tong when Koo mentioned her dog's tendency to drag her butt on the ground after her walks as if to scratch her derriere. Jazzy was held up Lion King-style, flipped onto her back, had her butt lifted up and her bits exposed for all to see.
Be prepared to show the vet everything, said Dr Tong, including your living environment and even your pet's stool, urine, vomit or anything relevant to his condition. For this purpose, she recommended using a smartphone or tablet as opposed to a laptop for better manoeuvrability.
Jazzy's itchy backside (don't laugh) could be caused by an allergic reaction to soil or grass, said Dr Tong. "Female dogs tend to lower themselves closer to the ground when they do their business and that's when the exposure could happen. Or it could be her anal glands that need expressing."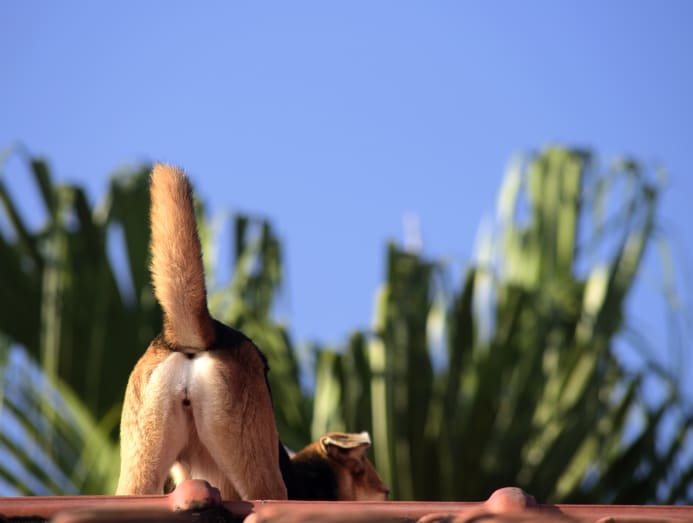 Her what? "Oh, they're scent sacs found on both sides of the rectum," explained Dr Tong. "They naturally express themselves when the dog defecates. But sometimes, the glands don't work and the pressure builds, making it itchy or uncomfortable for the dog."
Peering at the screen, Dr Tong continued: "It is likely an allergic reaction. Try wiping her private area with a moistened towel or a gentle baby wipe after her business and see if that helps. If not, bring her in for a vet to take care of her glands".
WEIGHT + DIET = BALD PATCHES
Next, the bald spots on Jazzy's front elbows that she has been licking. "They're like calluses on the hands of a weightlifter," said Dr Tong. "Bald patches tend to happen in bigger dogs. Their weight causes them to rub these common pressure points against the floor when they lie down."
Then, she said the words: "She looks a bit overweight actually. I was trying to cushion the blow when I mentioned 'bigger' dogs," she laughed. Well, it is what it is and we do need to hear the truth for our pets' sake.
"The weight gain happens frequently with senior dogs, even though they aren't fed a lot of food," continued Dr Tong. "Like us, their metabolic rate drops, too, as they get older, so we need to adjust their diet accordingly. What does Jazzy eat?"
Rather than trying to recall dog food brands off the top of her head, Koo was able to show Dr Tong the actual product during the video call. A quick Google on the food's nutritional makeup and Dr Tong could assess if it suited Jazzy's dietary needs. 
"There are some things for humans that can be used for your pet," said Dr Tong, citing probiotics and fish oil. "Teleconsultation lets me see what's in the owner's bathroom or kitchen, so I can recommend what's available at home for the pet."
For Jazzy's bald spots, Dr Tong suggested applying aloe vera or even Vaseline to soothe them. "They are not toxic to dogs but if you're concerned about her licking it off, apply when she's asleep," she advised.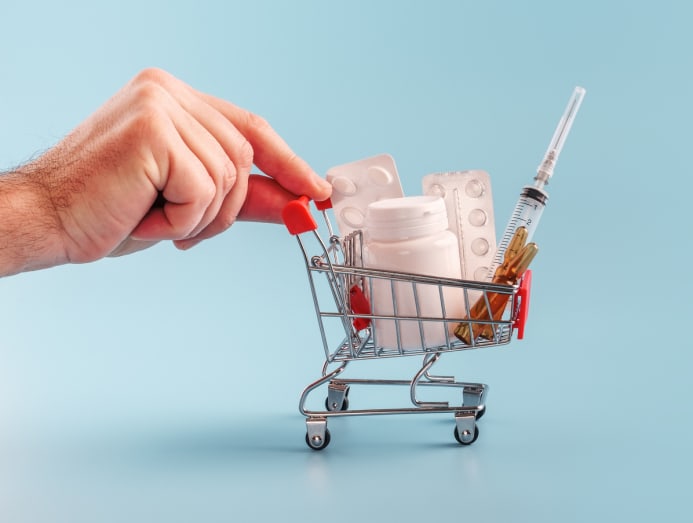 The teleconsultation would have cost Koo S$40 during regular hours (no GST charged) compared to an in-clinic visit, which is S$38 before GST. "That sounds cheaper to me since you don't have to spend on transportation," said Koo.
Another upside is, Koo didn't have to pay another fee (this excludes medicines and tests) if Dr Tong needed to see Jazzy in person – as long as she did so within 48 hours of the video call. This free pass also applies to another Pawlyclinic vet that Koo might take her dog to as long as it's within the same time frame.
Would Koo be keen to use the teleconsultation service again? "It was convenient and accessible, especially for situations when you need an instant opinion from a professional," she said.
A major plus, she added, was that she could show the vet anything that might be helpful to identify the cause of her pet's discomfort. "For example, what Jazzy's eating, my home environment or even the shampoo that she's using that might be causing the skin allergies."
As for Jazzy, she was relaxed enough after the teleconsultation to go right back to her pre-lunch nap. It's a dog's life.
As every pet is different, do not use the abovementioned advice on your pet without consulting your vet.