Eating out during Phase 2? Health experts' tips on how to stay extra careful
Where should you keep your mask? What's the best way to handle the menu? Spicy food made you cough? CNA Lifestyle addresses some dining scenarios ahead of restaurants reopening.
I can't wait to go to the hawker centre, order teh peng and mee pok, and actually sit down to slurp up those vinegary noodles and sip my drink. I am dreaming of perusing the menu at my favourite Japanese place and sipping hot ocha while I wait for my Dragon Roll to be served.
And I am sure many Singaporeans and F&B businesses alike are also salivating over the start of Phase 2 this Friday (Jun 19) when we can finally dine out – albeit in groups of five and safe distancing like the responsible people we all are.
However, with great freedom to eat out comes great responsibility – the responsibility to not contribute to the community transmission of COVID-19 and to safeguard yourself.
CNA Lifestyle checks with the experts who advise us how to enjoy a meal out without tabao-ing germs home.
Here's a look at different scenarios and how you can improve your odds of staying infection-free, from the moment you're seated to when you're paying your bill.
SCENARIO 1: GOING IN AND SITTING DOWN
You've arrived and led to a table – possibly a booth table. To get in, your hands and body come in contact with a lot of seat and table surfaces.
Although it is unclear how long the SARS-CoV-2 virus can persist on surfaces, some studies have detected virus particles up to three days on plastic seats and four days on cotton clothing, said Dr Edwin Chng, the medical director of Parkway Shenton.Fortunately, such transmissions are "likely a potential source of infection only in settings where there is heavy viral contamination, such as in an infected individual's household or in healthcare settings", he said.
"The risk is very low as there is no wide community transmission at the moment", said Dr Ling Moi Lin, the director of Infection Prevention and Epidemiology at Singapore General Hospital. 
Moreover, F&B outlets would be vigilantly cleaning their premises and the SARS-CoV-2 virus can be killed by most common detergents and cleaning agents, she said.
Even if an infected individual did cough or sneeze onto the seat, Dr Muhd Taufiq Rashid, a general practitioner at DTAP Clinic Somerset, said that not much of the virus is probably left by the time you scoot in. 
He explained that many people sit and get up from public seats, and those actions can remove some of the virus and reduce the risk of it staying on the seat's surface. "The more people sit, the more likely the virus will not stay."
"If possible, try to scoot out of your seat without touching it," added Dr Taufiq. Or ask for a table with regular chairs if you're not good at hands-free scooting.
As for your clothes, "there is no evidence to support transmission of COVID-19 through linens", said Anthony Herrera, the food safety expert and lead chemist at Ecolab Southeast Asia.
SCENARIO 2: YOU'RE HANDED THE MENU OR AN IPAD TO ORDER
No one wants to pry open sticky menu pages or touch a greasy iPad. And while you're unlikely to encounter those (since F&B businesses will be more prepared now), the more germophobic among us may still hesitate to touch the menu.
Consider using the napkin or a tissue to hold and flip the menu, suggested Dr Taufiq. If you're given an iPad, place it on the table to minimise contact. "You may also ask the waiter to take your order instead," he advised. Dr Chng recommended wiping the iPad's screen with an alcohol wipe before using it.
After using the menu, wash your hands with soap and water immediately, said Dr Ling. "You can also use an alcohol-based hand sanitiser with at least 60 per cent alcohol, or disinfectant wipes to keep your hands clean."
Take note that some F&B outlets might even go contactless, with options such as providing a QR code at every table for diners to scan for orders.
SCENARIO 3: TIME TO EAT – AND REMOVE YOUR MASK
But where and how should you keep it? Place the used mask on a clean tissue, and clean your hands before eating or drinking, said Dr Ling.
Similarly, clean your hands again before putting on your mask after eating "as you would have touched the external surface of the mask, which is likely to be contaminated with germs".
If you prefer to keep the mask in your bag instead of leaving it on the table while you eat, it is a good idea to bring along a resealable bag to store your mask before putting it into your bag, said Dr Taufiq. "Or if you can, change to a new mask after the meal."
Check with the restaurants – some, such as Harry's, might even provide diners with paper bags for their masks. 
And do note that you should be wearing a mask even when waiting for the food to arrive, said Dr Ling. Remove it only when you're about to eat or drink. "It is also a good practice to put it on while talking," she said.
SCENARIO 4: YOU'VE CHOKED ON CHILLI OR DRINKS AND NEED TO COUGH
"It is a good practice to turn your head away and cover your mouth with a tissue when coughing or sneezing," said Dr Ling. "Dispose the tissue after use, and clean your hands before moving off to another activity."
SCENARIO 5: YOU NEED TO GO TO THE BATHROOM
And this, of course, means the possibility of touching door handles to get in and out.
Wet door handles pose the highest risk of transmitting the virus – or any virus, really, said Dr Taufiq. "I would suggest using a piece of tissue or toilet paper to open the door. This avoids direct contact between the door and our hands."
You don't have to use a fresh paper towel either, if you're concerned with wastage. Dr Ling said you can use the paper towel or tissue that you'd used to dry your hands to grasp the door handle.
If you want to be extra safe, apply alcohol-based hand sanitiser on your hands when you return to your table, suggested Herrera.
SCENARIO 6: TIME TO PAY – CASH, PAYWAVE OR CARD?
Other than wet bathroom door handles, this is the next riskiest way of spreading the virus. So what mode of payment is the safest?
"(Dollar bills, coins and cards) harbour germs as they have passed through many hands before reaching you," said Dr Ling.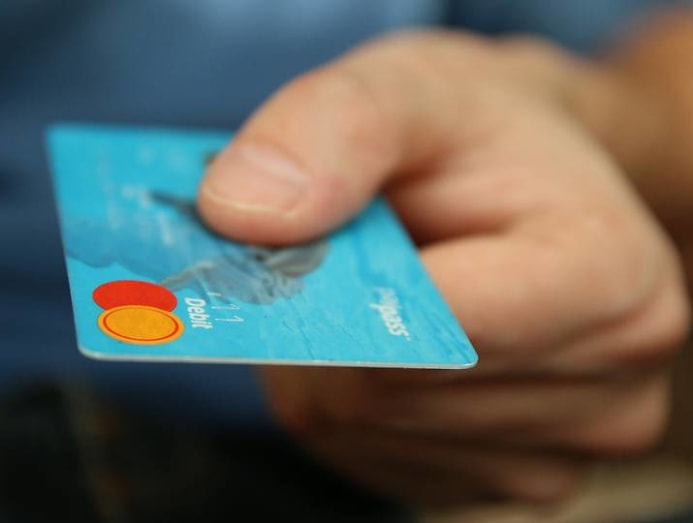 Punching in your NETS PIN or using the cashier's pen to sign your credit card slip is just as risky. "There's a possible risk of transmitting the virus as there is contact between surfaces touched by different people," said Dr Taufiq. 
"Best to check for contactless payment options prior to choosing your dining establishment. This way, you can avoid or minimise touching objects touched by others."
If you have no choice but to pay with cash or credit card, don't touch your face after you've put your change or card back into your wallet, said Dr Ling. 
"Bring your own pen in case your signature is required," said Dr Chng. And definitely use the alcohol-based hand sanitiser the F&B establishment has provided after you're done with your transaction, said Herrera.