The man behind senior-friendly workout videos in Hokkien, Mandarin and more
Personal trainer Bronson Chan has also included smatterings of Malay and Tamil to motivate seniors to get moving during the pandemic.
The mishmash of Mandarin, Malay, Tamil, English and dialect phrases in our local vernacular is often heard in void deck chit-chat, the wet market or when conversing with our elderly at home.
But in YouTube fitness videos?
With his boisterous "ho seh boh!" ("how are you" in Hokkien), Bronson Chan, 39, is certainly not your usual personal trainer.
CNA Lifestyle meets personal trainer Bronson Chan, who wants to motivate old people to work out during the pandemic with videos in a smattering of different languages including Mandarin, Hokkien, Teochew, Malay and Tamil to make them feel at ease.
Browse through his YouTube channel and you'll see that his clips are peppered with small talk and instructions in various dialects, Mandarin and English. And depending on the guest trainers who sometimes appear in the videos with him, there are also smatterings of Malay and Tamil languages. 
It is a unique niche that this married father of a seven-year-old has carved for himself since last November – and one that has endeared him to a number of ah gongs and ah mas across the island.
"I wanted the seniors to feel like they're catching a sitcom, like they can relax, laugh and exercise, instead of the serious workout videos that you typically see," he said. "It's a better way to engage the seniors in a mix of languages."
Chan will even play the seniors' favourite music during his class, "not New Age music that they don't understand".
"I'll get them to feel comfortable by asking them what they like, and what they like to do. From there, I can entice them to do exercises related to their activities."
So, what exactly can you expect from Chan? "You can expect the class to be fun. That's the most important thing. It's not that seniors don't want to try new things; they're just reserved. They don't know what to expect. A big part of it is to make them feel as comfortable as possible," he said.
GOING WITH THE FLOW
The former basketball player (he has represented Singapore in the under-21 category) didn't set out to be a trainer to seniors when he began. But he has always been active.
However, a cycling accident in 2011 disrupted that lifestyle. He sustained numerous internal injuries, including a spinal fracture, when a truck collided into his bike. Chan took about a year to recover and when he did, he focused on gym work to get strong and mobile again.
"It became a habit and I enjoyed it. I also got some friends to train along with me," he said.
It was his wife who planted the idea in his mind to be a personal trainer. "Why not train people, she said. I thought, yeah okay. So that's how I got into the fitness industry," he recalled.
That was in 2015, before the pandemic struck.
Like the Animal Flow classes he teaches, Chan has had to go with the flow to react to the COVID-19 situation in Singapore, when social restrictions can change at the drop of a hat. Which explains why he pivoted to online workout videos, in addition to his one-on-one and couple classes.
In fact, when CNA Lifestyle met Chan in his fitness studio in Bedok, it was during Phase 3 (Heightened Alert) and before Singapore reverted to Phase 2 (Heightened Alert).
You can expect the class to be fun. That's the most important thing.
"When the restrictions are lifted, I will be looking at offering group classes for seniors at my gym," he said. "At the moment, it is a bit hard to plan any group exercise classes." But that hasn't stopped him from engaging the older folks.
On the contrary, Chan felt that it is even more important to get seniors moving during the pandemic as they're wont to be even more sedentary when confined to their homes.
What also inspired Chan to focus on senior fitness was his grandmother. "I used to go over to her place every Sunday for dinner. We would chit-chat and I would give her a massage and show her simple exercises she could do. And she really enjoyed them," he said.
"Unfortunately, she passed away last year due to old age. I wanted to do this to remember her by."
Chan is quick to correct our impression that seniors aren't tech savvy. "Some seniors enjoy watching YouTube, so they are getting high tech. I think YouTube has a very big reach for the seniors because they love to watch videos.
"I also find that it's a good opportunity to encourage bonding between the generations. So, I started Instagram TV to teach seniors exercises. From there, the videos spread to their grandchildren and children, which in turn, become bonding sessions within the family."
CUSTOMISED SENIOR WORKOUTS
Not every elderly exerciser will perform the same workout in his one-on-one or couple sessions, explained Chan.
"I will assess their mobility, flexibility and strength, and then improve on areas that need to be worked on. It's quite customised as every senior client comes to me with different issues, imbalances or deficiencies."
He continued: "I do progressive exercises that the seniors can easily achieve to encourage them first. Then, we make the exercises more advanced, so they can see the progression.
"I also encourage them to do the exercises on a regular basis on their own, and make them an everyday norm."
Being certified in yoga, Animal Flow, Stick Mobility and Ginastica Natural gives him the ability to help his clients become more aware of their bodies and movements.
And he does that by customising exercises that use mobility sticks as well as incorporate stretching, flowy yoga-esque sequences and even movements that resemble those of animals.
There are also exercises that involve working with dumbbells, weight machines, medicine balls, kettlebells and elastic bands to help strengthen muscles.
But hang on, can – and should – seniors be performing exercises that go beyond the rigours of taiji or line dancing at the neighbourhood community clubs?
We are, after all, talking about those in their 70s, who may be too frail to lift a heavy grocery bag, what more, a 10kg dumbbell.
AH GONG CAN LIFT
That's what Chan's client, Yee Tah Ming or Uncle Yee, would like to demystify. The 71-year-old retiree weighs 64kg and maxes his deadlifts at 40kg on weight-training days.
He also does "functional training and performs bodyweight movement practises like yoga and Animal Flow to maintain variety and balance his fitness regime," said Chan.
Yee has been training with Chan for two and a half years, and first knew about the trainer through his son, who is also trained by Chan.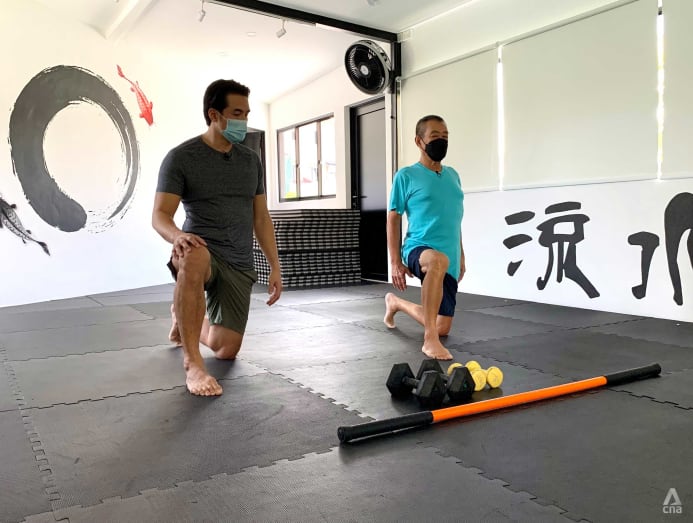 "The longer you sit, the earlier you go!" quipped Yee. "When you get to a certain age, things deteriorate very fast, like losing your muscles and strength, and you can tell the difference. The longer you don't try to move, don't try to exercise, the faster it is to lose it all."
 
The longer you don't try to move, don't try to exercise, the faster it is to lose it all.
Of course, strength training, in this instance, is different from a younger person's goal to get swole. It's to stave off age-associated muscle degeneration or sarcopenia.
In fact, we lose about 8 per cent of our muscles every decade from age 40. Neglect the decline and you might find yourself confined to a wheelchair, too weak to get around on your own.
Mobility is another issue among the seniors, said Chan, adding that frozen shoulders and hip tightness are common complaints. "Some senior folks can't lift their arms above their shoulders."
Yee agreed. The avid golfer and gardener shared that his shoulder used to be so stiff, he wasn't even able to reach across his torso for the seat belt in the car. "Now I can," he said with a triumphant smile.
"Mobility is important for many of my peers," Yee continued. "If you have good mobility, it would help you with your balance. You'll be more alert when you encounter any imbalance. And should you fall, you'll at least fall better and not injure yourself so seriously."
GETTING THE FOLKS STARTED
Chan let on that he "seldom sees seniors being forced to come for a session. Most of the time, they want to do it". But for those with elderly folks at home, you'd be all too familiar with excuses such as "I'm tired", "My back/knee hurts" or "I don't need to exercise".
Chan, too, has heard them before and he is keen to change their minds with the help of their families.
"Before I meet the seniors, I'll speak to their children or grandchildren, or whoever it is that is close to them to see what they enjoy doing," he shared.
"This topic rarely comes up but if it does, I'll say, if you're an ah gong or ah ma, you have energy to play with your grandchildren. I want to help you last longer when you play with them or carry them longer. They're likely to give it a shot when you approach it from this angle."
If pain is the main deterrent, Chan will show them some simple exercises to manage the pain themselves first. "Once they feel motivated, they'll continue."
Chan has also seen his fair share of seniors who are insistent that they're healthy and don't need to exercise.
"I'll help them see from their perspectives how they can be even better. For example, for the uncle or auntie who plays golf, I can share with them ways to perform better. Most of the time, they're pretty receptive."
As for shy seniors, he'll encourage them to watch the videos and try the exercises at home first. "The videos are good in that you can follow the exercises privately.
"At the same time, the exercises are not difficult and they come with good explanations, so they can go forth and explore," he said.