Of gong baths, singing bowls and naps: Experiencing the world of 'sound healing'
CNA Lifestyle went to the inaugural Universe Of Sound festival and promptly fell asleep three times. Which was apparently a good thing.
I woke up with a start, with no clue where I was. Until a woman's voice whispered in the darkness.
"Relaxssss… Breaaathe… Exhaaale…"
For about an hour on Saturday night (Oct 20), I listened to a soothing aural soup of ambient nature sounds, subtle beats, gongs and chimes. With the occasional hushed instruction to "imagine yourself as a tree growing roots".
I had never been to a concert where I'm asked to put on my best Treebeard impression and where sleeping wasn't considered rude. In fact, the latter was actually encouraged – I wasn't the only one who dozed off. I might have heard someone snoring.
NOT JUST FANCY FLOWER POTS
Sammasati (Remember) was the closing show at the recently concluded Universe Of Sound, the inaugural edition of a festival dedicated to the idea of sound as a means of healing and achieving wellness.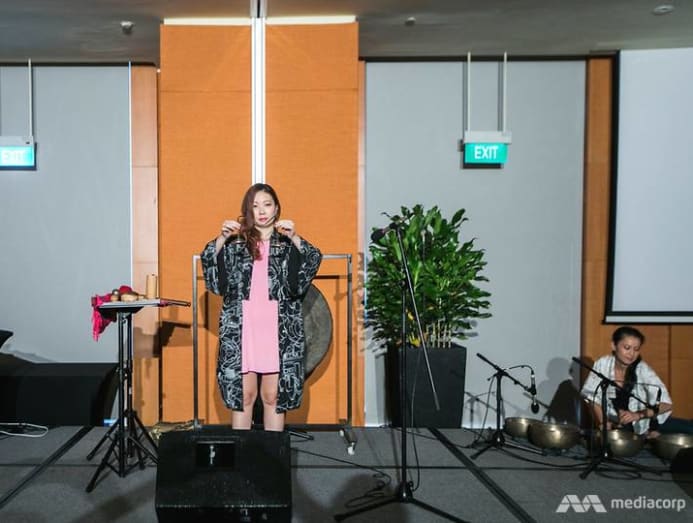 When I first broached the idea of checking it out at Resorts World Sentosa, my editor raised his eyebrow and gave me a strange look.
"Sound… healing?"
"Yes."
"Healing... via sound?"
"Yes?"
Admittedly, the whole event may be a bit too New Age-y not just for my editor's taste but mine as well, but I was still curious to find out more about it.

Which was why I began the entire day at the booth of Crazy World Inner Calm, with my face inside what looked like a fancy flower pot and with a ringing sound in my ears.
It's a gold-infused crystal singing bowl and the sound I heard was a specific vibration that helps balance my body, explained CWIC owner Fiona Koh. It felt like I had a speaker right inside my head – which was cool and freaky at the same time.
Nearby was something I had an easier time wrapping my head around – flotation therapy centre Palm Ave Float Club had a 10-minute soundscape meditation sampler. You settle down on a bean bag, put on an eye mask and headphones, and simply listen to a combination of spacey music, water and rain sounds, all while some gadget vibrates in your back – which turns out to be actual sound vibrations and not some chair massager gadget.

The whole experience was programmed by music producer Jean Reiki, who explained that it was supposed to bring you into a "theta" or dreamlike state – that in-between state between feeling chill ("alpha") and completely dozing off ("delta").
Personally, I'd call it the awesome power nap state.
YOUR VIBRATING CELLS
Festival director and musician Amelia Kang – the woman with the whispery voice at the closing concert with singing bowl expert Akiko Igarashi and erstwhile Electrico member-now-DJ Amanda Ling – explained how it all works.

"The cells in our physical bodies vibrate because we are an energy field. When you think of disease and pain, it's the cells vibrating in dissonance and not harmoniously. Music, vibration, frequencies and sounds all help bring your body into harmony," she said.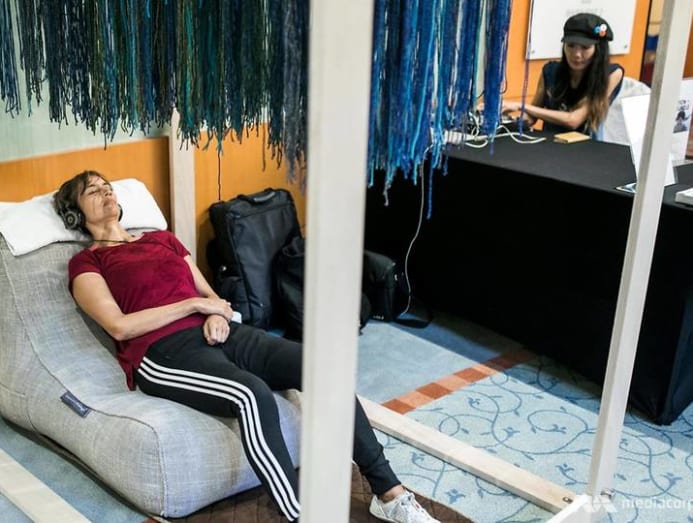 When I brought up how some sceptics might think of the whole thing as pseudo-science mumbo jumbo, Kang pointed out that there have been some scientific studies done on the effects of sound.
She cited the likes of Swiss medical doctor Hans Jenny, whose research into cymatics revealed the physical effects of sound waves; and American cell biologist Bruce Lipton who has said that people actually listen to sound with every cell in our body.
"Actually, any form of sound and music can be worked into sound healing," added Kang, who cited how there are different "benefit-specific music" playlists on Spotify, too.
"It's not just about singing bowls."
But, of course, there were singing bowls at the festival – and not just ones that looked like expensive flower pots.
Another booth, by Shima Healing, offered mini-healing sessions using these ancient metal bowls normally associated with Tibetan Buddhists.
"Do you have any particular problem in your body?" sound practitioner Kaka Singh asked.
"Well, my shoulders feel a bit tight," I offered.
She promptly asked me to sit down, tilt my head to the side and placed a small bowl on my shoulder and began "rimming" it with a small stick.
To be honest, I didn't feel any significant change but it was worth a try.
"What if you had a headache and there's no one to help you with the bowl," I wondered aloud, while thinking if I should go back for another round of that soundscape meditation at Palm Ave Float Club's booth.
"I had a minor headache once and put the bowl on my head," came the reply.
THE POWERFUL SOUND OF OUR VOICES
I wouldn't go so far as to look like a member of Devo for the sake of curing a migraine but I do like the sound the bowls make and I wasn't in a hurry to dismiss everything.
Besides, for a sound wellness noob, the festival offered quite a few talks and even practical sessions to explain and reveal things in detail.
Voice coach and author Cynthia Zhai for instance, pointed out how people are ignoring one of the most helpful and powerful sound tools we've got – our voices.
In-between offering some handy exercises on how to breathe and talk properly, she pointed out that singing bowls aren't a new thing, and the way it works is essentially how our chest cavity works – the voices we project is the same as the vibration produced by the bowls.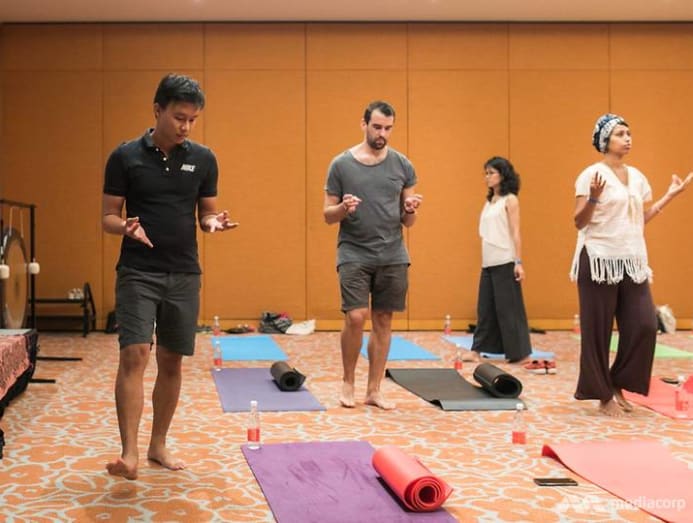 Group singing among farmers in some rural areas, too, is a way to energise everyone (a bit like karaoke maybe?). "But now, people don't even speak anymore – they just text people," she said.
Elsewhere, there were sessions on relieving stress through sound (I popped by just as Amilee Kang was asking people to hum), some hands-on with traditional instruments like the kompang and angklung courtesy of composer John Sharpley, and a kundalini yoga session with Pamela Akasha Kaur.
The latter – which was way too intense for my taste – ended with what's called a "gong bath", an apparently new trend involving people lying down and listening to the sound of gongs. It went on for about 20 minutes or so – a pretty cool metallic sound washing over everyone that yes, knocked me out for a few minutes, too.
I can't claim to know everything there is to know about sound wellness or sound healing in one day, but one thing's for sure. 
Between that 10-minute soundscape meditation sample, an hour-long concert to induce a "theta" dreamlike state and all that gong-ing, I've never fallen asleep so much in a single day as during the Universe Of Sound festival.
If that's what sound healing is, I'm sold.

As for those singing bowls, I just might consider getting one. Although I'll probably stick to Panadol instead of putting one over my head the next time I get a headache.
I don't think I can pull off that look just yet.