The doctor-engineer who created an app that sends medical help direct to you
Dr Shravan Verma, and his team at Speedoc, has been working on innovating Singapore's healthcare with mobile connectivity – offering house visits and even remote monitoring.
In a span of a year, Dr Shravan Verma has gone viral for helping out people in need – not just one, but twice.
Back in October 2018, there was a story of how he and a nurse got out of their car to help an injured motorcyclist near Lau Pa Sat on a Sunday night. And then, in August of this year, he and another nurse were on their way to see a patient when they spotted another accident at Lower Delta Road, and helped the injured man.
Both times, the Internet went crazy over the doctor's heroic deeds – praising him, with a smattering of comments on how, well, desirable he was.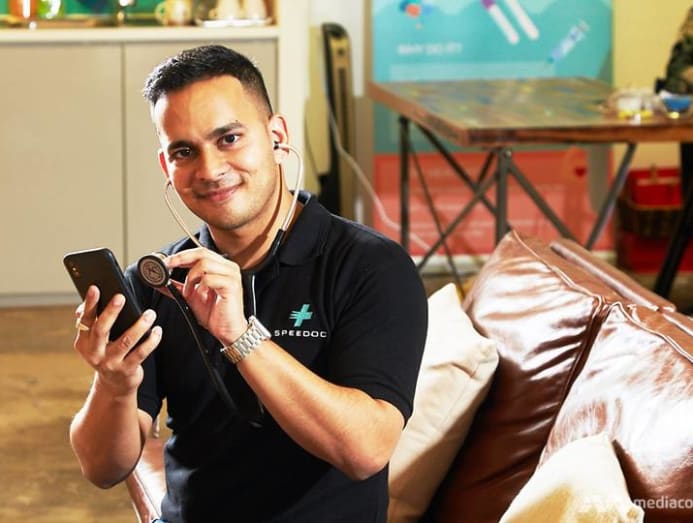 "The last thing I expected was the 'handsome doctor' thing," said the 32-year-old doctor, with a sheepish smile. "We had all the medical equipment to help with assessing the situation, and that's always important in that one hour after any accident. Any help can make a difference."
Brief moments in the spotlight notwithstanding, it's perhaps the innovation that he's been quietly working on with mobile connectivity that might have a lasting impact on the medical scene.
IT'S GRAB BUT WITH DOCTORS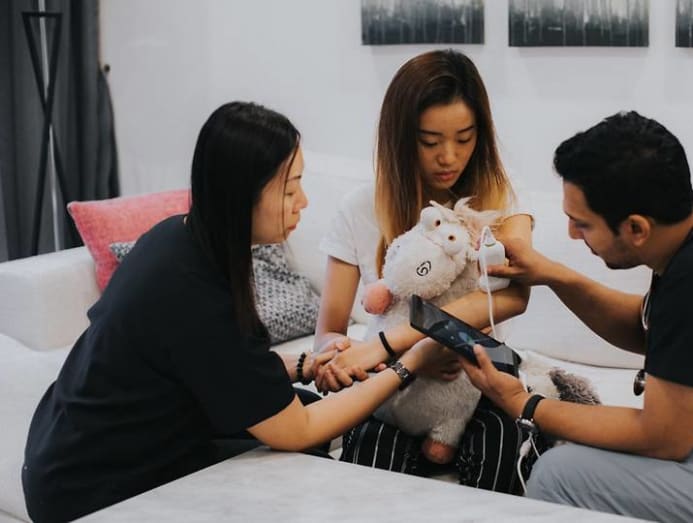 Dr Verma is the brains behind Speedoc, a homegrown mobile clinic that's been using technology to providing medical services on demand since it launched in 2017. Think: Grab or Foodpanda or Deliveroo but with doctors.
And they've certainly been a busy lot. On the Monday afternoon we visited Speedoc's headquarters at Alexandra Road, a team of doctors and a nurse were busy doing their patient rounds all over Singapore doing house calls – one was in Chinatown, another in Farrer Park and the third was in Serangoon. And over the Christmas holiday, the team was busy at work, too.
That's the most important thing now – to make home care affordable and accessible for elderly patients, especially those [who] have difficulty managing their medical needs.

The three medical practitioners were Speedoc members summoned to fulfil their ancient Hippocratic oath by way of a thoroughly modern mobile app.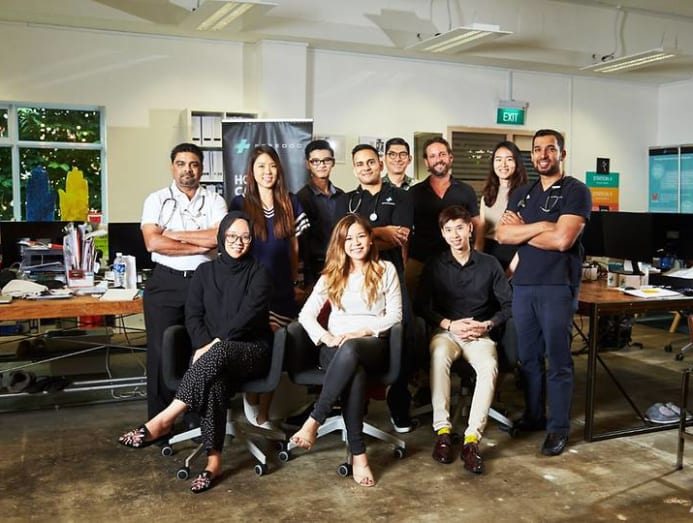 FROM ENGINEER TO DOCTOR
The idea of an app for on-demand medical services came to Dr Verma a few years ago, while he was a practising doctor in the emergency department at various public hospitals. "I would notice many people coming for minor conditions and having to end up waiting three, four hours, and sometimes longer. It got me thinking there was a better way to manage these patients – and not in a hospital but in their communities," he told CNA Lifestyle.
Of course, most doctors at some point would have thought there was a better way of helping sick people. But Dr Verma had an ace up his white, doctor's coat sleeve – he's also an engineer.
Before moving to Singapore in 2009, the Delhi native had studied biomedical and electrical engineering at Duke University in the US, where he discovered there was Duke NUS Medical School programme here. "It seemed interesting and I loved the fact I would learn the healthcare system in a different country," he shared.
In Singapore, the newly-minted doctor honed his chops for five years, rotating between different departments like cardiology, general medicine and emergency medicine. After that lightbulb moment seeing how long patients waited, he decided to combine his two fields of expertise and came up with Speedoc.
A TWO-PERSON TEAM
Dr Verma recalled how difficult it was at the start. He was able to secure a start-up grant and had coders from Vietnam create the app, and when it was all set to go by the end of 2017, Speedoc was a well-oiled medical response team of… two people.
Dr Verma had met his future co-founder Serene Cai at a startup event early that year, and both decided the new idea was worth a shot, even if it was just the two of them at the start.
Cai, who worked in corporate communications at another startup company before, now heads the company's marketing team. But in the beginning, she would be the one behind the wheel driving while Dr Verma did the rounds – with the latter's home living room as their base of operations.
"It was just the two of us doing visits all over Singapore, around one or two a day – for three months!" he shared.
"You know those briefcases that lawyers use? We filled them up with common medication and devices like blood pressure monitors and thermometers," recalled Cai, 27.
She added: "There was one time, where he gave a speech at an event and right after that, we had five patients waiting for us!"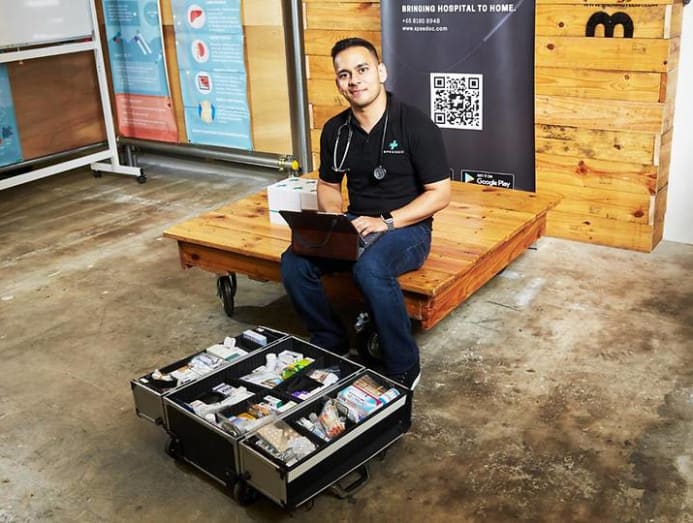 Their persistence paid off. Slowly, other doctors and nurses signed up as members. Today, the medical team comprises 11 full-time doctors and nurses, as well as around 50 part-timers on the front lines. Meanwhile, non-medical staff handle tech and marketing operations from their current office.
The Speedoc app has now been downloaded over 20,000 times.
AN UNORTHODOX MEDICAL SERVICE?
Today, the team does around 20 to 30 transactions a day, including house calls, nursing care, medication delivery and even their newest private ambulance booking service.
So what kinds of medical cases do they do? According to them, 70 per cent are acute conditions that include situations like vomiting, high fever, and cough and cold. Or even those that require stitches or blood tests.
"We also see very sick patients at home, from very severe pneumonia to those who have multiple chronic conditions – there was one who had at least seven different illnesses at the same time," said Cai, adding they've also had patients with rare diseases.
A single home visit costs between S$150 to S$250, depending on the time of day. Dr Verma pointed out that a flat registration fee at a public hospital is around S$130 – "And that's not counting the taxi fare going back and forth," he said. "We're getting the mainstream population who want that convenience without having to go to hospital."
Health care won't just suddenly evolve to be better. Some people have to actually be in there and do it. And that's what we're trying to do.

They're also looking to launch subsidised care options for those in the lower income bracket, at S$1.10 per visit.

"That's the most important thing now," said Cai. "To make home care affordable and accessible for elderly patients, especially those with two, three chronic conditions and have difficulty managing their medical needs."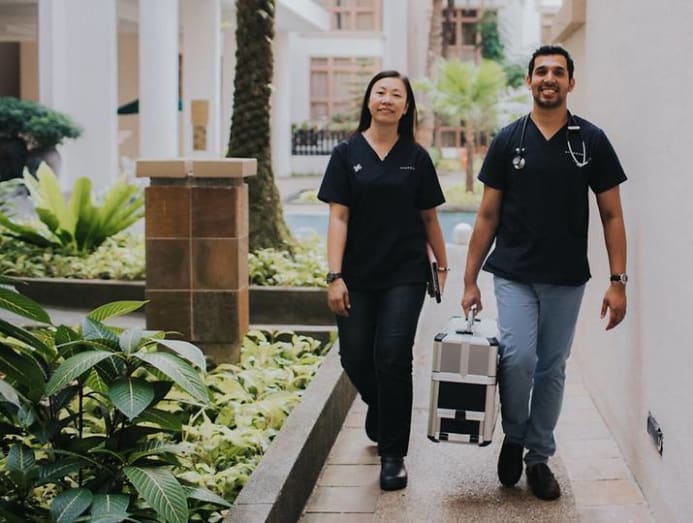 Dr Verma admitted that Speedoc's unorthodox service might not be to everyone's taste in the medical community. "Yes, the more traditional doctors who are used to doing things a certain way will always ask whether this is safe. But we work very closely with regulatory authorities," he explained.
"We provide an alternative for those not keen to go to the hospital or have non-life threatening conditions. If it's a stroke or a heart attack, we ask them to call 995 directly."
WHAT'S NEXT FOR SPEEDOC
Speedoc's come a long way from being a humble two-person team working in someone's living room – and plans for the future are underway.
After opening bases in Malaysia's Kuala Lumpur and Johor Bahru, where they've got medical teams and part-timers, they're in the early stages of expansion into Sri Lanka, Indonesia and Dr Verma's home country of India.

There's also one technological aspect of medical services that they're keen grow – being connected means remote monitoring is now possible, so doctors can keep track of a patient at home from their office via sensors and the cloud.
It's a relatively new technology that's coming up in places like the UK and Australia, and one that Speedoc is slowly rolling out at the moment.
"We're able to set up medical sensors at home and if there's any deterioration in the patient's condition, we can take appropriate action – by dispatching a nurse, a doctor or an ambulance," said Dr Verma.
TAKING INSPIRATION FROM STEVE JOBS
Dr Verma might be helping to shape the possibilities in the medical field in Singapore through Speedoc, but when asked who his inspirations are, it's the engineer-slash-entrepreneurial side of him that speaks up: The innovative spirit seen in the likes of Steve Jobs and Elon Musk.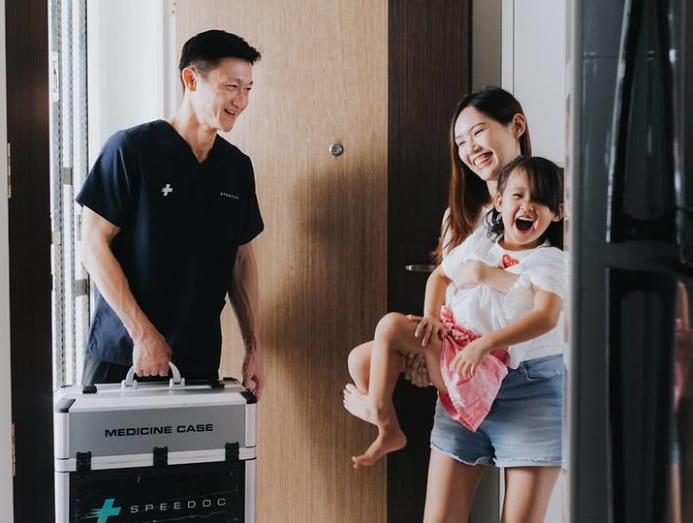 "They just inspire you – one, two people who can create a team who is passionate about creating a change and actually executing it," said Dr Verma.
"We realised things don't just happen – health care won't just suddenly evolve to be better. Some people have to actually be in there and do it. And that's what we're trying to do. That's why we don't mind putting in the days and nights into getting it right."
In partnership with Singtel.