How to keep your home safe and clean during Chinese New Year visits from guests
"Spring cleaning" is a bit different this year because of the pandemic. Do you have to keep disinfecting over CNY and how should you handle all those goodies? Here are some helpful tips to be on the safe side.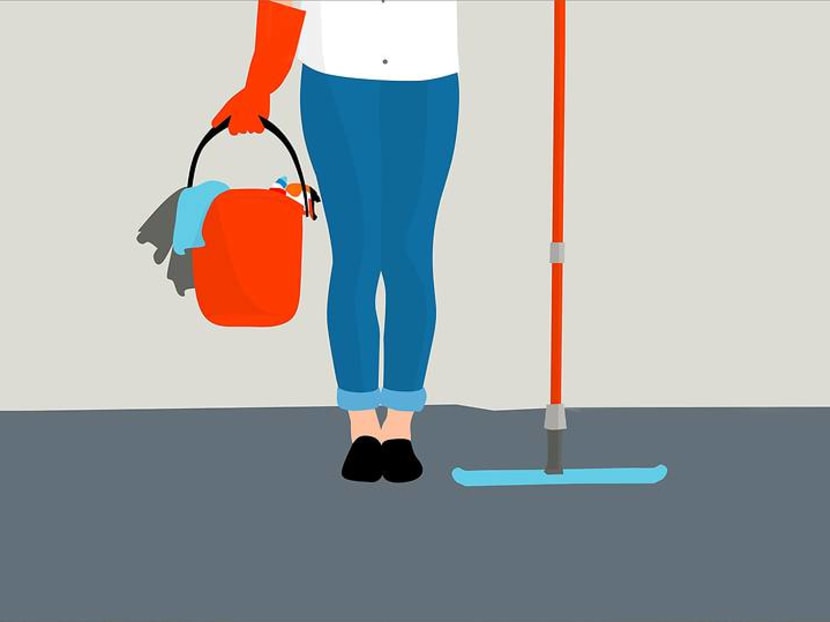 It's that time of the year again when everyone's supposed to be cleaning their homes in time for Chinese New Year (CNY).
But instead of being just a symbolic act – you know, out with the old and in with the new – the pandemic has given it added significance for you and your guests, too.
So how is this year's spring cleaning going to be different? You'll have to disinfect in addition to wiping, washing, vacuuming and mopping.
Cleaning will remove the dirt, dust and other allergens (such as dust mites and dander) but to target COVID-19 and other viruses and bacteria, that's where the disinfectants come in.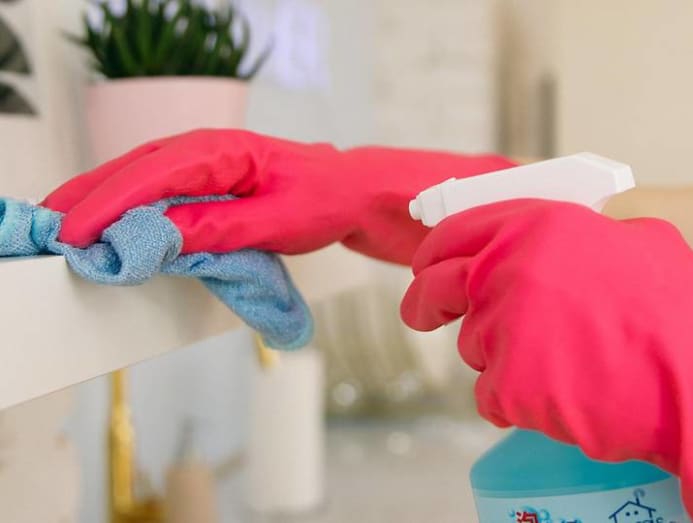 So, do you have to continue disinfecting right through CNY, especially after each batch of guests leave? What are the things to look out for when disinfecting your home? Here's what the experts say.
WATCH OUT, YOU COULD HARM YOUR HEALTH WHILE DISINFECTING
Here's the thing: You bring out the big guns aka bleach, chlorine and other harsh disinfectants to take out COVID-19. But you could be harming yourself during the cleaning process.
That's because the exposure to and the inhalation of fumes from these chemicals are not good for your health, said Johnson Zhuo, the managing director of Dream Sparkle and Mr Wonderful.
To safeguard your family, check that the disinfectant is a "child-safe, chemical-free steriliser that is certified to eliminate harmful bacteria, viruses, organic odours and fungus", he said.
We have gleaned from research done over the past year that COVID-19 is able to stay on paper (and tissue paper) for up to half an hour, and on bank notes for up to two days.
Dr Jade Chee, a general practitioner at Mayfair Medical, added that "surface virucidal disinfectants such as 0.05 per cent sodium hypochlorite and ethanol-based products (at least 70 per cent)" are worth considering as "they have been studied extensively by the World Health Organization, and have shown to effectively eliminate the virus from household surfaces".
Another precaution to take is to don a mask and gloves to protect yourself first before cleaning, advised Alvin Tan, the founder and managing director of Sureclean.
"Ensuring your windows are open to allow fresh air to flow into your home and dirty air to flow out is very important."
Another tip: Clean one area at a time, and sanitise your hands and equipment before entering a new area of the house, said Tan. "That way, you don't spread any contaminant from one area to the next."
WHY YOU SHOULDN'T WIPE IN CIRCULAR MOTIONS
Doing so would only spread bacteria and other contaminants all over the surface, said Zhuo. "It won't matter if you use an entire packet of wipes or how you fold the cloth if a circular technique is used".
Here's what he recommends you should be doing instead:
Press down firmly and wipe in one straight motion across the surface.
After each wipe, turn over your cloth so the next wipe will be done with a clean side.
Overlap the area you're wiping by about 10 per cent to ensure no streaks of particulate are left behind. Let the disinfectant dry off.
If you're using a spray to disinfect a surface, ensure you do so evenly – and leave it to dry, said Tan.
"As disinfectants require some surface contact time to be effective (usually within 10 minutes), leave it on for the recommended time for it to work," he said.
This also means you can skip drying off the surface (yay to that).
To disinfect high-touch areas such as light switches and door knobs as well as objects such as the remote controller, ensure that you evenly and completely wipe all their surfaces with a disinfectant, recommended Tan.
Some professional cleaning services, such as Sureclean, offer antimicrobial coatings for homes that can last up to 365 days, he said.
YOU CAN'T SKIP VACUUMING/SWEEPING BEFORE MOPPING
Vacuuming removes fine dust, while mopping with a disinfectant kills germs, said Sharon Yap, the head of technology development at Dyson. "They need to work in unison to achieve that barefoot clean feel," she said.
And there's another reason for vacuuming or sweeping the floor first. If the dust isn't removed fully prior to wet cleaning, it can be smeared across the floor during mopping, potentially leaving a dirtier floor.
"Dampening dust on the floor – even fine dust invisible to the naked eye – could mean that you're creating a habitat more favourable to dust mite and mould proliferation," said Yap.
If you're guilty of mindlessly pulling the vacuum head to and fro across the carpet, stop.
Vacuum slowly to give the airflow and brush bar more time to agitate the dust, dirt and allergens trapped in the carpet fibres, said James McCrea, Dyson's senior mechanical engineer.
It also helps to go over the same spot a few times but not too many times. According to McCrea's research, any more than two or three times gives "minimal increase" in the cleaning.
GET PROFESSIONAL HELP FOR CURTAINS, RUGS AND BEDSHEETS
Don't wait till CNY to wash the big items such as curtains and rugs, according to Zhuo.
"If dust particles start settling on your furniture or give out strange odours such as sweat stinks on the bedsheets, rugs or cushion covers, this is an immediate sign of bacteria, which means that they are due for cleaning."
It is a good idea to engage a professional cleaner as they have the "equipment and experience" to effectively clean and disinfect them, said Tan. And might we add, it'll make life easier for yourself, too.
But that's not to say you can't do your own washing. "Take note not to flick them as that will disperse and dislodge dust, bacteria and viral particles into the air," advised Tan. 
Before putting the items into the washer, check the laundry label for instructions. You can add natural sanitisers like vinegar or over-the-counter laundry disinfectants. For further disinfection, use a textile-friendly hot water cycle, said Tan.
DO YOU HAVE TO KEEP DISINFECTING OVER CNY?
According to Dr Chee, droplets from an infected person "can travel up to 1.8m from a single cough or about the length of a long dining table". 
"The virus is able to survive on cloth for up to a day, and on glass and wood for up to two days," she continued. "Also, studies have shown that the virus is stable in airborne particles, with a half-life of more than an hour".
So, if the COVID-19 virus can survive for a while, do you have to disinfect after guests leave? 
It may put your mind at ease to wipe down high-touch areas with a disinfectant after each turn of visitors and at the end of the day.
It is also a good idea to leave bottles of hand sanitisers around for your guests to use. Or as Dr Chee suggests, use good, ol' soap and water.
"Studies comparing soap and water to alcohol-based hand sanitisers have proven that washing with soap and water produces better or equivalent results compared to the sanitisers." 
HOW ELSE TO KEEP GUESTS SAFE
The air conditioning may be sweet reprieve from the heat but you are better off opening the windows and doors, and switching on the air-purifiers to minimise indoor transmission, said Dr Chee.
What about exchanging mandarin oranges and red packets? "We have gleaned from research done over the past year that COVID-19 is able to stay on paper (and tissue paper) for up to half an hour, and on bank notes for up to two days," said Dr Chee. 
"So if you cannot refuse the red packets, be sure to practise good hand hygiene after receiving and opening them." 
As for enjoying the oranges, scrub them before peeling them, she recommended. And of course, sanitise your hands first before touching the fruit.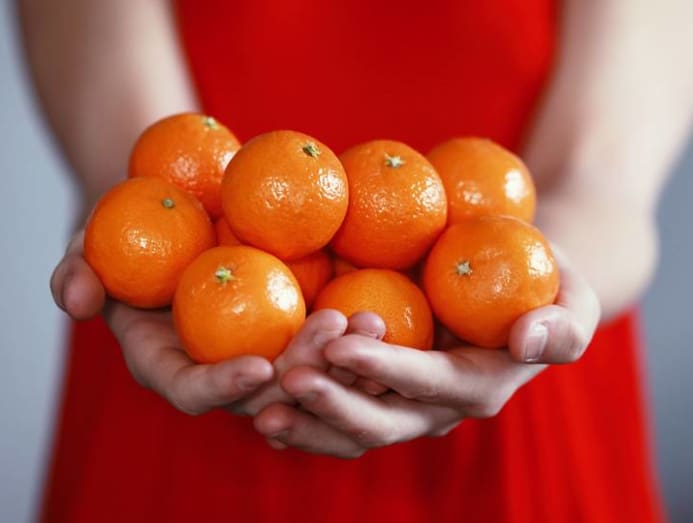 If you're thinking of bringing out the traditional Eight Treasure platter, and plastic tubs of pineapple tarts and love letters for guests, think again. 
According to Dr Chee, the virus has been found to survive for up to three days on plastic, so communal containers of CNY goodies should be avoided.
And absolutely no double-dipping into jars, she added. Instead, you could hand out small, individual plates containing an assortment of goodies. 
"Naturally, if you are unwell, stay home but do not host, do not pass the oranges around, and do not collect or distribute that red packet," she said.