Turning to TCM to boost your health? Here's what you should know
How are the bottled herbal drinks you buy at food courts and supermarkets different from the TCM remedies prescribed by certified physicians? Can you mix TCM with conventional meds? CNA Lifestyle speaks to some experts.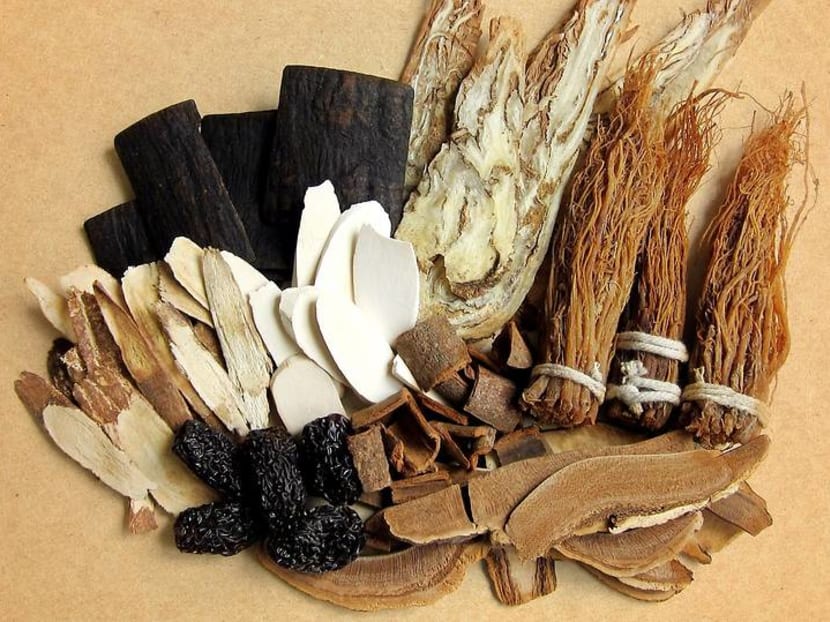 With an ever-evolving COVID-19 situation on our hands, it is only natural that many of us are on the lookout for ways to boost our immune system and improve our odds of staying infection-free. Some turn to eating healthier and exercising more; others look to supplements or herbs – and that option includes traditional Chinese medicine (TCM).
It's hardly surprising that Singaporeans are considering TCM. In a 2001 survey of 500 Singaporeans, 67 per cent already sought TCM treatments, according to a study published in the Singapore Medical Journal (SMJ). The same study also noted that "since 2004, hospitals in Singapore have been offering TCM services such as acupuncture and herbs to complement conventional medical treatment" – a sign that there is a demand for TCM.
In Singapore, the safety and quality of TCM medicines, which can be categorised into traditional medical materials (materials derived from plants, minerals or animals) or Chinese proprietary medicines (medicinal products in capsule, tablet or powder form) are regulated by the Health Sciences Authority (HSA).
Furthermore, the use of TCM herbs is strictly only by "practitioners with professional expertise in TCM physiological, pathological and pharmacological theories," said Tan Weii Zhu, a TCM physician at Raffles Chinese Medicine. "The Traditional Chinese Medicine Practitioners Board manages the licensing and regulation of such professionals," she said.
But even with those regulations in place, TCM medicines can still be misused – and largely by consumers themselves. Mums who make their children drink DIY brews at the slightest cough are one example. Heading to the Chinese medicinal hall to get what the aunties tell you is good for your joint pain without a physician's prescription is another.
Such behaviour can be attributed to the herbs' ease of accessibility and consumers' erroneous thinking that the herbs are "natural and hence, absolutely safe", said Lam Man Sze, a spokesperson from the Academy of Chinese Medicine, Singapore (ACMS). "As a result, it complicates an individual's body constitution and can cause a delay in proper TCM clinical treatment," she said.
In fact, the ACMS calls for "more stringent regulation" on consumers' accessibility to TCM herbs and medicinal products "without a TCM physician's consultation and advice", said Victoria Tan, another ACMS spokesperson.
WHAT ABOUT HERBAL SOUPS AND TEAS?
Foods containing TCM herbs typically have them in small doses and are generally safe for consumption, said Ho Chin Ee, Thomson Chinese Medicine's TCM physician. Lam from the ACMS agreed: "The effective dosage of herbs used in physician prescriptions is generally higher than those in boiled soups. Thus, these soups may be more likely used for maintaining health". However, Ho draws the line at herbal soups containing ginseng, dang gui and goji if you have a cold or flu. "Avoid consuming these soups until you fully recover as they may aggravate your condition," she said.
But note that if you are taking TCM medicines, clarify with your physician if you can consume such foods as there could possibly be "agonistic or antagonistic interactions" with the herbal medicines you are taking, said Ho. And definitely have your herbal soup at least two hours apart from your conventional medicine, even if it's just Panadol.
What about those bottled herbal teas you see at Chinese medicinal halls or the supermarket? Before you pick up a bottle, Lam advised to consult your physician first about your general body constitution, and understand the type and frequency of herbal teas you can take accordingly to the weather and situation. "Individuals with a mixture of body constitutions can upset their bodies' physiology if inappropriately consumed," she said.
CAN YOU MIX TCM REMEDIES AND CONVENTIONAL MEDICINES?
Other than food with TCM ingredients, the more pressing question, at least for those who are on medication, is: Can you mix TCM remedies and conventional medicines?
Tan from the ACMS said that "there is no clear definitive evidence to show adverse drug-herb interactions" when the two are taken concurrently.
Another SMJ study also supports this, in particular, the association with aspirin. Early concerns over the combination of aspirin and ginkgo (one of the most widely available herb products in Singapore) causing haemorrhaging were dispelled by "various randomised controlled trials" that demonstrated ginkgo does not have "any systematic changes in bleeding time and blood coagulation tests, according to the study.
Safflower and ginseng, which is a popularly used root in Singapore, are also found to have little cause for concern regarding increased bleeding risk when taken with aspirin, said Ho, citing a study published in the journal Medical Principles And Practice.  
But you'll want to be careful with danshan, said Ho. "Current evidence points towards the potential for herb-drug interaction between danshen and aspirin. Clinicians should be cautious about the co-administration of danshen and aspirin until more evidence regarding its safety is available."
As for other combinations that haven't been mentioned here, Tan from the ACMS said that "TCM physicians typically advise patients to consume their herbs two hours apart from their medicines to avoid potential interactions". 
And most definitely, check with your TCM physician as well as your doctor if you plan to combine both forms of treatment.