Can't book a spot at the gym? Hire a container to work out in instead
The Gym Pod offers commitment-free, pay-per-use gym and spinning equipment at Punggol Park and Bishan-Ang Mo Kio Park. And there are measures in place to safeguard your health.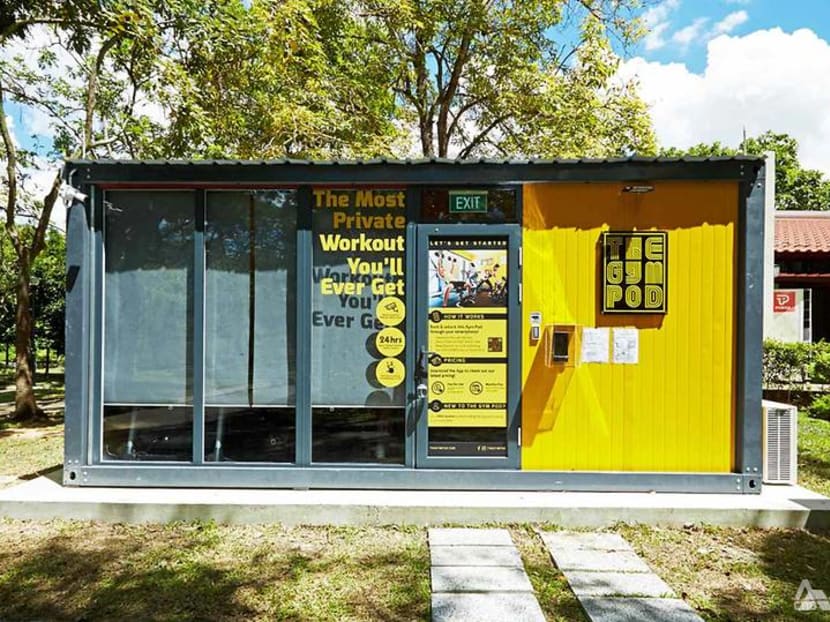 If you've been to Punggol Park recently, you may have noticed a black-and-yellow container with glass panels located right next to the public restrooms. At Bishan-Ang Mo Kio Park, just minutes away from Carpark B, you'll see the same eye-catching block.
Peer inside (if the blinds aren't lowered) and you might spot someone working out in air-conditioned comfort – and privacy. That last attribute was what inspired entrepreneur Damian Chow to start this 24/7, unmanned, self-contained mobile gym concept called The Gym Pod.
As a self-professed "gym-trovert", the 36-year-old Chow wanted his own private space to work out in without feeling self-conscious about his "skinny build".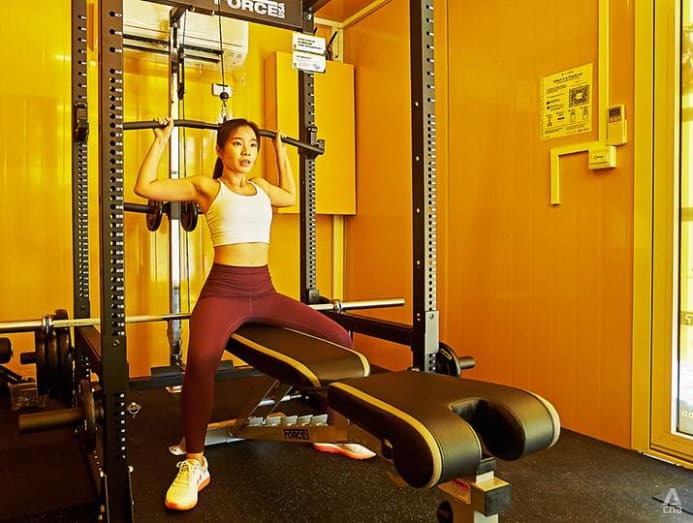 "I was trying to build some muscles but going to traditional gyms, I feel very intimidated because there's a lot of muscle guys and seemingly well-trained individuals around," said Chow. "I didn't feel as comfortable trying out in public gyms or the big box gyms."
WHAT'S IN THERE?
The Gym Pod isn't as small as you think it is. As founder Chow realised from his experience creating his personal workout space at home, "I just needed a small space to put certain equipment inside".
Make that 6m by 3m, or 18sqm, to be precise. Each container can accommodate a cardio station (consisting of a treadmill and sometimes, a stationary bike or elliptical machine), a strength station (includes a smith machine and cable machine combination, and a traditional power rack and cable setup), and a dumbbell rack.
"We also provide yoga mats, exercise balls, exercise bands and ample space in the pod for those who enjoy bodyweight training," said Peter Lam, The Gym Pod's branding and partnerships executive.
In The Spin Pod, which is the indoor cycling iteration of The Gym Pod, the space fits six bikes, a sound system and a projector screen for the virtual instructors to take you through sprints, hills and interval training.
IS IT SAFE TO USE?
It's an air-conditioned space for you – and just one other person (it used to allow up to three people during pre-COVID-19 times) – to work out in. Compared to the many more users in a regular gym, you do feel less exposed to germs.
Other than providing the ubiquitous hand sanitisers for pod users to lather on before and after handling the equipment, what other COVID-19 measures are in place?
For one, the pod entrance has an automated, no-touch thermal scanning device to capture users' temperature and selfie simply by placing the wrist over the scanning zone. "If your body temperature is above 37.5 degrees Celsius, you will not be able to click the Open Door button on The Gym Pod app," said Lam. This is in addition to the SafeEntry form that you submit electronically.
Furthermore, professional cleaners are hired to clean the pods six times a week, said Lam. "Their cleaning routine focuses on sanitising high-touch areas such as the handle bars of every equipment."
"On top of that, the cleaning team will apply a layer of anti-microbial coating over the aforementioned high-touched areas. Although this coating can last up to three months, we reapply it once every two weeks for safe measure," said Lam.
The other measure is the use of automated air diffusers that does airborne disinfection at the end of each 30-minute session. "The solution used in the diffuser is known to kill off 99.99 per cent of microbes and is trusted by many hospitals and hotels worldwide," said Lam.
WHERE TO TRY IT?
The first pod was created in June 2018 and is located at JTC LaunchPad in One-North. Other than the newest additions mentioned earlier, the rest of the pods can be found at Changi City Point (two pods), International Business Park, Alexandra TechnoPark, and TechPlace1 @ AngMoKio.
Bring your own towel and water bottle. There are also no shower amenities provided.
The Gym Pod is offering an ongoing special rate of S$7.50 for each 30-minute session during peak hours; S$5.50 from 12am to 7am. Updates on rates here.