Horse riding, kayak fishing, perfume making and other ways to enjoy Wellness Festival Singapore
At the island-wide festival, which kicks off on Jun 3, it won't just be about yoga and singing bowls. Take your pick from taichi at Jewel Changi Airport to visiting "Zentosa", making skincare with plants and discussing gut health with world-renowned experts.
Singapore will be the playground – or shall we say, experiential wellness destination – to more than 120 fitness and wellness activities sprinkled across the island come Jun 3 to 12.
The inaugural Wellness Festival Singapore organised by the Singapore Tourism Board aims to position the city as an urban wellness haven to international visitors. But there's plenty for locals to look forward to as well, from the glitzy Marina Bay Sands to the familiar heartland mall in your hood.
Imagine starting your morning at Jewel Changi Airport with a mass taichi class taught by a SEA Games wushu gold medallist as the HSBC Rain Vortex cascades in the background. You'll also get to quiet your mind with calming activities such as slow stitching, stone stacking as well as the Light and Sound Bath over at The Wellness Sensorium pop-up at Gardens By The Bay.
ISLAND OF ZEN
Even Sentosa, which we associate with family staycations and the beach party scene, gets the zen treatment. Zentosa (get it?) Fest, which runs longer, from Jun 3 to 30, is perfect for "getting out" of the country if you haven't been able to renew your passport in time.
Other than the wellness staycation packages, spa treats and healthier menu choices that the island has rolled out, there is also, for the first time, overnight glamping on the beach at Palawan.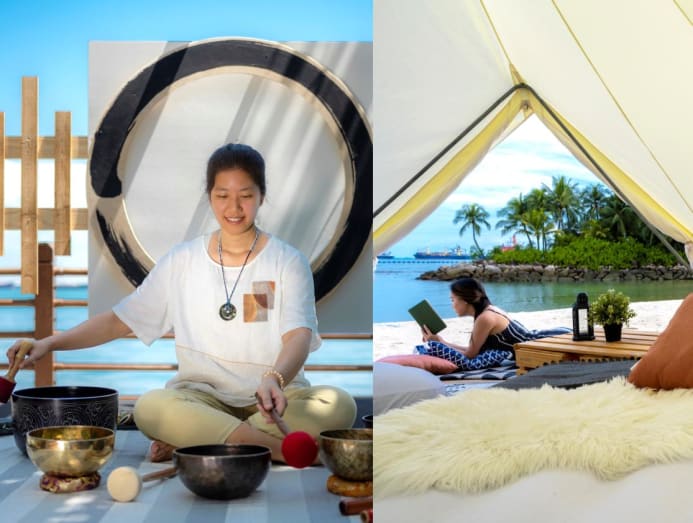 Sentosa's Southernmost Point of Continental Asia is another spot to check out. It is transformed into Stress Stop, where you can participate in a holistically healing cacao ceremony inspired by the ancient Aztec and Mayans. Alternatively, simply unwind to the sounds and vibrations at a sunset rejuvenation session.
You can also pledge to commit to better family and personal wellness by symbolically tying a ribbon to the popular suspension bridge as part of the annual Mediacorp-supported Dad's Day Out on Jun 18 and 19.
Here's a look at 10 activities you can participate in all over Singapore during the 10-day wellness festival:
EQUINE THERAPY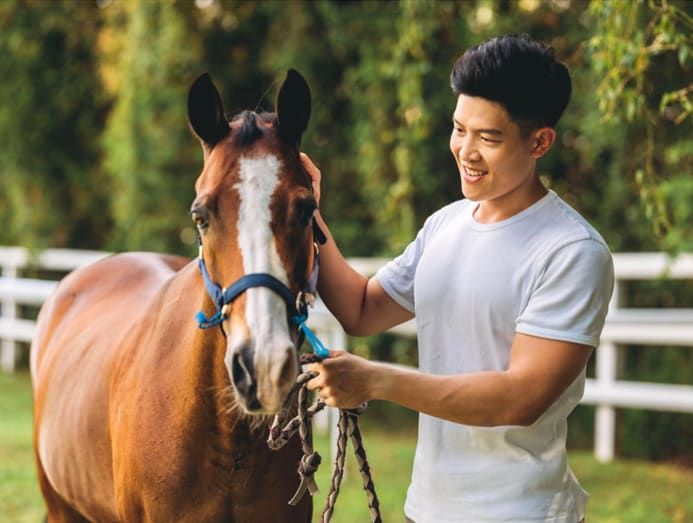 It's not only the physical aspect of improving motor skills, flexibility and muscle tone you'll be doing while riding a majestic but gentle horse. Equine therapy is also a way to connect with your thoughts, feelings and nature as you ride into the calm and peace of the greenery, away from the city's hustle and bustle.
Dates: Jun 3 to 12 (

9am to 12pm)

Venue: Singapore Turf Club Riding Centre

Ticket: From S$180 per person; details here
MAKE YOUR OWN PERFUME
Given how fragrances can influence your mood, your sense of smell plays a key role in how you perceive and feel about the world. Join local craft perfumery Oo La Lab in a 45-minute session, where you can create a 10ml bottle of eau de parfum that best captures your mood using 27 fragrance notes.
Dates: Jun 4, 5, 11 and 12 (12pm to 5pm); and Jun 3, 6, 7, 9 and 10 (7pm to 9pm)

Venue: Delta House, #02-04

Ticket: S$35 per person; details

here
GET INTO BULLET JOURNALLING
What's a bullet journal? How can it help you with both productivity and creativity? Bullet journalling enthusiast and advocate, Stephanie Tan, will show you how to plan and design your very own. The session is great for both adults and young ones, so consider bringing the family along. Participants will also get a kit with the tools you'll need to start bullet journalling.
Date: Jun 3 (1pm to 3pm; 3.45pm to 5.45pm)

Venue: National Gallery Singapore, Seminar Rooms 3 and 4

Ticket: S$68 per person; details

here
QUIET YOUR SENSES WITH TEA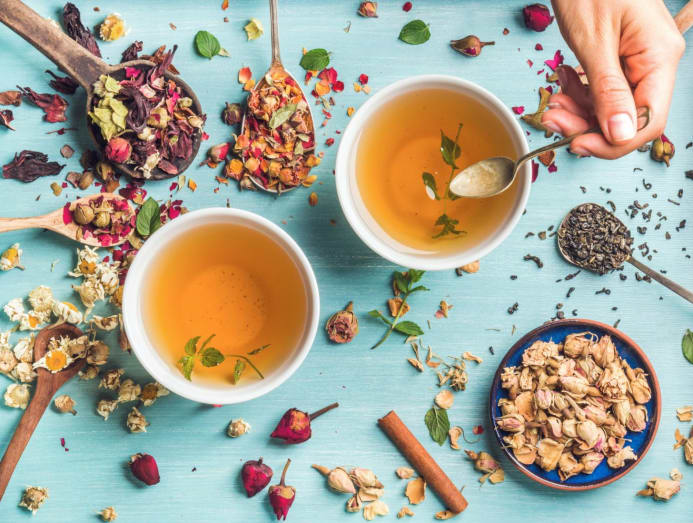 The calming properties of tea is something you can't refute. To enhance those qualities and help you be mindful during this workshop by XIU Nature Connections, you'll be provided with wireless headsets as you learn about herbal tea blending and create your own tea blend. Then, bring home a kit comprising assorted edible flowers and herbs as well as selected tools.
Dates: Jun 4 and 11 (

2pm to 3.15pm)

Venue: Singapore Changi Airport, Hub & Spoke Cafe

Ticket: S$25 per person. Details here; book through the iChangi app
GO KAYAK FISHING
Climb into a leg-powered kayak and go fishing off the waters of East Coast Park or Sentosa. It's a chance to also learn about Singapore's maritime past and present. Go on your own and make friends, or turn up with a group of up to 12 fellow outdoor enthusiasts. Either way, you'll get to enjoy some of the fish that you catch – got to practise sustainability, you know?
Dates: Jun

6, 9, 10 and 11

(7am to 11am; 1pm to 5pm)

Venue: East Coast Park, Carparks B1 and C4; Sentosa, Tanjong Beach Carpark 2

Ticket: S$149 per person; details

here
PUNCH OR DANCE TO K-POP IN A SHOPPING MALL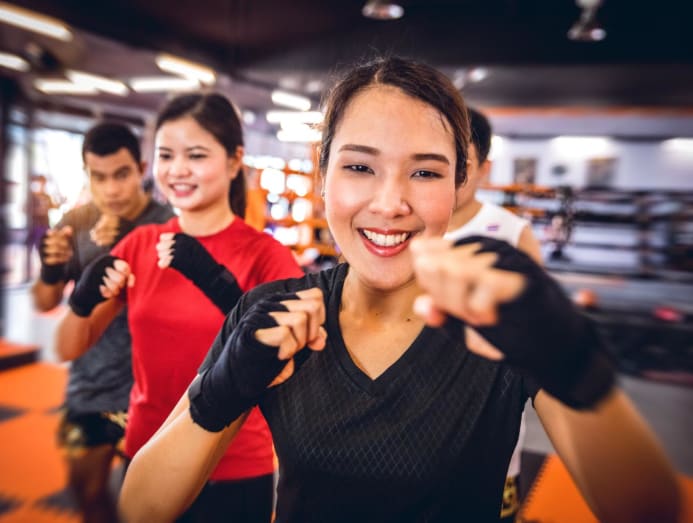 If you have time to shop, you can squeeze in a workout or two to get your kicks and punches in or bust moves to the latest K-pop hits. The Health Promotion Board has partnered a range of malls island-wide (such as AMK Hub, City Square Mall, Jem, Parkway Parade and Woodlands Mart) to offer fun and action-packed activities on weeknights and weekends that are just an hour long.
YOGA ON THE MBS SKYDECK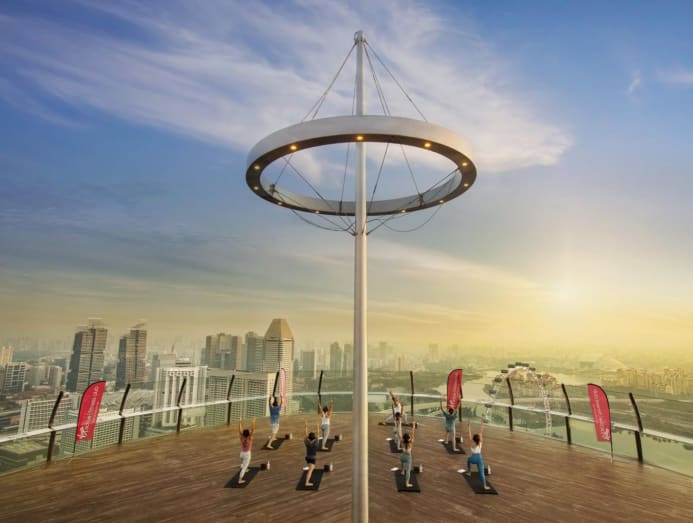 Will the breathtaking views of the Singapore skyline take your breath away during yoga? There's only one way to find out and that's to attend Virgin Active's yoga sessions held on Marina Bay Sands' SkyPark Observation Deck. Choose from 45-minute classes of different intensities and decide whether you want to get your asanas on at sunrise or sunset.
Dates: Jun 3 to 12 (

7am to 7.45am; 6.30pm to 7.15pm)

Venue: Marina Bay Sands, SkyPark Observation Deck, Level 56

Ticket: S$15 (Virgin Active members) to S$30 (public);

details

here.
TRY COLD IMMERSION THERAPY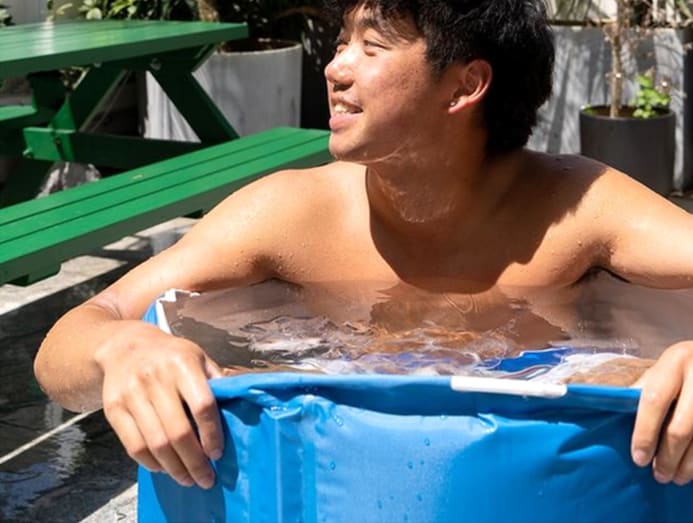 If you've heard about cold immersion therapy and have always wanted to try it, here's your chance. If you haven't, it purportedly boosts your body's recovery processes by increasing blood circulation and reducing muscle inflammation. Pick up tips from head coach Jarratt as he guides you through an outdoor session, along with breath work techniques that will also help with mental healing.
Dates: Jun 4 to 5 (

2.30pm to 3pm; 3.15pm to 3.45pm)

Venue: 27 Tanjong Pagar Road, Trapeze Rec Club, #02-01

Ticket: Free; details

here
LEARN TO MAKE NATURAL SKINCARE
Go on a fun guided walk through the historic Joo Chiat neighbourhood with Ajuntha Anwari aka Medicine Woman Asia before finishing up with a skincare workshop and refreshments. She'll be sharing the healing properties of plants before teaching you how to make two different skincare products with natural ingredients, which you can bring home to pamper yourself with.
Date: Jun 4

(

3.30pm to 6.30pm)

Venue: 281 Joo Chiat Road, Crane Joo Chiat

Ticket: S$74.90 per person; details

here
IMPROVE YOUR GUT HEALTH WITH EXPERTS
How does a healthy gut stave off health issues such as diabetes, obesity and allergies? Find out from Professor Martin Blaser, one of Time Magazine's Top 100 Most Influential People in 2015, and leading microbiologist Professor Maria Dominguez-Bello. There are six sessions to choose from: Weight management and diabetes; ageing well; a baby's first 1,000 days; asthma and allergies; autism; and common gut ailments such as chronic bloating, diarrhoea and constipation.
Date: Jun 5 (

12pm to 4pm)

Venue: 28 Tai Seng Street, At-Sunrice GlobalChef Academy

Ticket: S$60 per person, S$100 per pair; details

here. Tickets are inclusive of

a gut health check and a goodie box.