Propelled by her love for her late father, this accountant opened an art gallery for his 1,000 paintings
Low Sok Leng grew up in a four-room HDB in Hougang that was filled with her dad's paintings. Now, she has made it her mission to enable every Singaporean to have art at home, through her gallery ARTualize.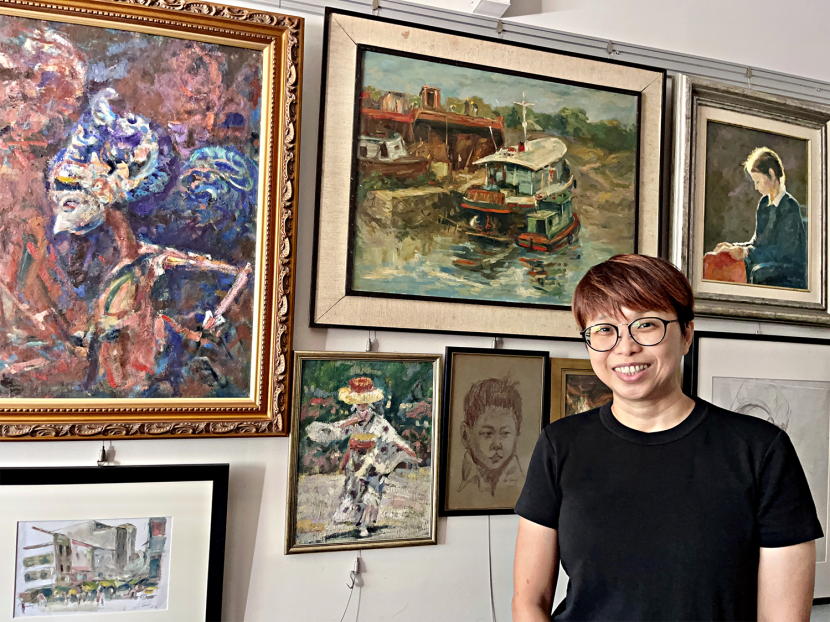 Art gallery owner Low Sok Leng used to be an accountant. For most of her life, she enjoyed a stable job and a comfortable life. She didn't have artistic aspirations. She didn't even know how to choose the right frame for a painting.
Yet, last year, the 46-year-old blew through a substantial amount of her life savings to open an art gallery, ARTualize. The math hardly added up. In her first year alone, she paid S$70,000 for rental and to frame the paintings. And she hasn't been paying herself a salary since.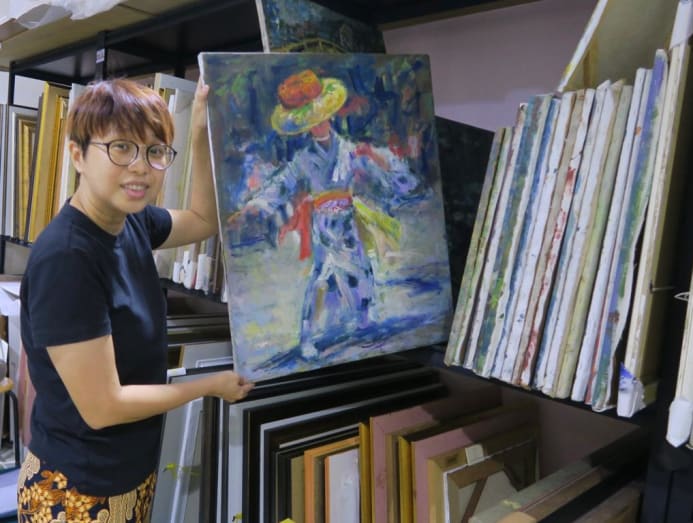 But Low's radical life change was never driven by money. It was propelled by the love of a daughter for her late artist father, who had entrusted her with a legacy of a thousand paintings. A rare love story of our times, this is a story of filial piety, quiet sacrifices, and a dream that spans two generations.
FROM ACCOUNTANT TO ART GALLERY OWNER
Low's father, Low Hai Hong, had always loved art. However, in his early years, he put his artistic dreams on hold to work full-time as a contractor and support his family of five children. Nonetheless, he continued to paint in his free time, pioneering painting oil on rice paper.
When the younger Low graduated from university and became an accountant, she encouraged her father to pursue his artistic dreams. So at the age of 60, he reignited his passion, travelling the world to paint. He stayed in Paris for five months, Melaka for two years and Shanghai for seven years.
For close to two decades, Low supported her father financially, helping with the cost of accommodation and living expenses, taking care of travel logistics, and arranging for art exhibitions and grants.
This continued until 2018 when he was diagnosed with late-stage colon cancer at the age of 77. In June 2020, just after the circuit breaker ended, he was admitted to hospital in a critical state. The tumour had spread to his brain. Two weeks later, the doctors told his family he would not live beyond days.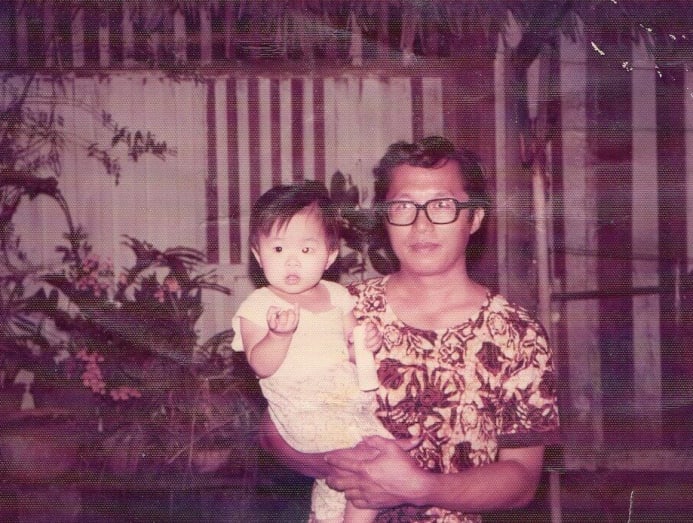 "He was discharged on his 79th birthday. Two days later was Father's Day and by then, he had deteriorated so much," she recalled. "Even though we injected morphine into him a few times, he continued to be in pain. Thankfully, we had a stay-over nurse to help us at night and he passed away peacefully the next morning at 6.30am.
"I didn't realise how hard it would be to let him go. In the past, even though he was away for long periods, I knew he would always be back. When he died, I finally realised what it meant to be heartbroken," said Low, fighting back tears.
"We initially wanted to mourn for a year and leave his art studio as it was. But on National Day that year, when I went in to pack some stuff, I realised there were termites and they had eaten up some of his paintings. I had to throw 10 of them away," she added.
I eventually decided I would deal with this legacy in three ways – I'd sell, rent or donate them.
"Even though a termite specialist came, I no longer felt it was safe to put the paintings back in the studio, so I rented a place to store his paintings," she said. Over the next few months, Low moved the items from her father's art studio to a commercial space she had rented in Ubi.
"The whole moving process was very traumatic because while packing, I had to look through his photos and paintings and they reminded me of him. But by the end of the year, I thought to myself that I could continue to cry, but I had to do something."
The big question was what to do with a legacy of a thousand paintings. "These were a lifetime of hard work – his sweat and blood," she said.
"It was also my mother's and my sweat and blood, because we had supported him and shared his dream throughout the years. I could not let them go to waste. So I eventually decided I would deal with this legacy in three ways – I'd sell, rent or donate them," she added.
MAKING ART ACCESSIBLE TO ALL
 That's how Low became the unlikely owner of an art gallery in 2021. "It is not easy to sell art. The easiest way out would have been to get an external gallery to represent us and sell the works, but it was something my father avoided during his life. So I decided to sell his art myself instead. Maybe I just couldn't let go," she admitted.
"Everyone said I shouldn't do it," she added.
Nonetheless, she pushed ahead, learning how to take care of, curate, frame, display and sell the paintings. Her father's artist friends offered useful advice.
In March 2021, she organised her first art exhibition at ARTualize, located at Oxley BizHub. Since her father had been president of the Nanyang Academy of Fine Arts (NAFA) Alumni Association, the president and principal of NAFA graced the event as guest of honour, and many alumni came and bought his works as a show of support.
Subsequently, Low continued to change the art works on display at ARTualize and hold new exhibitions every three months. She also offers art appreciation workshops to demystify art.
"Different people have different opinions shaped by their experiences. For one painting, some of the older people saw a Singapore River scene with bumboats, others saw an autumn scene, yet others imagined a romantic story between a happy old couple," she said.
This is why Low makes it a point not to label paintings, deliberately omitting the painting title, artist name and description. "Usually at an art museum, you read the label, find out what the painting is about, then move on to the next painting. But there is no need to read the label. You should be able to see the painting and feel it," she explained.
"The same way we feel music in our hearts even if we don't understand the lyrics, the appreciation of visual art should be very natural. Nowadays, we feel like we have to do a lot of analysis when it comes to art. But visual art is not meant to be read or analysed," she said.
"Why did we lose our ability to experience art? Could it be because of the high prices of some paintings? People don't know why some paintings cost millions and hence they feel intimidated by it?" she reflected.
"The price of a painting and its artistic value is separate. Prices may reflect the market, the popularity of the artist, the scarcity of the work, or how this painting is special in the life of the artist. Just because a painting is more expensive doesn't mean its artistic value is dramatically higher than other works," she added.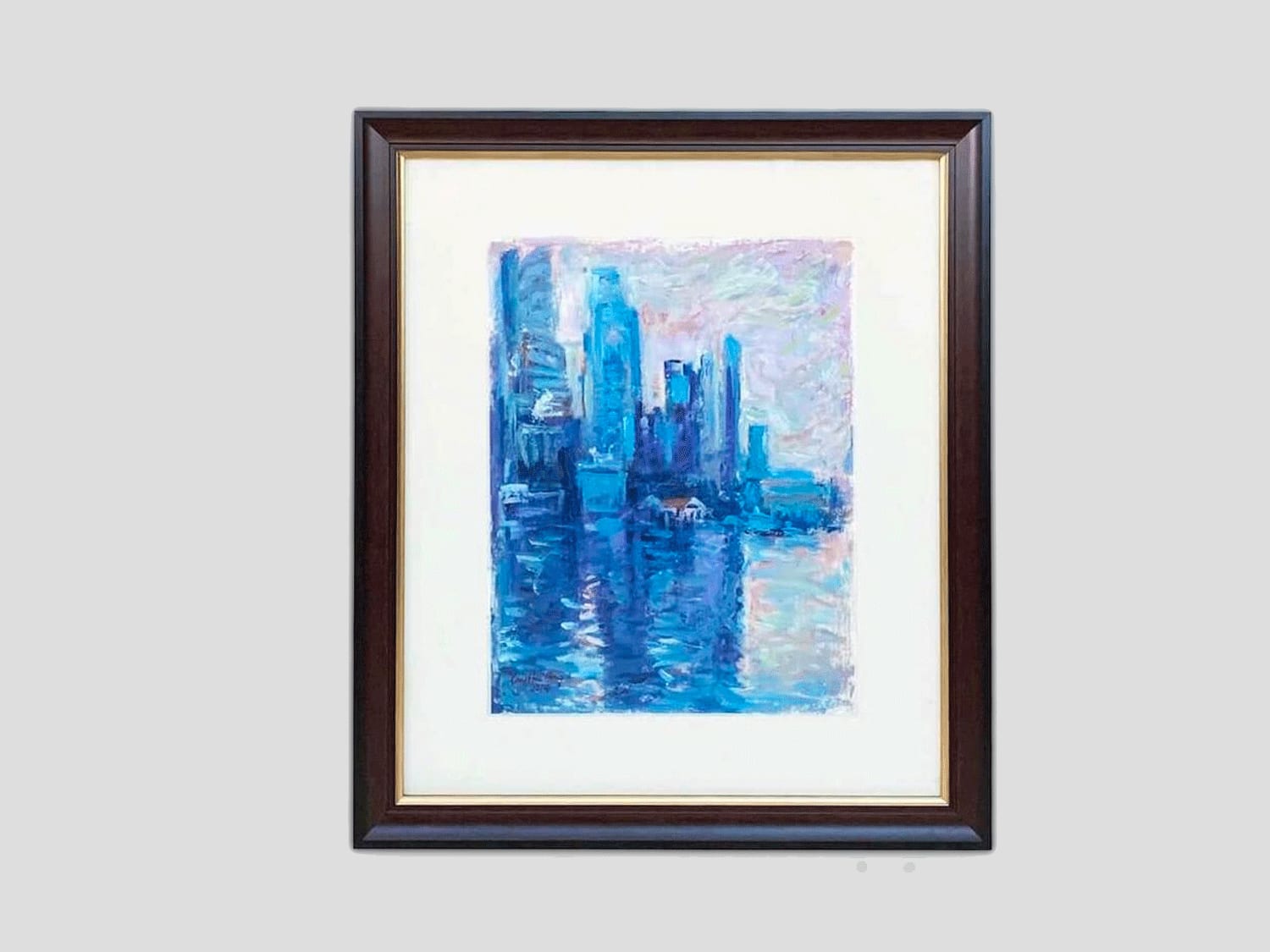 To remove the price barrier, Low offers a rental service for her paintings, starting from S$96 for a painting, per month. She currently has 60 scenic oil-on-paper works available for rental.
"No deposit is required but there is a minimum rental period of four weeks. All the rental pieces come with covers, so you don't have to worry about damaging the painting. I hope this makes art more affordable and encourages people to have art at home," she said.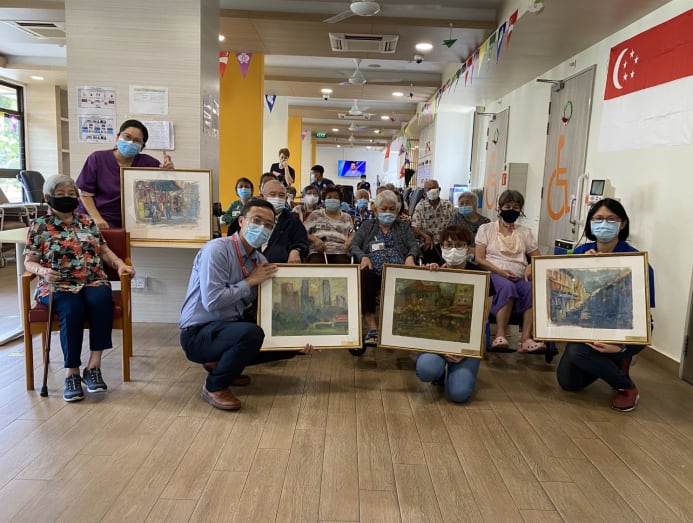 To encourage more people to appreciate art, Low donated 18 paintings worth S$60,000 to Thye Hua Kwan Nursing Home and Eunos Polyclinic. She hopes to donate to Tan Tock Seng Hospital next because that was where her father underwent surgery.
And to build more awareness, Low puts up weekly Facebook Live videos in Mandarin featuring some of her father's artist friends. She also creates YouTube videos introducing one of her father's paintings each day.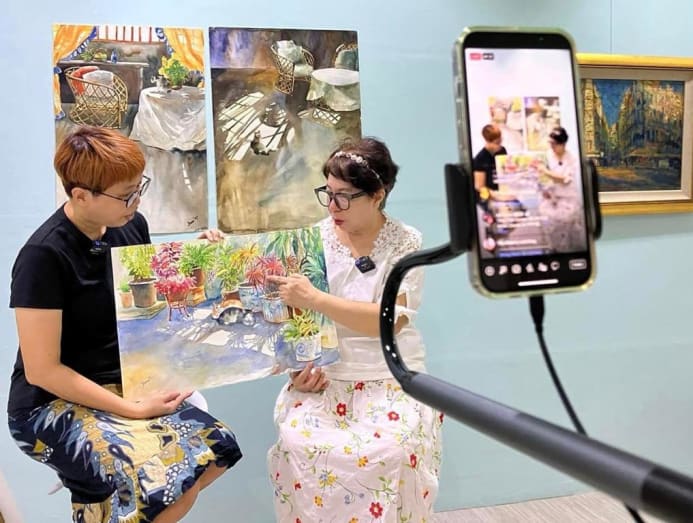 Low is on an ambitious mission to change the way Singaporeans view art. "Most Singaporeans do not buy art. They think it is reserved for the rich, those with big houses, or those who know a lot about art. Most art pieces in Singapore are either sold to collectors or expats," she noted.
"However, that is not true. You don't have to be rich to have art at home. One Indonesian dayak who was not well-off told my father that a house without a painting is like a home without a soul," she added.
"I love having art at home because I always have something beautiful to enjoy and lose myself in. Art opens you up to possibilities because it invites you to imagine. It also makes you feel happy, calm and uplifted.
"I want to build more awareness for art because only when regular Singaporeans buy art can we create a healthy ecosystem that supports our art industry and artists," she said.
"I have spent such a large part of my life supporting my father's dream that I feel like I was a part of his dream. Now it's time for me to have my own dream. My dream is to make art accessible to all," she said.
CNA Women is a section on CNA Lifestyle that seeks to inform, empower and inspire the modern woman. If you have women-related news, issues and ideas to share with us, email CNAWomen [at] mediacorp.com.sg.