Love at first pretzel: The women behind Auntie Anne's family-run outlets in Singapore
As the brand celebrates its 25th year anniversary, the Sulaeman sisters talk to CNA Women about their journey – from a pretzel-filled childhood to taking over the business from their mum, aka Singapore's original "Auntie Anne".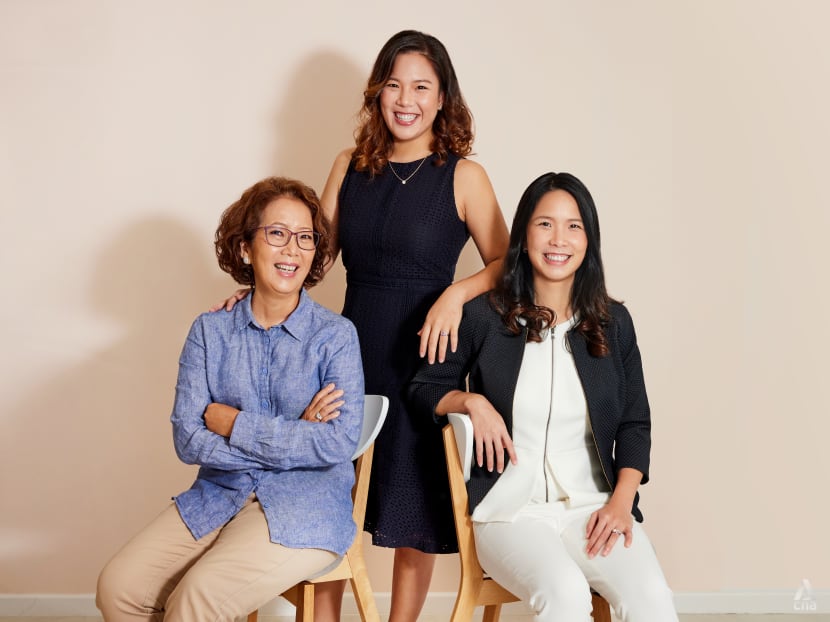 All it took was one bite of an Auntie Anne's soft pretzel for Alice Sulaeman to fall in love with it.  
This was in 1992 and Sulaeman was attending a business conference in Las Vegas, United States, with her husband. She was then 31 years old, and pregnant with their fourth and youngest child Olivia. 
But when the couple approached Anne Beiler and her team, the founders of Auntie Anne's, for a franchise in Asia, they weren't ready, Sulaeman said. So she and her husband continued running their other businesses in Indonesia, where they are originally from (the family moved to Singapore in 1998).
"Auntie Anne's in the US was a very small family business then, so they asked us to come back in two years," she said.
The couple returned to the US in 1994, exactly two years later, to discuss the prospects of opening an international franchise in Asia, including Singapore and Indonesia. The discussion went well – and the couple became Auntie Anne's first international franchisee.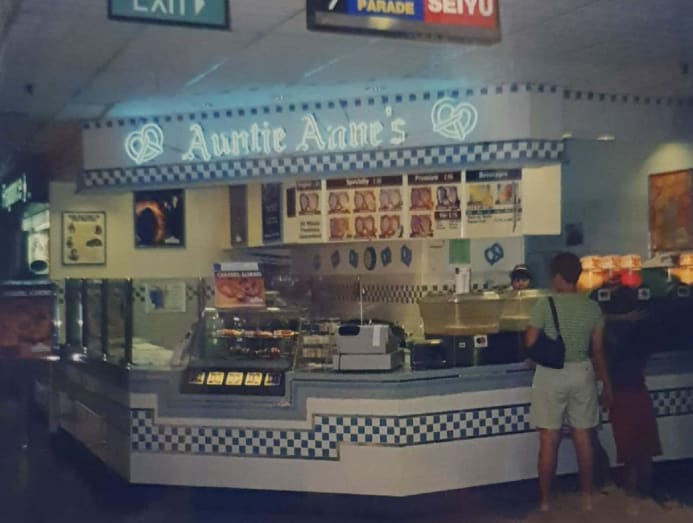 They then opened their first outlet in Indonesia in 1995, and the first Singapore outlet, at Parkway Parade, in 1996. Alice Sulaeman's daughter Olivia was four years old then. The youngest Sulaeman child is now 29, and the CEO of Chrisna Jenio Pte Ltd, the master licensee of Auntie Anne's Singapore.
INTRODUCING SOFT PRETZELS TO SINGAPORE  
At the time, it was difficult for the local market to accept the idea of a "soft pretzel", Alice Sulaeman recounted. 
They were not something people were familiar with. And the brand also faced competition from local bakeries who were selling cheaper "soft bread". Many wondered why it was expensive – and were confused about the texture of the snack that was neither hard nor soft.
People were perhaps more familiar with hard New York or German-style pretzels, Olivia Sulaeman added, and nastier comments even likened it to dog food.  
But things did improve, said Alice Sulaeman. The brand managed to secure prime locations such as Takashimaya and Suntec City, and Auntie Anne's grew in popularity. 
Her husband, who was occupied with running the couple's other businesses at the time, continued to lend his wife his support until Auntie Anne's became more stable. 
Fast forward 25 years, Auntie Anne's is now a household brand. Alice Sulaeman herself went into semi-retirement in 2016, passing the baton to two of her four children, her second child Natasha, now 32, and Olivia. The Sulaemans have two other children, a 33-year-old son and 30-year-old daughter. 
The sisters oversee a team of close to 40 staff across eight outlets here, including its latest stores in Northpoint City and Ang Mo Kio Hub, which opened last year during the pandemic. 
CNA Women chatted with the Sulaeman women about family and business, growing up eating soft pretzels and more. 
DO PEOPLE OFTEN ASK IF YOUR MUM'S NAME IS ANNE?
OLIVIA: People always do. Many people are not aware that the brand is from the US – my parents developed the business even before the American Auntie Anne's gained international awareness.
NATASHA: In the US, the original owner's name is, yes, Anne. But my mum is the Auntie Anne of Singapore. 
ALICE: A lot of countries want to franchise our business. I tell them this is not my brand, so you have to contact the founders. Then they'd say: But I want yours! This is because our menu is different and localised. 
HOW ARE THE ROLES DIVIDED NOW? ARE MUM AND DAD STILL INVOLVED?
ALICE: My husband and I started the business together but once it stabilised, I took the lead. Then, I passed the operations side of the business, including staff training, to Natasha. 
OLIVIA: And I do everything outside of operations. 
NATASHA: Mum is like the consultant, playing the advisory role now.
WHAT'S YOUR BEST MEMORY OF THE BUSINESS WHILE GROWING UP?
NATASHA: Kids dragging their parents, and saying: "Mummy, I want this!". Some of our staff would also remember these kids – they'd buy the pretzels and go back to their mums.
OLIVIA: It became a place where parents can trust their kids to go to. It's nice to see that. 
DO YOUR FRIENDS GET FREE PRETZELS? 
NATASHA: I've got people who tell me, "Can I just show your picture or name card and get free pretzels?" I was like, no? Our staff are not trained to do that. Sometimes, it feels like some of them are just joking, but there are also some who are serious.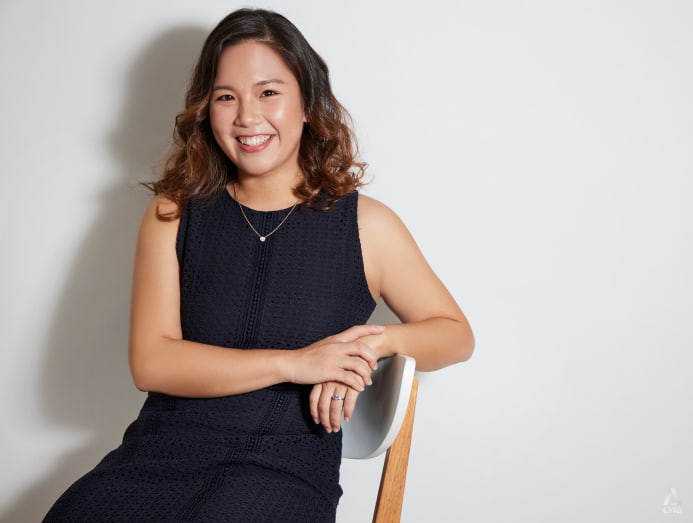 OLIVIA: But I guess that also reflects the general love for the brand. When we were in primary and secondary school, we would walk to Parkway Parade after school and our friends would ask us: "Can we have free pretzels or not?"
I'd tell them: "Don't ask me, ask my mum!" My mum was all-hands on deck and was running the first outlet at Parkway Parade when it first opened. Both Natasha and I would help out whenever we could after school or during our school breaks. 
WHO'S THE CREATIVE ONE IN THE FAMILY?
OLIVIA: That's everyone, actually. Sometimes, we get inspired by flavours we come across when we're overseas.
NATASHA: Olivia would have an inspiration and ask me if we can try it. I'd be the baker and test it out. Then, I will pass it back to Olivia to try. 
ANY SINGAPORE-INSPIRED FLAVOURS THAT YOU'RE PROUD OF? 
OLIVIA: In the US, there are only the Original, Almond Crunch, and Parmesan Cheese flavours. My parents localised the Auntie Anne's menu in Singapore gradually over the years, including introducing Seaweed and Chocolate Eclair. They also created the smaller "Asian" sized pretzel.
NATASHA: Olivia was the one who came up with the seaweed flavour. When we were young, she asked Dad: "Why don't we have seaweed?"  
ALICE: I like the Cinnamon Raisin.
NATASHA: Very difficult … but I'll go with the Chocolate Eclair. Or if I am up for something sour-ish, Zesty Roselle. 
OLIVIA: Mine is the Chocolate Mint and Cheezy Turkey. 
NATASHA: Cannot have two, you must only choose one! 
OLIVIA: One sweet and one savoury, right? 
PEOPLE OFTEN SAY IT'S TOUGH TO DO BUSINESS WITH YOUR FAMILY. DO YOU AGREE?
NATASHA: We don't have crazy arguments, but we do have disagreements in terms of how we do things. When we bring Mum and Dad into the picture, it's more to get their advice, but there isn't a fight so crazy that we'd need to bring someone into the picture to calm the situation.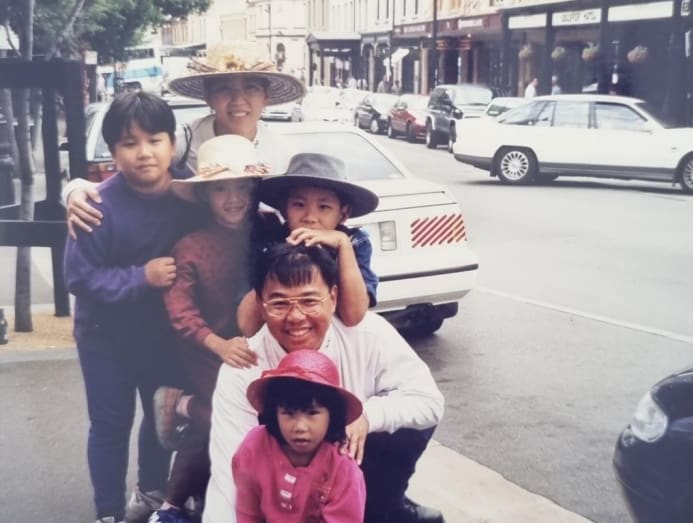 OLIVIA: Our parents educated us that family is very important. I think the hardest part was, all we did was play together. And then suddenly, you have to work together. It's like figuring out how to build that chemistry.  
NAME A PET PEEVE YOU HAVE OF YOUR SISTER.  
OLIVIA: A simple one: Sometimes she doesn't calm down – it's like there's too much energy (laughs). Sometimes I'd be so tired, I'll tell Natasha: "Can you come back tomorrow?"
NATASHA: For me it's the opposite, I'd need to talk to Olivia about something, but I know she's busy, so I just let her be. 
DID YOU BOTH ALWAYS WANT TO RUN THE FAMILY BUSINESS OR WERE THERE OTHER CAREER OPTIONS IN MIND? 
OLIVIA: I wanted to do consulting and stay in the US for a few years after graduation and then come back to Singapore. 
But the business has been such a big part of our lives, especially mine. I literally grew up with it – and I can't imagine what my life would be like if we no longer had Auntie Anne's in it.
Our parents educated us that family is very important.
NATASHA: At 17 years old, I was already telling Mum and Dad that I wanted to take over the business. But they said, no, you should go and do other things. That's when Olivia and I went to the US to study but at different schools. I wanted to go to a culinary school, but I also like to look at buildings and architecture, so I took a degree in that.
Coming back home, I knew I wanted to help with the business, but of course I wouldn't be able to run it on my own. Olivia has more of that business mindset to help it grow.
OLIVIA: As we began gaining more interest in taking over the family business in 2014, Mum started to focus on other businesses, too.
ALICE: At that time, we thought that we weren't able to grow the business anymore. But now they've made it better (laughs) – in fact, much better.
THAT'S REALLY NICE TO HEAR. WHAT DOES SUCCESS LOOK LIKE FOR YOU NOW?
ALICE: For me, it's to have family bonding. It will reflect on your business, too, as you'll have the peace of mind to focus on it. 
I can't imagine what my life would be like if we no longer had Auntie Anne's in it.
NATASHA: Success is not just money – it's more about what you've put into the family and business to watch it grow. It's also seeing consistency in not only sales, but in our staff, how we see them as part of our family and how we value them working together with us. The "family" bond is with the people we work with, too. When you have that partnership, that's what success looks like to me. 
HAS RUNNING A BUSINESS TOGETHER CHANGED THE DYNAMICS IN YOUR FAMILY?
OLIVIA: You see each other every day at home – breakfast, lunch, dinner – and at work. You are basically together every minute of the day.  
NATASHA: When we get off work, sometimes Olivia and I would try to not talk about work.
ALICE: My husband and I are always talking about the business. During dinner or breakfast, the kids would complain: "Why are you always talking about the business?" 
OLIVIA: And when we travel, there's no holiday. Dad is easily inspired, and he'd say: "That's great, why don't we think about doing this?"
NATASHA: For example, the first two weeks would be a holiday, then the rest would be half-holiday, half-work. I remember the time we went to Japan, and he loved the pumpkin pie there. He came home and said: "Tasha, try to make it?"
That's also the fun part of it – where he tried to include us, even during our holiday, in his ideation or research and development for the business. But sometimes, it's a bit much (laughs). 
IT SEEMS LIKE THE PANDEMIC HASN'T AFFECTED YOUR EXPANSION PLANS. HOW DID YOU DO IT? 
OLIVIA: When COVID-19 started, we thought it'd be something that would create a negative impact on the business, but we had the advantage of being nimble. We were quick to make adjustments, for example, we made sure we were available on the delivery platforms in that short period.
We also took the opportunity to secure good outlet locations at Ang Mo Kio Hub and Northpoint City as the landlords were more open and receptive to store rental discussions. 
The first two months of the pandemic, during the downtime period, we took the opportunity to re-standardise our operations, too. It was like a refresher.
ON THE PERSONAL FRONT, ANYTHING EXCITING COMING UP? 
NATASHA: I am getting married next year and yes, I'm going to have pretzels at my wedding, if it's possible.
OLIVIA: I had pretzels at my wedding as canapes; instead of a pretzel stick, it was in a cup with chocolate below it. 
NATASHA: I am going to have a doughnut stand (with the pretzels hanging on the pegs). Since Olivia did it as canapes, I am thinking of my guests being able to go up and help themselves to the pretzels.
CNA Women is a section on CNA Lifestyle that seeks to inform, empower and inspire the modern woman. If you have women-related news, issues and ideas to share with us, email CNAWomen [at] mediacorp.com.sg.