From yoga to HIIT, it's time to book your first sunrise or sunset outdoor workout
When your home workout isn't working out (pun intended) like it used to, these outdoor settings with stunning backdrops provide a much-needed respite for the pandemic-weary.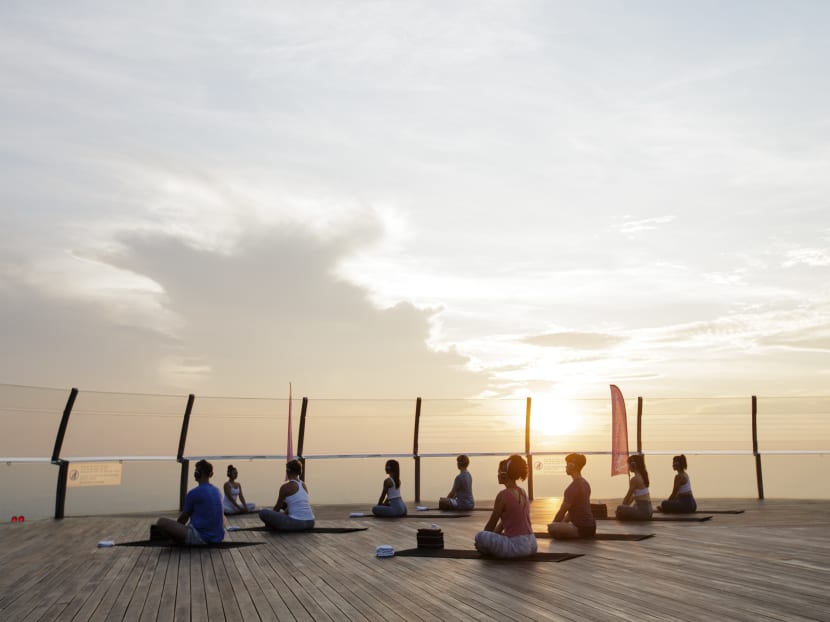 I used to find complete joy in 45-min indoor spinning classes that were a go-to happy place for "me-time". Then the pandemic happened, putting a brake on my studio workout routine.
Both workout enthusiasts and the fitness industry scrambled to adapt to the ever-evolving social distancing rules. Gyms and studios closed, then opened, then closed again. During their closures, some offered on-demand live streaming classes and fitness equipment rentals.
Others brought their classes outdoors – with a view. 
Take indoor cycling studio Aurora Singapore. During Phase 2 (Heightened Alert) in May this year, they moved their classes outdoors, allowing people to spin at the open area located at South Beach.
Also in May, Level Singapore, which specialises in personal training and strength-based workouts, brought back its "old-school classic bootcamp" of squats, lunges and sprints at The Lawn at Marina Bay. Today, it also holds its personal training sessions outdoors, at the scenic Telok Ayer Courtyard.
Similarly, R10T, a hybrid gym nestled in the heart of the Central Business District (CBD) that opened in January, moved its hybrid concept (cardio and strength conditioning class) to its outdoor rooftop deck. Located on the sixth floor of the gym next to Oxley Tower, it affords a view of the surrounding skyscrapers. 
Said Joshua Koh, Strategy and Planning Director of R10T: "It's also about reclaiming a sense of normalcy and control in people's lives."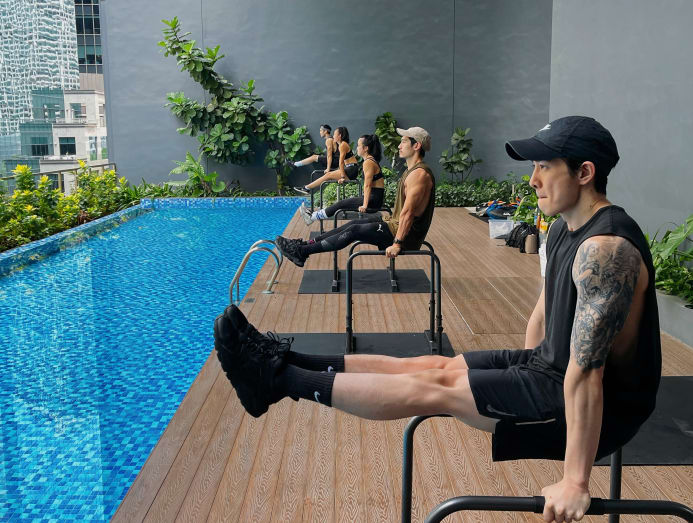 Jeff Chuang, Director of Level Singapore, said that there are many benefits of exercising outdoors. "Sunshine increases serotonin, a hormone that affects your mood. Exercise itself produces endorphins, another feel-good hormone that boosts your mood and reduces pain. And being in the sun also boosts production of Vitamin D in your skin, which helps with calcium absorption, bone health and immunity."
Millie Bampfylde, Head of Marketing at health and fitness service provider UFIT, added: "This helps to relieve stress, it lifts everyone's mood and gives the feeling of freedom."
With the most recent easing of COVID-19 measures, regardless of vaccination status, indoor mask-on and all outdoor activities in gyms and fitness studios can continue with up to 50 people, in groups of five. 
For indoor mask-off activities, up to 30 vaccinated people can participate in groups of five.
While some of these outdoor workouts have now shifted back indoors, others decided to continue – or were already part of the the gym's mainstay activities to begin with. CNA Lifestyle susses out what it is about these outdoor workout settings that make them so attractive – and addictive.
IT IS A BREATH OF FRESH AIR 
The first time I tried outdoor yoga was in July, right before Singapore returned to its second round of Phase 2 (Heightened Alert). International fitness chain Virgin Active took things up a notch in a tie-up with Marina Bay Sands (MBS), bringing their yoga classes to the building's 57th floor.
It was a breath of fresh air – literally. The SkyPark Yoga class, which the gym launched on Jul 21, was the chain's second time holding such a class globally. Virgin Active had previously organised an outdoor yoga class in Sydney, Australia, set against the backdrop of the Sydney Opera House.
At the SkyPark Yoga class, participants were first ushered to their mats (which the gym provides) in groups of five, and given a set of wireless headphones so they could hear the instructor clearly.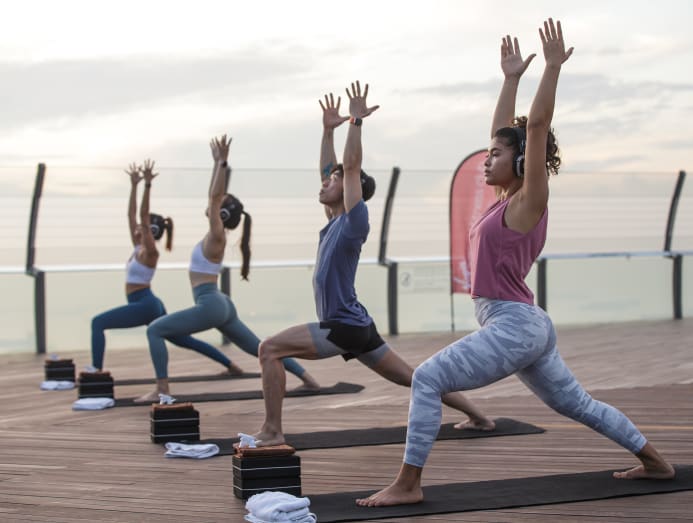 I have to say that there's something about the wind caressing your face when you're at the top of a building that completely changes the nature of your workout. I felt on top of the world, literally.
Outdoor cardio workouts such as HIIT and strength-conditioning exercises are also proving to be a hit with gym goers too.
Said R10T's Koh: "People do enjoy it. It's therapeutic, where people can have views of the pool deck. It wasn't about keeping everybody locked in a little room – there's fresh air and it's just different." 
UFIT, which started outdoor running classes in 2011, also currently offers four types of outdoor workouts (about S$30 per class), including strength-building, HIIT and yoga.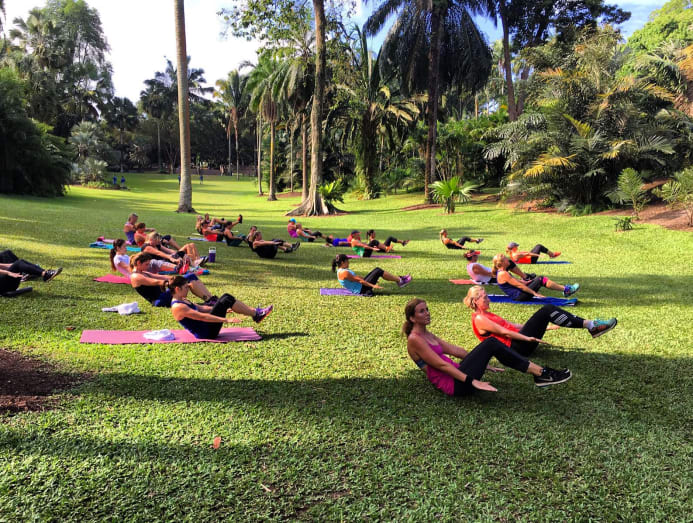 "Everyone loves being out in the open air. It is a great community workout that builds camaraderie while challenging your physical and mental limits," said UFIT's Bampfylde.
IT COULD SERVE AS THERAPY 
Julie Moksim, Co-Director and a yoga teacher at Urban Yogis, told CNA Lifestyle that everything that we experience in the world is done through our senses, including our sight.
"Practising yoga in front of a beautiful natural view, or even an awe-inspiring cityscape such as the view of the CBD from the Marina Promenade, helps us to tap into our sense of ease, our sense of purpose, feelings of gratitude and even creativity," she said.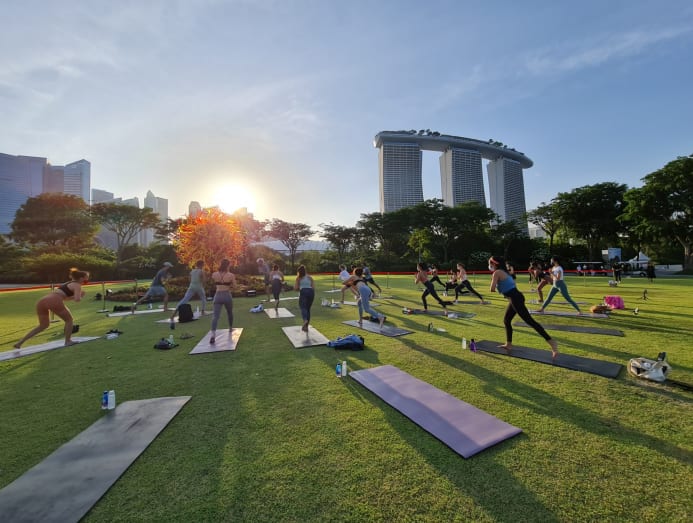 Moksim said that practising yoga outdoors means that we are practising in an ever-changing (and uncontrolled) environment. 
"The benefit is that each time we show up to our mat, we are met with a completely different environment to practise. (Because) each experience is unique, it teaches us to soften and surrender to change, which is a really big part of mental well-being," she explained.
Since the start of the pandemic, Urban Yogis has seen a growing interest in their outdoor classes, with prices ranging from S$10 to S$28 per class. Classes with a view include those at MBS, Botanic Gardens, Gardens by the Bay and Bedok Reservoir. If you are looking for a free class, check out the one on Monday evenings at Suntec City.
IT HELPS YOU START (AND END) YOUR DAY WELL
One of the most attractive parts about outdoor workouts is the availability of sunrise and sunset classes, where the view adds to the whole experience.
And it can be pretty magical. "Fresh air, the changes in the colour of the sky as the sun sets, the changing sounds when the sun goes down. (These get us) connected more to our natural rhythm, and in doing so, have a huge impact on our nervous system," Moksim said.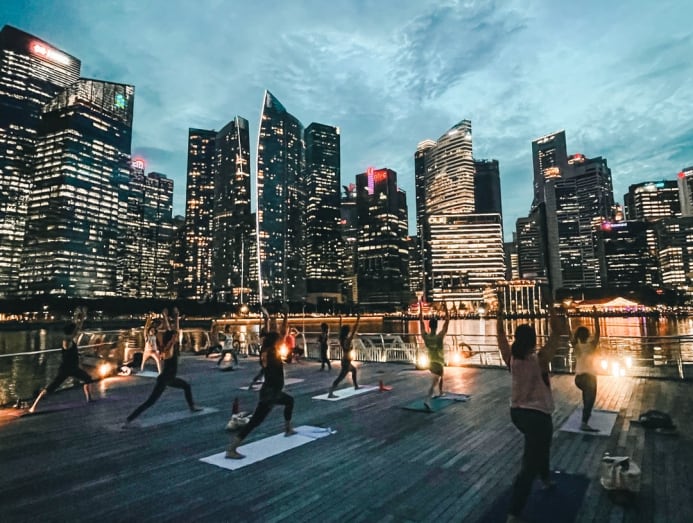 Chuang from Level Singapore, which holds its HIIT classes (S$40 per class) at The Lawn at Marina Bay, said: "Those who come to our 7am classes can experience the sunrise as they work out."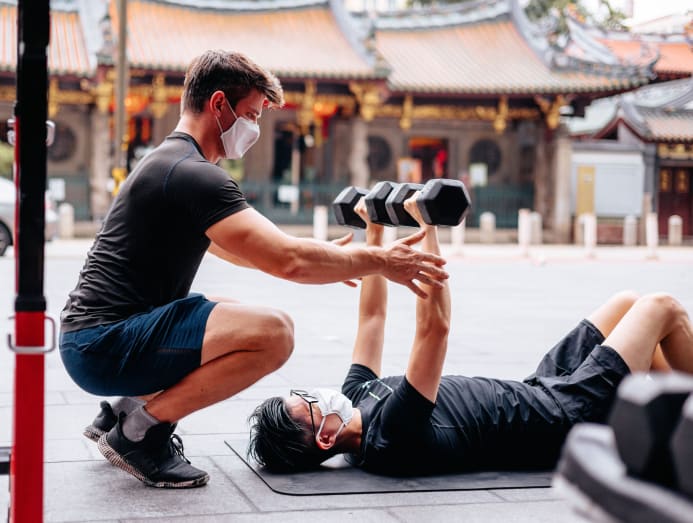 Similarly, Virgin Active's SkyPark Yoga class offers 16 weekly sunrise and sunset classes (S$30 per session for non-members) at 6.45am and 6.30pm, respectively.
So if you've been feeling cooped up or looking to switch up your workout routine, maybe it's time you give outdoor workouts a try.
CNA Women is a section on CNA Lifestyle that seeks to inform, empower and inspire the modern woman. If you have women-related news, issues and ideas to share with us, email CNAWomen [at] mediacorp.com.sg.