Why I'm wearing metal braces for the second time, even though invisible braces are a trend
If you haven't worn your retainers in years (and are beating yourself up about it), you aren't alone. CNA Women's Sharon Salim spoke to orthodontic experts to help you weigh your options for teeth aligning treatments so you can decide whether it's worth the hassle to do it a second time.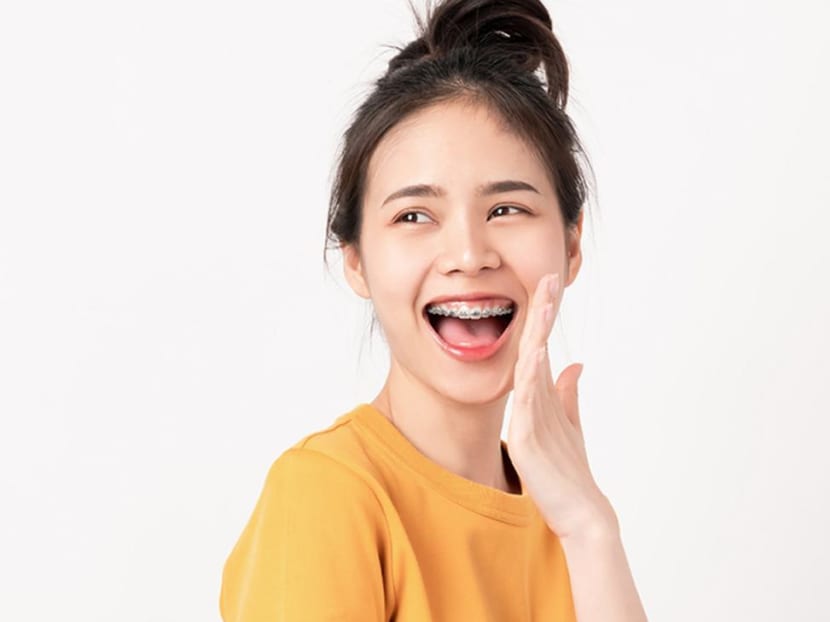 I was 15 years old when I first wore metal braces. I was in secondary school and thought it looked "cool" as the braces came with coloured bands you could match to your uniform (don't judge). 
But the cool factor was secondary. I had an overbite, where the upper front teeth overlap or cover part of the lower front teeth, and it was taking a toll on my confidence and self-esteem. 
My mum brought me to the dental clinic whereupon my dentist extracted four teeth before starting the orthodontic treatment. I spent the next three years of my teenage life making monthly visits to the dentist, correcting my teeth positions, and hoping that one day, I would have a straight set of teeth and a confident smile. 
I enjoyed more than a decade of this – until I stopped wearing my retainers (you're supposed to wear them nightly for the rest of your life) for a good five years. The retainers broke, and I was too lazy to have them remade.
As a result of my laziness, both my upper and lower teeth had shifted. My problems were overcrowding and deep bite, where my top front teeth had overlapped the bottom teeth – giving me a slight buck teeth effect that was quite obvious in pictures. 
Then came the painful part: Deciding whether to correct my (again) misaligned teeth (for the second time). I wanted my teeth to return to the way they were – and feel confident about myself again.
NOT WEARING RETAINERS AND A CHANGE IN FACE STRUCTURE 
While not wearing one's retainers post-teeth alignment is a common reason why teeth shift, the dentists CNA Women spoke to pointed out that our face shape, including facial structure, soft tissues and teeth position, might change as we grow older. 
In the event that the patient does not wear her retainers, then the teeth may become crooked again.
They also said that dental crowding, where your teeth move towards the middle, can happen with age, whether you've had orthodontic treatment previously or not.
The facial skeleton continues to grow throughout your adult life at a small and almost imperceptible rate, said Dr Tan Kok Liang, the founder and orthodontist at emBRACE Dental Surgery. Your lower front teeth too, tend to crowd with age due to continued jaw growth. 
"Such changes may negatively impact the result obtained during earlier orthodontic treatment," he added. 
Dr Lianny Tjoa, a general dental practitioner at Luminous Dental Group, also said that whether you've done orthodontic treatment or not, the position of your teeth changes throughout your life. 
DECIDING TO WEAR BRACES FOR THE SECOND TIME 
It turns out that I wasn't alone in deciding whether it was worth the time, effort and money to get fitted with braces again. 
In a 2019 BBC article, one dentist said he had noticed an increase in adults seeking braces over the past decade. "We are getting a lot of adults who are coming through the door for the second time round," he said.
"Maybe social media is playing a big factor in it nowadays and they want to straighten their teeth and have a more perfect smile."
Women patients who return for a second course of treatment dislike the appearance of their teeth and/or smile. It would be a conscious effort to give herself a boost in self-esteem and confidence.
The trend is similar in Singapore. Singapore dental startup Zenyum, which offers invisible braces, told CNA Women that 70 per cent of its patients are women. A wedding engagement is often a trigger, it said, because the bride wants to look her best for the wedding.
"Women patients who return for a second course of treatment dislike the appearance of their teeth and/or smile. It would be a conscious effort to give herself a boost in self-esteem and confidence," said Dr Tan of emBRACE Dental Surgery.
"Some relapses, mainly crowding and gaps, can be so severe that it should get a re-treatment," said Dr Tjoa of Luminous Dental Group. "If the teeth are moderately to severely crowded, braces will help to straighten the teeth which can be easier for cleaning in the long run." 
Orthodontic treatments are more accessible now, and the methods of doing so are a little "gentler" than in the past.
It tends to be working adults who opt for braces the second time, she added. "I think the people from this age group are more conscious about their teeth as they need to meet more people because of their profession."
Dr Tjoa's colleague, Dr Reuben How, a dentist at Luminous Dental Group with 15 years of orthodontics experience in Australia and Malaysia, said that some patients may also have different treatment goals the second time. For example, a patient who wants to fix their protruding teeth might even take longer as compared to the original treatment.
"More people are also doing it because orthodontic treatments are more accessible now, and the methods of doing so are a little 'gentler' than in the past," said Dr How, referring to the availability of more aesthetic forms of treatment, such as clear aligners and ceramic braces, which are less visible on your teeth, compared to traditional metal braces.
WIDER RANGE OF TEETH ALIGNMENT OPTIONS 
Take your time in considering your options to determine the motivating factors behind seeking teeth-alignment treatments, advised Dr How. 
"Is it solely to improve aesthetics? Is a compromise possible? Or do I want comprehensive bite correction that might involve more complex procedures to improve both aesthetics and function?" he said.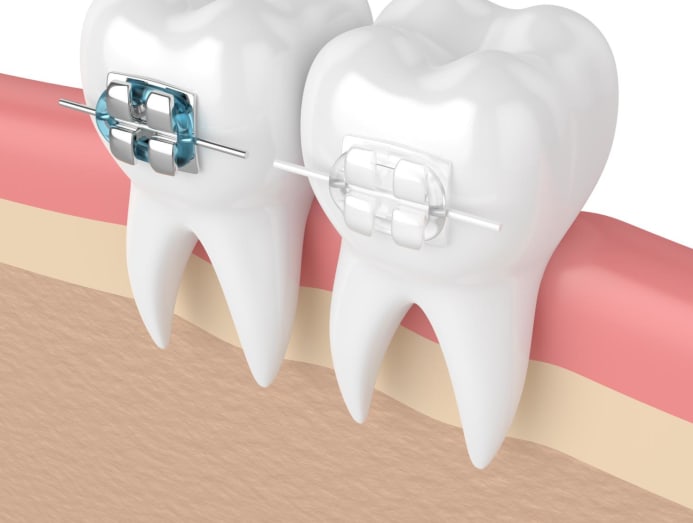 To help, you can refer to this breakdown of what's available: 
Non-aesthetic options 
Metal braces are traditional metal brackets which are bonded to your teeth throughout the whole treatment, said Dr Tjoa. Dr Tan describes it as the most economical way to straighten teeth.
Aesthetic options 
Clear plastic aligners, including the popular Invisalign, can be used to align teeth, said Dr Tan. You'd need to wear them for 20 to 22 hours a day to move the teeth.

 

Note that there are cheaper clear aligner systems in the market, such as Zenyum, which starts at S$2,400. The upside of clear aligners, said Dr Tjoa, is that

treatment plans can be visualised through software, so an end result can be estimated from a computer program.

 

Lingual braces are braces that are bonded behind the teeth, explained Dr Tjoa. "It is the most expensive and uncomfortable option as adaptation may take up to a month. Tongue space is reduced and time is needed for you to get used to the braces," added Dr Tan. 

Ceramic braces are similar to metal braces, said Dr Tjoa, except that ceramic brackets, instead of metal ones, are bonded to the teeth. "These are noticeable but less so compared to metal braces," said Dr Tan. 
Beyond aesthetics, choosing the most suitable form of orthodontic treatment also depends on your lifestyle and profession, the current complexities of your teeth condition, and your re-treatment objectives.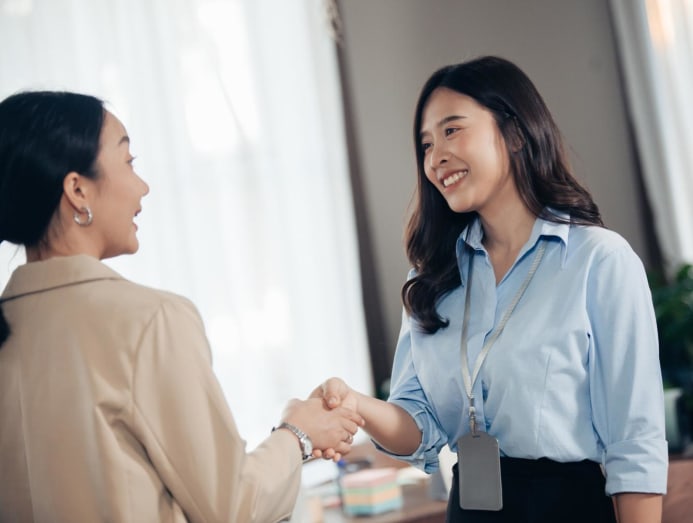 A flight attendant, for example, may choose to wear clear aligners instead of metal braces.
Whatever you're leaning towards, you should speak to a dentist about your options – including projected timeline, estimated cost and treatment plan before reaching a decision.
MY DECISION TO WEAR METAL BRACES AGAIN
So here I was, a 29-year-old working adult needing a boost of confidence with her teeth and smile again. 
After visits to five different orthodontists, including a return visit to the one I went to as a teen, coupled with repeated X-rays and 3D scans, I decided to go back to traditional metal braces. The treatment plan and cost were the best options to correct my teeth condition.
I appreciated that my treatment would involve an 18-month programme that came at a fixed cost of S$3,800. 
That is not to say I wasn't tempted to go with invisible braces for their aesthetics and convenience – two of the five dentists I had earlier consulted had told me the Invisalign option would cost me $4,500 and S$5,500 respectively, and possibly up to S$7,000. 
I know some may see it as "unprofessional" to be wearing metal braces at work, especially if you are in a sales job or often need to do presentations. Although I was slightly worried about wearing metal braces again, I was surprised that I could look past its minor inconveniences, and eventually, started enjoying the process. 
Eight months into my metal braces treatment, I can see some improvement in my crooked lower front teeth, which are gradually straightening out. This means I'm almost ready to move forward to the next stage of treatment, where my dentist might have to shave off one or two teeth to make space for the upper front teeth to shift inwards.
Dr Tan's advice to maintain the results is, of course, to wear your retainers (nightly, forever). "I would recommend re-treatment if the patient wants it and is agreeable to wearing retainers long-term to maintain the result. In the event that the patient does not wear her retainers, then the teeth may become crooked again."
Needless to say, I hope to not have to embark on a third wearing of braces in my life.  
CNA Women is a section on CNA Lifestyle that seeks to inform, empower and inspire the modern woman. If you have women-related news, issues and ideas to share with us, email CNAWomen [at] mediacorp.com.sg.