She left her corporate job to become a wet market fishmonger and opened The Chapalang Shop in Bedok
Dawn Lim's unusual career choices and passion for fish hawking have won her fans, including a customer who was so impressed by her gumption, he offered her a job. She talks to CNA Women in this instalment of our series on women who made extreme job switches.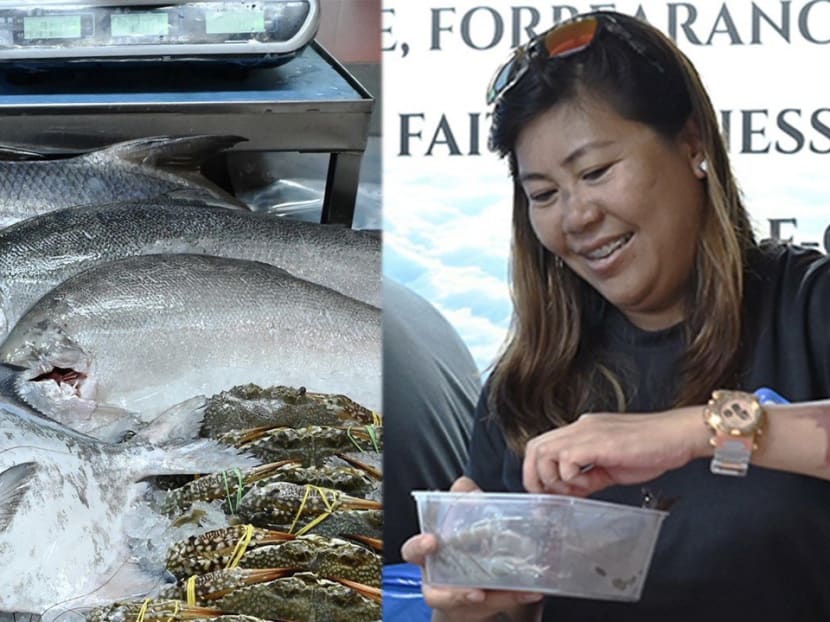 It is impossible to miss Dawn Lim at the Blk 216, Bedok North Street 1 wet market, where she runs her fish stall, The Chapalang Shop, with her husband, Alvin Kong.
You hear her bright voice, code-switching between Mandarin, perfect English and Singlish. And then, you see her 1.65m, tanned frame stropping about in nautical-themed navy blue-and-white striped boots.
Like Lim, her seafood is larger-than-life. Giant king prawns bigger than our face; fleshy squid the length of our forearm; and monster-sized trout that are a favourite among her customers – the 45-year-old hawkerpreneur even heads out to sea monthly to catch her own fish for The Chapalang Shop.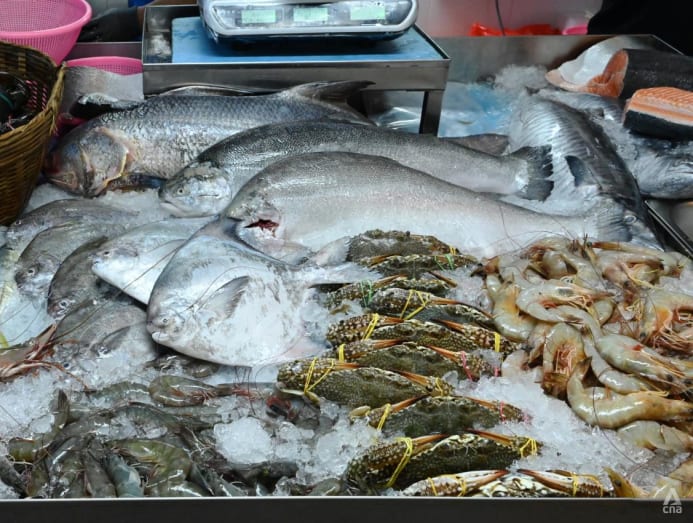 A shopper walks past the stall, does a double take, and exclaims: "Oh! So this is The Chapalang Shop! I've ordered seafood from you before, through my condo's group buy."
Within seconds, Lim has chatted her up, asked her first name and – get this – correctly identified the condo and her surname.
The shopper notes the freshness of the orange-pink trout approvingly but says she hates cooking fish with bones.
"Don't worry, we'll clean, debone and vacuum-pack them for you. It's part of our SOP (standard operating procedure)," assured Lim, her tattooed arms busily picking up various fish to show her. "How many slices would you like?"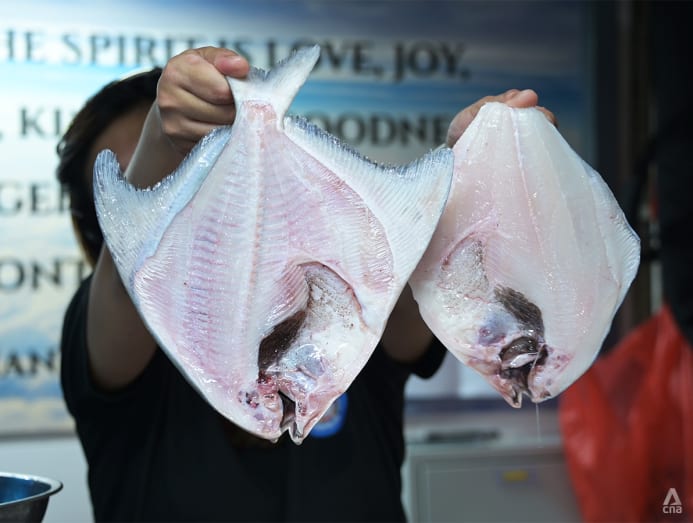 The sale is closed and now it's Kong's turn – he gets to work deboning the fish. Everything is packed with ice and sealed in a chiller bag, emblazoned with The Chapalang Shop's logo.
Kong takes care of the daily running of the stall while Lim handles marketing and online orders. On weekends, she joins him to work the weekend crowd. 
WEARING MULTIPLE HATS
Other than the fish stall, which opened in March 2022 in Jurong West and relocated to Bedok North in May this year, Lim has a side hustle running a home kitchen, selling seafood dishes such as fish head curry.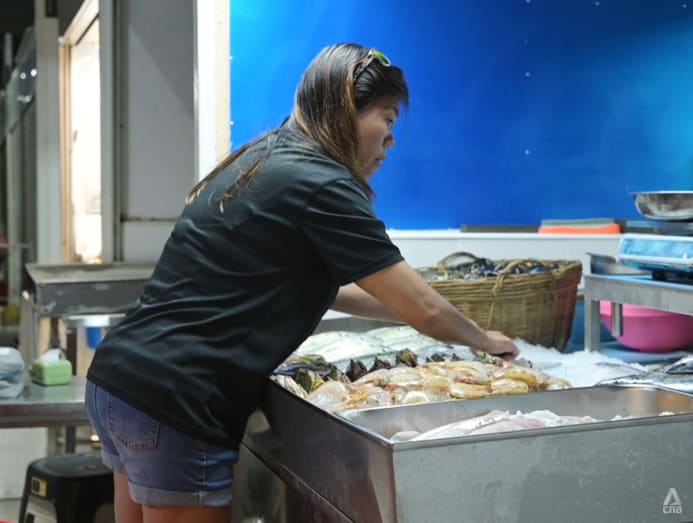 She also caters for parties and BBQs, and accepts bookings as a private chef – at a recent event, she manned a live station, cooking 100 portions of fried Hokkien mee over a roaring charcoal fire.
On top of that, she has a day job. For the last six months, she has been a sales manager at a company that provides portable toilets and diesel refuelling services.
Interestingly, her boss was – and still is – a customer. "He decided to text me via Facebook to offer me the job. He says that he feels I can take up the role and do well," recalled Lim. "My boss is supportive (of my business), he purchases seafood from me pretty regularly because he knows I will give only the best."
She fully focuses on her sales job during office hours, but after that, switches focus to the fish stall, where she responds to enquiries on The Chapalang Shop's social media.
HOW TO CHOOSE THE FRESHEST FISH
Angler-turned-fishmonger Dawn Lim of The Chapalang Shop shares her tips.
Look for clear eyes and a firm body

The gills must be bright red

If you are adventurous enough, open up the gills and feel for a little slime. That's

the 'good' slime that protects the fish and helps it slide through the water when it was alive

However, if it's slimy and smells bad, that is not the slime you want
BUSTING GENDER STEREOTYPES
Prior to the fish stall, Lim was a regional sales manager in the marine and offshore industry. "Rain or shine, I'd don my coveralls, safety helmet and boots, and go onboard vessels and oil rigs, supplying everything you can find onboard," she said. She was then a single mum caring for two sons, now 18 and 13.
The only child in the family, she dropped out school in Secondary 4. "I turned out a delinquent. My father was quite disappointed. That was when I told myself that I had to pull my socks up and buck up. Once that decision was made, I never looked back because the only way was up."
She enrolled in the school of hard knocks, picking up various odd jobs. Starting as a waitress in a cafe, she then became an office clerk and later, a purchaser.
Eventually, she "worked my way up with the right mentality and attitude" and ventured into regional sales. On the massive oil rigs and vessels, she handled clients from Asia, Europe and the Middle East, gaining precious technical knowledge by constantly asking questions.
Dawn Lim left her corporate sales job to open The Chapalang Shop 2 in Bedok, to bring fresh-from-the-sea catch to her customers' dining tables.
DON'T JUST SURVIVE, THRIVE
At the stall, Lim is a blur of motion. She juggles her customer's enquiries while vacuum-packing her trout, and calls out to another to choose her prawns. In between, she's texting and arranging a work meeting.
You'd never have guessed that she hasn't even gone to bed yet, as she was busy with some work the night before and arrived at the stall with Kong at 5am.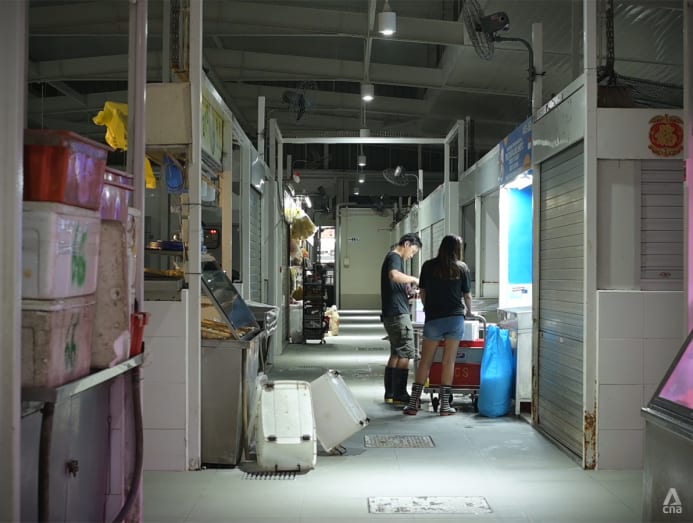 The couple, who got married last year, met through a common friend, and bonded over their love for fishing. They used to go on regular fishing trips, where they learned about different seafood from more experienced anglers.
They had been giving away their fresh catch to family and friends, which inspired them to open The Chapalang Shop. "It's about passion and being able to bring good seafood from the sea to the dining table," said the accidental fishmonger.
Running a business with her husband "was a struggle and an uphill battle" at first. "Alvin is more chill while I'm particular about a lot of things. I always tell him that we have to put ourselves in our customers' shoes. How would we feel if we were to receive our package in a mess?
"We do argue a lot because sometimes, I would say, 'it's not good enough, this can be done better'. Eventually, I think he understood," said Lim.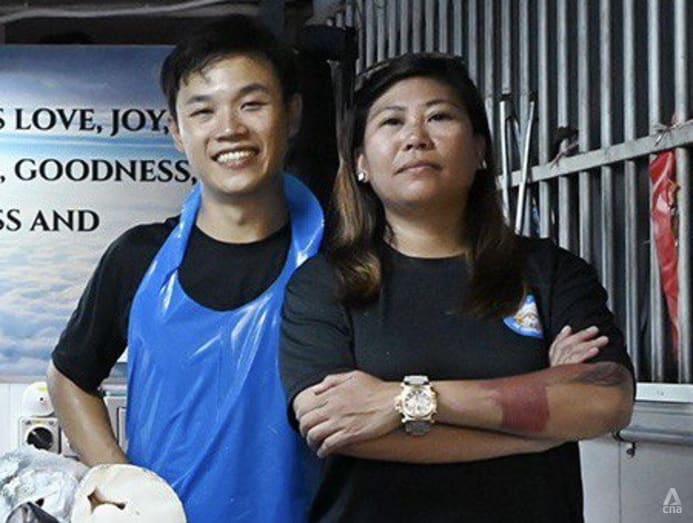 The relatively youthful hawkerpreneurs are a rarity in the wet market and sometimes face discrimination. Older customers, in particular, are sceptical and assume they're inexperienced and lack knowledge about seafood and how to cook it.
"I tell them that if our seafood isn't good, come back to us for a refund," said Lim confidently. Another common comment: "Wah! You sell fish, (but) you can speak good English!"
BRINGING CORPORATE PRACTICES INTO THE WET MARKET
Her corporate experience has helped the business: Being audience-centric, ensuring consistency, and investing in building up their branding.
Theirs is the only stall at the wet market to vacuum-seal the seafood into portion sizes. "It's so the customers don't have to re-pack everything again into bags before putting them into the freezer. This avoids double handling," Lim explained.
The couple keeps track of customers' preferences by keying in every order. Many order online. "We update them with photos of their orders with the weight and price of the seafood before delivery. Customers need to know what they're paying for as they're not at the physical stall, so we need to provide them with some assurance."
Their bright blue signboard, logo, specially-designed chiller bags and regularly updated social media form an important part of their brand. Lim's marketing strategies include doing live-streaming when they first started their stall to build up awareness.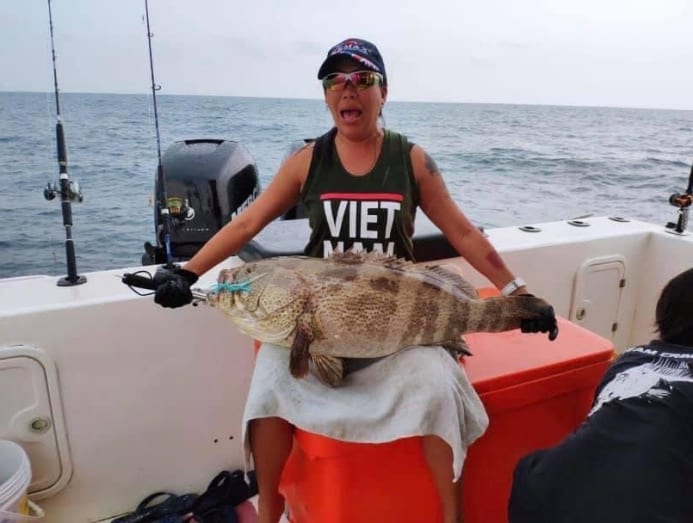 As she goes on monthly fishing trips to East and West Malaysia, she offers extra value that others don't, with an uber-fresh catch that's often snatched up by customers.
She also offers monthly seafood subscription boxes, in weights of 3kg, 5kg and 10kg, which she said are popular with customers too busy to hit the wet market but who still want the freshest seafood.
"I KNOW WHAT IT FEELS LIKE TO HAVE NOTHING"
While life may look like one non-stop hustle, Lim makes time to give back. In fact, that is why she started her home kitchen in the first place.
During the COVID-19 pandemic, friends encouraged her to sell her fried mee siam, a much-requested dish at their gatherings. Business grew to 400 packets per day and Lim saw it as an opportunity to raise funds for charity. She also decided to cook more to distribute to low-income and elderly residents living in rental flats in Chinatown.
She is now a familiar sight at Banda Street. She delivers her home-cooked meals and rations to them monthly, joined by Kong and like-minded friends.  
What drives this enigmatic woman to spend her precious little free time to do this? Lim recalls the challenging early days when, as a single mum, she and her two kids had to live from pay cheque to pay cheque.
When one was sick, she'd have to skip work. As her younger son is dyslexic, she attended special classes with him when he was three to six years old. "All these special classes and consultations with specialists were extremely expensive," she said. 
"I know what it feels like to have nothing. But if we reach out and share whatever little we have, the world will be a nice place to live in."   
Other women who made extreme job switches:
CNA Women is a section on CNA Lifestyle that seeks to inform, empower and inspire the modern woman. If you have women-related news, issues and ideas to share with us, email CNAWomen [at] mediacorp.com.sg.