This young mum taught herself to sew and started a sustainable kids clothing shop
Mother-of-two Raeann Heng launched Cheeky Feys to reduce fabric waste and address the impact of fast fashion for kids. CNA Women speaks to her in this newest instalment of our women in sustainability series.
Some have suggested that raising children can take a tremendous toll on the planet, even when it comes to basic necessities like clothing. And as a mother of two and a founder of a sustainable children's clothing shop, Raeann Heng is well aware of the natural resources it takes to raise them.
"A child between the ages of two and four may go through two clothing sizes each year. Multiply that by the number of pieces they own and you may be disposing 60 to 100 clothing items for a single child alone yearly," said the 27-year-old.
The problem is compounded when fast fashion items are priced so cheaply that parents don't think twice about buying multiple items with similar designs and functions. Some of these items may only be worn a few times and are not made to last.
Determined to break the cycle of mindless consumption and careless wastage, Heng launched her online children's clothing shop Cheeky Feys in April this year. The clothes are made from locally sourced natural fabric such as cotton, linen and bamboo, as well as upcycled pre-loved fabric.
Unlike fast fashion brands that produce clothes in large quantities, Heng makes these for Cheeky Feys in small batches, which can also be customised for each child's body shape. Steering away from fads, it offers more evergreen designs with a vintage touch and a lifetime guarantee on seams for longevity.
HER MUMPRENEURSHIP JOURNEY
You could say Heng's small business was propelled by the demands of motherhood. The former freelance wardrobe stylist stopped work in 2019 after the birth of her second child, when her 12-hour work days became unsustainable. She has two daughters, five-year-old Ava and two-year-old Brianna.
With a passion for the environment, the stay-at-home mother decided to pick up sewing to test her theory that well-thought designs, and customised, comfortable and durable clothes would substantially reduce fabric wastage.
The resourceful young mum taught herself to sew via YouTube and later took a class at a community centre. Then, during the early days of COVID-19 in 2020, she used her newly acquired sewing skills to launch a Kickstarter campaign to make a thermal insulated reusable sandwich bag to reduce plastic use.
Over a period of two years, she also sewed some 30 pieces of clothing for her daughters. When friends expressed interest in her designs, she launched Cheeky Feys.
SLOW FASHION FOR CHILDREN
Tapping into her styling experience, she curates patterns from indie designers, makes fun edits such as adding bubble sleeves to a particular design, and sources for fabrics with interesting textures and prints.
After orders are placed, she takes one to two weeks to complete the order, often working from 10pm to 2am when her children are asleep.
Heng generally produces five pieces per design with each fabric. After the fabric runs out, she uses a different fabric. This makes her pieces more unique than mass-produced brands. Prices start from S$28.90 for a pair of shorts to S$55.90 for a limited edition custom-made shirt.
Defining her business as slow fashion, Heng explained: "Slow fashion generally helps you buy slower. When you make items slower, people will have to buy slower. When you give people time to think about what they are buying, chances are, they will not fall into the trap of impulse buying. If they buy slow, they are also more likely to throw slow."
She added: "There is a surge of fast-fashion brands because it is convenient – you just walk in and buy something because it is cheap. According to BBC, the average American throws away 37kg of clothing each year."
Heng continued: "I used to think that mass produced items are cheaper because they are made by machines. But did you know they are actually produced by workers who rush through five pieces an hour at sweatshops, usually in very bad conditions? If you know why it is so cheap, would you still buy it? Or would you choose to change your lifestyle? I did."
SUSTAINABLE FABRICS SOURCING
To support a circular economy, Heng sources for most of her fabric from small local shops in Chinatown. This ensures that the money and material circulates within the country and strengthens the local economy, she explained.  
She uses natural fibres exclusively. "Natural fibres are more comfortable and also more biodegradable than most synthetic fibres. Some synthetic fibres like polyester or rayon also release toxic substances when produced," she said.
Where possible, Heng sources for pre-loved or unwanted fabric with interesting prints at Goodness Me! Fabric Destash Facebook Group.
One of her more interesting finds was a textured ivory cotton costume, which she turned into unique pieces of children's clothing. To deep clean such upcycled fabric, she soaks them in boiling water, detergent and baking soda.
To ensure that even scraps don't go to waste, Heng also started a Scrap Fabric Swap Facebook group. "As a seamstress, you end up with pieces of odd-sized fabric that might be too small for you to use, or you just don't want to make a second shirt with the same fabric.
"This group allows us to swap fabric with no money involved," she said.
She uses the bigger pieces to make clothes and smaller scraps to make reusable dish sponges, which she sells at her shop as well.
SUSTAINABLE SEWING PRACTICES
As a rule of thumb, Heng doesn't stockpile clothes and only produces each piece when she receives an order.
"I don't make in advance to prevent over-production. You never know if a style is going to be a hit or flop. If you have unused fabric, there are so many other possibilities – you can make it into a bag or hat. However, it is harder to repurpose ready-made clothes without wastage," she explained.
Cheeky Feys also offers customised blended sizes – Heng can lengthen clothes for taller children, or shorten them and increase the waist size for sturdier children who may not be comfortable in the standard styling chart that store-bought clothes come in.
Each piece is sewn to last. Heng doubles French seams in some cases and physically stretches each piece to stress test it. She also offers a lifetime seams warranty.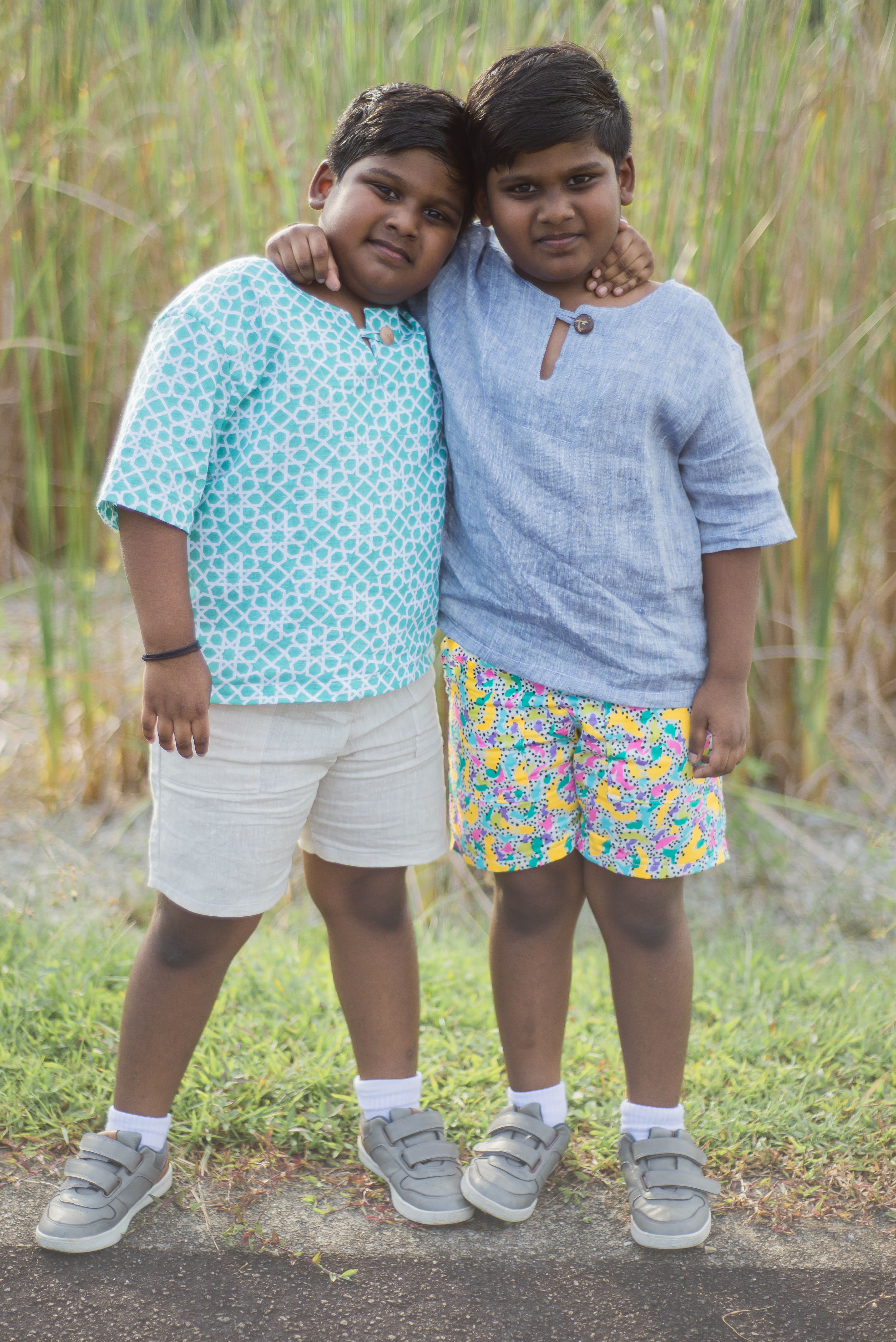 "I realised fast fashion children's clothes didn't last when my second child got hand-me-downs from her sister. While the fabric seems fine, the waistbands and hems were coming apart," she noted.
"That is why I offer a lifetime warranty on seams. I don't want people to toss clothes out when the fabric is fine. I want my clothes to not only last for the child, but also be passed down to siblings or friends to reduce the amount of fabric that reaches incinerators," she added.
MINDFUL CONSUMPTION STARTS WITH CHILDREN
Since Heng generally only sews up to 20 pieces a month, she admitted that her production is not large enough to make a significant dent on carbon emissions. But she hopes that teaching children healthy consumption habits can have a ripple effect.
"As a parent, this is a good time to start teaching children that more is not always better, and that it is important to think about their purchases," she said.
"My daughters choose the fabrics and styles they want before I make them. I don't buy things on impulse that they don't like and get stuck in the back of the wardrobe. When they like the piece, the same dress can be worn three to four times a week," she said.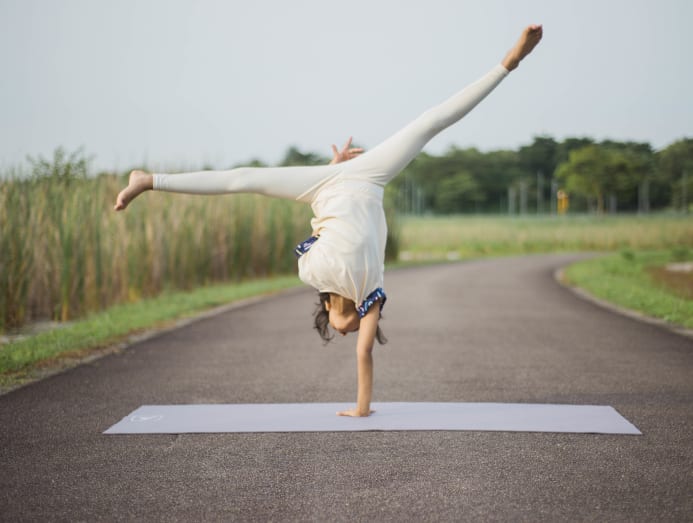 Comfort is paramount. "Some clothes look good but are not practical for the weather or for play. When I was young, my mother made me wear dresses that I could not play in and always asked me to sit properly, hence I did not like dresses. I want to make clothes that children can play freely in," she said.
To teach the value of quality over quantity, Heng has even built a capsule wardrobe for her daughters.
Her tips: "All you need are three shirts, three pants, two dresses (for girls) and five sets of pyjamas. The design should be simple and timeless, but can be embellished with buttons, folded hems and other special touches. For easy matching, pieces can also be colour coordinated."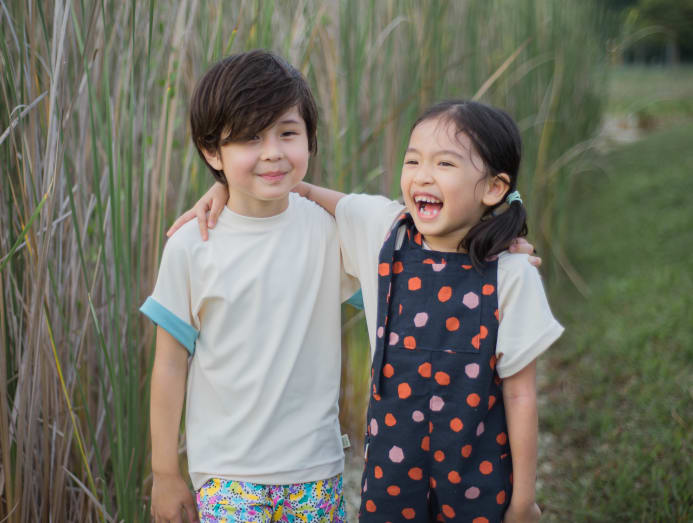 "As a mother, I see how important it is to preserve the Earth's resources for the next generation. If we use all these resources in our generation, there may be no unpolluted land, oceans and air. Is this the kind of life we want to leave behind for our children?" she asked.
If parents teach children about mindful consumption, sustainability, and encourage them to think before buying, this can reshape the way these children consume for life, she said.
"This child will go on to live for 80 to 90 years. Imagine the impact their daily choices will have on the environment over decades."
CNA Women is a section on CNA Lifestyle that seeks to inform, empower and inspire the modern woman. If you have women-related news, issues and ideas to share with us, email CNAWomen [at] mediacorp.com.sg.