7 home bakers on Instagram to buy CNY goodies from: Pineapple tarts, kueh lapis and more
From a mum-daughter duo selling their buttery pineapple tarts to a working mum of four who makes nyonya kueh, these women turned their hobby into a small home business with encouragement and glowing reviews from family and friends.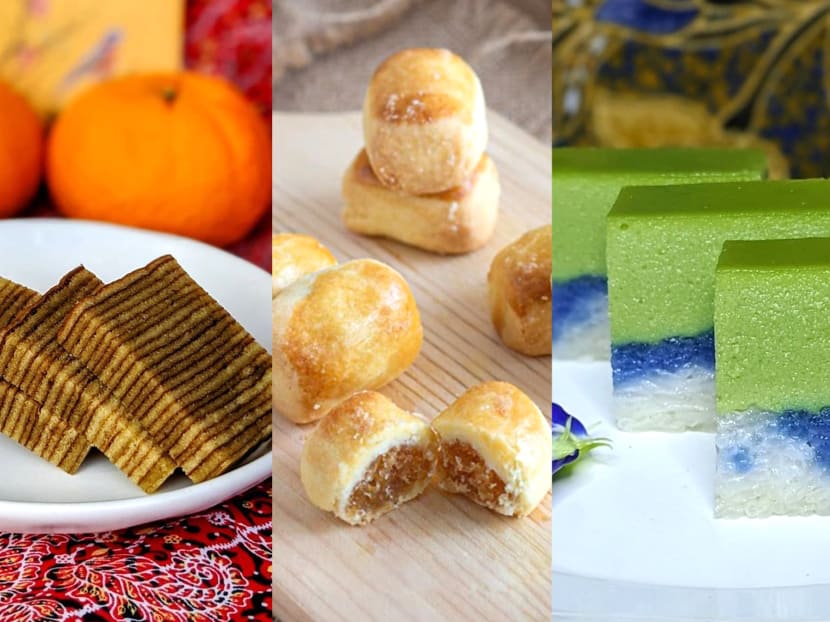 Celebrating Chinese New Year is all about food, family and more food. You know the drill: Order your favourite CNY snacks early so you can get ahead of everyone else (in case the goodies sell out, which has happened). Here are the women who are whipping up delectable bakes from their home kitchens.
1. BELINDA SIN OF BELLABAKES
All it took was one bite of her aunt's almond cookies as a child, for Belinda Sin to become curious about baking – and eventually fall in love with it. "I was so fascinated by how simple ingredients could turn into something so tasty."
But it was only after her kids got older that the mum of three, who works full-time at a bank, found more time to bake.
"In my early years as a small home baker, I mainly focused on cakes with fondant decoration, such as flowers and figurines," said Sin, who started her home bakery in 2009 and only bakes during her free time. 
Over the years, she has expanded her offerings to include chocolate truffles, sourdough bread, walnut brownies and others. 
Her Chinese New Year specialities: Almond cookies (S$22 a bottle) and Tigger chocolate butter cookies (S$23 a bottle). To order, fill out the form here or reach her on Instagram.
2. CHUA YAN LING OF THE COOKIESMITH 
Chua Yan Ling, 26, started her side hustle in January 2020 with monthly bake sales, usually on the second or third Sunday of the month. 
She started with flavoured butter cookies (there's Nutella, Oreo, Biscoff and toffee nut), and went on to include cakes such as matcha pound cake, pandan chiffon cake, burnt cheesecake and more.
"Knowing that others are enjoying my bakes keeps me going despite my busy work life," said Chua, who works full-time as an auditor. She most recently included a "bakebox" for the Christmas season, giving customers a compilation of her specialities.
Chua even inspired her mum to start selling her pork floss rolls on The CookieSmith. "I am very proud of my mum for many things – and making nice pork floss rolls is one of them," she said.
Her Chinese New Year specialities: Cranberry macadamia cookies (S$20 a bottle) and her mum's pork floss rolls (S$20 a bottle). Her menu also includes Nutella, cheese, Earl Grey, scallion and Biscoff "burger" butter cookies. While her orders for Jan 16 and 23 are already full, there are still slots for Jan 30 here. 
3. MELANIE TANG FROM SEA AND THE CAKE
Way before her home-based business started, Melanie Tang, 33, was already baking cookies for friends and family during Chinese New Year, which were always met with glowing reviews.
It was only in August 2020 that Tang, who works full-time in the TV industry, decided to start selling brioche via Instagram – just a few months after learning how to bake bread during Singapore's circuit breaker.
We like that she's creative and offers unique flavours. When it comes to her periodic bake sales, which have no fixed menu, she told CNA Women that she first decides on a base item, then tests, experiments with and perfects the recipe (and presentation) for sale.  
For instance, Tang put her own spin on the usual plain butter cookies, experimenting with different tea combinations such as Oolong (which didn't work as the scent was too mild) before settling on Earl Grey.
"I've been tempted many times to sell "trendy" items, but I decided against it because I didn't want to follow trends," she said. 
Her Chinese New Year specialities: TWG Earl Grey butter cookies topped with strawberry jam, and two-tone chocolate butter cookies at S$19 a bottle. We also like her gift set option (S$38) comprising both Earl Grey and chocolate cookies, and comes with two complimentary oranges – perfect for house visits. Reach her on Instagram to order for Jan 19.
4. EVANGELINE YEW FROM KUEH FOR YEW
Evangeline Yew, 59, who works in insurance, has always enjoyed food and baking, especially Peranakan food.
"My grandmother and my aunt are my main influences when it comes to home cooking and baking. Through their food, I was inspired to learn to make the dishes and sweet treats on my own," she said, adding that her kueh salat and kueh lapis were inspired by her aunt. 
A Peranakan herself, she offers nyonya kueh such as kueh salat, kueh dadar, kueh kosui, pulut inti (glutinous rice topped with coconut) and orh kueh (steamed yam cake).
With the help and encouragement of her daughters, aged 21, 29 and 34, the mother of four started selling her kueh on Instagram in 2020. Her daughters helped her set up the account, as well as help with branding.  
Her Chinese New Year specialities: With the exception of kueh bangkit, orders are now closed for Chinese New Year but on Feb 4, Yew will begin taking new orders for her kueh bangkit (S$20 a bottle), kueh lapis (S$65 for a seven-inch square) and other kuehs such as kueh dadar ($25 for 25 pieces) and kueh salat (S$50 for a seven-inch square). Bookings have to be made three days in advance. Order here.
5. NORZILA ALIAS FROM ANA'S ARTISANAL BAKE
It was a spontaneous decision for Norzila Alias, 49, to join her niece on a bake sale in July 2020 to sell her brownies.
Two weeks later, the mother of five started an Instagram account for Ana's Artisanal Bake. "Prior to it, I'd been looking for a permanent part-time job as my kids are in school, but to no avail," she said. Norzila was previously a freelance designer and crafter. Her youngest is nine, and her eldest is 20. 
She told CNA Women that setting up a home bakery was a "steep learning curve". "I wasn't really aware of the home-based business scene at that time as I've never ordered any cakes or food via Instagram before," she said.  
The good news is orders started to trickle in via word-of-mouth and she managed to gain a steady flow of customers, including corporate orders. These were enough for Norzila to turn Ana's Artisanal Bake into a full-time gig in January last year.
Her Chinese New Year specialities: The Opulence Box (S$34.50), which comprises an orange butter cake with caramelised oranges, naked chocolate cake and black cocoa sable cookies. You can also order her cookies in a large bottle: Black cocoa (S$20), hazelnut (S$22) and sesame (S$20). Order through her Instagram page. 
6. ANGELA FONG FROM HOMEBAKEDBYAF 
Working full-time in the retail industry, it never crossed Angela Fong's mind to sell her baked goods – she would bake in her free time and give them out to family and friends. But the good reviews she received motivated her to start posting her bakes online to see if there was any interest.
There was, and in 2017, the 34-year-old started selling her bakes online during the various festive seasons: Log cakes and sticky date bundt cakes for Christmas, mooncakes during the Mid-Autumn Festival, and cookies during Chinese New Year.
Fong told CNA Women that she used to offer a wide menu but decided to reduce the variety to focus on quality. "Last time, I had bak kwa cookies, florentine cookies, cornflakes cookies, butter cookies and more," she said. Now, she's focusing on her bestsellers, such as pineapple tarts and ondeh ondeh tarts.
Her Chinese New Year specialities: Ondeh ondeh tarts (S$22.80 a bottle), pineapple tarts (S$23.80 a bottle) and walnut cookies (S$18.80 a bottle). You can order via Instagram or Facebook.  
7. ALIX YEO AND ANGEL NG FROM SUGAREDFLOUR
When she was 18, Alix Yeo wanted to start a cookie business as she was inspired by the Instagram bakers she found. "I thought that it looked really fun and interesting to own a business, so I told my mum, and from there, sugaredflour came about," said the 20-year-old polytechnic student.
The mum and daughter started their home baking business via Instagram in 2020, cementing what mum Angel Ng, was already doing, selling chiffon cakes on an ad-hoc basis since 2014. The 46-year-old has a full-time job in human resources. 
The duo started with a cornflakes brownie and expanded their menu to include their bestselling pulut hitam sponge cake, and others like burnt cheesecake and doughnuts.  
CNA Women is a section on CNA Lifestyle that seeks to inform, empower and inspire the modern woman. If you have women-related news, issues and ideas to share with us, email CNAWomen [at] mediacorp.com.sg.