She's a visually-impaired marathoner, triathlete and mountain climber: Meet Runninghour's Chris Hortin
She runs marathons, climbs mountains, swims in the sea and plays tennis despite severe vision loss. Vice chairman of Runninghour Chris Hortin tells CNA Women how she overcame her doubts and physical limitations, and took a leap of faith.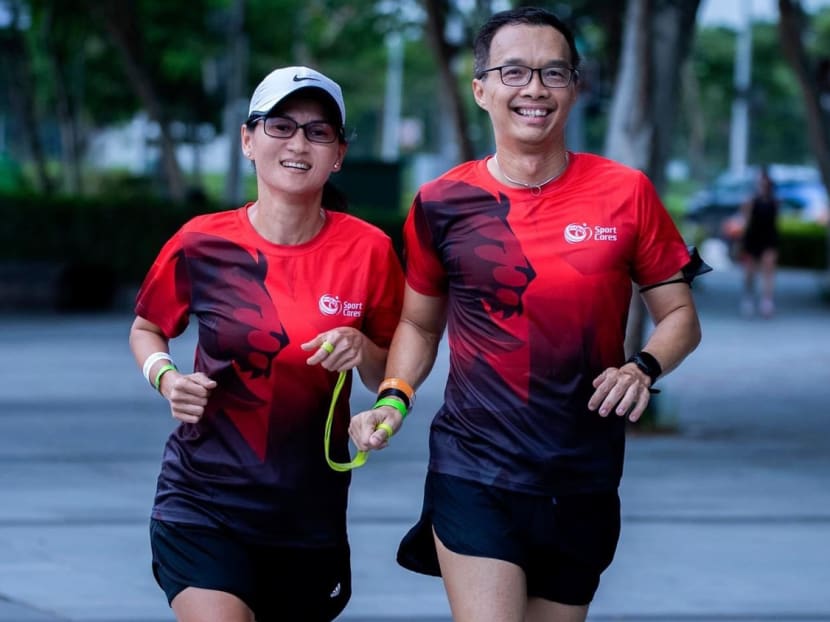 Chris Hortin is a sports enthusiast. The 49-year-old has two full marathons, numerous half marathons and an Olympic distance triathlon under her belt. She has also climbed six mountains and regularly plays tennis.
If that sounds challenging to you, it is many times more challenging for Hortin. This is because she suffers from severe vision impairment. In fact, she has lost most of her peripheral vision, and only retains less than 5 per cent of her central visual field.
At first glance, most people may not think Hortin is visually impaired. This is because she wears spectacles and usually moves around without a white cane.
To understand the extent of her vision loss, try covering one eye and looking through a bubble tea straw with the other eye. Using an apple as an example, Hortin said: "When everyone else sees an entire apple, I only see the stalk of the apple."
Without a guide, Hortin cannot even run 200 metres without tripping or bumping into people, or worse, a bicycle. When she tried slow jogging around her housing estate once, she fell and had cuts all over her hands and legs.
Hortin however managed to complete a 42km marathon with a guide running by her side and directing her with a tether – usually a shoelace, cloth, rope or lanyard – and warning her of obstacles.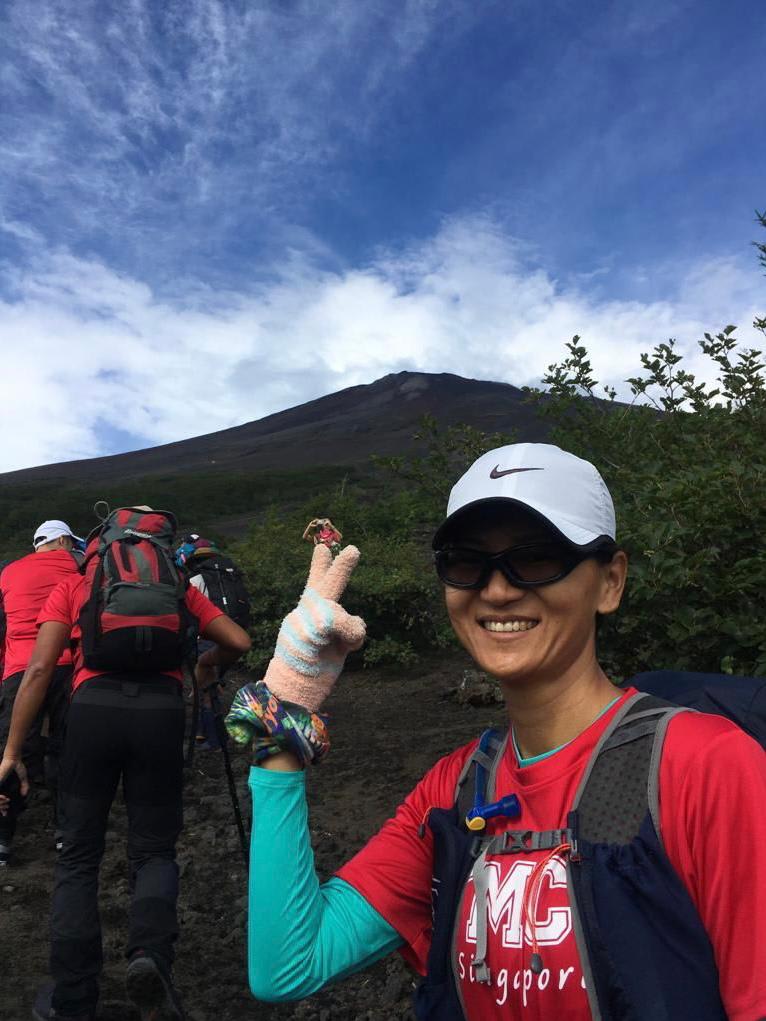 When she swims in the open sea during triathlons, she is unable to see the swimmers around her. She also cannot tell which direction to swim or how far she is from the finish line. She can only follow her guide's tug on the tether and swim towards the sound of his or her voice.
When she climbs mountains such as Mount Fuji in Japan and Mount Ophir in Malaysia, she is unable to see the rocky steps ahead of her or the dizzying heights below her, and must trust her guide implicitly. It is truly a leap of faith.  
LOSING HER EYESIGHT AND PASSION
Hortin was 14 when she was diagnosed with juvenile glaucoma, an incurable condition where the eye's drainage system is not properly developed and causes pressure to build up in the eye and damage the optic nerve. This was what caused her to lose most of her vision.
Although she went for surgery after diagnosis, the vision loss was irreversible. Doctors could only try to reduce the pressure in her eyes and retain what was left of her vision.
This robbed Hortin of her greatest passion – sports. As an active child who represented her school in track and field competitions, Hortin was suddenly forced to watch by the sidelines.
"I still remember during Sports Day that year, everyone expected me to be in the 100 metres and 200 metres sprint where I was sure I would be number one. Instead, I sat in the grandstand watching others race. I was devastated," she recalled.
In fact, Hortin started to need help with everyday activities such as moving around school and taking notes in class. Nonetheless, she completed her O-Level and A-Level examinations, got an advanced diploma in Mass Communications and worked in her family business.
In her early twenties, she got to know a friend of her cousin's as they all hung out together, she fell in love and got married. Hortin became a homemaker and subsequently had two sons. Her sporting passion became a distant memory.
GETTING OUT OF HER RUT
Hortin's visual impairment however, continued to cast a long shadow over her family life. "I was so worried that I would become blind while my children were young. I wanted to see my kids grow up and spend my life with them with colours," she said.
At her doctor's behest, she went for more than 15 surgeries in the operating theatre, as well as seven to eight minor surgeries in the clinic to preserve her vision. Some of these surgeries led to eye complications which required further surgeries to rectify.
"After each surgery, I became more scared. I know every surgery will bring some harm to my eyes and I heard many stories of friends going for surgery and coming out totally blind. I wondered when that would happen to me and felt despair," she said.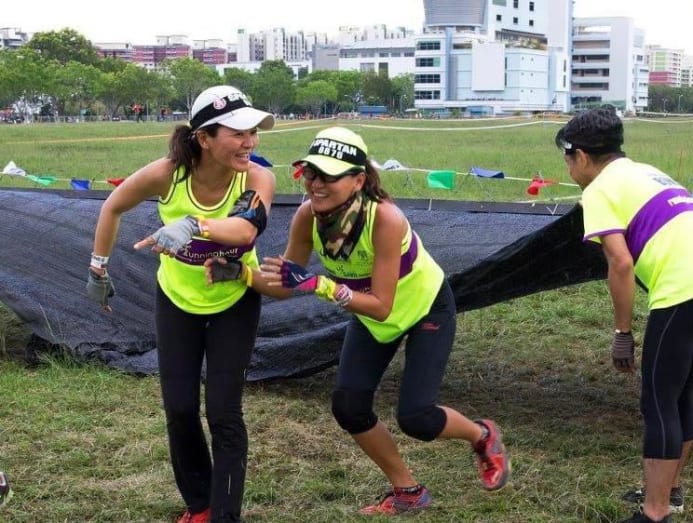 This eventually took a toll on Hortin. One day, in her mid-thirties, she decided she had had enough. "I told my husband I did not want to go for surgeries anymore and did not want to do anything anymore. I felt very down and just wanted to stay at home," she said.
Her husband urged her to stay strong for her children. To encourage her to step out of the house and get active again, he engaged a personal trainer for her, told him about her eye condition and paid for the sessions in advance.
Hesitantly, Hortin went for the personal training sessions because she did not want to waste her husband's money or let her sons down. Little did she expect that this would be an important lifeline that would inject new meaning in her life.
REVIVING HER LOVE FOR SPORTS
Personal training became a doorway to other workout activities, such as spinning. Then, one day, Hortin received a newsletter from the Singapore Association of the Visually Handicapped (SAVH) and read about Soundball Singapore, a non-profit organisation that offers soundball, a modified tennis game for the visually impaired.
The game replaces the tennis ball with a soft sponge ball with a bell inside so that it makes a sound upon hitting the ground. This sound helps the visually impaired locate the ball.
Intrigued, Hortin decided to give it a try. She loved it.
Soundball wasn't easy though. "Those who are completely blind and those with severe visual impairment like me have up to three bounces to hit the ball. At the first bounce, I have to listen for where the ball lands. At the second bounce, I have to use my limited vision to see where the ball is going.
"But sometimes, I miss all these completely and just go with my gut feeling to gauge where the ball is and try to hit it after the third bounce," she said.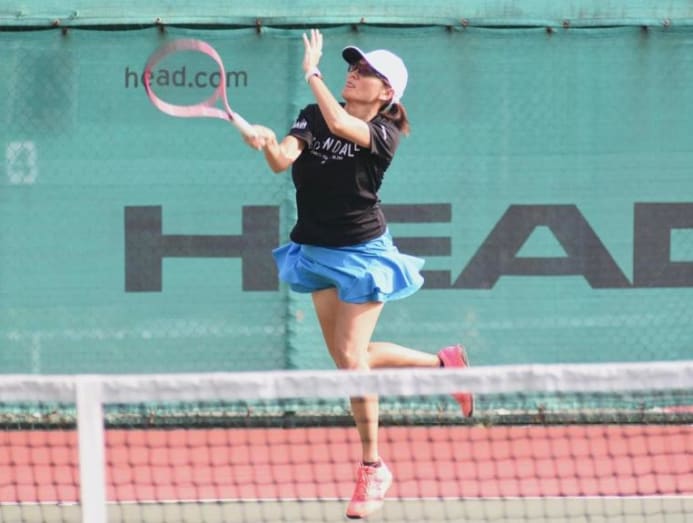 Another issue Hortin struggled with: Like many of the visually impaired, she did not have the physical fitness required to excel at the game.
By a stroke of serendipity, during a carnival, Soundball Singapore had a booth beside Runninghour, an inclusive sports cooperative. "We chatted with the founder of Runninghour and asked if they could help us improve our fitness," Hortin said. 
There are still people who ask my guide how I manage to run. My guide always answers: She runs with two legs, one after another.
So in 2012, Hortin was among the first batch of visually-impaired persons to join Runninghour, and with the help of a guide, she discovered the joy of running again. "When I hold a tether and run with my guide, I feel like superwoman," she said. 
From stadium runs, Hortin progressed to a 10km run by the end of 2012, and then completed half marathons the next year. In 2014, she completed her first 42km full marathon with a timing of 5.5 hours. In 2016, she ran her second full marathon.
"I really put my heart and soul into training for the marathon. I trained two to three times each week for three to four months. I was privileged to have four or five supportive guides, volunteers who trained with me on weekday nights after work and weekends at 6am or 6.30am," she said.
In 2015, Hortin also did her first sprint triathlon, swimming 750m in the sea, cycling 20km on a tandem bicycle and running 5km. A year later, she completed an Olympic distance triathlon with a 1.5km swim, a 40km bike ride, and a 10km run. She also conquered several mountains with the help of guides.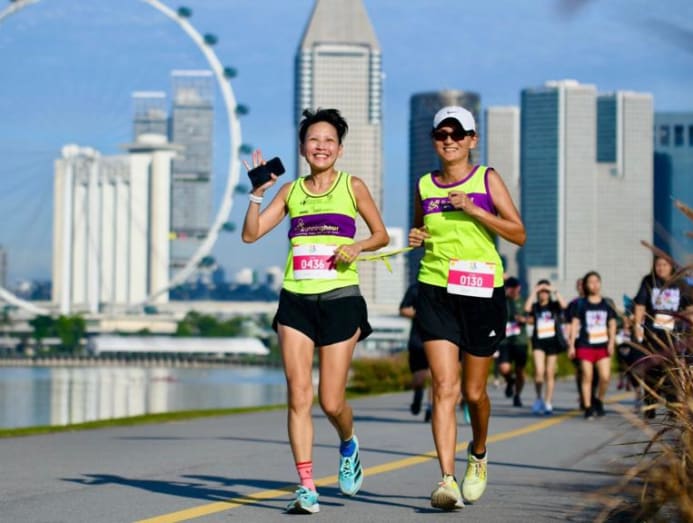 Sports helped Hortin come to terms with her visual impairment. "I once felt hopeless and helpless and could not face my own disabilities.
"However, over the years, I have become more confident because of what I have achieved in sports and am now more open in telling people about my visual impairment," she said.
PROMOTING INCLUSIVITY THROUGH SPORTS
Indeed, for Hortin, participating in sports is not just a point of pride, but also a quiet campaign to promote more awareness and inclusivity. The vice chairman of Runninghour pointed out that many people still don't think that people with disabilities or special needs are capable of participating in sports.
"There are still people who ask my guide how I manage to run. My guide always answers: She runs with two legs, one after another," she said. "I want to show the public that I may be blind, but I can do the same thing as them. I just need a guide.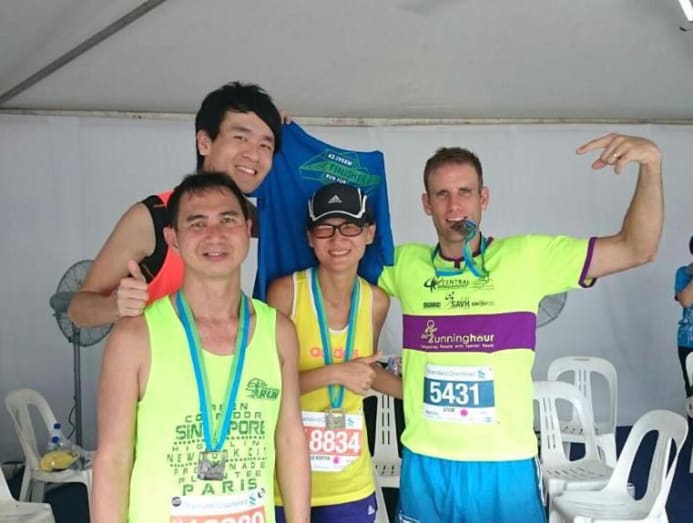 "When people with disabilities and special needs come together with the public to do sports, it can help change mindsets. Inclusive sports also makes people with special needs feel like they are a part of the general public; they are not excluded," she added.
Hortin noted that awareness is still lacking in Singapore, especially for those with invisible disabilities.
Speaking from personal experience, she said: "A common misconception is that visual impairment means you have to be totally blind, wear dark glasses and hold a white cane. But there are people with low vision like me – some see light, some see shadow, some see only a fraction of an image, and some have blurred vision," she said
This lack of awareness has resulted in a lack of empathy. "Sometimes, when I bump into people outside, they will confront me. Even if I tell them I am visually impaired, they will insist I am finding excuses because I am wearing glasses and look pretty normal. I have to show them my ID card, apologise again and again, or just walk away," she said.
"When I sit in the priority seat on public transport, some people will also pass unpleasant remarks about how selfish and inconsiderate I am to be occupying it when I am abled. Only after I take out my cane do they realise I am visually impaired," she added.
She urges the public to show more compassion and empathy.
"Over the years, I have created my own slogan. Please recognise my disability and appreciate my ability. You must first realise that I am blind, I only have tunnel vision, and I need help. But I also hope you can appreciate what I can achieve. I can also achieve so much," she said.
Read this story in Bahasa Melayu here.
CNA Women is a section on CNA Lifestyle that seeks to inform, empower and inspire the modern woman. If you have women-related news, issues and ideas to share with us, email CNAWomen [at] mediacorp.com.sg.