COVID-19 and young children: 5 mums share what it's like to take care of kids in self-isolation
All of them had at least one child below 12 years with COVID-19, and some were even infected themselves. They tell CNA Women how challenging and frightening self-isolation is for kids, with the added stress of keeping the rest of the family healthy.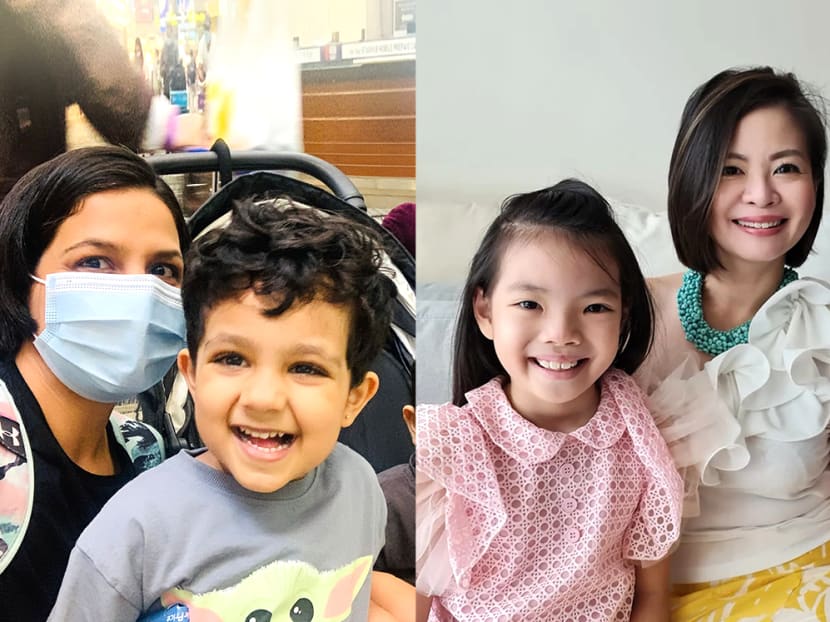 If you ask parents what their biggest worries are when it comes to raising kids, having a child fall sick would rank high on the list. Having a child get COVID-19 is likely to rank even higher. 
Health Minister Ong Ye Kung said earlier this month that the Omicron variant is more likely to infect children than the Delta variant, and that children in Singapore are contracting COVID-19 at the highest rate. 
It is impossible for young kids to not transmit the COVID-19 virus at home.
According to the Ministry of Health (MOH) on Feb 16, infection rates for children aged 0 to 4 years and those aged 5 to 11 years are currently high, at about 243 and 258 per 100,000 respectively.
Meanwhile, those aged 12 to 19 years have the highest infection rate of about 269 per 100,000.
Picture this: Your child tests positive for COVID-19. Aside from seeking medical care for him or her, parents will also have to isolate the sick child. Try explaining this to a young child who's already frightened that they have COVID-19.
Then comes the task of keeping the rest of the household safe, from cleaning up after the sick child, be it in his or her room, or the bathroom. All while trying not to get infected yourself. 
And if someone else in your family gets COVID-19, the cycle starts again, coupled with an extended cycle of Antigen Rapid Tests (ART) and the like.
While the guidelines for what to do if you have COVID-19 are fairly simple to follow if you're an adult, it's a different story when it comes to young children, where it becomes much more challenging.
The five mothers CNA Women spoke to shared their experience of taking care of a child under 12 years who got sick with COVID-19, their learning points and what was most stressful about the entire process. 
WHAT TO DO IF YOUR ANTIGEN RAPID TEST (ART) IS POSITIVE
The latest guidelines from the Ministry of Health (MOH) say you should:
Self-isolate at home for the next 72 hours.

After 72 hours, if the ART is negative (it shows one line), you can exit self-isolation. If the ART is still positive (it shows two lines), you should continue isolating yourself until Day 7 (Day 1 being the day you tested positive).

If you are fully vaccinated – and have children below 12: You and your children can exit self-isolation on Day 7, from 12pm. This is regardless of whether your ART result is negative or positive (as you're highly unlikely to still be infectious at this time).

If you are partially vaccinated or unvaccinated – and have children aged 12 and above: You and your children can exit self-isolation on Day 14, from 12pm. This is also regardless of whether your ART result is negative or positive (as you're highly unlikely to be infectious at this time).

MOH also recommends that children below three years old who test positive should see a doctor. Those below 12, who have any congenital condition or growth disorder that affects the heart, lung or brain, diabetes mellitus or hypertension, should also consult a doctor.   
IDENTIFYING THE SYMPTOMS AND TESTING POSITIVE 
The mums CNA Women spoke to said their kids' first symptoms included fever, headache and fatigue. In some instances, it took several days for the child's ART to come up positive, from the time symptoms were displayed.
Ruth Chew, a mother of two, said her seven-year-old daughter EJ's symptoms started with a high fever on Feb 5 – but an immediate ART was negative.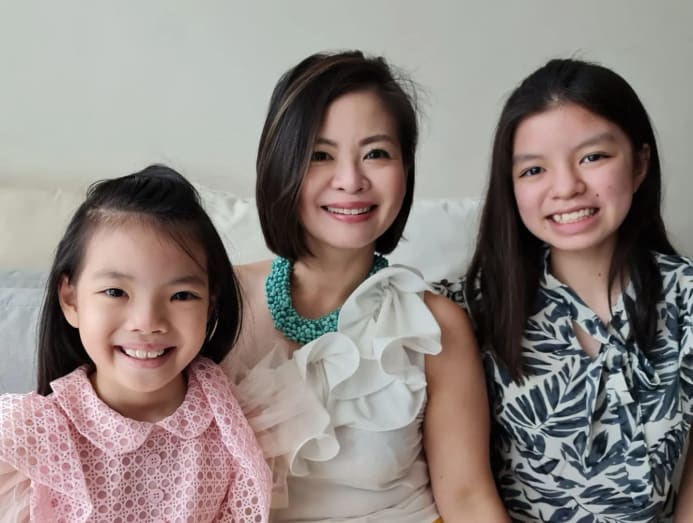 It was only on the evening of the next day that EJ tested positive for COVID-19, and by then, other symptoms like fever, sore throat and cough had started. Chew herself fell sick with COVID-19 six days later, losing her voice and sense of smell.  
Similarly, Goh Yee Huay's nine-year-old daughter Rae Lynn told her mum she had a headache just before she was due to leave for school on a Friday morning. "I checked her temperature and found she was having a mild fever too, so I decided to keep her home from school," said Goh. 
Rae Lynn's ART continued to be negative until Sunday, three days after her symptoms, a persistent fever and slight cough, started. 
Both mothers said that when their daughters found out they had COVID-19, they were so scared they cried. It's "intimidating" and "soul-crushing" to a seven-year-old, Chew said, especially after watching the news daily, from hospitalisations to deaths.  
It was hard to see her daughter "looking listless and helpless" as she struggled with her cough and sore throat, she added.
Other COVID-19 symptoms can include sudden and constant fatigue. Eliza Koo, a mum of two, said her two-year-old son Elliot had "sudden tiredness with a raised body temperature but no fever."
"He slept throughout the day and only woke up to eat. I thought he was teething, or going to fall sick," said Koo. Later that afternoon, an ART showed that he had COVID-19. 
The rest of Koo's family – her four-year-old daughter, husband and herself – tested positive one after another within the week. And as the entire family had become COVID-positive, "there was no point in isolating in a room anymore", Koo said.
HARD FOR CHILDREN TO UNDERSTAND SELF-ISOLATION
After Eileen Khoo's 10-year-old daughter Juliette tested positive through the ART, the mum of four took her to the doctor. At the clinic (find the list of clinics and swab centres that cater to kids 12 and below here), both an ART and polymerase chain reaction (PCR) test was done as Juliette's age put her in the high-risk group.
Khoo was then told to isolate her daughter for 72 hours, and that MOH would do a follow up the next day, if the PCR came back positive.
But it's difficult to keep children isolated alone in a room, the mothers said. Kids find social distancing very isolating, said Chew, and it's hard for them "to be far apart from family, let alone friends".  
S Chaudhary, who, along with her two young kids, tested positive for COVID-19, describes isolation as something that "made the most emotional impact" on her. Her toddlers, three-and-a-half-year-old Joy and 13-month-old Zen, tested positive one after the other.
Toddlers do not know the concept of isolation and separation. It was difficult to keep him inside even with the door closed.
She recounted that keeping her kids apart was one the most difficult parts of self-isolation. "When they know that one (of them) is behind a wall, but still can't meet, they sulk." 
Like Chaudhary, Koo understands the pain that close-knit siblings feel when they're separated from one another.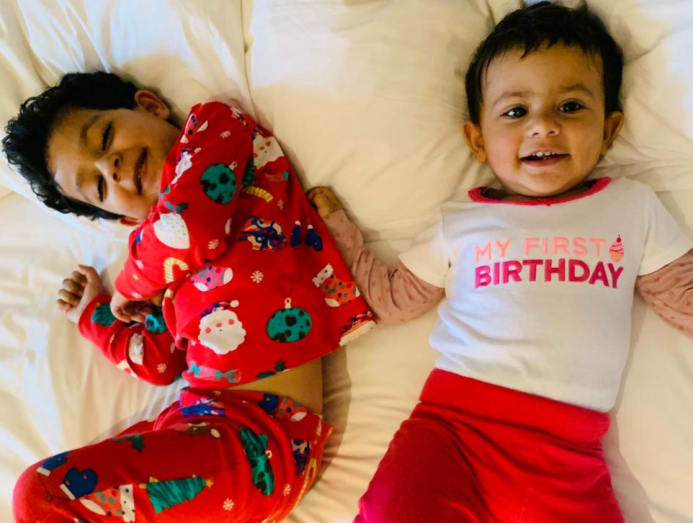 "Toddlers do not know the concept of isolation and separation," she said. "Elliott, who is two, did not know why he had to be trapped in the room. It was difficult to keep him inside even with the door closed." 
She added that her elder daughter Charlotte, who is four, would look for opportunities to be around her brother, making self-isolation all the more challenging. "They stood quite near to each other at the door. It is impossible for young kids to not transmit the COVID-19 virus at home."
Said Chaudhary, who took care of her daughter in one room while her husband looked after the younger child in another: "When Joy was in isolation with me, we both missed the younger one. The first day was (still) okay – we did colouring and played some games. But from the second day, the lack of freedom, especially, got to Joy, and it had a severe impact on her – she stopped eating completely and cried the entire day."
And it isn't just the siblings who have it tough – not being able to comfort, touch and hug a sick child is mentally exhausting for the parents too.
"In the first three days of separating from my older child, I also missed her and she also missed being with Mummy and her brother. That affected her mood as well," said Koo. 
TRYING NOT TO FALL SICK YOURSELF 
Keeping the rest of the household safe is another worry. Masking up, disinfecting and sanitising common areas and surfaces becomes the norm, for at least a week or so. 
"I felt most stressed about keeping the others healthy as one of the adults needed to get the healthy one to or from school," said Chew.
Khoo, who has three other children, told CNA Women that it was challenging for her to "keep up a high level of sanitisation". She was more worried for her six-year-old daughter Rebekkah, who has renal illness, and the extent it would compromise her health if she caught COVID-19. 
I felt most stressed about keeping the others healthy as one of the adults needed to get the healthy one to or from school.
Here's what the mums did when it came to protecting the household, while keeping with guidelines from MOH and the National Environment Agency: 
Avoid close and sustained contact by not sharing a room; and if that's not possible, avoid common areas within the house as much as possible.

"We had separate sleeping quarters, and also designated areas for my COVID-19 positive daughter to stay in. They were airy and we were able to space her out from everyone else," said Chew. 

Wear a mask.

"We masked up when my daughter was around us and made sure she was masked if she left the room," said Koo. 

Avoid sharing the same toilet.

If you can't, then limit its use to only one person at any one time, and clean the rim and seat after. 

Keep meal times separate or eat in dedicated spaces.

"For her meals, m

y daughter was served a separate portion to eat in the room she was isolated in," said Khoo. 

Disinfect and wipe down surfaces and touchpoints (such as doorknobs, taps): "

In addition to wearing our masks at home, we sanitised common areas a few times a day. We also sprayed and wiped down the sinks and toilets after every use," Chew said. 

Keep the doors and windows open for ventilation

: "We made sure the doors and windows were always open for air circulation, and prevented the other children from entering the room," said Khoo.

Always wash your hands before touching anything else,

said Khoo, for example, anytime you need to go into the sick child's room to take or bring something in.

Avoid sharing food, crockery, utensils and other personal hygiene items.

You can also consider washing the laundry separately, while using hot water and antibacterial detergent to keep the machine clean, said Chew.
LEARNING FROM EXPERIENCE 
Based on the women's experiences, you should be aware that an ART may not pick up one's viral load so early. So if you're in possible contact with someone who has tested positive (even if your own ART is negative), it's better to be preemptive and do the socially responsible thing by restricting meetups or even isolating yourself, Khoo advised. 
Make them mask up when they're around their infected sibling and keep a distance.
Chew also took extra precautions to protect her daughter's classmates, by keeping her child home a few more days until Day 10, so that she was not as infectious. 
Meanwhile, Goh, whose elder daughter tested positive two days after her nine-year-old, said it's important to not let your other kids become complacent and let their guard down. "Make them mask up when they're around their infected sibling and keep a distance," she said.
Also, expect your kids to keep testing positive for a few weeks, said Koo – both of hers tested positive for 21 days although they had no symptoms after the second day.
Guidelines from the Ministry of Education say students should continue to self-isolate and repeat the ART daily until they test negative. As a result, her kids were not able to return to school, which took a toll on her as a working parent. 
At the same time, one mum said it's also important to look at the positive side of the situation.
"I used my time (isolating) and sleeping with my elder child for overnight toilet training. She was already diaper-free in the day but not at night – the seven to 10 days of sleeping together worked," said Chaudhary. 
CNA Women is a section on CNA Lifestyle that seeks to inform, empower and inspire the modern woman. If you have women-related news, issues and ideas to share with us, email CNAWomen [at] mediacorp.com.sg.