Creative Capital: The arts educator who left her job to make crepe paper flowers
A bouquet typically lasts a few days, but Eileen Lim creates realistic paper blooms that can decorate your home for years.
It has got to have been a tough year for local crafters. For many of these creative professionals, part of their income comes from teaching workshops. This is certainly the case for 30-year-old Eileen Lim, founder of Miss Petal & Bloom.

Ms Lim specialises in paper crepe flower art and her work has been commissioned by the likes of Bvlgari Parfums, Chaumet, Jo Malone, The Body Shop, Keds, Olivia Burton and Harper's Bazaar Singapore, among others. In any normal year, Ms Lim would be running workshops regularly, in addition to the commissions she takes on.

Fortunately, she's been taking the slow-down in good stride, and in fact, shares with us that she's been using the time to work on her first book, soon to be published by a British publisher. We caught up with her to learn more about her, her craft and her plans for the near future.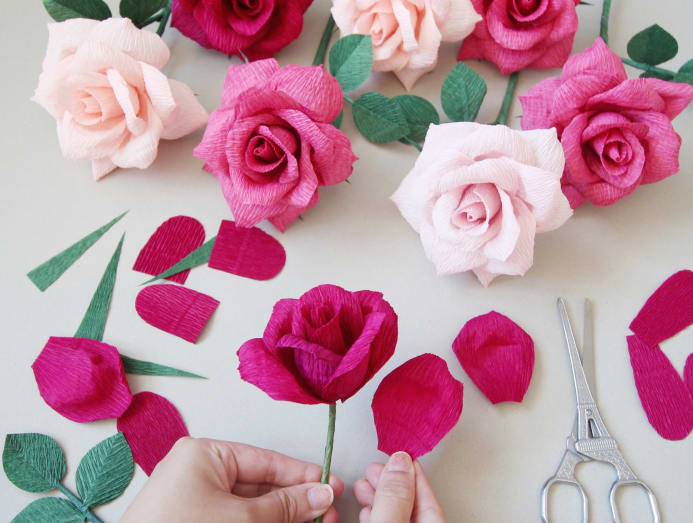 HI, EILEEN. TELL ME A LITTLE ABOUT YOURSELF. WHAT DID YOU DO BEFORE BECOMING A FULL-TIME PAPER ARTIST?
Contrary to what most people might think, I actually do not have any formal art training. I went to UC Berkeley to study Psychology, fell in love with Art History midway through my four years there, and graduated with a rather unconventional pairing – a double major in Psychology and Art History. After returning to Singapore, I found my first job in a large museum on their Education team. I conducted exhibit tours and workshops for visitors, and designed educational materials for school groups. I especially enjoyed working with the students, and I'm very thankful for that experience. The daily tours and workshops improved my public speaking and teaching skills – skills that I now use for my own business.
WHEN DID YOU FIRST GET INTO PAPER CRAFTS?  
I have always been drawn to paper and I dabbled with different types of paper crafts throughout my school years. While in the US, I made and sold papercuts online, and even had the opportunity to sell framed pieces at a small local bookstore. The craft scene in the US was booming, and that really opened my eyes to the possibility of turning my craft into a legitimate full-time career. Yet, at that point, I hadn't found the right medium for me.
A few years later, when I was back in Singapore, I chanced upon crepe paper flowers on Instagram. That was my first time learning about Italian crepe paper and after shipping in the paper rolls from Italy, I was hooked! Italian crepe paper is strong, durable and extremely malleable. It almost feels like I'm working with clay. I felt so comfortable and creative with the medium. It wasn't long before crepe paper flowers became the main expression of my artistic voice.  
WHAT GAVE YOU THE MOTIVATION AND COURAGE TO DECIDE TO LEAVE YOUR JOB AND PURSUE PAPER CRAFT FULL-TIME?
As much as I loved my first job at the museum, I was worn out by the office politics. I felt it was time to leave for the sake of my own mental well-being. Although it was a scary decision to make, I told myself if I didn't take the leap of faith now, I would regret it in the future. I haven't looked back since!  
WAS IT AN EASY DECISION TO MAKE? WHAT DID YOUR PARENTS THINK AT THE TIME?
To be honest, one of my biggest insecurities, even now, stems from how others might judge my career choice. I vividly remember an older relative commenting that I was "wasting" my University degree by pursuing a crafting career. That stung quite a bit.
That said, I'm very thankful that my parents never shared that mindset. I would never have made the career switch if not for my exceedingly generous and patient parents. I'm pretty sure that they were concerned about my initial lack of steady income; yet, they never once discouraged me or questioned my decision. They trusted me to make my own choices – and mistakes – all on my own terms, and for that I'm forever grateful.  
HOW DIFFICULT IS MAKING CREPE PAPER FLOWERS? HOW LONG DID IT TAKE YOU TO MASTER THE ART?
There are easy flowers and there are challenging ones, which is kind of great because that means there is something for everyone. A basic rose might take me 30 minutes, while more complex blooms like hydrangeas take me one to two full days.  
Frankly, I don't see myself as a "master" of this craft. I think therein lies the beauty of this art form – there are endless possibilities, and I am constantly changing the way I make the same flower. I've made unconventional things like fruits and mushrooms, and I'm even challenging myself right now to make moths, butterflies and beetles, so there really is no limit to what you can craft from paper.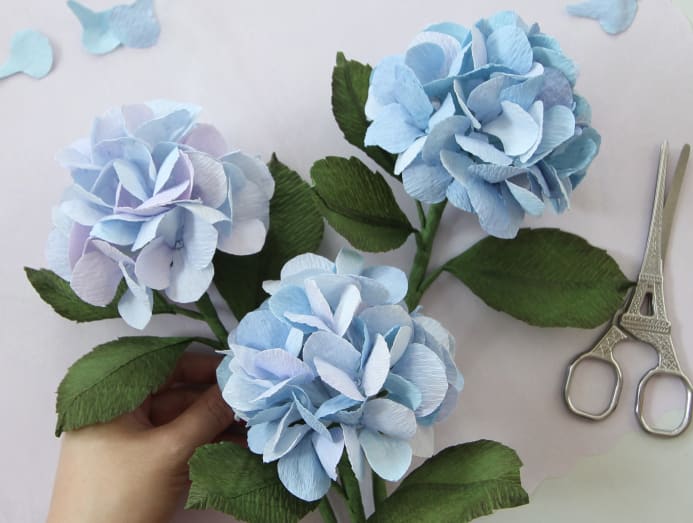 WHAT WAS YOUR FIRST PROFESSIONAL COMMISSION?  
That was probably more than five years ago. I was asked to make a great big bunch of crepe paper poppies for a media event for Kate Spade New York. They gave me a little booth inside their store at Marina Bay Sands where I demonstrated some flower-making techniques for their guests. As part of the same campaign, I also had the opportunity to host a couple of workshops inside the Kate Spade New York boutique. The best part about the project was that the Kate Spade team wanted to dress me! They loaned me jewellery and a beautiful Kate Spade frock. That was quite a lot of fun!
HOW HAS THE ENTREPRENEURIAL JOURNEY BEEN FOR YOU SO FAR?
Looking back, the first year was pretty tough. I had little exposure and business was slow. It took me some time before I became more comfortable in my craft and more confident in my brand. I think it was only in my second year that I found my own little niche in Singapore's craft ecosystem and was able to grow my following.
I'm not one who handles criticism well, and something I wasn't prepared for was how to deal with feedback from clients. I took every single piece of criticism very personally, and that compromised my confidence and even my artistic voice. It took me a while to learn how to negotiate that fine line between pleasing the client and staying true to my craft. While I am now better equipped to defend my work, I've also learnt to take it easy and let go if necessary. After all the ups and downs, I'm proud to say that I've grown a lot on this journey, not just in terms of being an artist or businessperson, but also overall as a person.
 
WHAT HAS BEEN THE COMMISSION YOU'VE BEEN PROUDEST OF SO FAR?
Working for Harper's Bazaar back in 2018 was a big milestone for me. I was commissioned to make all-white flowers for a Moncler editorial shoot. I made enough flowers to fill three boxes, in addition to two oversized stalks for the model to pose with. I remember excitedly arriving on set early in the morning and staying throughout the entire day to watch the professionals at work. Seeing my flowers in the pages of an actual magazine – with my name in the credits – made that the coolest commission I've had so far.  
WHAT DO YOU LOVE MOST ABOUT WHAT YOU DO?
It's hard to pick just one thing! At the top of mind, I would say the thing I love most is that feeling of satisfaction and fulfilment when I've made something beautiful with my hands. In the current age of machines and mass production, there's something very meditative and gratifying about building something from scratch. Oh, and I love to see the surprise on people's faces when they ask if my flowers are real and I tell them they're made of paper. That never gets old.  
AND WHAT IS THE BIGGEST MISCONCEPTION ABOUT YOU AND YOUR WORK?
My biggest pet peeve is how people assume that full-time crafters have lots of free time and don't work as hard as people with nine-to-five jobs. The truth is, this business is like my baby, and while I am more flexible with my time, I can't exactly schedule when inspiration hits, and thus I pretty much work every day, including weekends and public holidays. Moreover, loving my job doesn't mean that my job is easier than anyone else's. I wish more people would appreciate that fact before passing judgement.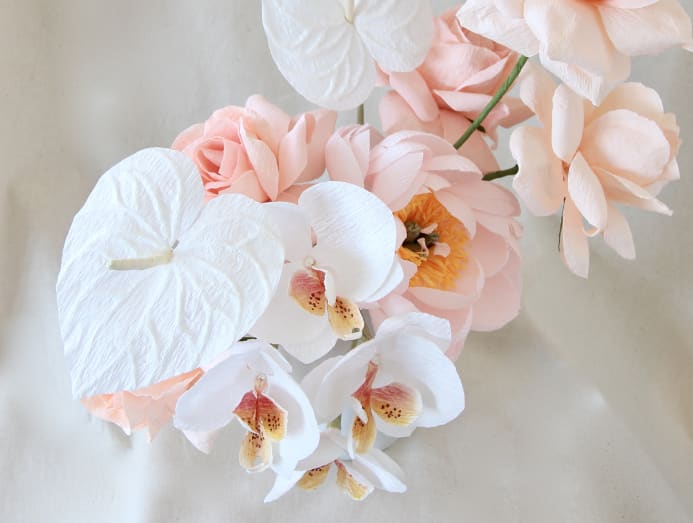 CAN YOU WALK ME THROUGH A TYPICAL DAY IN YOUR LIFE?
If I'm not out on a supply run, delivering flowers or attending meetings with clients, you can most likely find me in my home studio making blooms. For the past few months, I've actually been working on my book! This is the first time I am publicly talking about this project so I am really excited. Since my publisher is based in the UK and I won't be able to use their in-house photographer, I've been taking the photographs for the book on my own, and I usually tackle that in the mornings when there is ample sunlight.
The rest of day, I work on text for the book, compile the photos or craft the samples. I am in a bit of a time crunch since my big deadline is in August, but it has been super-fun and I'm extremely excited for this.
ARE YOUR CLIENTS MORE CORPORATE OR INDIVIDUALS?
I would say I have an even mix of both. Every month I have a handful of individual clients who are looking for bespoke flowers for anniversaries, weddings, birthdays and special occasions. For example, a young man once ordered a giant crepe paper rose – the flowerhead was bigger than my own head – just to woo a girl!  
For corporate clients, it's usually designing gifts or activities for brand campaigns. Besides events, I've also made crepe paper props for photoshoots and store decor. For instance, I made some blooms for a Franck Muller editorial photoshoot. I've also shipped some store props overseas to Olivia Burton in London as well as to The Body Shop in Hong Kong.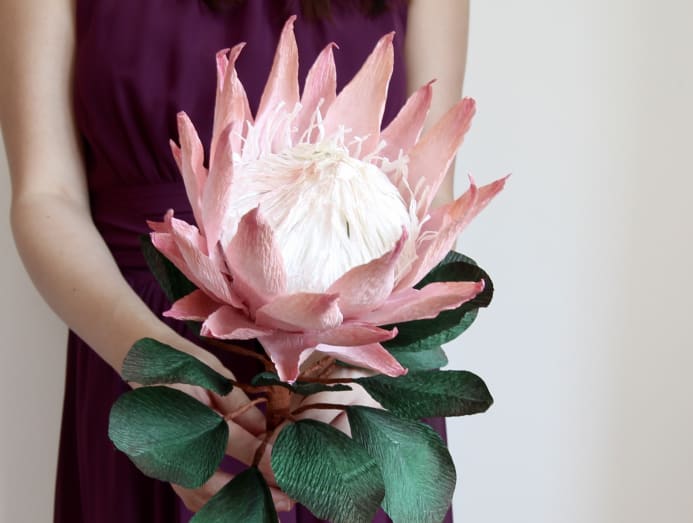 WHAT ARE SOME OF THE BEST USES FOR PAPER CREPE FLOWERS?
Crepe paper flowers are great since they need absolutely no care at all - there's no watering, no wilting and the flowers last a few years at least! My clients usually come to me looking for unique bespoke gifts, and a few specifically request flowers that are rare or not in season. I have also done several bouquets for weddings, especially for brides who have pollen allergies.
WHAT INSPIRES YOU?
Nature is a big inspiration, naturally. Plus, I also love playing with colours. My palette is usually bright, cheerful, happy and sweet.  
ARE THERE SOME FLOWERS THAT HAVE BEEN SUPER DIFFICULT TO REPLICATE IN PAPER CREPE?
The King Protea is a tough nut to crack. I'm very much intrigued by how alien-looking proteas are, which is probably why they are proving to be a challenge to translate into paper. I've been working on prototypes for years, and I'm still not completely satisfied.
I UNDERSTAND YOU GIVE WORKSHOPS. HOW MUCH A PART OF THE BUSINESS IS THAT?
Before the pandemic, I taught workshops regularly, for including corporate team-building sessions and hen parties. I remember conducting one-to-one classes for tourists from Taiwan, Australia and Madagascar. Those sessions were quite memorable for me – I didn't expect that people would be willing to give up part of their holiday for a craft workshop!
Lately, in-person workshops have not been a big part of the business due to safe distancing concerns, but I am slowly opening up more classes as the restrictions are pulled back. I also offer online courses, which I filmed myself. Those are great since it allows me to reach an international audience, and I've shipped material kits to students in the UK and US.
HOW HAS THE PANDEMIC AFFECTED YOUR BUSINESS?
Several of my events and commissions last year were cancelled, postponed or downsized. I was lucky enough to receive more commissions this year when Singapore was gradually opening up, but the quantity of events and brand activations is significantly less than previous years. On the bright side, the project cancellations have freed up more time for me to write my book, so I'm not minding it too much.  
DO YOU FEEL SINGAPORE IS A SUPPORTIVE PLACE FOR CRAFTSPERSONS?
Frankly, I think the general appreciation for crafts and crafters has grown over the past five years, but I'm still hoping for more exposure for our amazing pool of local crafters. One thing that my fellow crafter friends and I often lament is that many local customers aren't willing to pay a high price point for handmade items, and that can be very disheartening. A few years back, I remember a guy haggling over the price of a sunflower at a craft market, and eventually I let that stalk go at 50% of the original price. Needless to say, that was not a fun experience, and I hope that with time, there will be greater recognition and validation for the local crafting community.  
WHAT'S THE VISION FOR MISS PETAL & BLOOM?
I often tell people that I'm truly not an ambitious person. I started MP&B with the simple wish of spreading the joy of crafting, as well as to share my own love for crepe paper blooms, and that will continue to be my goal this year, especially through these pandemic times. I'm also excited to reach a wider audience once my book is released next year, so we'll have to see what doors open then!