11 best things to do with your kids during the end of year school holidays
With six weeks of the year-end break to fill, here's what you can do with the children – from an experiential exhibition and new ways to view animals at the Zoo to making something with your hands – to keep them busy and away from their devices.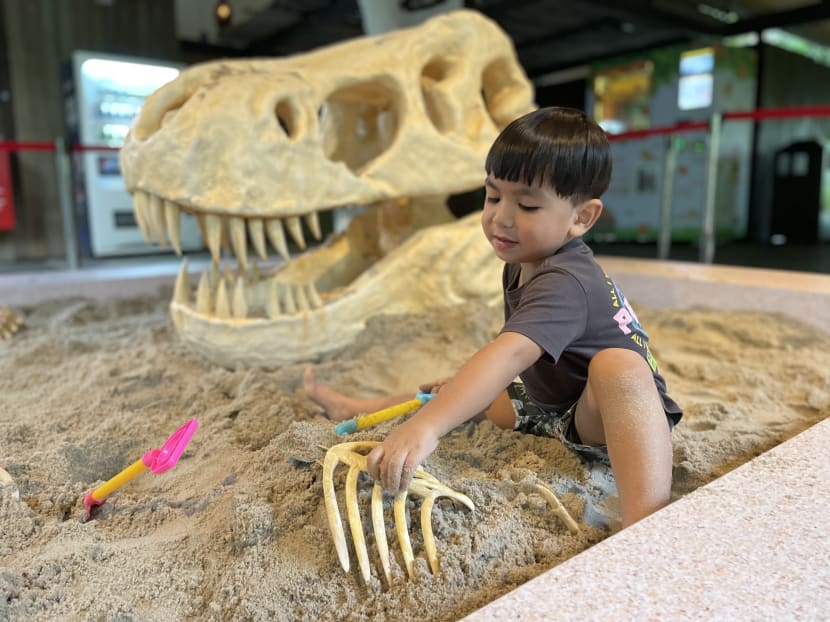 The school year has finally come to an end, which means you won't have to contend with another school memo on new safety measures, updated spelling lists and test dates.
If 2020 was tough, then 2021 has been another thing altogether. From disrupted schedules, transitioning to home-based learning, online everything and even cancellation of exams for some primary school cohorts, it's nice to know we're almost at the finish line. Let's hear that big sigh of relief.
Parents, it's time to give yourselves a pat on the back for making it this far, and count your blessings like Helen and Ivan are counting their coins. To celebrate the start of downtime for everyone, here are our picks for school holiday activities that your children (and even you) will enjoy.
1. DINOSAUR + LEGO = BRICKOSAURS
Dino- and LEGO-obsessed kids would love the new Jurassic Park-styled dinosaurs, created out of LEGO bricks, at the Singapore Zoo and River Wonders. More than 1.5 million LEGO bricks and 8,548 hours were used to create the 60 Brickosaurs in Brickosaurs: Land Before Time.
There are two interactive self-guided walking trails within both parks at Mandai where you'll see the commanding T-Rex or clever raptors.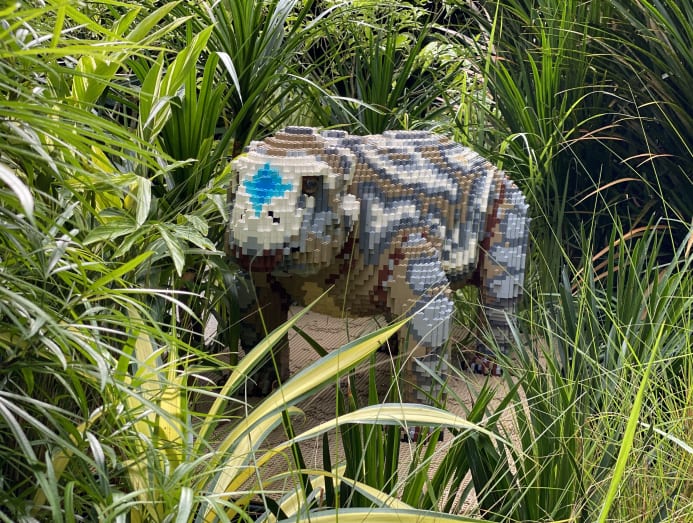 On weekends, public holidays and during the school holidays, there's an Explore the Brickosaurs World programme where, for a fee, your child gets to complete dinosaur-related activities across eight stations.
These include Rawr-cycle workshops where recycled materials are used to create your child's very own dino squad. Alternatively, make origami dinosaurs and bring home your very own Jurassic Brickosaurs experience.
Brickosaurs: Land Before Time is on from Nov 13 to May 3, 2022 at the Singapore Zoo and River Wonders. Admission is free with any ticket from either park. Top up S$15 per ticket for access to the Explore the Brickosaurs World activities.
Click here for ticketing and more information.  
2. BOUNCE OFF THE WALLS WITH JUMPTOPIA: HOLIDAY VILLAGE
The second edition of Kiztopia's Jumptopia is a fun-filled experience with 15 bouncy castles over 44,000 sq ft of space at the Sands Expo and Convention Centre. Jumptopia: Holiday Village features play concepts, mazes, swings, slides and even a wall for the kids to "rock"-climb.
The bouncy castles are grouped according to theme and age, with activities even for young tots aged one to three, such as a Fantasy Balloon Room and a mini obstacle course, Toddler's Amazing Rice.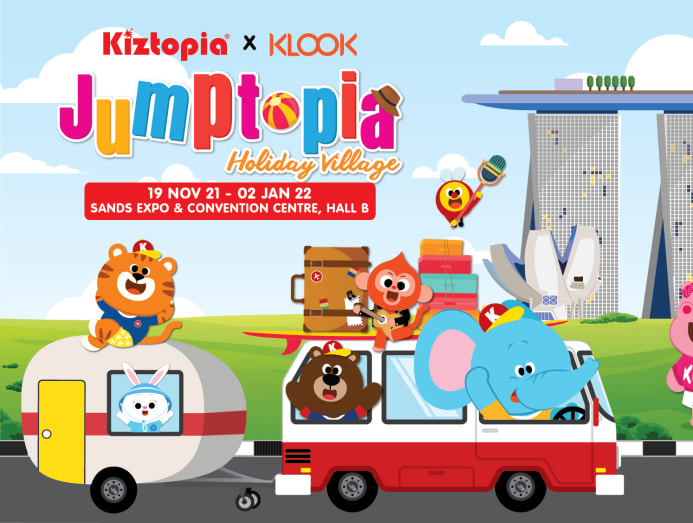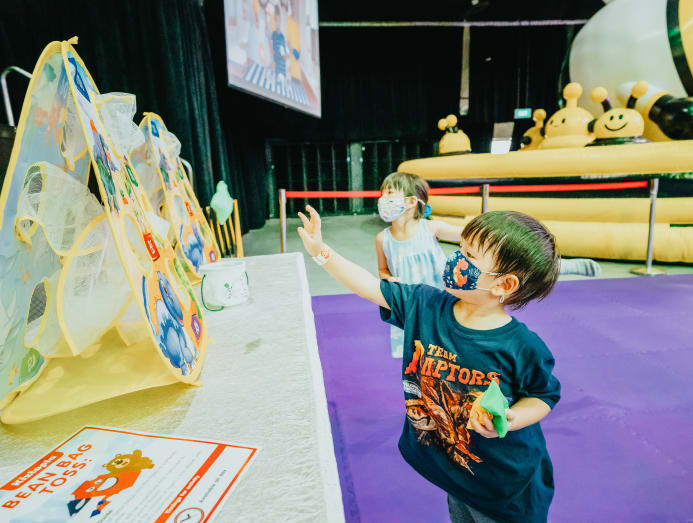 The adults aren't left out: There are four bouncy castles that grown-ups can enjoy, like a Zorb Racer course and even Bumper Challenge, which is a twist on bumper car races.
Each bouncy castle takes from eight to 22 persons, depending on size. Safe management measures are still in place so the bouncy castles get wiped down between sessions, with capacity limits in place.
Don't worry though, Jumptopia also has fun activity booths for waits in-between and you can engage in arts and crafts, and even try your hand at claw machines.
Jumptopia: Holiday Village runs from Nov 19 to Jan 2, 2022. Each ticket is S$28 and entitles you to two hours of play. Tickets are available via Klook here. 
3. BE A MINI LEATHER ARTISAN WITH HIDES & THREAD
Learn leather crafting with a leather artisan and get hands-on with leather techniques such as cutting, installing buttons, and even various stitching techniques.
Kids (and grown-ups too) will even get a chance to personalise their final leather craft with embossing or hot foil stamping. Because it is intricate work, it is suitable for children aged 10 and above.
Because it's hands-on, the workshops at Hides & Thread are conducted by appointment only. Workshop pricing varies, depending on the project chosen; prices per person start from S$60. Find out more and book your appointments here.
Alternatively, order a DIY kit and try your hand at creating leather animal charms. Using Saffiano leather that is scratch- and water-resistant, your kids get to choose from a moose, hippo, bull and elephant in four colours. The package comes with step-by-step instructions to create their own bag charm. Each kit costs S$25.
Hides & Thread DIY Kits for kids can be ordered here. 
4. LEARN ABOUT WOODWORKING AT THIS GROUND UP INITIATIVE CRAFTS WORKSHOP
Ground Up Initiative (GUI) is a non-profit organisation that connects people with nature, while building what their founder describes as a 21st Century kampung culture.
Introduce your kids to the fun of upcycling and using natural materials through woodworking. GUI's Craft Workshops for Kids include a My Woody Hero Workshop, which is a two-hour session that covers basic carpentry using drills, mallet and sandpaper.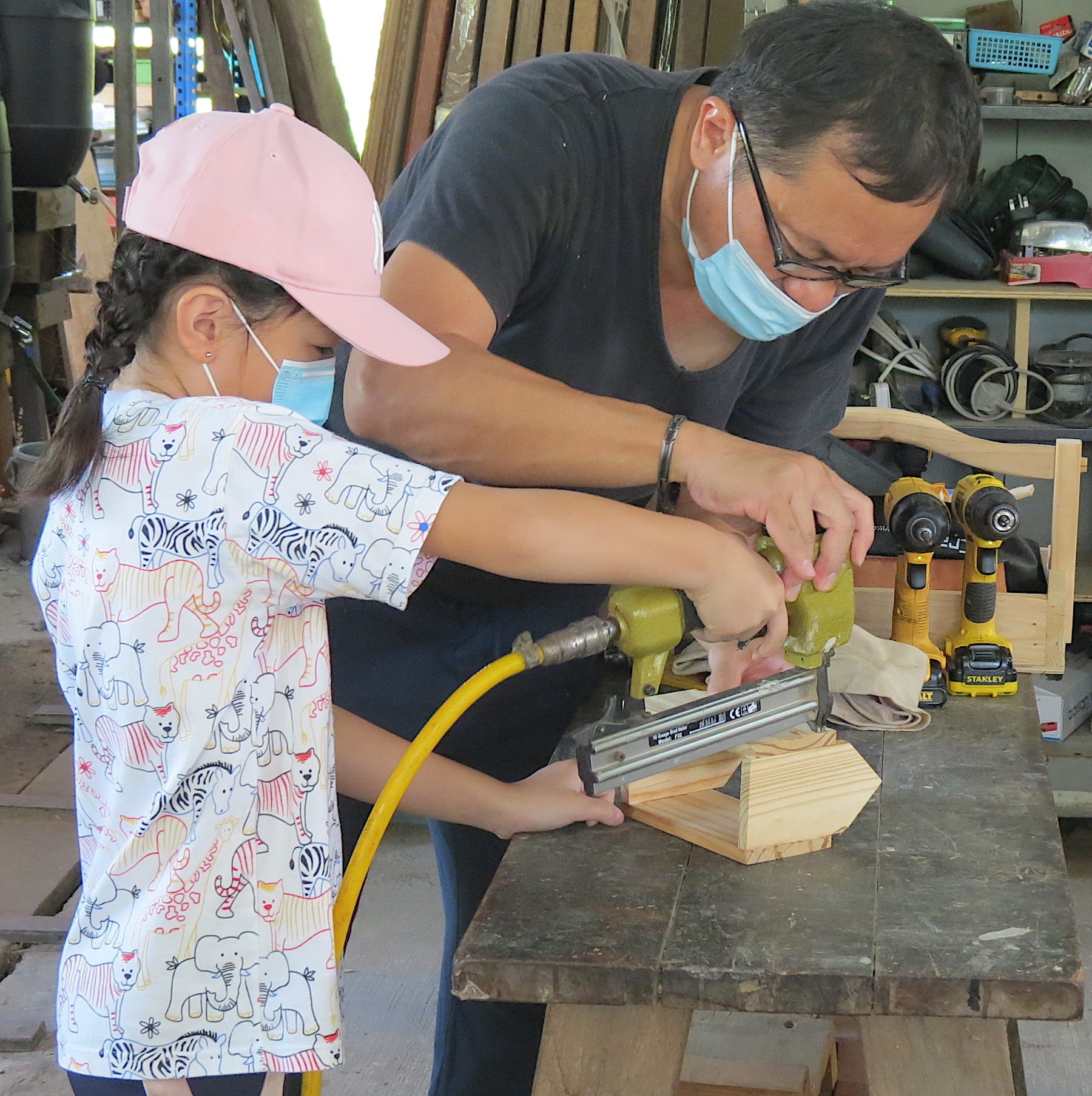 Using 100 per cent recycled wood for each craft, the workshop will also cover environmental issues and how to do our part. The workshops are aimed at kids aged five to nine years.
Workshops slots are limited and require a minimum of five to commence. It costs S$65 per child. For bookings and more information on My Woody Hero Workshop, click here.
5. ENJOY MOONLIGHT ADVENTURES WITH PANGOLINS AT THE NIGHT SAFARI
Explore four walking trails by night, enhanced by Augmented Reality (AR) and Virtual Reality (VR) as the family takes the Journey with Pangolin Experience at the Night Safari's East Lodge.

You'll discover wildlife through the VR experience and help your kids, through the activities, find out how they can contribute to biodiversity and save the animals from going extinct.
The Journey with Pangolin Experience is available at S$15, on top of your Night Safari admission ticket for Wild About Twilight. Tickets are available here.
You and your kids can also explore a Moonlight Adventure with Berani, Night Safari's resident rescued Sunda pangolin. Back in 2018, Berani underwent orthopaedic surgery after an accident and has recovered remarkably to explore his new exhibit space along the Leopard Trail. From now until Dec 31.
For more information, visit the Night Safari here.
6. GET KIDS INTERESTED IN ART AT THE CHILDREN'S BIENNALE
The Children's Biennale kicked off with a digital version in May and continues this year-end with nine on-site installations that highlight the importance of art. The installations exemplify how creativity helps during uncertain times like the COVID-19 pandemic.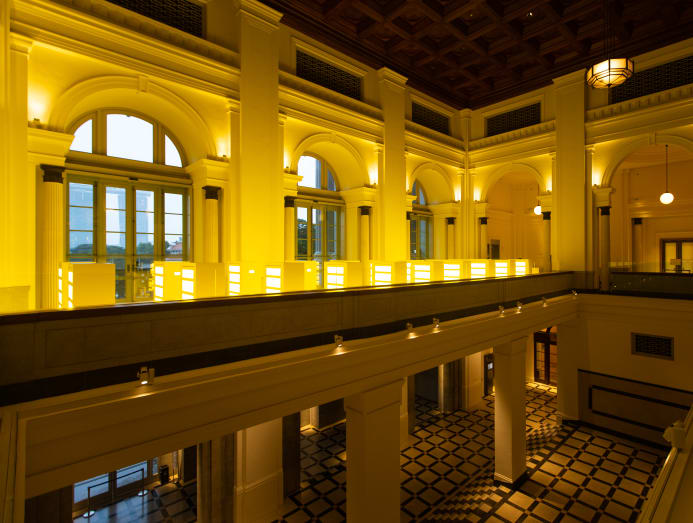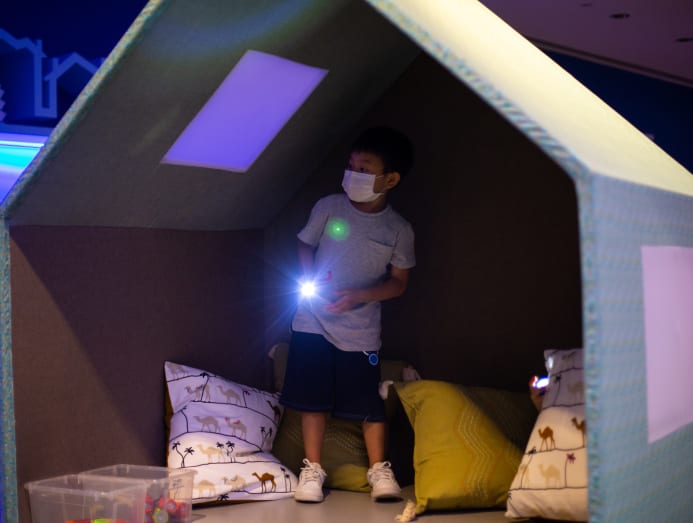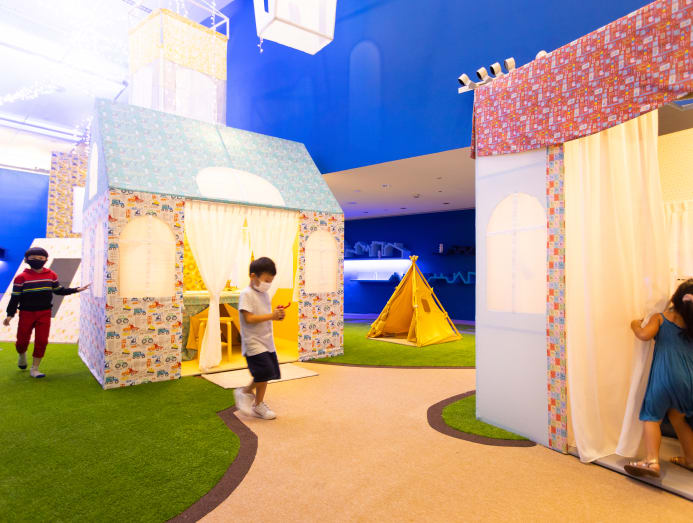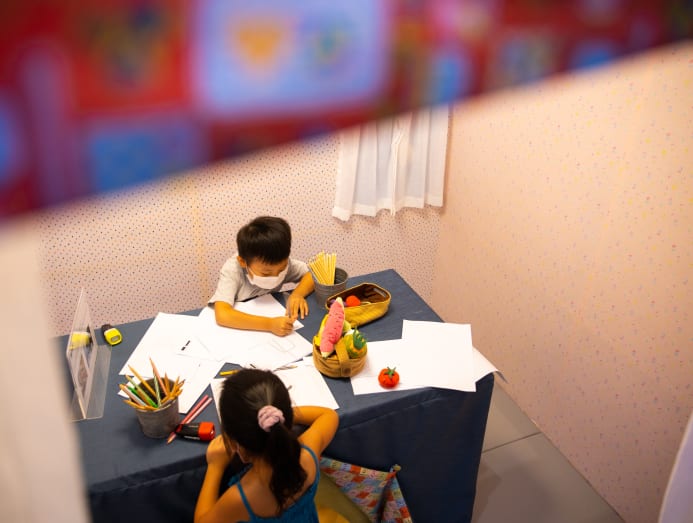 Imagined as a hybrid event, the Biennale is both an online and a physical experience with installations and digital formats which foster curiosity and imagination.
Its artworks cover themes like Home, Diversity, Environment and Time. Walk through larger-than-life neighbourhoods made entirely out of cardboard sculptures through the Home section, or chronicle Time at the life-sized library of past diary entries and have your children contribute for the future.
The installations hail from all over the world, featuring collaborations between both local artists and others from Spain, Taiwan, India, Australia and around the region from Cambodia, Philippines and Vietnam.
Entry to the Children's Biennale is free and includes complementary programmes such as storytelling and movement workshops. You can also buy art packs for S$5 each for the children to get involved at the event or at home. For more information, check out https://childrensbiennale.com/
7. GET BUSY WITH MICKEY AT POP-UP DISNEY! 
Celebrate Mickey Mouse at Pop-Up Disney! an immersive exhibition which originated from the Disneyland Resort in Anaheim, California. The exhibition in Singapore's Suntec City Convention & Exhibition Centre features seven thematic zones of iconic characters and their storylines with the iconic Mickey.
Highlights include Sorcerer Mickey's Magic Room where you walk through a mystical tunnel and be enchanted by all things fantastic or take a walk down memory lane with It All Started with a Mouse, with old-school stories of Mickey Mouse through a comic storyboard.
Capture iconic Instagrammable moments at each of the seven rooms.
Tickets for kids ages three to 12 cost S$20 each; kids above 12 and adults pay S$25 each. For tickets and bookings, click here.
8. KEEP THE KIDS MOVING WITH ACTIVESG
You may only think of ActiveSG for booking badminton court facilities or your slot at the ActiveSG gyms islandwide. But it's a lot more than that as you can also register your children for archery, aikido, frisbee, inline skating classes, paddleboarding and even basic CPR courses.
Get your kids out of the home to get active – check out the programmes lined up by Sport Singapore, which include sports for all ages to encourage a healthy lifestyle.
Slots are limited due to ongoing safe management restrictions so book early. Check out the holiday programmes by ActiveSG here.
For more information about ActiveSG's ongoing programmes for children, see here. 
9. GET INTERACTIVE WITH PEPPA PIG
Enter the world of Peppa Pig with her family and friends at Let's Play Marina Square. Called Peppa Pig Happy Day Interactive Play, the themed indoor playground spanning 14,000 sq ft recreates scenes where much of what happens in Peppa's life, takes place.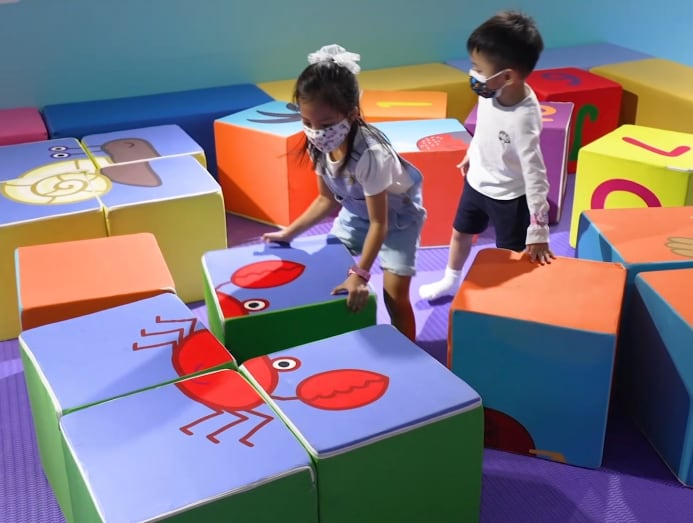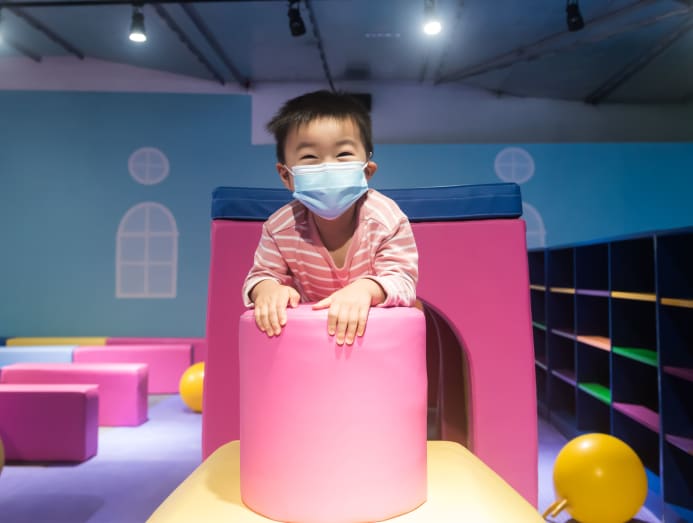 Interactive video projections bring unexpected activities to life so you get to "jump" into muddy puddles like Peppa, and water garden plants with Peppa's brother, George.
Peppa Pig Happy Day Interactive Play is on now until Feb 13, 2022. There are six sessions per day, each lasting 90 minutes without intervals. Tickets start from S$28 and do note that entry for infants and children below two is not encouraged.
Tickets are available on Sistic.
10. TAKE A WALK BEYOND EARTH AT ARTSCIENCE MUSEUM
Explore life in space through the ArtScience Museum's new programmes which pique curiosity and celebrate the human quest to discover new life. See the VR artworks and films that study the science behind space travel.
Spacewalkers at the VR Gallery features two VR artworks that showcase the remarkable trips which NASA recorded in the early space explorations beyond our own planet.
1st Step – From Earth to the Moon chronicles that first visit to space, from the Apollo programme from launch to its return to earth. Enjoy the space trip from the perspective of an astronaut and experience the panoramic views reconstructed from the Apollo's image archives.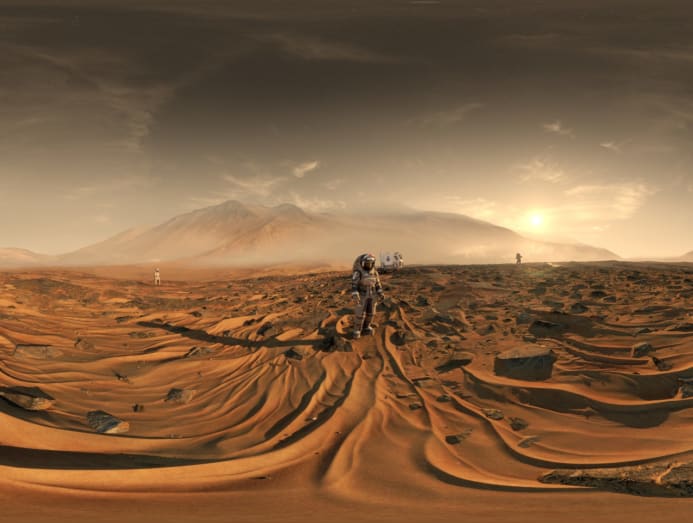 2nd Step – From the Moon to Mars and Beyond follows the journey from the moon to Mars and takes a look at Apollo 11's landing site and that mysterious red planet.
The programme has been recommended for those aged 13 and up. However, the ArtScience Museum will also be screening space-related classics as part of their tribute to planets beyond earth.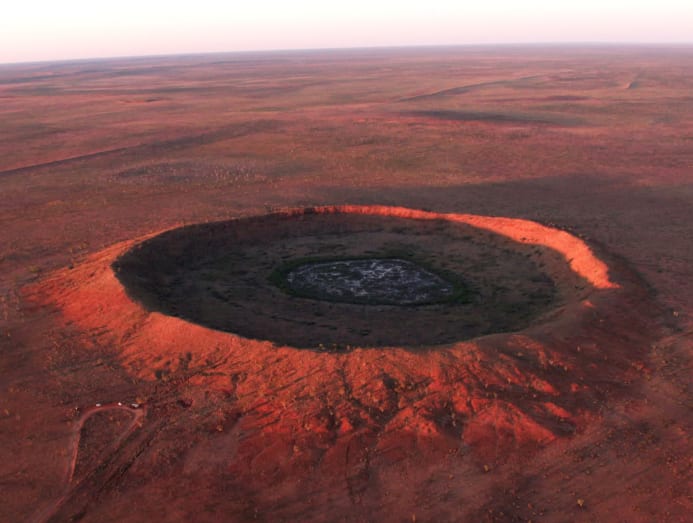 Catch classics like Wallace and Gromit: A Grand Day Out, and Moomins and the Comet Chase, which will screen now through December 2021, while arthouse and documentary style films such as Fireball: Visitors from Darker Worlds, an exploration about how meteorites and shooting stars have an impact on other realms, play from January through February 2022.
Tickets to Spacewalkers can be found here. 
Session times and more information about activities for Beyond Earth can be found here.
11. EXPLORE A WORLD BEYOND BOOKS WITH NODES BY THE NATIONAL LIBRARY
The National Library Board (NLB) brings stories to life through installations and transports readers to their dream (book) world. Check out your neighbourhood malls as NLB has dressed 15 of them islandwide with digital screens, immersive wallpapers, life-sized sculptures and cityscapes.
An NLB spokesperson said: "The Nodes by the National Library Board is a wider initiative to turn everyday places into places of discovery. We are bringing reading and learning closer to our patrons."
These installations link stories and create an interactive experience, allowing one to be transported to NLB's digital library, showing a sample of the book that inspired the installation.
Simply scan a QR code on any of the installations, wallpapers or lift decals. Link your library details and the book pops up – you can decide to check out a digital copy or reserve and read the physical one at the nearest library to you.
The Experience Lab features Discovery Sculptures of nature-themed sculptures, inspired by book titles. Upon scanning the QR code, nature-themed e-reads about gardening, biodiversity and climate action will pop up.
The other is Carousel Cityscapes which takes you around the world with shots of Singapore through the years, including journeys to Japan, Korea, Paris and Switzerland. Pique your travel imagination as NLB serves up e-reads about these cities.
For more information, check out Nodes by NLB here. Find out more about NLB's school holiday programmes here.
CNA Women is a section on CNA Lifestyle that seeks to inform, empower and inspire the modern woman. If you have women-related news, issues and ideas to share with us, email CNAWomen [at] mediacorp.com.sg.