She created a refuge for abused teenage girls that feels like a real home: 'They have gone through so much'
Some of the girls at Gladiolus Place were removed from their homes because of sexual or physical abuse, others have parents who are incarcerated. Its director, Michelle Tan, has created a home away from home for them, in this instalment of CNA Women's Mother's Day series about unconventional motherhood.
When you mention a girls' home, many people immediately think of problem kids or offenders.
"Why are you there? What have you done?" These are the sort of questions and snap judgement that many of the teenage girls at Gladiolus Place face.
If there is one thing Michelle Tan, director and head of the Christian residential refuge, wants you to know, it is this: "Our girls are not bad girls."
"A lot of them are victims of sexual abuse, some by their own family members. Many have been subject to harsh physical punishment such as being hit by metal rods.
"Some have received death threats from family members such as frazzled mums picking up knives and saying 'I'm going to kill you'.
"Some come from families where both parents are incarcerated so there is simply no one to look after them," she told CNA Women.
"They have gone through so much. Some of their experiences are unimaginable for us," the 44-year-old added.
Our girls are not bad girls … They have gone through so much. Some of their experiences are unimaginable for us.
Picked up by their school or the police, they have been placed at the home for their own safety by the Child Protective Service under the Ministry of Social and Family Development.
Tan's job: To pick up the pieces of their shattered girlhoods. And as a mother of three, she knew instinctively that what these girls need is not an institute but a home in the true sense of the word.
HOME AWAY FROM HOME
Tan's perspective came from her own life experiences. A scholar previously in public service, Tan left a well-charted career path to work directly with teenagers as a probation officer, and later as assistant director of Gladiolus Place (then known as Andrew and Grace Home). She took a 40 per cent pay cut.
Then, in 2008, she left her career entirely to be a full-time mum to her three kids, now aged 16, 13 and 10. 
After 10 happy years as a stay-at-home-mum, in 2018, she switched gears again when Gladiolus Place was in financial crisis and facing imminent closure. She took on the role of director to save the home.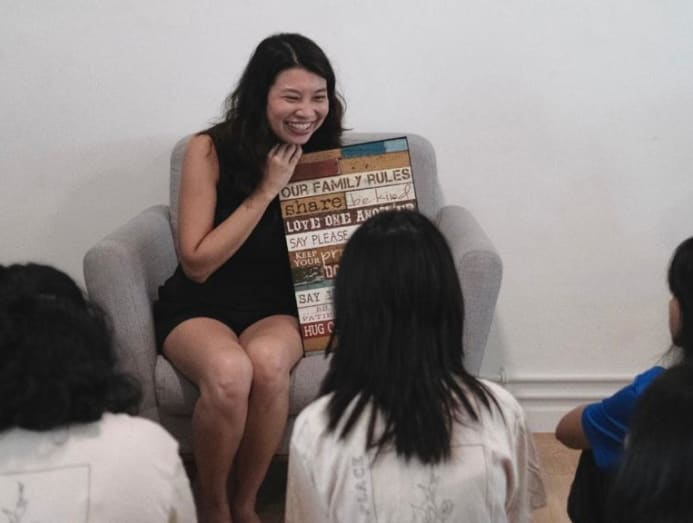 "There were only 12 girls left at that point and the place felt very cold – like an institution rather than a family. Operationally, there were also many challenges on the ground," she said.
Over the next five years, Tan turned things around, building a strong team of care staff, social workers, case workers, as well as a partnership team for fundraising.
The home successfully paid off all its debts and now shelters 35 girls, aged between 12 and 21, who typically stay for one and a half years before returning to their families once it has been deemed safe.
However, it was a girl at the home who gave Tan the idea of transforming Gladiolus Place into a home like the one she had built for her own kids.
"She is the longest staying girl at our home – she has been with us for five years because she does not have a home she can return to. One day, she followed me to my car and said, 'Michelle jie, bring me home'," recalled Tan.
This simple and earnest request broke Tan's heart.
"As mums, we try to create a home that is conducive for children to grow up. But these girls just don't have a home," said Tan, tears welling up in her eyes.
"I've had girls who literally lived on the streets for nine years because their parents neglected them. They occasionally go home to sleep or go to a friend's house. In some cases, there is no food at home at all and they've had to steal or go to other people's houses to beg for food," she said.
Knowing she could not take all the girls home, she decided then and there to transplant her own home into Gladiolus Place.
THE SIMPLE COMFORTS OF HOME
It was the little things. Dinner at 6pm. Everybody – the staff and girls – would sit down at a big table and bond over a simple meal of steamed rice, braised chicken, omelette, stir-fried chye sim and watermelon. Everyone would talk at the same time. It was noisy and lively.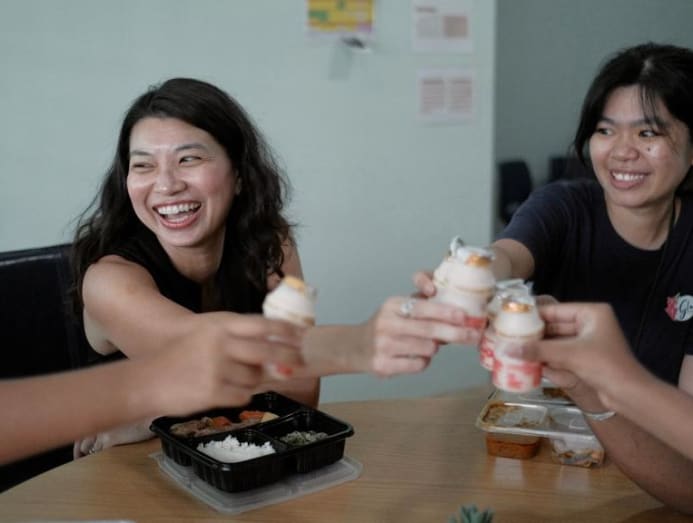 There was family time, playtime and bedtime.
Every girl had a personal development plan charted out for them. They participated in character building activities, as well as art, music and sports programmes. The home also had six furry felines to cuddle up with. 
These are some of the simple comforts of home that many of us take for granted. But it was a complete culture shock for many of the girls.
Some had survived entirely on nutritionally-deplete instant noodles, and regularly stayed up till 2am or 3am fiddling with their phones and skipped school the next day.
Within a month, Tan confiscated the girls' phones and instant noodles. Instead, they were given an hour of handphone time, which they had to earn with good behaviour. She also made instant noodles an incentive.
"There was an uproar. They slipped hate mail under my door. I didn't dare to drive in for months. I was pretty sure my car would have been a goner," she laughed.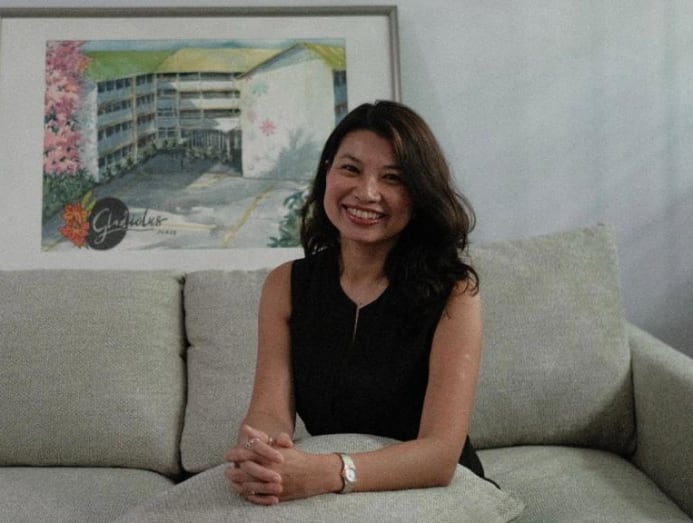 "If they step over a boundary, there will be consequences such as additional chores or fewer privileges. But this also comes with a lot of processing to understand why there is such a boundary," she said.
By and large, it worked. Most of the girls started to eat nutritious meals, regulate their bedtime and wake up on time for school.
PLANTING THE SEED OF HOPE
You might think that for girls who have gone through so much, a home like this would be a welcome oasis. But the truth is a lot more complicated.
Many of them resent it. "They are already victims but yet had to be removed from their homes and placed in a community setting. So we are often seen as being on the same side as the child protection officers who removed them from their homes," Tan explained.
I've had girls who literally lived on the streets for nine years because their parents neglected them. They occasionally go home to sleep or go to a friend's house.
The trauma these girls have experienced also affects the way they process things and relate to others. "They usually have difficulties forming trusting relationships and healthy attachments, and their worldview and perspective on families can be very dysfunctional.
"When they perceive any form of threat, they usually have a fight-flight-fright response – they may fight it out, escape or withdraw in fright. The abuse also affects their personhood, self-image and confidence.
"Common challenges include difficulties in managing and regulating their emotions, mental health issues such as post-traumatic stress disorder (PTSD), depression, panic or anxiety disorders, sleep disturbances and hallucinations," she said.
Because of this, the home does not sleep and incidents often occur at night.
"Self-harm is very common. There are girls who cut themselves. They don't feel the physical pain because the emotional pain they are feeling is so much more," said Tan. "This sense of hopelessness, despite all their youth and energy, is particularly heartbreaking."
The telltale signs are usually obvious. "They will look a bit out of sorts and have their jackets on. Because it is so hot in Singapore, that is a dead giveaway for us. I'd chat with the girls who don't look quite right. Sometimes, they'd start crying and I'd support them from there and dress their wounds," she said.
I asked myself many times, what does success look like in my role? I still don't have an answer.
Sometimes, patient guidance does help the girls beat the odds, such as a girl who came to the home because her parents were unable to manage her.
"She had anger management issues and when triggered, would lash out. Sometimes, she would get violent, slap people or punch walls. We did a lot of interventions with her and also worked with her family closely.
"She was eventually able to better manage her emotions and returned to her family. She also got herself into a polytechnic to study," said Tan proudly.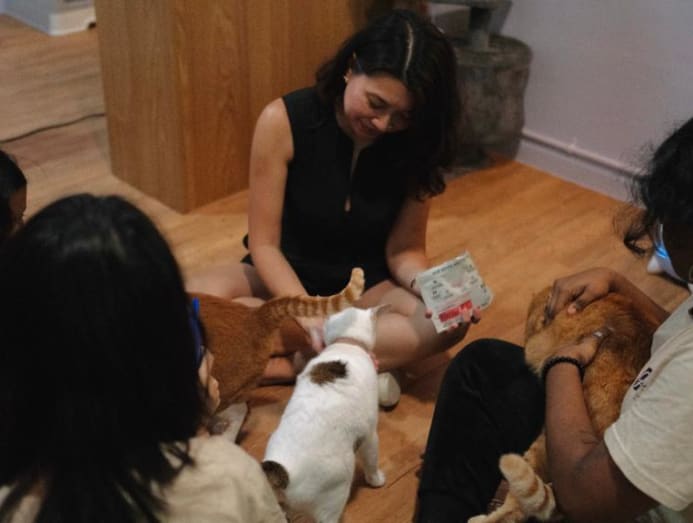 However, not every girl leaves the system on such a positive note. Some continue to struggle and search for safety, security, love and their place in the world. But Tan believes the refuge is nonetheless important for these girls.
"I asked myself many times, what does success look like in my role? I still don't have an answer," she admitted.
"But I believe if a child doesn't have parents who can care for them at the moment, then someone else will have to step in and perform that role as best as we can," she said.
"Of course, try as we might, it's not possible to replace their parents. And if they have lived all their lives having to fend for themselves, what can we expect of them, except to patiently sow into them, helping them to re-learn functional ways of living and functional ways of responding," she added.
"Quoting from author Robert Louis Stevenson, I tell my staff: Don't judge each day by the harvest you reap but by the seeds that you plant," she said.
It is Tan's belief that as long as she has done her best for each child, she would have planted the seeds for a different and better life in the girl's future, even if it does not manifest at the moment.
"That is the hope we place in our girls when situations may seem hopeless," she said.
Where to get help:
Samaritans of Singapore Hotline: 1767
Institute of Mental Health's Helpline: 6389 2222
Singapore Association for Mental Health Helpline: 1800 283 7019
You can also find a list of international helplines here. If someone you know is at immediate risk, call 24-hour emergency medical services.
More unconventional motherhood stories:
CNA Women is a section on CNA Lifestyle that seeks to inform, empower and inspire the modern woman. If you have women-related news, issues and ideas to share with us, email CNAWomen [at] mediacorp.com.sg.