Meet the two inspiring mums who won this year's Exemplary Mother Award
One winner is a young mother who has fostered five children while raising two of her own, and the other had to raise her daughter, who was born with a cleft palate, single-handedly for almost a decade.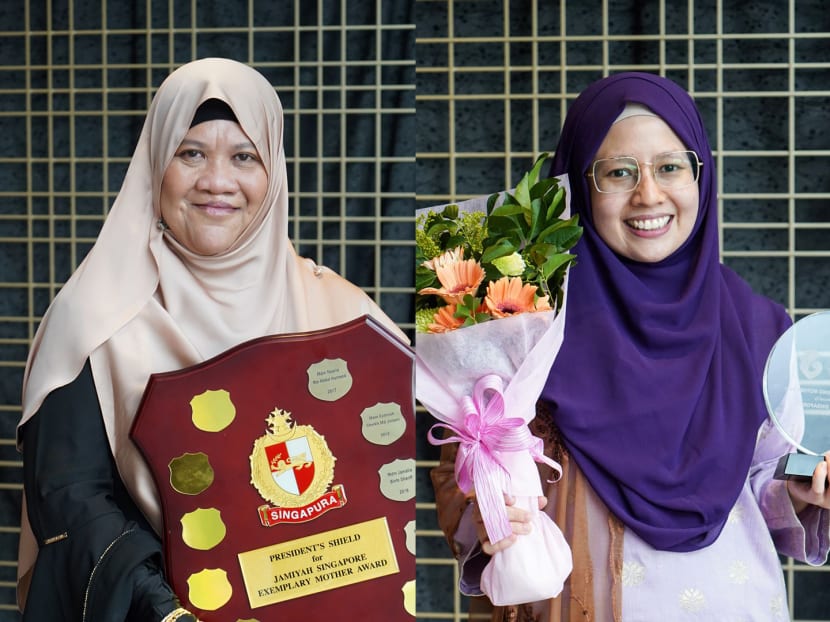 Two Singaporean mums were recognised for their tenacity, sacrifices and perseverance in the Exemplary Mother Award 2021. 
The annual awards, organised by Jamiyah Singapore, a voluntary welfare organisation that supports the less privileged, celebrates mothers from all walks of life for their dedication to their families and values, no matter their race or religion. It's now in its 28th year.
"The awards pay tribute to the many accomplishments of mothers which often go unnoticed," said President Halimah Yacob in her opening speech at the awards presentation held at Swissotel The Stamford on Oct 23.
"The awards recognise the integral role that mothers play in building strong families, strong communities and a strong nation."
Sapiah Haron won the Exemplary Mother Award, while Far'ain Jaafar was presented with the Exemplary Young Mother Award. While the former award was introduced in 1993, the latter was established in 2018, and given to mothers below 40 years old.  
THE EXEMPLARY MOTHER AWARD
Sapiah Haron, now 53, had to raise her daughter single-handedly for close to a decade as her husband was then a foreigner and "denied entry into Singapore", said the press release. He was away from the family from 1995 to 2004.
It didn't help that her daughter Aliyah, was born with a cleft palate, a birth defect that affected her facial appearance. She needed several surgeries to treat it, and Sapiah had to take up several jobs to afford them.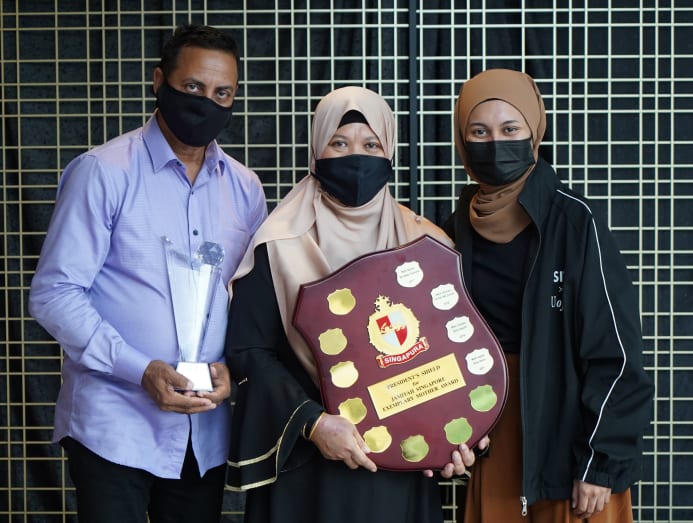 "She always cried when I dropped her off at the babysitter's home," recounted Sapiah in the press release, adding that she was only able to see her daughter on weekends.
It was only when Aliyah was in Primary One that the mother and daughter got to live together. "I explained everything I was doing to my daughter. I told her we have to work together on things," Sapiah recalled. "I used to sell 'kuih' and she would accompany me every time."
For a long while, she added, it was just the two of them "against the world". 
Her daughter did well in her O Levels and now works as a nurse. 
"I raised her to be patient, understanding and independent; someone who is useful to society," said Sapiah.
Today, Sapiah lives with her husband and four children, with Aliyah being a "mentor" to her younger siblings. 
"She helps me to look after them. She can motivate them with stories of what we have gone through. She has even kept all my letters to my husband when we were apart," she said.
THE EXEMPLARY YOUNG MOTHER AWARD
The winner of the Exemplary Young Mother Award 2021 is 33-year-old Far'ain Jaafar.
Within a month of moving into her marital home in 2016, the author and educator applied to become a foster mum, a dream she has had since she was 19. Far'ain was 29 years old then.
Her application went through the next year: She received a call one evening, asking her and her husband if they were able to pick up two foster infants the next day.
The couple had a three-year-old son then but they agreed to help. Over the next four years, Far'ain went on to foster three more children, as well as give birth to another child.
"We are not here to tear families apart but to build a community for the children and care for them in the best way so that they are in the best condition to reunite with their families," said Far'ain.
When it comes to caring for her foster children, she said that she "unpacks the issues to facilitate their healing", while acknowledging their troubled past.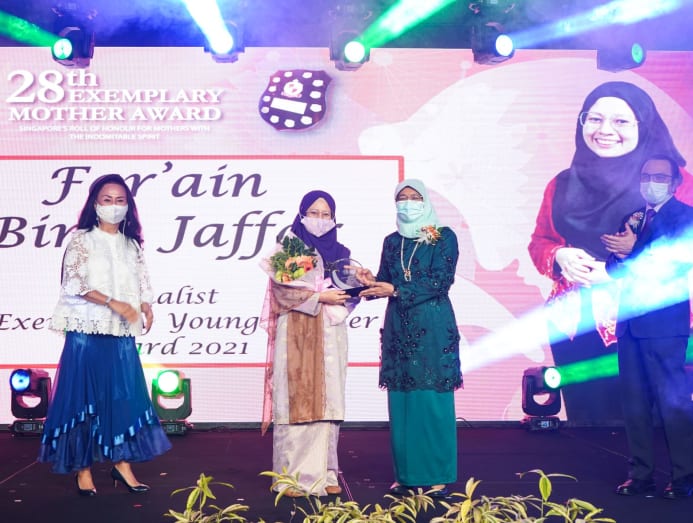 Besides being a foster mum, she is also a volunteer with the Breastfeeding Mothers' Support Group, and writes educational books for children, touching on topics such as finances. 
"One of the best things is to read to your children. That is the time you connect with them, sustaining and maintaining your relationship with them," she said.
CNA Women is a section on CNA Lifestyle that seeks to inform, empower and inspire the modern woman. If you have women-related news, issues and ideas to share with us, email CNAWomen [at] mediacorp.com.sg.