This non-gamer in her 40s is making sure you can enjoy shooter games without lags and glitches
Driven by the pandemic, former travel manager Nelly Lee dived into the world of technology and now manages codes for popular shooter video games. She tells CNA Women how she was inspired by love of her daughter in this instalment of our series on women who made extreme job switches.
You may have seen memes of middle-aged folks struggling with rapid digitalisation and technology. Coming from the generation of pagers and pay phones, the transition to a world where everything is run on palm-sized smartphones, stored on the cloud or shared on TikTok may seem mind-boggling.
Some suggest that technology is a young person's game. Others have pointed out that these assumptions are charged with ageism.
A Gen-X-er in her early 40s, Nelly Lee shrugs off such assumptions. Even though Lee works as a DevOps engineer for one of the world's leading gaming companies – which she prefers not to name – she laughs at herself in good humour.
"I am a noob," declared the 42-year-old, using a term that commonly describes newbies in the gaming world. "I know how to use a computer, but tech terms, and even the difference between Windows and MacOS, used to be completely lost on me."
Lee did not need to know these terms. For most of her career, she worked in the travel industry, leading tours, selling tour packages and planning itineraries. Yet, last year, she made a surprising job switch to a tech role where she now manages codes for game updates and fixes bugs.
It was not an easy switch. Partly driven by pandemic desperation, and partly inspired by her great love for her eight-year-old daughter, the single mother told CNA Women what gave her the courage to push through with her extreme mid-career switch.
STRUCK BY WANDERLUST
Before the pandemic, Lee's life was one big adventure. Joining the travel industry as a tour consultant at the age of 19, she has since travelled to some 30 cities around the world. She tasted ostrich meat in South Africa, explored Cappadocia in Turkey from a hot air balloon, and traversed Mount Cook in New Zealand on helicopter.
"I was young and wanted to do something fun. My job gave me the opportunity to travel for free and experience different cultures. I took aeroplanes more frequently than I sat in cars," she joked.
One of her most unforgettable moments was leading a tour by coach to Jiuzhaigou in Sichuan, China in 2008. "On our way in, there was a huge landslide and the road was blocked for eight hours. I panicked because there were no toilets or food for the passengers. Luckily, the state managed to clear the road eventually," she recalled.
This memory stuck with Lee because it was a close shave. After returning from that trip, the 2008 Sichuan earthquake struck, killing more than 7,000 people in the province alone. Had Lee's trip been scheduled a little later, she too might have been injured or killed.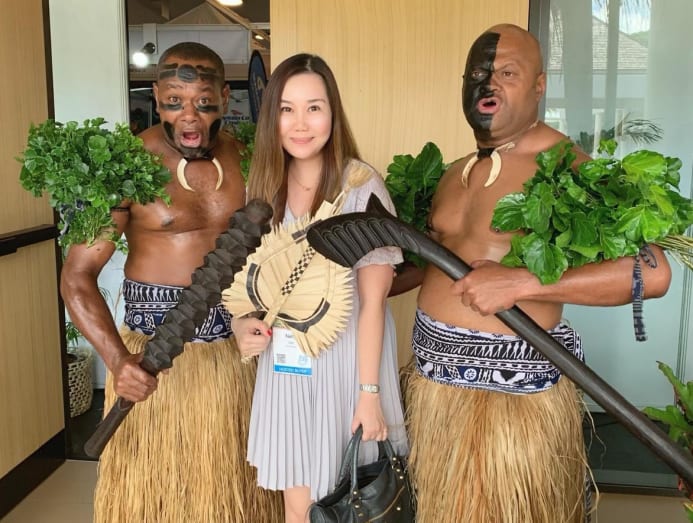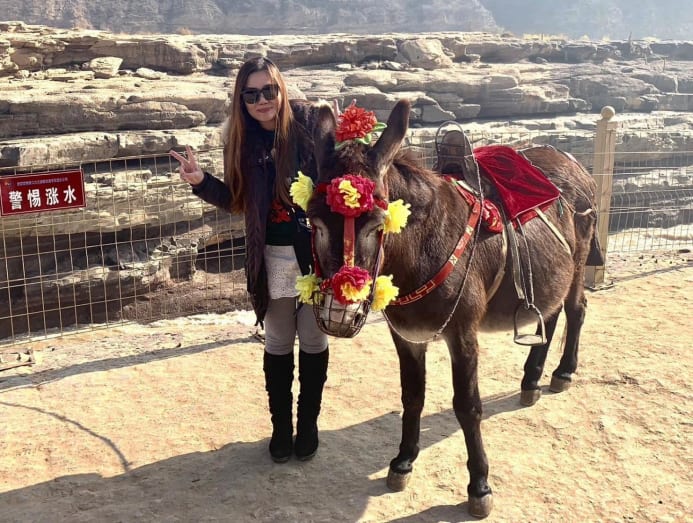 Nonetheless, these experiences added colour to her life experiences. At the age of 35, after 16 years of globetrotting, Lee became a product development manager, designing packaged tours for China.
This gave her the opportunity to explore beautiful hotels and try the best local delicacies in each city – roasted lamb from a Mongolian yurt in Xinjiang and biang biang noodles that the Chinese city of Xi'an is known for.
BLINDSIDED BY THE PANDEMIC
All that changed when the COVID-19 virus hit the city Wuhan in 2019. "I was on a company incentive trip to Switzerland in January 2020 when I first heard the news. At that point, I was preparing for my company's Chinese New Year fair for China tour packages. Upon hearing the news, my heart dropped," she recalled.
"The fair did badly. But I remained positive. I told myself that we'd gone through severe acute respiratory syndrome (SARS), and as before, things would get better after half a year. I watched the news every day waiting for good news, but things only got worse. Slowly, the virus spread to other cities in China and then to countries," she said.
Things quickly changed at work. "Every day, we received calls asking for cancellations and refunds. People were naturally very concerned about their money and there were many angry customers. By April, all trips to China were cancelled."
With no further trips to plan, Lee described the following months as the strangest period of her career. Funded by grants, her company started to schedule any courses for Lee and her colleagues every day.
"We went for courses on communications, business management, Microsoft proficiency and even bread baking and wine tasting. But I became very anxious that I would lose my job," she said.
In 2021, as grants were reduced, these courses stopped, and Lee's salary was cut by around 60 per cent. A single mother to a then seven-year-old daughter, she felt particularly vulnerable.
"Although I knew a pay cut was unavoidable, I spent many sleepless nights worrying about how I could continue to provide for my daughter and my parents. Even though I refrained from spending on myself, I was worried the money would not be enough. I didn't want my pay cut to affect my family.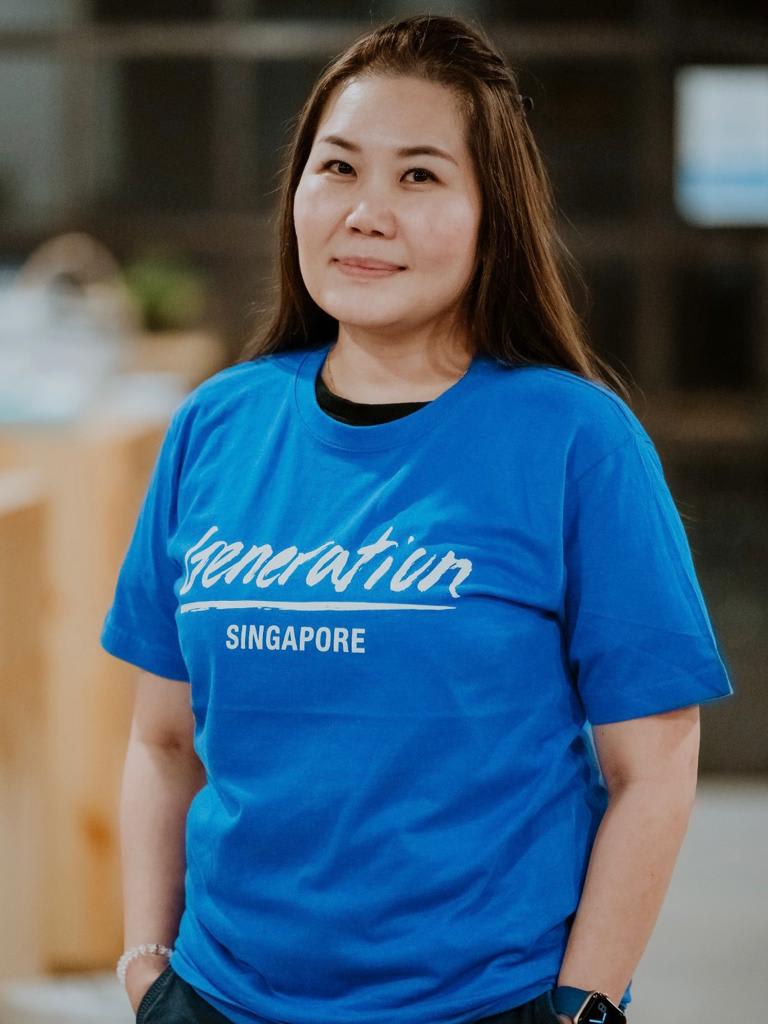 It was in the midst of ceaseless worrying that Lee switched on her laptop one day in October 2021 to randomly Google SkillsFuture courses.
Technology courses by Generation Singapore popped up on her screen. A non-profit organisation, Generation Singapore assists unemployed and underemployed individuals to launch new careers by connecting them to training, mentorship and jobs.
I felt like I struggled with it more because of my age and because I had no knowledge of tech to begin with so everything was alien to me, but I was willing to work hard.
"I don't know why I clicked on the link. Perhaps it was because they offered technology courses. My brother is a software engineer and over the years, I have seen him doing very well at work," she said. 
On impulse, Lee did a video interview with Generation Singapore to apply for two courses. Shortly after, she was invited for a follow-up Zoom interview and shortlisted for a three-month Microsoft Cloud Support and DevOps course.
FROM TOURISM TO TECH
That is how Lee ended up quitting her job in late November last year to dive into the world of technology.
"I felt I wasn't young anymore and couldn't wait to see how the pandemic unfolded. Even if travel were to resume, I was afraid something like COVID-19 would happen again. I wanted stability and security for my family," said the single mother.
It was not an easy move. "I had a brain jam on my very first day at class. There were so many terms and tools I had to learn and I hadn't studied for a long time. I burnt the midnight oil almost every night, often studying till 1am to 2am after my daughter slept," she recalled.
I failed my first five job interviews, but after each interview, I researched the questions that stumbled me.
"I felt like I struggled with it more because of my age and because I had no knowledge of tech to begin with so everything was alien to me, but I was willing to work hard," she added.
Her hard work paid off, and Lee got her certification as well as an internship with a local service and payment platform. Working on cloud support and system administration, part of Lee's job involved monitoring alerts for project managers and managing storage size within the cloud.
At the same time, under the guidance of a mentor provided as part of the Generation Singapore programme, Lee began sending out resumes to recruiters and updating her LinkedIn.
"I failed my first five job interviews, but after each interview, I researched the questions that stumbled me," she said. Lee got sixth-time lucky with the leading international gaming company where she is currently working as a DevOps Engineer.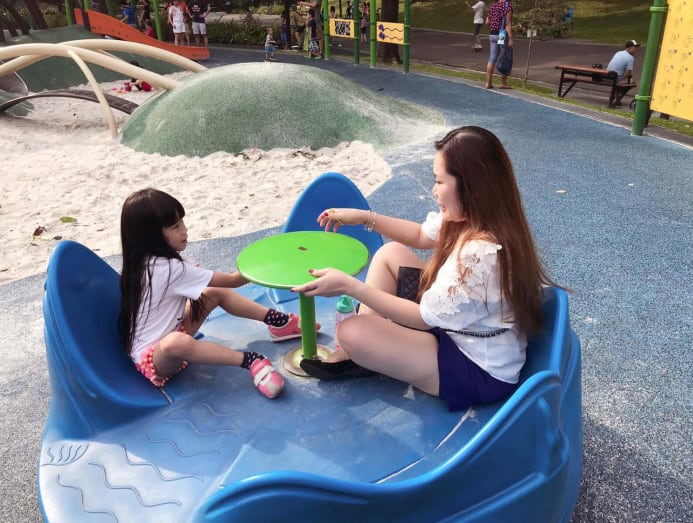 Today, Lee spends her days supporting popular shooter and battle royale video games. She provides operational support, and identifies and resolves issues from the servers to ensure the stability and reliability of such gaming projects. This includes managing codes for game updates and fixing bugs to prevent lags and server crashes.
Though not a gamer herself, this new role gives Lee a great sense of accomplishment. "I didn't expect to find a job in technology so fast, much less in such a big company. Even my ex-colleagues and family were shocked," she said.  
"As a mid-career switcher in my 40s, I'm not sure how far I can go in this industry. But I hope to make full use of my time to learn as much as I can. This industry is so new to me and there are still many things that I am not sure of so I am always very willing to listen and learn from my colleagues," she said.
"Because as a mother, I will do whatever I need to do well in my job, earn a better salary and provide stability and security for my family," she said.
CNA Women is a section on CNA Lifestyle that seeks to inform, empower and inspire the modern woman. If you have women-related news, issues and ideas to share with us, email CNAWomen [at] mediacorp.com.sg.