This 25-year-old marine engineer spends months at sea and is the only woman on board
She works in a hot engine room all day, sweating it out in a boiler suit, helmet, safety goggles and boots, and lives her off-work and workout hours on the same ship. Fadhiilah Abdul Wahab tells CNA Women what it's like.
A woman working in a male-dominated industry might not be all that uncommon now. But what if you're the lone female among a sea of men, would you still do it?
Fadhiilah Abdul Wahab is used to being the only woman on board the ship she works and lives in – the 25-year-old is an engineer with international energy company Shell.
Over her four-year career, she has been on seven different vessels sailing all over the world, from Africa to Australia, Canada to China, and Japan to Spain, spending four months on board each time. Her most recent tour, where she was at sea for six months, was her longest.
It was a Republic of Singapore Navy brochure she received just as she was finishing her O Levels that piqued her interest in a maritime career. She subsequently learnt that marine engineering might stand her in good stead for a naval career. 
She found out that both Ngee Ann Polytechnic and Singapore Polytechnic offered the diploma but what sealed the deal was when a friend mentioned that the latter involved a sailing experience at the end of the three-year course.
"I was even more interested because that was so unique," she said, adding that the programme included hands-on components that she was drawn to. And with the requisite mathematics and science being her strongest subjects in school, it was a no-brainer.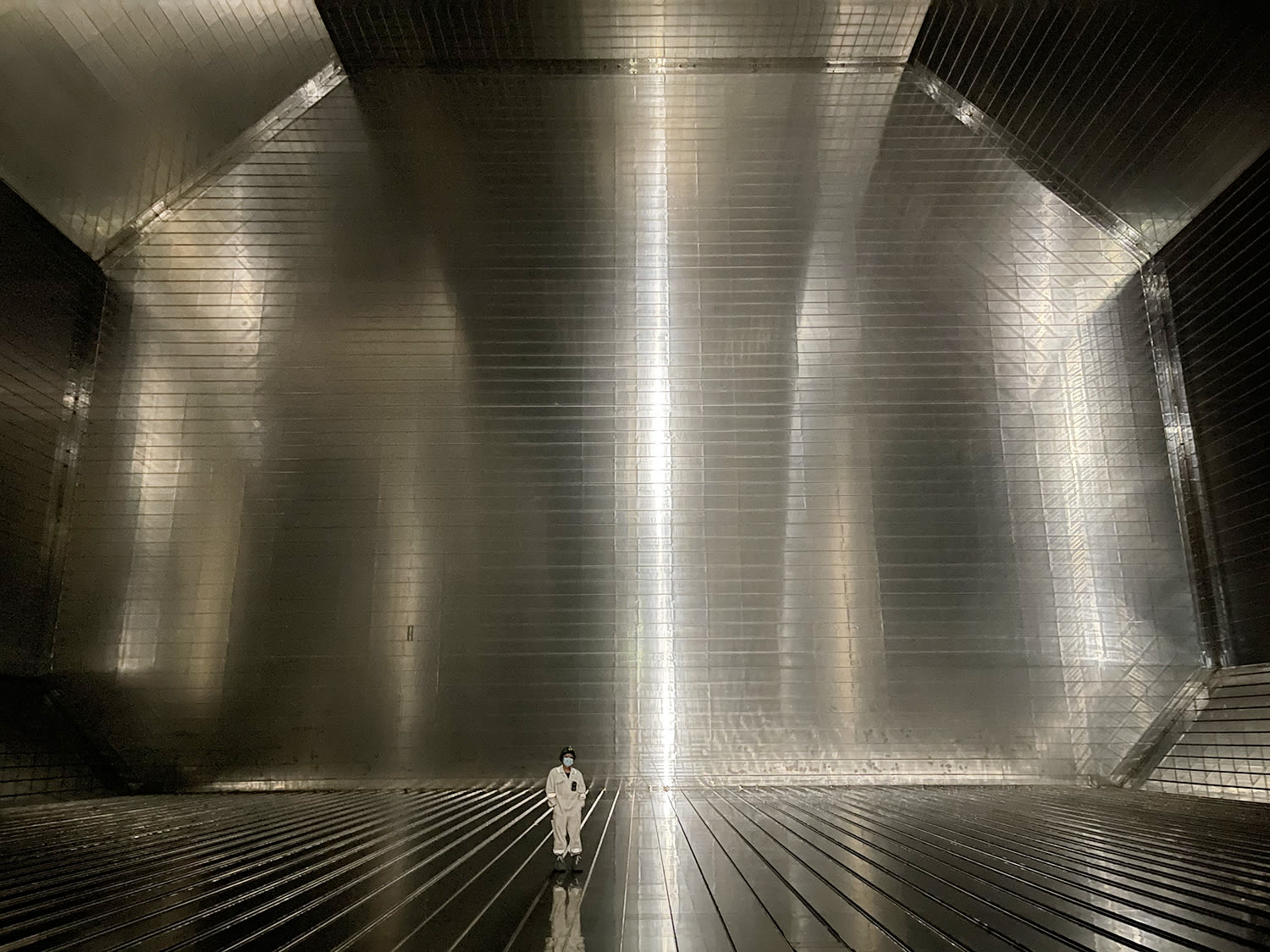 Fadhiilah's parents didn't bat an eyelid when they found out their youngest child – she has an older sister and brother – wanted to become a marine engineer. "When I told them that I was going to take up marine engineering, I actually looked at their faces to see if they would react badly. But they were totally cool with it," she recounted.
"I even reiterated that I would have to sail and be away for six months (when I did my final-year internship), to which my mother nonchalantly said, 'This kind of opportunity and adventure doesn't come often. You should do it.'"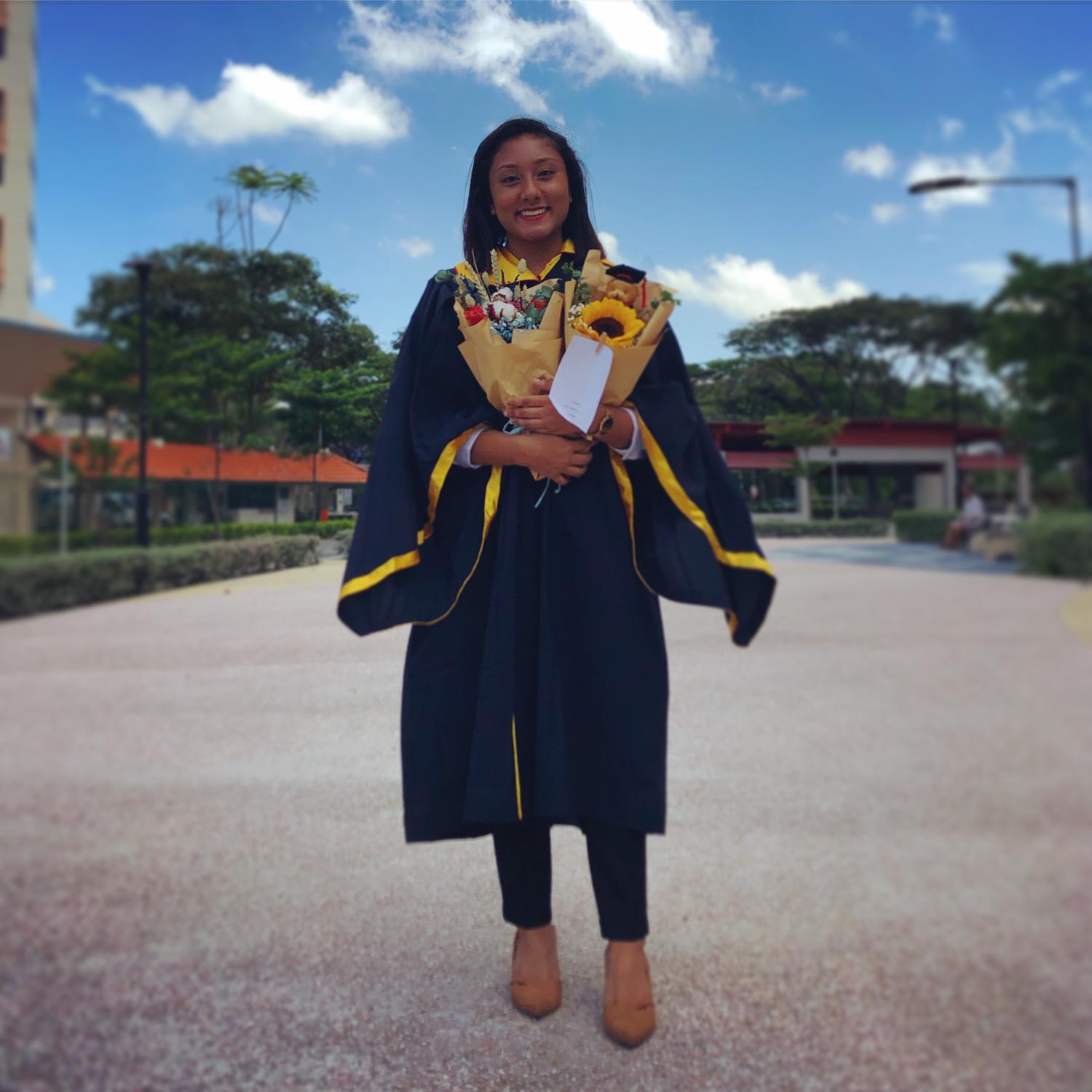 Fadhiilah ended up clinching a highly sought-after internship with Shell, "a tough fight", she said, as only one spot for each discipline – Deck, focusing on navigation and vessel operations, and Engine, focusing on machinery maintenance and engineering – was available. The internship led to her joining the company after she graduated.
A DAY IN THE LIFE OF A SHIP ENGINEER
Fadhiilah is currently a Fourth Engineer at Shell, moving up from when she started as a cadet. She oversees the running of a variety of machinery on the ship.
"Each of us has different machinery that we are responsible for. I was in charge of the freshwater generator, sewage, purifiers, oily water separator and transferring fuel bunkers," she shared.
But the job scope isn't limited to only what one is supposed to do. "If you have a huge job, like overhauling the main engine, then everyone – the chief engineer, second engineer, third engineer, electrician and myself, will work together on it."
Work begins at 7.30am every day and ends at 5pm. If you happen to be rostered for night duty, then you'd deal with any after-hours problems that may arise. 
"On our duty day (which happens every three days), we are in charge of the whole engine room so we must know where the machinery, alarms, buttons are. We have to familiarise ourselves with the layout of the entire engine room."
It's also hot, hard work – the engine room has an ambient temperature of 45 degrees Celsius. "If we are in the Middle East, the temperature can go up to 50 at times, although if we are around China in winter, the temperature in the engine room might be around 15."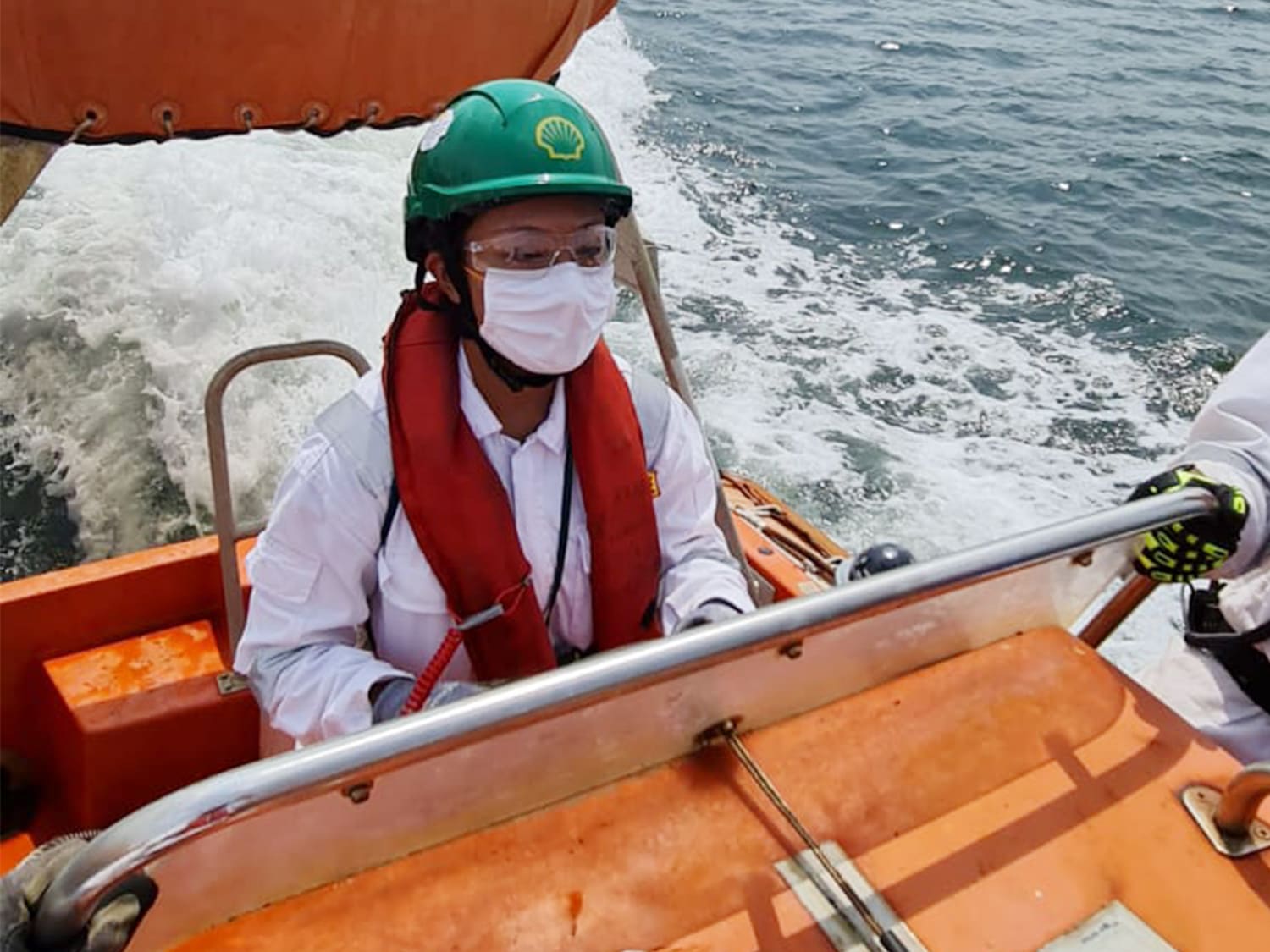 There are no pretty outfits either. She wears a boiler suit, helmet, safety goggles and boots throughout her shift.
"There's no place for worrying about how you look when you work in this line," she said, adding that she works out regularly to build her strength.
In addition, she shared that she doesn't get to pick and choose the vessel or the people she works with. "You get assigned and you show up. So you have to work with whoever you're put together with."
A sense of flexibility and learning how to work with people with different personalities and from varied backgrounds are skills she has honed.
"Flexibility is very important because we are sailing with different people all the time. So you need to be able to adapt not only to the different situations that can arise while on the ship, but also to the different personalities that you work with," she said, explaining that a number of crew changes can take place within a four-month tour.
"Just when you think you're getting comfortable with someone, that person might be getting off at the next port, and someone else will come on board, and you'll have to learn how to work with that new person."
There's also the added challenge of a language barrier. "I've had to learn how to word my instructions in a way that's easier for others to understand me, yet still be respectful, especially when dealing with people who are older than me."
BEING THE ONLY WOMAN ISN'T ALL THAT BAD
Fadhiilah told CNA Women that as women marine engineers at Shell are a rare breed, she's become used to being the only female on board a ship. Currently, there are only two Singaporean female marine engineers, Fadhiilah included, and the two women belong to a small group of 15 globally.
In addition to being the only woman, she's also usually the youngest – the rest of the crew is in their mid-30s or older, she said.
And while other women may find it hard to be in this position, she said it has its advantages.
"I'm naturally in the limelight because I'm the only female on the ship. I can feel the difference when they talk to me versus other male colleagues. They seem much brighter and their eyes light up – I think it's a nice change of environment for them," she laughed.
"I'm jovial by nature. Sometimes you can even hear my laughter from another room, and I would like to think that helps lift the mood for everyone I'm working with on the ship."
BUT IT'S NOT ALWAYS A PLEASURE CRUISE
She does miss female company, she admitted, although the good Internet coverage on the ship makes up for it. "Unless we're transiting to a certain area where the Internet coverage can be patchy, we're constantly connected to our families and friends," she said.
She gets to speak to her parents every day, and manages to keep up to date with happenings in Singapore, as well as with her friends, through her social media apps.
Her most recent stint did prove challenging, however. Instead of the usual four months, Fadhiilah spent six months on tour because of the pandemic. The situation also became more challenging as the crew was prohibited from getting off the ship at port.   
She had started her tour in May 2021 in Singapore, conducting the refitting of a ship, which then headed to Malaysia, Batam, Indonesia, and then to other ports, including China, Australia and Japan.
"When the fourth month of my tour came around, I was told that I would be able to disembark at the next port. But a few days before reaching the port, I was told, 'Sorry, change of plan, we're not going to this port anymore', so I had to continue sailing.
"This happened a few times and even though I had to accept the situation because of the pandemic, I couldn't help but feel my heart sink because I had been looking forward to going home after so long."
By the time Fadhiilah could fly back to Singapore, it was November.
One of the saddest parts of the job, she said, is knowing that she's unlikely to meet a person she's sailed with again. The chances are close to none, she said. "It's really difficult to re-meet the people you've sailed with in this line of work. I've never sailed with anyone twice. That's the sad truth."
On balance however, life as a "seafarer", as she describes herself, is pretty good. She has her own room where she can retreat to – something Shell provides for all its seafarers, and not just because Fadhiilah is a woman.
The food on board is cruise-worthy too. The crew enjoys a range of cuisines from Western to Indian, and desserts are always the highlight. "You'll never get tired of the food. And even if you do, the chefs are more than happy to try a new recipe if you hand them one," she said.

She wants to sail for as long as she's able to, and plans to work her way through the ranks to the top job, that of chief engineer, some day.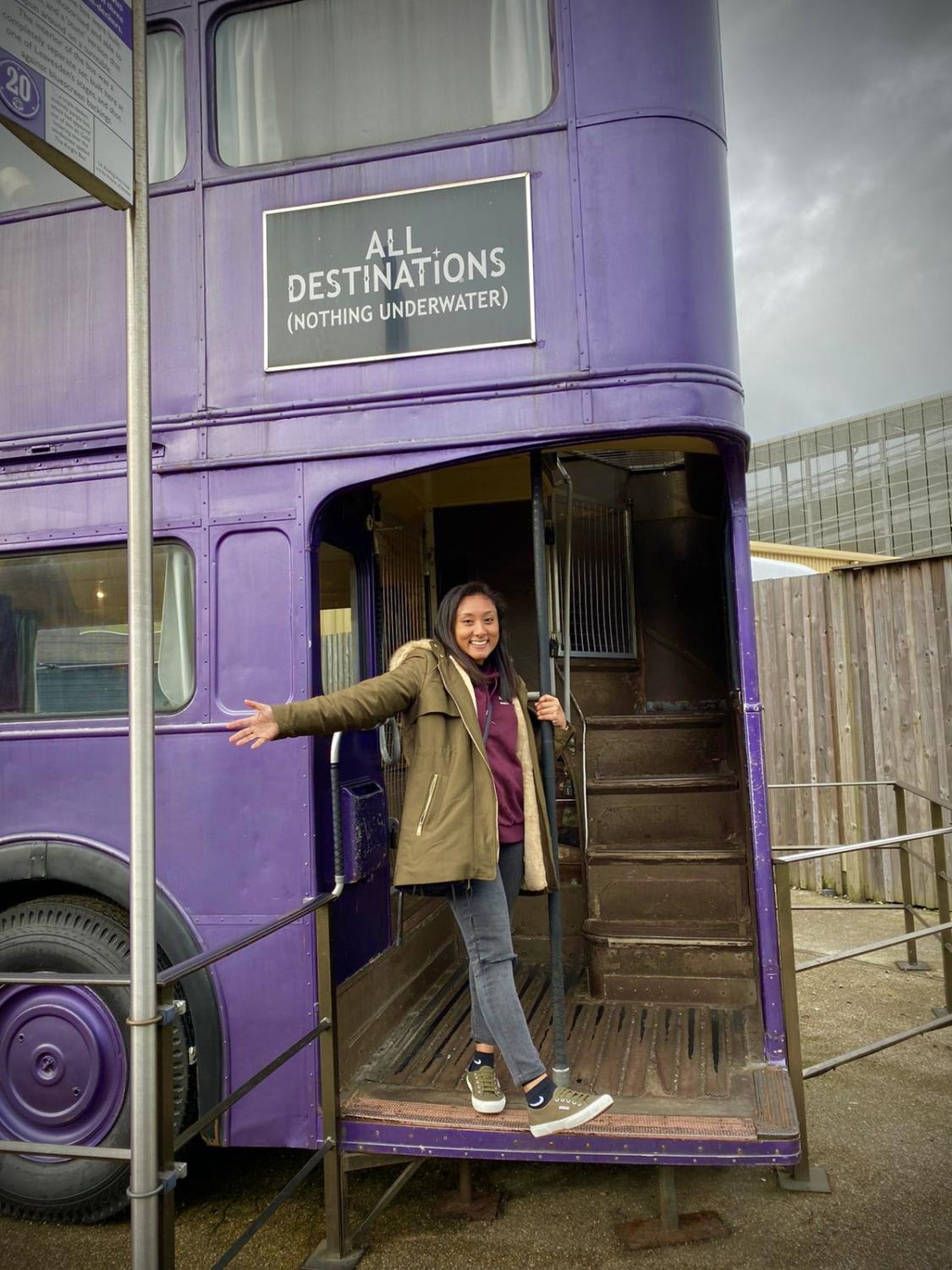 COME SAIL AWAY
Growing up, Fadhiilah never pictured herself in the industry. Like many young children, her dreams were to be a newscaster, doctor or lawyer. Despite the challenges she's faced over the last four years, she said she would still say yes to having a career at sea.
To young women who might be interested in an unconventional career, Fadhiilah encourages them to try one at sea, like she has done. But it's important to keep in mind that you'll need to be adaptable, responsible and disciplined, she said.
It's not the easiest of career choices – out of her 40 Singapore Polytechnic marine engineering classmates who chose the sailing route, less than half are still at it.

"If you've set your mind to follow this path, you have to remind yourself that whatever challenges that might come your way are just temporary. Eventually, when you've overcome them, you'll emerge a newer version of yourself.
"Hold firmly to what you want to achieve. And if people tell you otherwise, try not to let their words affect you because you can't control how others behave or react, but you can control how you react to them."
CNA Women is a section on CNA Lifestyle that seeks to inform, empower and inspire the modern woman. If you have women-related news, issues and ideas to share with us, email CNAWomen [at] mediacorp.com.sg.