Trust, listen, don't play the blame game: Fluff Bakery founders' recipe for a healthy marriage and thriving business
Ashraf Alami and Nursyazanna Syaira have been married for nearly a decade and have successfully kept Fluff Bakery's cult status for just as long. They tell CNA Women what it took for them to get there, in the first of our Valentine's Day series about couples in business.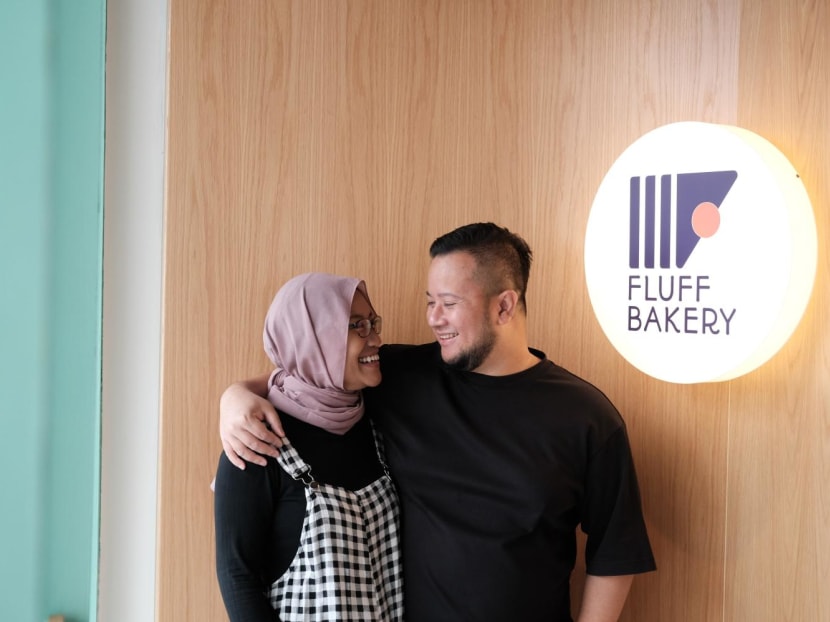 Cake lovers will remember the days when queues at Jalan Pisang – so long they would creep along the narrow five-footway and spill out into the back alleys in the Arab quarter – were a common sight.
This was when Fluff Bakery was merely a hole in the wall, albeit one that sold cupcakes in Singapore so creamy and with such unique flavours that instead of leaving you feeling guilty, gave you a sense of achievement.
Fast-forward nearly 10 years and not only is Fluff Bakery still around (a rare feat considering the local F&B turnover rate), it's as popular as ever, with bakes constantly selling out online and at the shop. In fact, the business levelled up last year, moving out of its Jalan Pisang space into a much bigger one along North Bridge Road. 
The cult bakery is the brainchild of Ashraf Alami, 41, and Nursyazanna Syaira Mohammad Suhimi (Syaira), 35, who married just a year before opening their shop at Jalan Pisang.  
In the first of CNA Women's Valentine's Day series about couples in business, we find out what it takes to maintain cult status in a famously cutthroat industry and above all, how this couple fights fires together at work and still come back to a happy home.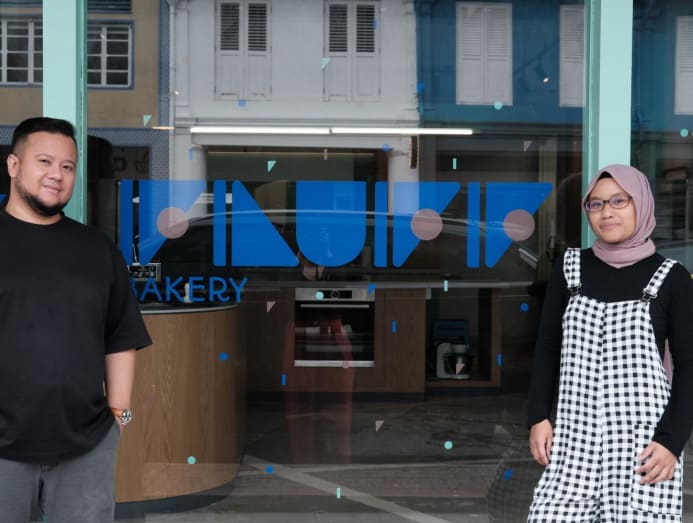 YOU STARTED FLUFF BAKERY IN 2012 WHEN YOU WERE STILL DATING. TELL US ABOUT THAT.  
Syaira: It started in June that year with me just selling cupcakes out of my mum's kitchen to raise money for our wedding expenses. Ashraf was a private tutor and I was working in public relations. There were no other halal bakeries at the time that offered cupcakes with fillings and when we started, none whatsoever with local flavours. The demand started to get crazy and it made more sense for me to focus on it full-time.  
Ashraf: I would pick Syaira up from work, we'd have a quick dinner out and head back to her mum's kitchen where she would bake the cupcakes. I would help where I could although I would say my skills in the kitchen were quite limited. The hours were punishing and we would frequently finish up around 2am. 
We opened an Instagram account to promote the bakes and as customers posted good reviews of the cupcakes and tagged us, our following grew quickly and so did the volume of orders. We were baking 60 cupcakes a day and at one point we were fully booked for three months. It was then that we found a cafe called Penny University to supply the cupcakes to and as demand continued to pick up, we decided to quit our jobs and focus solely on the business. 
At that time, we were selling 300 cupcakes a day at the cafe and it would sell out in two to three hours. We ran the numbers and decided that it made sense to open up our own retail store, hire more staff and ramp up production. (The couple opened their first physical store in 2013.)
At our peak, which was in 2015, we were selling 1,800 cupcakes a day. Our revenue that year was S$1.6 million and we were only selling cupcakes at the time. 
THAT'S A LOT OF CAKE. BEFORE WE GET INTO THAT, WHAT ROLE DOES EACH PERSON PLAY, AT WORK AND AT HOME?
Ashraf: Syaira is the typical messy creative. She does a lot of experimenting in our kitchen at home and comes up with lots of activities for our son, Noah (Noah is often seen on Syaira's Instagram page helping his mum with the cooking and baking). I'm more task-oriented and also quite a clean freak. At home, I do the tidying up and manage our expenses. 
Syaira: I'm the food and ideas person in the business so I'm in charge of the menu and product development. I'm hopeless at numbers and the business side of things so Ashraf does that because he is good at numbers! We both discuss business direction and development. 
At home, it's about the same – we pick up the things we're good at. I handle the busiest part of the home, the kitchen. This includes all our meals. Ashraf handles the finances and gets the important things done such as paying the house bills. 
LET'S GO BACK TO GROWING THE BUSINESS. FLUFF BAKERY BECAME A BIT OF AN OVERNIGHT SENSATION. WHAT WAS THAT LIKE?  
Syaira: At the start, we were both struggling with just getting used to running a business instead of being a home-based one. There were so many things that blurred into our individual roles, such as staff management. 
There were many instances that we had a strong opinion on something that was in the other person's "domain". I think it's important to know what you're good and not good at, to listen and know that the other person is not trying to "correct" you but just has the business' best interest at heart, and respect the strengths the other person has. We rely on each other to make it work.
For example, Ashraf wanted us to have more stores both in Singapore and around Southeast Asia but I would rather be just one small artisanal store and focus on being a local must-go destination for good bakes. When the opportunity to open a store in KL presented itself in 2017, I was initially hesitant but after listening to Ashraf's points I agreed that maybe it was time to spread our wings and give it a shot. 
After two years of opening one in KL we both decided that it was better to close it down and focus on our flagship in Singapore. The most important thing was that we listened to each other and we tried, and learnt so much from it.
"STRONG OPINIONS" ARE INEVITABLE. TELL US MORE ABOUT HOW YOU HANDLE CONFLICT AS A MARRIED COUPLE IN BUSINESS TOGETHER.
Ashraf: When you are married and run a business together, it can be hard to leave the work part to strictly business hours. We frequently find ourselves discussing work-related issues at home, which can be quite exhausting so now we try to remind each other to keep work talk at work.
Syaira: It's easy to say that work is work and personal life is separate but when you work and live together 24/7, things do blur into each other. There were times where we would disagree at home about personal matters and you do get hurt emotionally and it does affect how you interact with your other half at work and during work discussions to a certain degree. That is part and parcel of working together and I don't think it's realistic to say you can compartmentalise work and personal life.  
WE'RE GUESSING YOU'VE HAD TO SET GUIDELINES TO ENSURE YOU HAVE A HEALTHY WORKING RELATIONSHIP. WHAT ARE THEY?  
Ashraf: We have clear guidelines on what each person is supposed to be responsible for in the business and trust that the person is handling it the best they can. 
We don't always see eye to eye when it comes to the business and that can lead to a lot of conflict, so we decided that we each will give our input but ultimately the person in charge of that part of the business has the final say. When one person messes up, we don't play the blame game. We know they feel bad so we just focus on how to solve it together. 
Also when people are too familiar with each other, we form impressions of the other person. For example, I know Syaira is not good with numbers so I tend to dismiss her opinions on business strategy but I find when I keep an open mind and listen to what she has to say, she comes up with some really good ideas. The key is to learn to trust each other and be open to the other person's ideas.
It's important to know what you're good and not good at, to listen and know that the other person is not trying to "correct" you but just has the business' best interest at heart, and respect the strengths the other person has.
WHAT HAVE YOU LEARNED ABOUT EACH OTHER ON THIS JOURNEY?  
Syaira: That we're both not as on-the-ball as we'd like to be and really depend on our team at Fluff (the bakery has 18 other full-time employees) to help us along. 
I've also learned that when Ashraf gives feedback, it can seem like he's attacking me personally but he actually genuinely cares about what is best for the business and that it's not a personal attack on my craft. I've learned that I can be quite sensitive in that sense.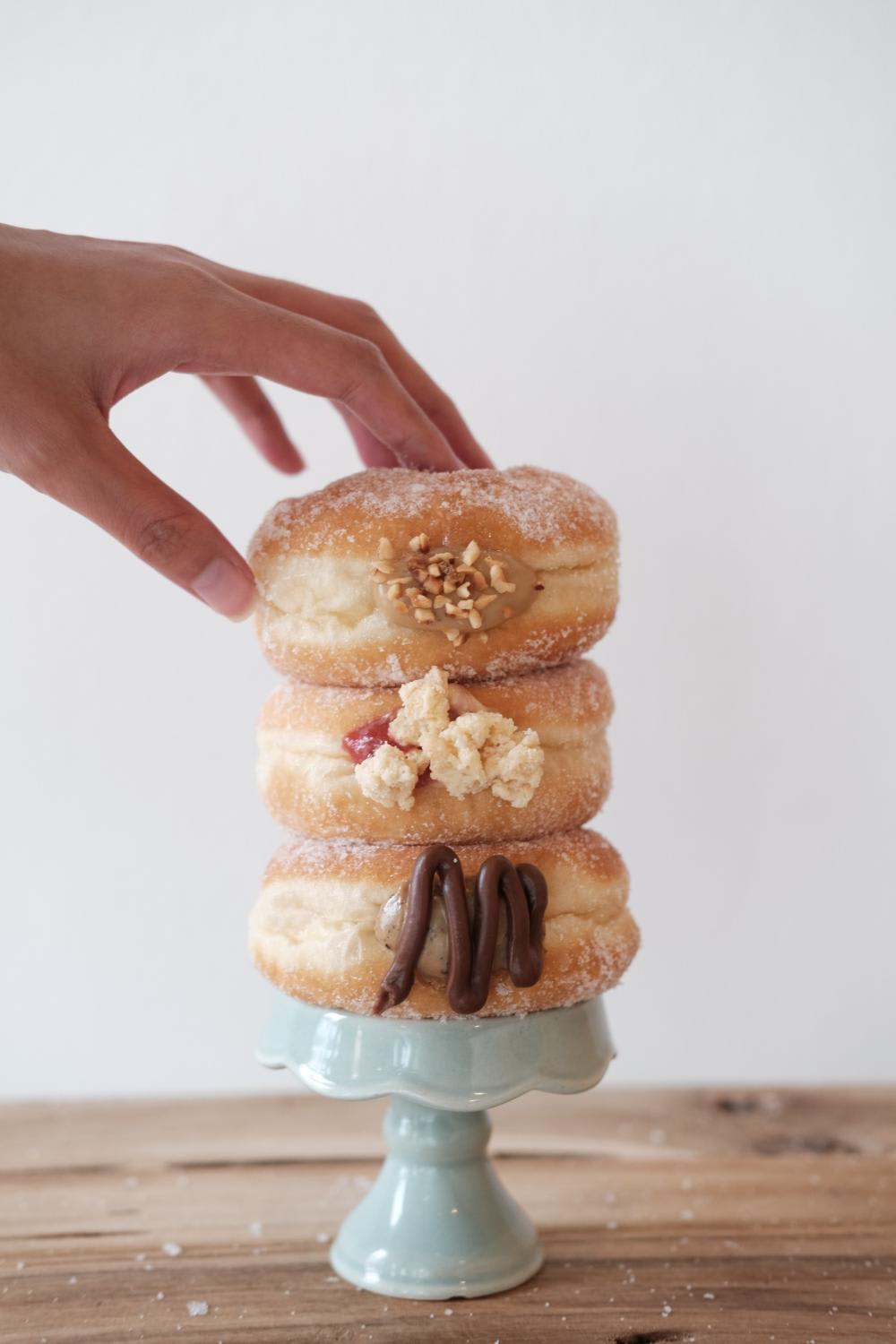 Ashraf: I learned that while it's true Syaira is terrible with numbers, she has a keen sense of business and some of the best business decisions we've made were her suggestions.
When we first launched, our biggest competitor was charging S$3.50 per cupcake. I was in favour of charging the same but Syaira wanted to charge S$4 because she believed that we had a superior product due to our fillings. We stuck with S$4 and sold out daily for two years.
Syaira is also very "gung-ho" – she believes in "do first, worry about the consequences later" while I'm more cautious and tend to over-analyse the situation.
IT'S BEEN NEARLY A DECADE AND FLUFF BAKERY CONTINUES TO SELL OUT. WHAT DOES IT TAKE TO MAINTAIN A BRAND WITH A CULT FOLLOWING?  
Syaira: Firstly, we have to constantly change and innovate to keep up with the game. The F&B scene is constantly improving every day with newer and younger entrepreneurs who are awesome at what they do. I have to keep learning new techniques, and offer new and exciting things to make sure we are always considered as a destination bakery.
Secondly, we can't do everything ourselves. Fluff is not just Ashraf and I but really, everyone there. Fluff is made up of the manager, the kitchen team, the counter "elves", the back-end operations, the admin and technical aspects, the dishwashers and the delivery drivers that (deal with the areas) we don't have expertise in or time to devote ourselves to. The people are really important to me personally so we try to show our appreciation for the team when we can.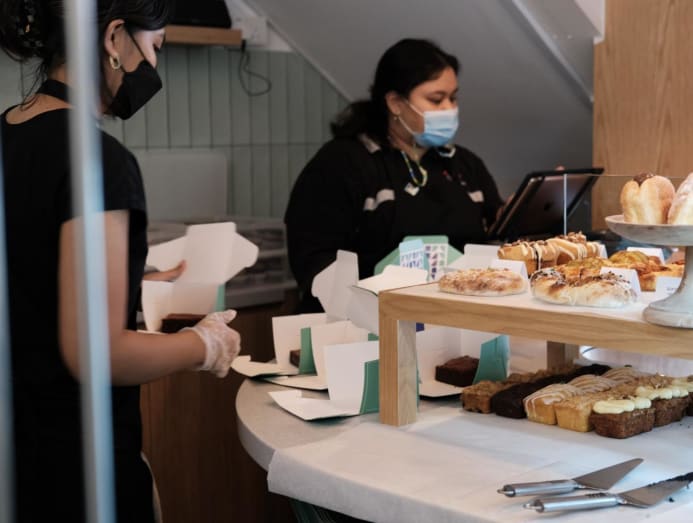 When we can't afford to do big gestures, we do try to show small forms of appreciation, such as treating them to lunch and a massage every month. (The couple shared that they also commit to sharing 10 per cent of their yearly profit with their staff and gave them a two-month bonus in 2020.)
Ashraf: It's also important to be authentic. We don't sell anything that we personally don't like to eat and we only sell products that we feel are as good if not better than our competitors'. 
Syaira: My favourite item on our menu has got to be anything with our lemon meringue in it, especially the lemon meringue tart! It's so simple but I feel ours is one of the best. The lemon curd is lip-puckeringly sour – as it should be – and everything else balances it out.
AT THIS STAGE OF YOUR MARRIAGE, WHAT DOES LOVE MEAN TO YOU? HOW DO YOU THINK YOUR VIEWS ON LOVE HAVE EVOLVED?  
Syaira: Growing up, you see in the media that love is all about the big gestures … the big proposal, the big presents… but after nine years and a kid, I've really come to see that love is in the everyday small things – the little acts of service that the other person appreciates.
For me, that's Ashraf loading and unloading the dishwasher at home when I'm too busy or too tired, it's him sharing the load of the daily ins and outs of parenthood, that's him just listening – or pretending to – while I ramble on about the latest baking or cooking obsession that I have even though he's not even 1 per cent interested in what I'm saying. It's him making my daily life easier by making sure that I have all that I need to create a harmonious family environment at home. Showing up and sharing the load – that's love. I show my love in the food that I cook, and by spending hours in the kitchen for a family dinner. 
We also know each other's love language. Mine is physical touch and acts of service so when he makes the effort to stroke my back to comfort me or just reach out for my hand, sometimes on a really hard day, that's all it takes to feel loved. 
Ashraf: I agree. After nine years of marriage it's no longer about the big grand gestures. To me it's the small everyday things that matter. We discovered the five love languages in our second year of marriage and that was a game-changer. While we used to express love and how we want to receive it, we now understand what our partner responds to. 
To me, love now is about mutual respect and partnership, supporting each other through good and bad times. Love is stepping in to help do things you might not like when your partner is struggling. 
Also, love used to be about spending quality time together but now it's about taking the kid out for a couple of hours so your other half can have some quality time. 
WHAT ARE YOUR THOUGHTS ON GENDER ROLES AT HOME AND AT WORK, AND HOW DO THESE APPLY IN YOUR LIFE?  
Ashraf: I don't believe there are specific things men and women are supposed to perform. Men can and should be equally capable of taking care of a child, cooking and doing house chores. I believe roles should be divided equally, with each person taking on roles that they are better at or enjoy more. 
Syaira: Yes, we pick up roles at home according to what we feel we can contribute to the marriage and family. I love cooking – I don't feel forced to do it because I'm a woman. Ashraf cooks as well – he does a good steak! Everyone belongs in the kitchen – the kitchen has food. 
Oh and I don't do most of the household chores. Ashraf does the chores, like the laundry and cleaning up. How's that for challenging traditional gender roles?
CNA Women is a section on CNA Lifestyle that seeks to inform, empower and inspire the modern woman. If you have women-related news, issues and ideas to share with us, email CNAWomen [at] mediacorp.com.sg.