A foster mum and her motherhood journey: 'It doesn't matter if the child is from my body or not'
Pamela Chen chose not to have her own kids to be a stand-in mother for children in need of a safe haven. She shares the ups and downs of fostering a two-year-old, in this instalment of CNA Women's Mother's Day series on unconventional motherhood.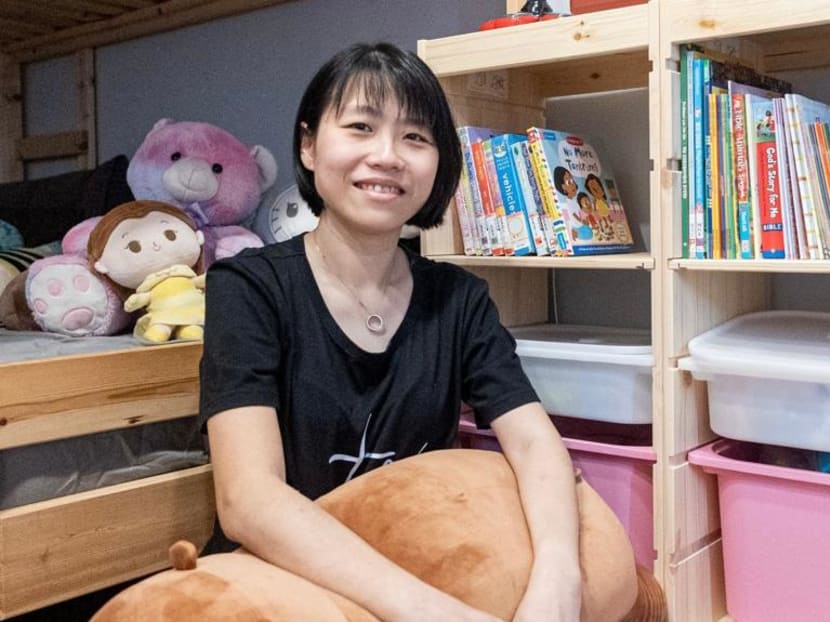 Most mothers will recall the excitement of setting up the baby room – finding the perfect bed, table, wardrobe and bedsheets, and imagining the little person who would soon fill the room with laughter and squeals.
In September 2021, Pamela Chen experienced this rite of passage as well. And three short months later, she welcomed her daughter Joey (not her real name) into her life. 
Unlike most mothers however, Chen did not bring home a newborn from the hospital.
The child who came into her home was a diffident two-year-old with beautiful brown eyes and a small paper bag carrying just three sets of clothes.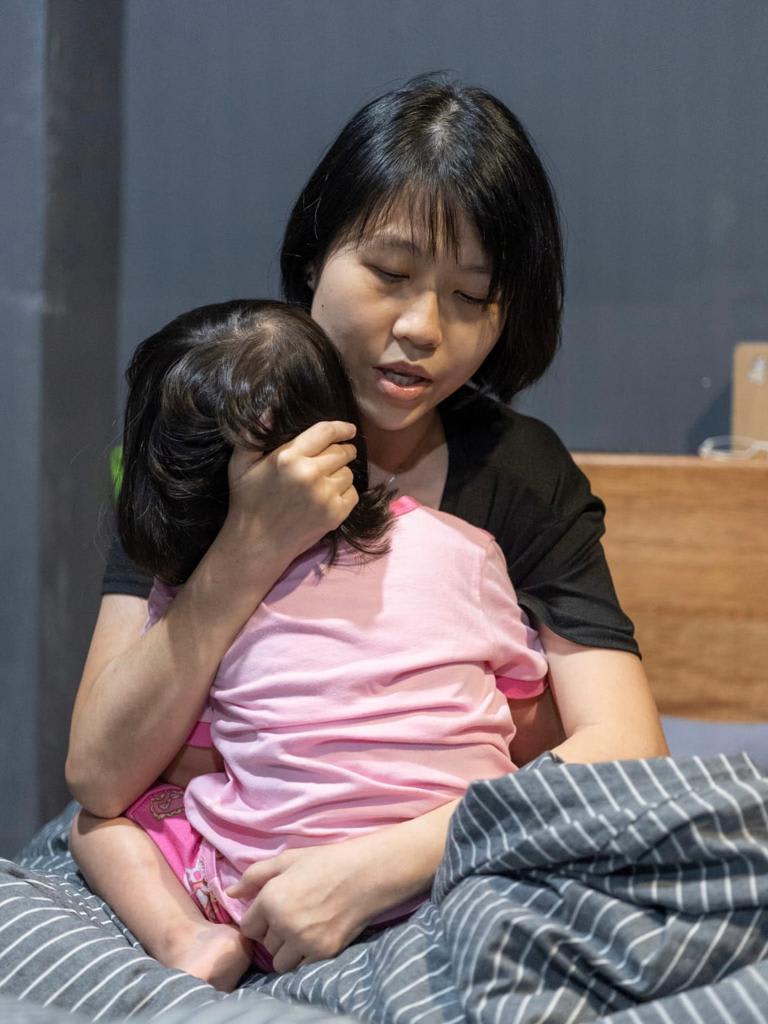 "She was carried in by a child protection officer and was very quiet. I could see that she was very nervous," the 36-year-old recalled.
"After half an hour of quiet conversation, the officer told me I could carry her. The moment I carried her, she started crying and moved into a foetal position – she curled up and wrapped her hands around my arm. Instinctively, I started rocking and comforting her," said Chen.
Joey eventually fell asleep in that position, and the child protection officer left Chen and her husband with the child.
THE DAUGHTER SHE DID NOT CARRY IN HER WOMB
That was how Chen's motherhood journey began – not with a nine-month pregnancy or a baby who suckled at her breasts.
"From being a married couple with no kids, we suddenly jumped many phases to begin caring for a toddler," Chen said. 
Many mothers describe the first meeting with their child as truly magical. Few, however, would describe an experience akin to Chen's.
"After she fell asleep, I slowly put her down on the sofa, covered her with a blanket and surrounded her with soft items. She slept for close to an hour.
"Throughout this time, my husband and I just walked around and kept checking if she was awake. Eventually, she opened her eyes and realised she was in this new house. Her face fell and she looked like she was going to cry," Chen recalled.
Chen knew that Joey's reaction was natural. As a preschool teacher, she had seen many cases of separation anxiety.
She also knew that Joey had been placed in foster care because of family problems and safety concerns, and this added to the child's stress.
"When I asked her what she wanted to do, she pointed outside the house. So we took her out immediately. We went on a shopping trip to get her new clothes and other items," said Chen.
That was just the first day, and the couple knew they had a challenging journey ahead.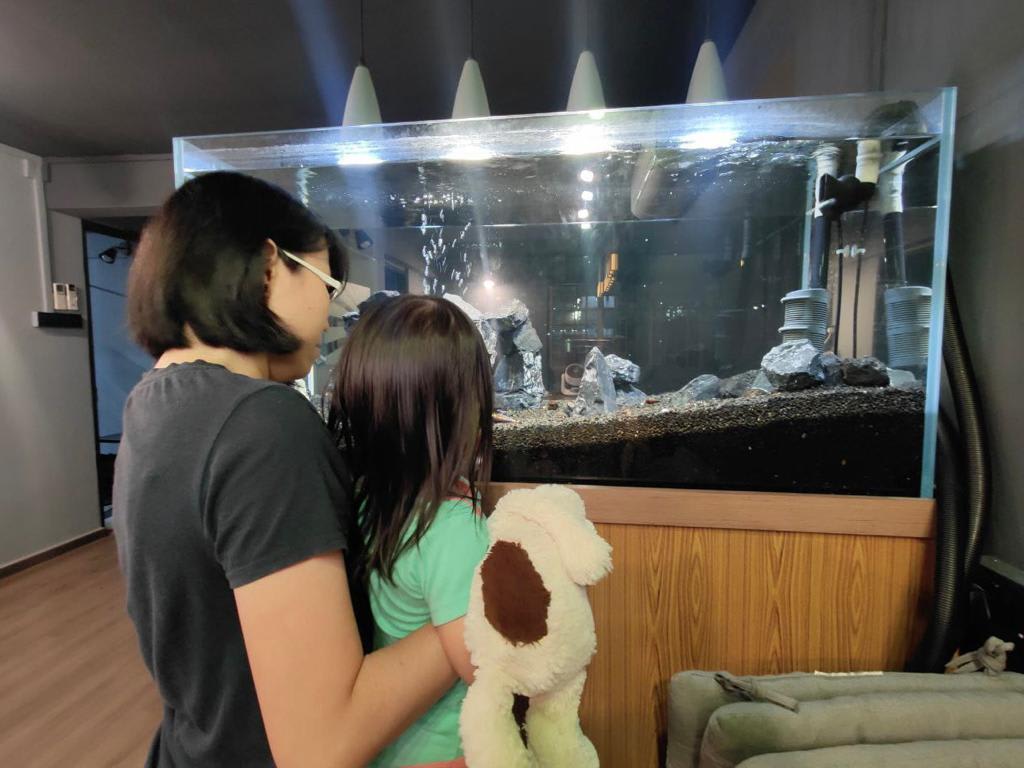 Sometimes, when a parent is unable to care for a child for various reasons, it may affect the child's development, said Chen.
In Joey's case, it was her language development. Even though she was almost three years old, she could only speak two words – "no" and "yes". Because she could not express herself and regulate her emotions, she threw tantrums daily.
Joey was also very insecure. "Initially, when she was with me, and my husband wanted to take her, she would cry. When she was with my husband and I tried to take her, she'd cry too. It was like she treated us like an island and just wanted to hang on to whoever was holding her," said Chen.
"She also wanted to follow us everywhere around the house. She wanted me to sleep with her and would wake up crying."
THE POWER OF LOVE
But Chen and her husband knew what they had signed up for. And they were undeterred. They devoted after-work hours to Joey, making her feel safe and secure.
"To help with language development, I verbalised what she was doing, described everything to her and read stories to her. Eventually, she just picked up the language and she now speaks so well that she is advanced for her age," said Chen.
When it came to meltdowns, Chen made it a point to ensure Joey was in a safe place to vent her feelings.
She also acknowledged her feelings while remaining firm on rules. And over time, Joey has had fewer meltdowns and is better able to regulate her emotions.
However, there were also moments when the only thing Chen could do was be loving and patient.
"Even as adults, if we are insecure, our feelings fluctuate. There will be days when we feel very secure and days when we feel very insecure. There's no reason for it," said Chen.
"At such times, we just had to accept that Joey's feelings were valid and go along with it. If she needed us to walk with her around the house for the entire day, we did it even though it was very hard initially."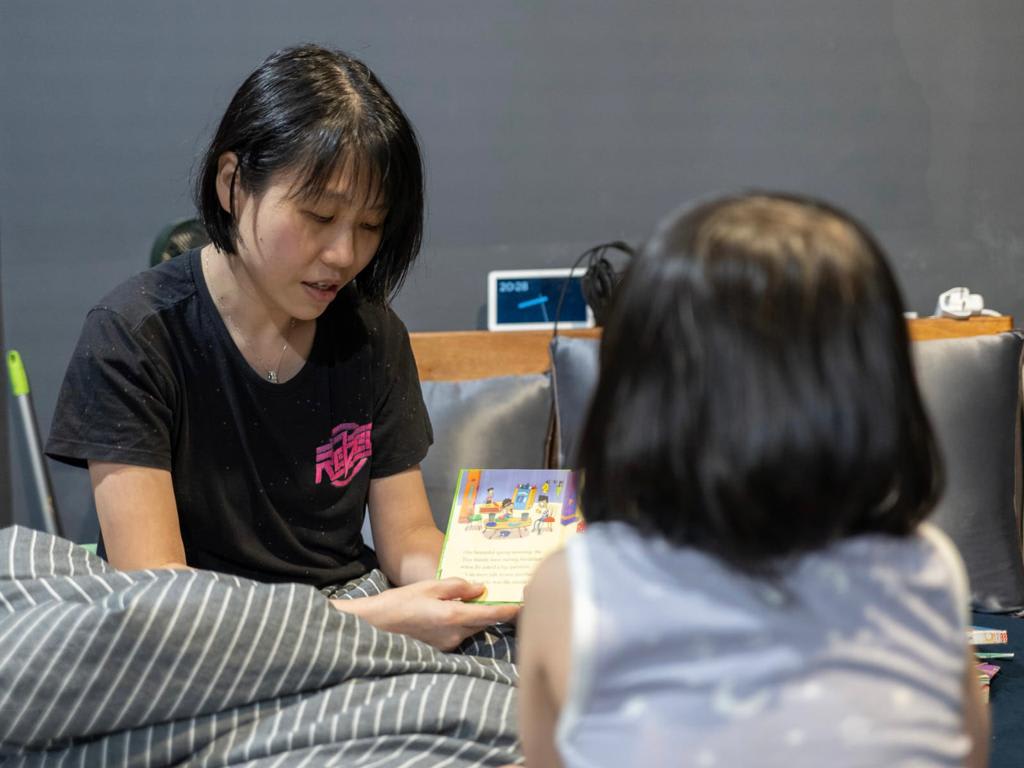 It has been hard work. However, over the one-and-a-half years that Joey has been living with Chen and her husband, they have become a family. Joey is now three-and-a-half years old.
"Usually before bedtime, we lie in bed and talk about the day. The other day, we were talking about things we love and Joey said, 'I love mama, papa, mimi (me), dada (my husband), kor kor (her brother), jie jie (her sister) and por por (my mother-in-law)'. It really warmed my heart that she sees us as one big family," Chen said. 
A DIFFERENT WAY TO LOOK AT MOTHERHOOD
Even though Chen sees Joey as her daughter, she knows that Joey will only be with her for a season.
"Many people confuse fostering with adoption. When you adopt a child, the child is legally yours. When you foster, the end goal is to reunite the child with their natural family when everything is safe and stable," said Chen.
This is one of the main reasons that many people, including Chen's mother-in-law, urged her to have her own child instead of fostering.
But Chen takes a very different view of motherhood. "Is it important to have my own children?" she asked. "It doesn't matter if the child is from my body or not."
"I don't see kids as an investment and I'm not worried that no one will take care of me in old age. I'm worried about being a burden to others when I'm old," she explained.
"Fostering matches what I want because when I grow old and am not able to foster, I don't need to worry about the children having to care for me, or being burdened financially or in other ways, by my needs."
I take comfort in the fact that I can do something for foster children and nurture them when they need it the most.
Perhaps Chen's childhood planted the seeds for her unusual motherhood journey. "When I was a child, my parents were trying to sort out their differences. My mother was also working and struggling with work-life balance. Because of that, my parents struggled to care for me when I was younger and I grew up with my grandmother," she recalled.
"My grandmother took on the role of a mother and cared for me. If she was cooking, she'd give me real utensils, pots and pans, and a piece of food so that I could pretend to be cooking too. Whenever she went to the market, she would introduce things to me and let me try fruits so that it felt like a field trip.
"Because of her, I had a happy childhood. And that really helped me see the importance of having a consistent caregiver, a person who is there for the child and nurtures the child – the impact is lasting," she said.
That is one of the reasons Chen decided to foster children through Boys' Town Fostering Services – she wanted to give other children in need a happy childhood as well.
Even though Joey will eventually leave Chen, she does not see this as a loss. She intends to continue fostering other children after Joey.
"I will miss her but I won't feel like I've lost her because she will forever be a daughter in my heart. I will also be happy for her because that means she gets to be reunited with her natural family," Chen said.
"I am just thankful for the opportunity to be able to do something for her. Being able to see her progress little by little and celebrate her little steps and milestones gives me a lot of satisfaction. It's like experiencing life all over again," she added.
"One day, if I happen to bump into Joey or (my future) foster kids when they are grown up, I'd be so touched and comforted to see them doing well. It doesn't really matter if they remember me or not," she said.
Read this story in Bahasa Melayu here.  
Read this story in Bahasa Indonesia here. 
More unconventional motherhood stories:
CNA Women is a section on CNA Lifestyle that seeks to inform, empower and inspire the modern woman. If you have women-related news, issues and ideas to share with us, email CNAWomen [at] mediacorp.com.sg.