How a chance encounter at the airport led two mums to start a beauty brand, a lifestyle store and restaurants
Sometimes, it just happens. Two Israeli women, now based in Singapore, met by chance at the airport, connected and started businesses together, from DNA-backed skincare to Israeli cuisine and now childrenswear.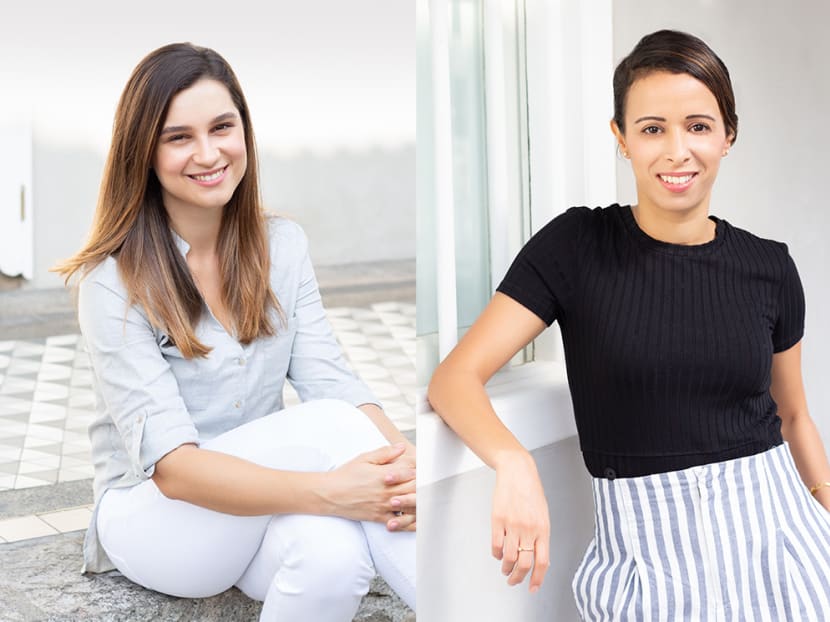 It's not often you start a friendship with someone you meet at the airport, much less go into business together. But for Anna Melman and Liron Shalev, that chance meeting was a collision of minds and opened the door to a partnership to being entrepreneurs here in Singapore.
Melman, 31, a certified fitness trainer and beauty consultant began her career as a sales rep in New Zealand, then moved to Johannesburg in South Africa, opening beauty skincare stores. She then relocated to Singapore in 2014. She has two children, a three-and-a-half-year-old daughter and an 18-month-old son.
Shalev, 34, was working in several corporate management and operational roles for 10 years across the US, the UK, Germany and in Israel and New Zealand before moving to Singapore in 2019. She has two young daughters.
The two women recently launched Minene, a children's multi-category brand that was founded in Israel by young mothers. It carries a wide range of baby to children's clothing, bath and feeding items, room and bedding linen, accessories like diaper bags, stroller liners and even toys.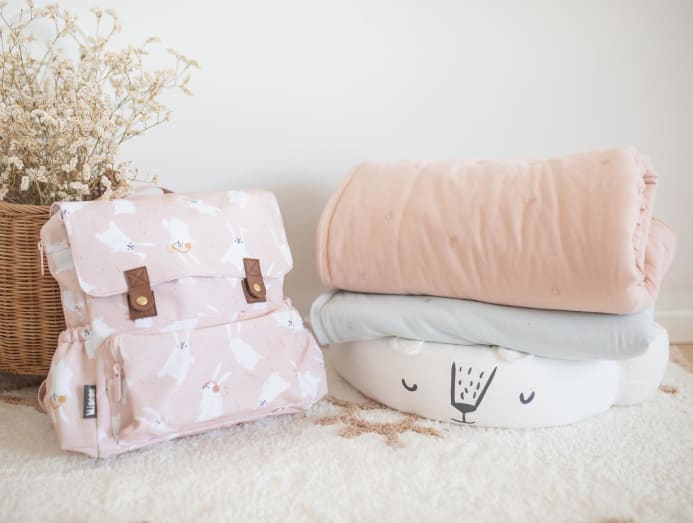 Both originally from Israel, Melman and Shalev felt the lack in variety of well-designed kids products when they became mothers. "Minene is a brand that many parents in Israel go to, and we wanted to share this gem with parents in Singapore too," said Shalev.
The brand's Singapore flagship is located at Tanglin Mall and features a wide range of baby and child essentials from S$3.90 for bath toys to S$14.90 for feeding items and upwards of S$150 for play gyms or diaper bags.
HOW THE FRIENDSHIP STARTED
The airport and some really good chemistry is how.
"In 2018, my husband and I bumped into Anna and her husband at the airport while heading back to Israel for a trip. We decided to keep in touch after returning. After a few meet-ups, we took our friendship to the next level and became business partners," said Shalev.
She added: "We found we had great chemistry and decided to embark on this journey of entrepreneurship in Singapore."
Their first foray into entrepreneurship was Anake in November 2020, an end-to-end DNA skincare experience. Its retail front at Wisma Atria provides a personalised skincare regimen from products to treatment facials, based on your genetic skin condition.
At the store, customers undergo a skin scan, followed by a DNA test factoring over 15 genetic markers. Then, using data and algorithms, it identifies genetic factors which make up your skin profile and prescribes a skincare plan that is said to work for your skin condition.
Anake has since prescribed over 1,000 profiles their customised skin regimens. Said Melman: "When we first came to Singapore, we saw a gap in the market for customised skincare treatments based on DNA. There were no other brands in the industry that were doing such personalised plans using real data. Hence, we brought in our overseas experience, with diverse cultural ideas and connections to bring Anake to fruition."
AFTER SKINCARE, FOOD
The two then decided to venture into the F&B industry. They are business partners in healthy cafe Carrotsticks and Cravings with three locations – one in the Loewen enclave at Dempsey, another off Robertson Quay and the third in the CBD at Stanley Street.
This foray then led to more F&B openings in the form of Miznon Singapore, a partnership with one of the culinary figures in Israeli cuisine, Chef Eyal Shani, focused on the humble street food favourite, the pita. The casual set-up is often packed to the rafters on weekdays, work-from-home notwithstanding.
And still in the pandemic, the latter part of 2021 saw the opening of a formal dining concept, North Miznon, also with Chef Eyal Shani. The cuisine here is a study in the cuisines of the Mediterranean, featuring fresh seasonal vegetables, tahini, olive oils, fish and the tomato.
"Bringing in a cuisine that is close to our hearts is really a passion project," said Shalev. However enthusiastic they are, both women say the F&B ventures are managed by their husbands and they work in the backend, supporting the food ventures on the side. Their main focus is on Anake and Minene.
"After becoming mothers ourselves and living in Singapore, we found there was a gap for more baby-centric brands and stores. With Minene, parents can easily get what they need for their little ones at affordable prices, being sure of function, innovation and quality," said Shalev.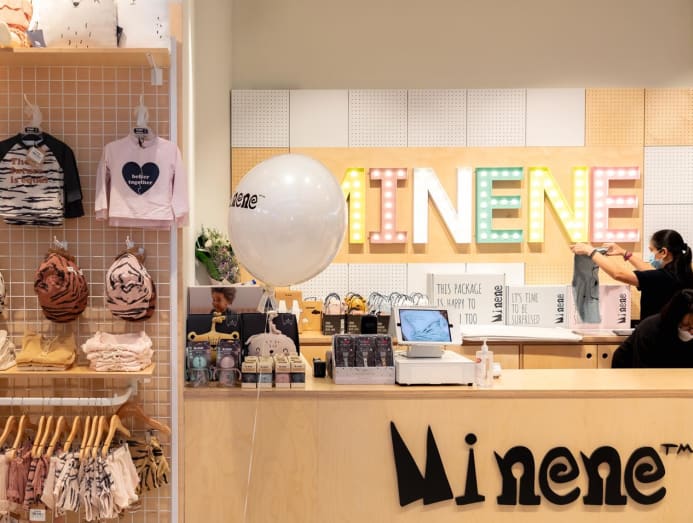 FILLING GAPS IN SINGAPORE AS ENTREPRENEURS
It seems like both women look on their businesses as solutions for the gaps they saw in the Singapore market. But why Singapore? And why during a pandemic?
"Singapore is a melting pot of different cultures, and a place for growth and opportunities – we found the country to be a nurturing environment that fosters a breeding ground for innovation and entrepreneurship," Shalev explained.
While both businesses were created to plug gaps, their hopes and dreams for each is as varied as the industries their businesses are in.
"The most common feedback we hear from our Anake customers is the lack of clarity. They don't really know what the best product for their skin type is," said Melman.
And nothing says tailor-made like DNA testing to get that data. She added: "We felt the urge to come up with something more scientific and data-driven, allowing our clients to have a better understanding of who they are. We can tailor-make experiences which are more accurate with data."
With Minene, the reason is more personal. "We couldn't find a brand or a store that sold an extensive range of products from baby to a young kid's everyday life. For Minene, we saw potential as it was made for parents by parents and most parents want nothing but the best for their children," said Melman.
STRIVING FOR WORK-LIFE BALANCE
An entrepreneur's journey is never easy, much less for women entrepreneurs who have to balance businesses with young children. The biggest challenge is that the work never stops for a business owner, said Shalev.
"Even if our workday ends at 5pm, our minds never really stop thinking about work. We're constantly thinking of ways to improve or ideas on how to grow the business," she added.
However, both Melman and Shalev live by a few rules which guide them along: Be purposeful, be open to everything and have a grit mindset. That, and being flexible and adaptable when you need to be.
Know that each day will never be the same, they said. So make a schedule and stick to some parts of it, allowing flexibility for days which can turn out to be more "fluid".
Melman said self-care is important too. "To balance my work commitments and personal life, I always schedule in time for some self-care. Sometimes it's a short workout with my husband in the mornings after the school drop-off."
"Be goal-oriented and have a grit mindset but let creativity drive your enterprising spirit to keep everything flowing," said Shalev. "We believe that as women, we have the power to fulfil our dreams if we are determined to achieve them."   
CNA Women is a section on CNA Lifestyle that seeks to inform, empower and inspire the modern woman. If you have women-related news, issues and ideas to share with us, email CNAWomen [at] mediacorp.com.sg.