Do you believe e-sports causes addiction? This 28-year-old gamer is on a mission to change your mind
Today, Emerge Esports' Marjorie Poon manages more than 100 professional gaming teams and content creators, and makes it her mission to cast e-sports in a more positive light. She tells CNA Women why she believes gaming is the future.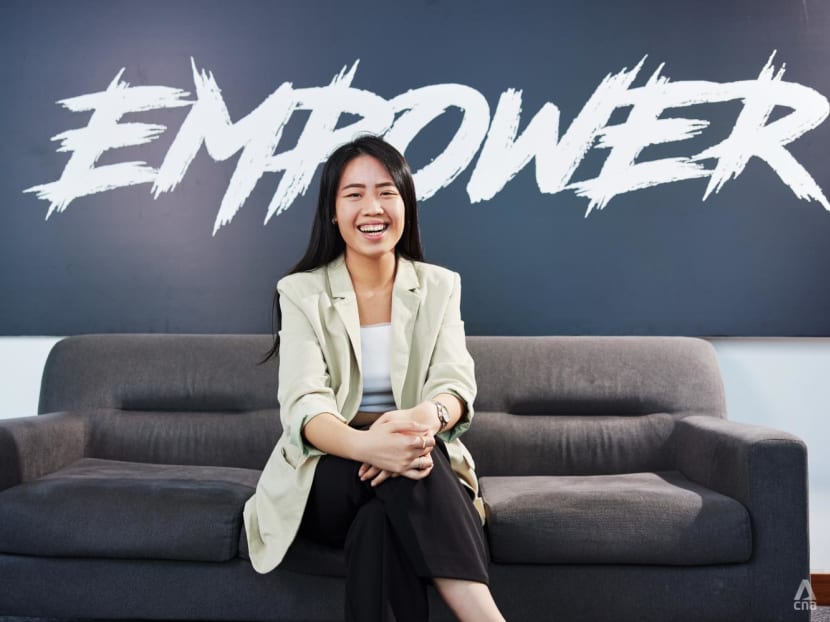 It has been a big year for Singapore gamers, with popular multiplayer online battle arena video game Dota 2 holding its tournament in Singapore for the first time in November.
This 11th annual edition of The International, known as TI11 among fans, is one of the biggest e-sports (electronic sports) tournaments in the world. It came with an eye-watering prize pool of close to US$19 million (S$26 million). In comparison, world-class golf events such as the Masters has a prize pool of US$15 million.
E-sports and gaming may have grown in recent years, particularly during the pandemic, but public opinion of it remains largely negative. Six in 10 people in Singapore believe that e-sports causes addiction, and one in two believe it is detrimental to physical health, according to a 2019 study. 
Marjorie Poon is on a mission to change those perceptions. In a niche industry of professional gamers, mostly men, the 28-year-old female casual gamer took the leap to co-found a professional gaming and e-sports talent management company, Emerge Esports. Today, she manages more than 100 professional gaming teams and content creators.
Poon has an ambitious goal: "To keep putting stories out there that turn this negative perception around and break barriers for those in the industry," she said.
FALLING IN LOVE WITH GAMING
Describing herself as a late bloomer to gaming, her first foray into what she describes as "complicated games" like Dota 2 was when she was 19 years old. As a child, she played board games as her parents had banned PlayStation and Nintendo.
Her interest in gaming remained lukewarm until she met her boyfriend, an avid gamer, six years ago. Through their gaming sessions, Poon discovered the thrill of gaming and this also gave her the confidence to take up communications projects for gaming companies under her agency DIFY.
Watching her first Dota 2 tournament, the One Esports Dota 2 World Pro Invitational in 2019, took this interest to a new level. "It gave me goosebumps to witness the audience coming together to cheer on a game they deeply love," she said.
"It also felt surreal for a noob like me to see the game I've been playing at home celebrated at such a wide scale. Looking at how the professional players manoeuvre and strategise their game play made me want to hone my skills," she said.  
The pandemic further accelerated this transition.
"As we entered the circuit breaker, all of us stayed at home with nothing to do and felt quite lost. A friend who never touched mobile gaming suddenly asked me if I wanted to play MLBB with her," Poon recalled, referring to the popular mobile multiplayer online battle arena game Mobile Legends: Bang Bang.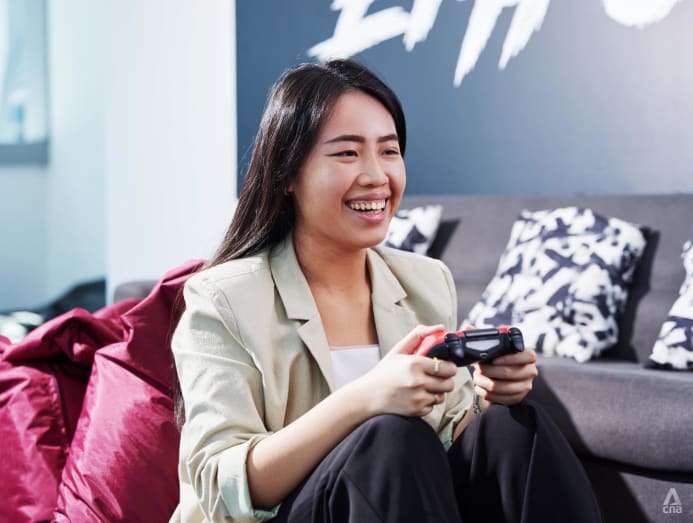 "My business partner at DIFY, Roy Kek, and I saw how gaming became a platform for friends and loved ones to connect and communicate beyond Skype and Zoom. We also noticed that more people were gaming casually, and more were also becoming content creators," she said, referring to social media users creating videos, written content or analysis of games.
Together with Kek and two other business partners, Poon launched Emerge Esports in October 2020.
She noted that many professional players, as well as e-sports content creators struggle to have a secure and sustainable income stream, especially when starting out.
Poon sees her role as helping talents expand their income stream and break into other regions, and also trying to find new ways to expand the e-sports industry, challenge norms and give the industry a greater sense of legitimacy. 
BREAKING INVISIBLE BARRIERS
Not unexpectedly, Poon encountered a bit of resistance from family members who also had a negative perception of gaming and were perplexed by her decision to start Emerge Esports.
But this only made her more determined to push forward. After all, these were precisely the perceptions Poon wanted to change.
Though gaming and e-sports have gained momentum globally, there are still many barriers that gamers, content creators and even agency founders such as her face.
She wonders why that should be the case.
"I would say e-sports has many similar values to sports. It is not just about a gamer hiding in a room, gaming all the time, like many may think," she said.
"It takes a lot of patience and determination to train for e-sports. What you see in one minute or one day during a tournament is the result of a lot of training and work not just among players, but also involving coaches and managers," she said.
I would say e-sports has many similar values to sports. It is not just about a gamer hiding in a room, gaming all the time, like many may think.
Besides training with coaches to improve game-related skills such as attack and defence, high-level professional players also go through physical training to make sure that their bodies and minds can keep up with the intensity of the game for 30 or 40 minutes during the tournaments, she added.
"The excitement of watching e-sports is also very similar to sports such as the World Cup. E-sports tournaments draw thousands of fans who befriend strangers at the watch parties. Camaraderie is formed through all these shared experiences between the fans, players and even the working staff," she said.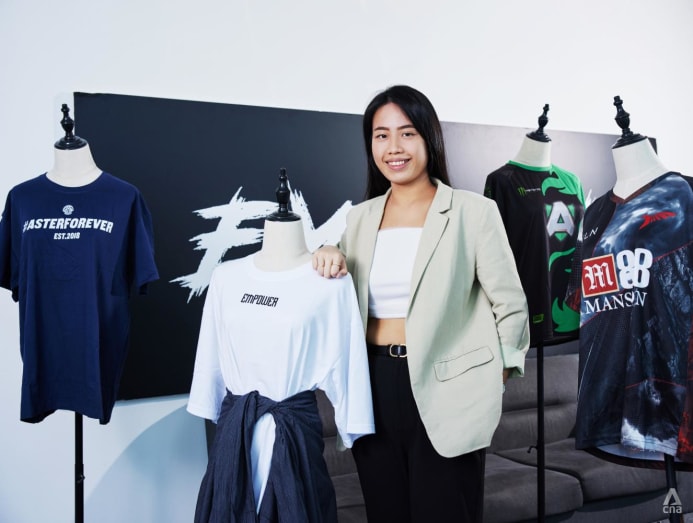 In conjunction with TI11, Emerge Esports also launched Empower Esports in October. Currently available online, the lifestyle brand offers merchandise such as jerseys from top e-sports teams around the world.
Empower also designs its own oversized shirts in collaboration with the team, such as limited-edition shirts for TI11. They organised meet-and-greets and jersey signing events with professional players during the tournament as well.
"The same way you would wear Liverpool or Man U soccer jerseys, these jerseys and T-shirts support the entire fandom and bring the fans and players closer together. They also help teams secure another revenue stream," she said.
FIGHTING FOR HER CONVICTIONS
Poon and her team certainly seem to be filling a gap in the market. Since the company's inception in October 2020, Emerge Esports' total revenue is now S$3 million, she said.
It is not just the financial potential of the industry however, that keeps her going.
Beginning her career at well-known local start-ups Love Bonito and Allies of Skin, Poon developed a great love for start-up culture. "I am drawn to the spirit and mindset that bonds everyone at start-ups. We are fighting in the trenches to prove a point to the public and change perceptions," she said.
This fighting spirit also enables her to thrive in the traditionally male-dominated industry of e-sports.
"There were definitely quick dismissals at the start. Even while networking, people would question if I actually know Dota 2 or MLBB. To break the ice, I sometimes have to quote some of the characters in the game I have played so they know I do know the game," she said.
However, Poon feels the gender bias is slowly shifting. "These days, when I go into Zoom meetings, I often see a room full of women, many of whom are in leadership roles," she noted.
"It is important to have female leaders because when one woman speaks up, she can help to pull along another woman in the industry," she said. The younger generation will also know that there are opportunities for them beyond common or gender-prescribed career choices.
She added that gaming may not always remain an unconventional career choice.
"If you look around, there is gamification everywhere," she reflected, referring to the trend of gamification of financial products, healthcare and other aspects of life.
"But I think the stigma around e-sports is slowly going away, and one day gaming and e-sports will no longer be perceived negatively but become a common activity.
"Playing MLBB with a friend will not be too different from playing badminton with a friend. This will take some time, but I believe it will come to pass," she said.
CNA Women is a section on CNA Lifestyle that seeks to inform, empower and inspire the modern woman. If you have women-related news, issues and ideas to share with us, email CNAWomen [at] mediacorp.com.sg.