Imposter syndrome: Why so many women feel like frauds at work and what you can do to help yourself
Why and how women experience imposter syndrome may differ from their male counterparts due to cultural and societal undercurrents. Understanding this is key to tackling the phenomenon, experts tell CNA Women.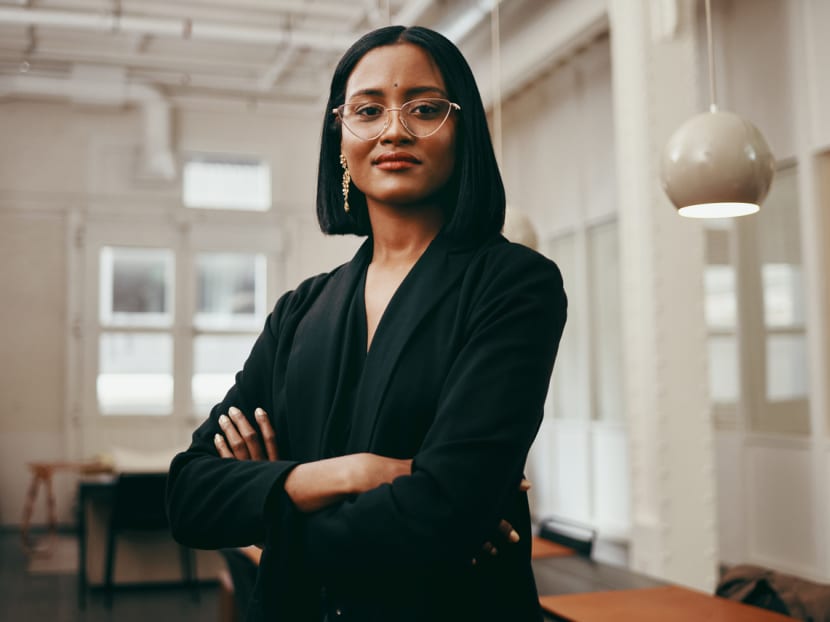 "People who meet me think that I'm a confident, independent woman. But those close to me know that at almost every point in my life, I've struggled with self-doubt," Leanne Robers told CNA Women.
Robers, 37, is a co-founder at She Loves Tech, a platform for women-led tech startups, and a trained psychotherapist. She's also a graduate of the Barack Obama Foundation's Leaders programme and an experienced mentor, having been involved in accelerator programmes at Facebook and the Singapore Tourism Board. 
An impressive resume, to be sure, and yet, Robers joins a growing number of the world's population who report experiencing "imposter syndrome", a phenomenon characterised by intellectual self-doubt and one that could have a debilitating effect on a person's mental health.
The imposter phenomenon was first described in the 1970s, in a well-known study conducted by psychologists Pauline Rose Clance and Suzanne Imes. 
While both men and women can display signs of imposter syndrome, it occurs "with much less frequency in men and when it does occur (in men), it is with much less intensity", the study found.
It also characterised the group who most exhibit signs of imposter syndrome as "high-achieving" women – namely those who are highly educated and respected in their professional fields.
CNA Women talked to local experts to find out if this remains the case today in Singapore – and why.
WHAT IS IMPOSTER SYNDROME?
"Imposter syndrome is the experience of feeling like a fraud – one feels that he or she is not as competent as others perceive them to be or believe they have simply gotten by so far by luck," said Sophia Goh, principal counsellor at Sofia Wellness Clinic.
It occurs "mostly among high achievers who are unable to internalise and accept their success, (but) it can affect anyone no matter their social status, work background, skill level, or degree of expertise", she added.
Signs of imposter syndrome
An inability to realistically assess your competence and skills
Attributing your success to external factors
Fear of falling short of expectations
Fear of making mistakes
Constant self-doubt over capabilities or performance
Shilpa Jain, co-founder at the online counselling service Talk Your Heart Out who also experiences imposter syndrome, said it "starts as a niggling worry about your own capabilities". 
"In work for example, you might feel that you aren't as skilled as your colleagues. That then builds into a belief that you have to work harder to cover up your lack of ability and you wind up constantly thinking that you're not as good as others believe you are. 
"Even when you do succeed and others praise your accomplishments, you end up believing that it's all because you were lucky or because you've been working harder than your colleagues," she told CNA Women. 
Both Goh and Jain said the phenomenon appears more pervasive in women than men, although the latter noted that "this could reflect reluctance to seek help among men". 
WHY WOMEN ARE MORE AT RISK 
Dr Katrina Gisbert-Tay, a medical doctor with a background in psychology and a wellbeing coach with The Coach Partnership, said "different factors such as one's upbringing, culture and past experiences can play a part in shaping and reinforcing" one's feelings of inadequacy.
For women, their upbringing may have exposed them to beliefs and thought patterns that discriminate against their gender, making them "at higher risk" of the overwhelming self-doubt characteristic of imposter syndrome, said Talk Your Heart Out counsellor Jeanette Houmayune.
For example, some women may have grown up listening to "war stories of their mothers, aunties and teachers about gender discrimination at the workplace and so ... they drive themselves to study hard … to prove they are as good as or better than the boys", said Houmayune. 
"Over time, this competitive streak may turn into an unhealthy pursuit of setting ridiculously high standards of performance," she added. 
Even when you do succeed and others praise your accomplishments, you end up believing that it's all because you were lucky or because you've been working harder than your colleagues
Goh pointed out that discriminatory standards continue to be pervasive in society today. For one, the "longstanding fight for women to belong in the workplace … still remains a challenge in some societies", she said. 
For example, when women are successful at work, it makes them less likeable, not more.
"Women who are applauded for delivering results at work are also labelled as being 'too aggressive', 'out for herself', 'difficult' and 'abrasive', whereas men behaving similarly may be praised as being 'confident' or 'sure of himself'," said Goh.
Existing views of women as the nurturing gender also places pressure on women to perform as primary caregivers in their families, as opposed to men, who are still seen in many societies as the main financial providers, said Houmayune.
"While they may be just as competent if not more competent than their male co-workers, women may shun high-profile projects or other opportunities for career advancement as they feel less deserving or even insecure in managing the demands of career and family," said Houmayune.
And when they get promoted, there are women who give up their leadership roles after being made to feel like they are not giving their best at work. 
"They may receive sexist comments such as 'she needs to rush back home to her kids – best for a guy to take over this tight-deadline project'," Houmayune said.
Women from minority races, as well as expatriates, may experience imposter syndrome "more acutely", said Houmayune. 
"While Singapore prides itself on its multicultural society, diversity and inclusivity practices may vary across organisations, and some minority women may feel like they were hired or promoted to be the token minority member of the team – not for their qualifications and experience.
"Others may not be affirmed of their strong work performance due to the racist or nationalist attitudes of some managers, leading to exacerbated feelings of self-doubt," the counsellor said. 
Houmayune, a former lecturer at a local polytechnic, also noted that graduates who went to an Institute of Technical Education or a polytechnic before attending university "harbour self-limiting beliefs" when working alongside peers who went to junior college. 
"In spite of having the same degree qualifications, some may continue to carry the burden of emotional baggage from being labelled 'slow' or 'stupid' in their formative years, and may still continue to feel judged and insecure.
"This may keep them second-guessing their self-worth as an equally competent contributing member of the work team with thoughts like 'I don't know enough' or 'I can't make it'," she said.
Employees who come from marginalised backgrounds may echo these feelings, said Houmayune, citing those who are the first graduates in their families and lack a strong family role model to guide them towards their career aspirations.  
"In such cases, they may attribute their job and subsequent achievements to sheer luck, rather than their 'blood, sweat and tears'. They may also limit their career progress as they feel a strange guilt that their remuneration far exceeds their humble expectations," she said. 
HOW TO DEAL WITH SELF-DOUBT
Many women aren't aware that they're experiencing imposter syndrome when they first show up in consulting rooms, experts said.
It often takes a professional therapist, counsellor or coach to recognise the signs, help them understand the conditions that lead them to feel inadequate and undeserving, and repair the beliefs and thought patterns that are causing unnecessary stress and anxiety. 
One way that they do is, is through cognitive behavioural therapy (CBT).
Jain said she had 10 sessions in total with her counsellor – weekly at first, then monthly – after which she found herself with markedly improved productivity and self-confidence. 
"A counsellor using CBT will identify the client's thought patterns and challenge them to substantiate their assumption by prompting the client to find evidence for it.
"My counsellor did this with me over a few sessions exploring different facets of my life, for example, personal and professional relationships, goals and even childhood, and drawing connections between them," she said.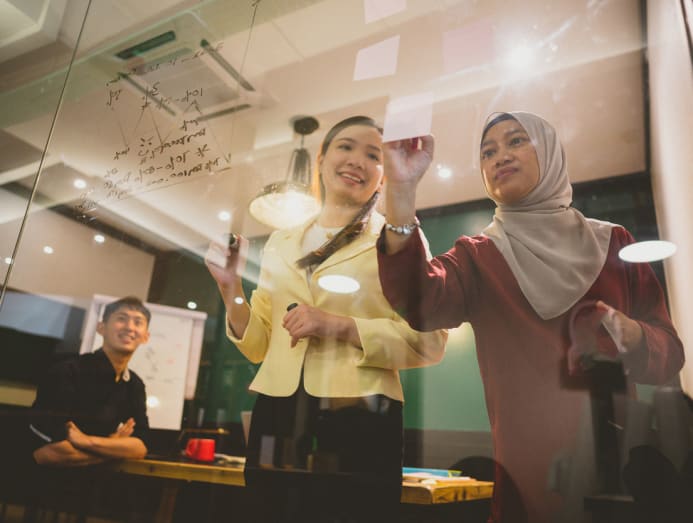 Dr Gisbert-Tay also uses CBT with her clients, many of whom are leaders in the workplace. Clients need to be made aware of the difference between facts and beliefs that are merely unhelpful judgements they make about themselves, she said. 
For example, women are often heard saying "I just got lucky … I don't know why I'm here" after they've been given a promotion or appointed to a new position, when the fact is that they have the achievements, skills and hard work to show for it, she said. 
Robers told CNA Women she conducts workshops using the concept of "automatic negative thoughts" or ANTs. 
"These are beliefs that we tell ourselves but that are not true. Recognise the ANTs in your life, such as 'I'm not good enough', 'I'm stupid' and 'I have to be a good daughter, wife, leader or mother or I will have failed in life'," she said. 
Then, participants are taught to transform their ANTs into PETs or "positive empowering thoughts". 
"For example, if you were disappointed in a task or project that you did, you can say: 'Yes, I didn't do as well as I had hoped but here are three things I learned and those lessons were worth the journey'," said Robers. 
There are also ways to overcome self-doubt on your own. 
Experts said women, particularly in Asia, often believe that they have to be humble when it comes to their successes. 
"We get really uncomfortable when we're acknowledging our achievements, because we often feel like it's bragging, but we need to distinguish prideful statements, which can be detrimental, from honest ones," said Robers. 
If you find it hard to acknowledge and speak about your achievements, Robers suggests a simple but empowering technique: Read your resume so you can be reminded of all that you have achieved.  
"Sometimes, when I'm coaching women leaders, I have to just ask them to read their CV. I do the same. When I'm feeling like 'I don't deserve to be here', I go back and read my own resume," she said. 
Experts also urged companies to develop and nurture a coaching or mentoring culture in the workplace. 
"Taking a look at the culture in the organisation is paramount," said Dr Gisbert-Tay. "What are the standards of success and leadership in the organisation? Does it support diversity and inclusion of thought, identity and leadership styles?
"I have seen a positive impact in companies where women support and mentor other women, providing a safe space to share their experiences with vulnerability and authenticity."
Women can also seek out friends and peers to make up their "personal board of advisors", said Robers. These are people you trust in different aspects of your life, including personally and professionally, who can "hold up a mirror in front of you to show you the truth", such as the skills and achievements you can't see for yourself. 
Finally, Robers said, when feeling out of place in a meeting or at an event, it is useful to think about your differences as strengths. 
"It's okay if you're the only woman, if you look different from everyone else or if you're much younger than the rest of the crowd. Leverage what makes you unique. 
"If I'm in a room full of men in tech, I know as a woman I have a unique perspective and voice, and I make sure to bring that to the table."
Dr Gisbert-Tay hopes that through her work, she can nurture more individuals into women who "love and accept themselves for who they are ... and believe in their self-worth".
"When she walks into a room, she walks with her head up and her eyes bright. She radiates confidence and self-assuredness. She is not perfect and loves her perfectly imperfect self," she said.
CNA Women is a section on CNA Lifestyle that seeks to inform, empower and inspire the modern woman. If you have women-related news, issues and ideas to share with us, email CNAWomen [at] mediacorp.com.sg.