This 22-year-old product designer created toys to help visually impaired babies enjoy their food
While most of us take eating for granted, many visually impaired babies develop an aversion to mushy or slimy foods. CNA Women speaks to Lim Jin Ying about how inclusive design can help such babies and children overcome these and other common barriers.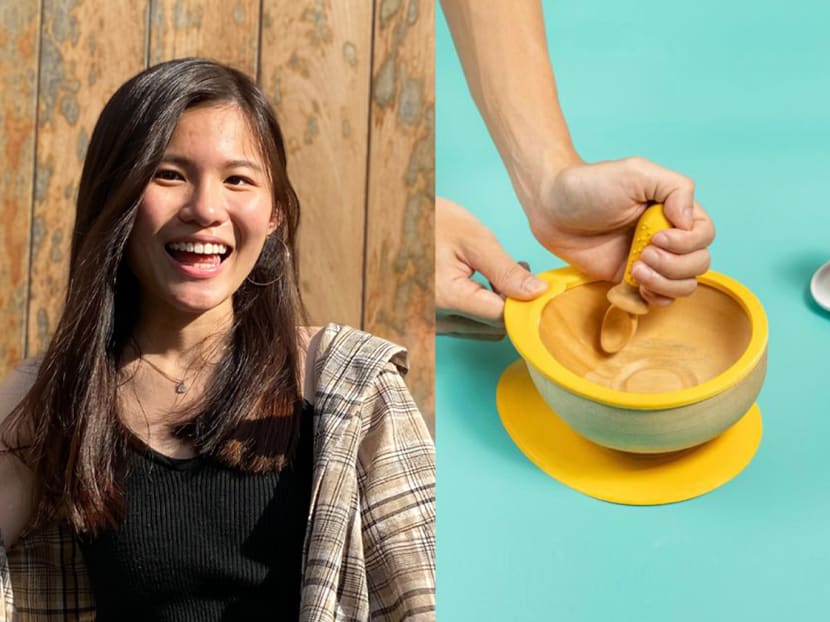 Product designer Lim Jin Ying still remembers her first encounter with a supermarket assistant with hearing loss as a young child. "I asked him to help me find something and instead of answering me, he signed to me. Because I hadn't met someone like him before, I got scared and ran away," she recalled.
Though that was years ago when she was in primary school, Lim still feels bad about how she reacted, and puts it down to the lack of exposure to people with hearing loss and other special needs.
Perhaps that is why, when the 22-year-old came across a local article about Elliot Koh, a Singaporean baby who was born blind, she felt moved to try to move the needle.
After exploring the Instagram account @blindandshine created to document Elliot's challenges and triumphs, she reached out to his mother Koh Wei Shi.
Several conversations later, Lim designed TOTS, a set of four feeding toys for visually impaired toddlers and children such as Elliot, as part of her LASALLE College of the Arts final-year project.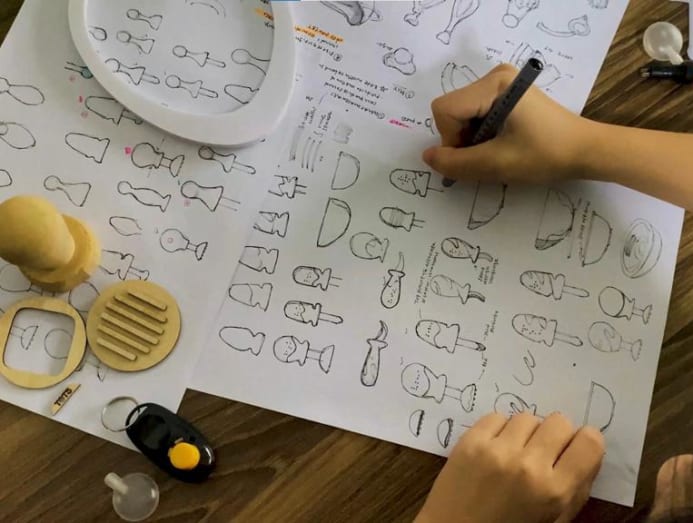 "It is a very different world for people who are not able to see," she said. "Many of them, for instance, may not like to touch certain textures, or eat mushy food such as mashed potatoes and slimy food such as spaghetti because they don't have a mental image of the food. Some visually impaired babies even have to be tube-fed because they don't want to eat," Lim said.
To help visually impaired babies and toddlers overcome their resistance to different foods and ultimately feed themselves, Lim designed a bowl, smasher, stirrer and spoon.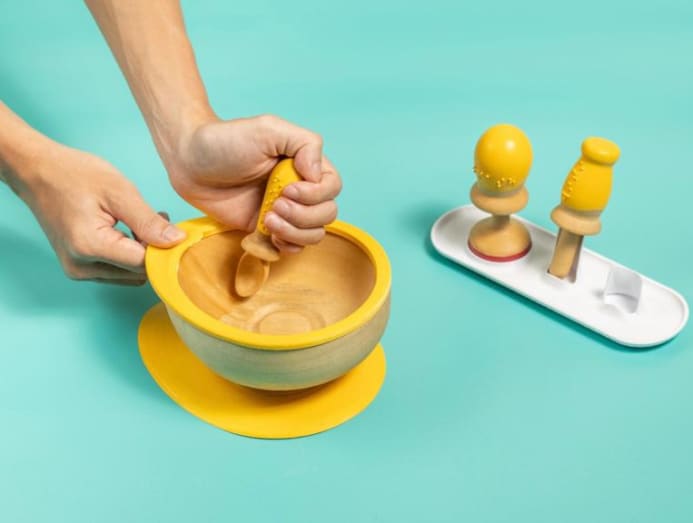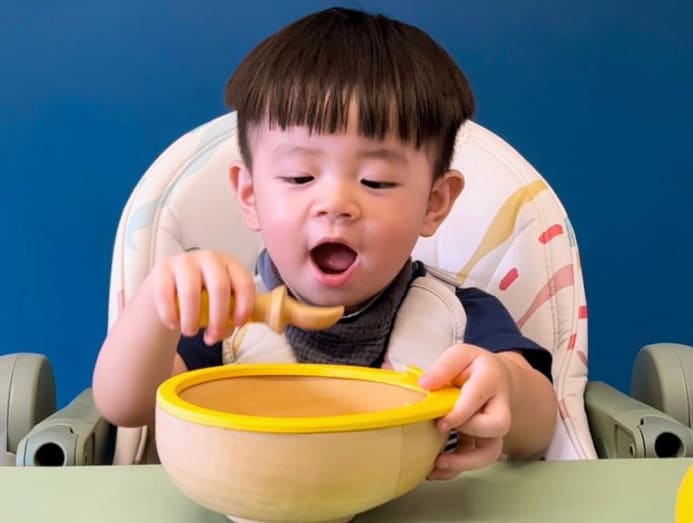 Some might call these baby utensils. Lim, however, prefers to call them toys because they were designed to encourage visually impaired babies to play with their food.
Incorporating tactile and auditory feedback for babies with total vision loss, as well as bright colours for those with partial vision loss, it engages different senses to make eating a whole lot more fun for this often-marginalised group.
"Although most Asian families don't encourage children to play with their food because of the mess it creates, I believe food play has a lot of advantages, especially for visually impaired children.
"It encourages them to explore and manipulate their food, and not be afraid of textures," said the product designer, who recently graduated from LASALLE and is currently working at a local design consultancy.
DESIGNING FOR THE VISUALLY IMPAIRED
With so many mass-produced items in the market today, few designers design for this relatively small group of visually impaired people.
"Inclusive design is lacking," lamented Lim. "In our fast-paced society, designers tend to want to design something that people would want to buy immediately, so inclusivity may not even cross our minds."
Another reason she noted is that most designers are sighted – usually a pre-requisite for the visually-driven profession. "It is easier to leave those who are not the same as us, out," she reflected.
This results in a dearth of toys and other items that engage and support the visually impaired. "Most toys are designed with a lot of graphics and colours but largely made from a solid piece of plastic. When a visually impaired baby plays with them, it may feel like just a big piece of plastic. They cannot enjoy the toy as much as sighted babies can," Lim explained. 
"As a designer, I tried to put myself in the shoes of visually impaired babies and toddlers. If I were to lose my sight, how can I still enjoy the world as much as others?" she said.
Speaking to an optometrist, occupational and mobility therapist, visually impaired members of Guide Dogs Singapore, and others within the visually impaired community, Lim sought ways to translate visuals into textures and touch that visually impaired babies can appreciate.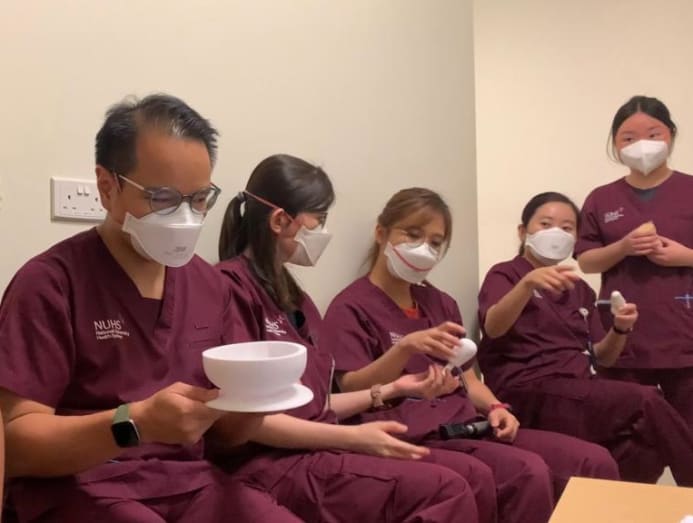 "Self-feeding is difficult because it is hard for visually impaired babies and toddlers to understand that we live in a three-dimensional space. To help them, I've narrowed self-feeding down to three main skills – smashing, stirring and scooping," said Lim.
For instance, visually impaired children may not know how to scoop their food up. TOTS includes a bowl with a protruding silicone flap. This is designed so that visually impaired children will know that they have completed the scooping action when they reach the flap and may lift their spoon up. Since these children may not be able to see how full their spoon is, this flap also serves to remove excess food from the spoon.
As a society, we should try to include as many people as possible. We cannot ignore the needs of a group of people just because we don't face the same problems as them.
Lim also incorporated fun elements, such as a smasher that makes a clicking sound every time children press down on it. This encourages them to smash and manipulate the texture of their food, instead of being afraid of textures.
The stirrer is also designed for children to trace the indentations in the bowl while stirring. This is inspired by a technique known as trailing that the visually impaired use to find their way with their cane.
Lim was very deliberate about colour choice for her product, choosing yellow and red because these are the first colours children with low vision can see. "Yellow is also the universal colour of accessibility features for the visually impaired, such as tactile pavings. I wanted to create a connection between my product and these accessibility features," she explained.
In addition, Lim also labelled the handle of the smasher, stirrer and spoon in Braille not just for blind children, but also as an element of graphic design for the sighted.
A PASSION FOR INCLUSIVE DESIGN
Unlike many designers who use a 3D printer to test their prototypes, Lim camped in the workshop for more than a month, doing her own woodwork, sanding her product, and creating the Braille labels by hand to perfect this passion project.
Painstakingly designed and handmade by Lim, TOTS is currently only limited to a handful of prototypes. She intends to leave these at selected venues such as at National University Hospital Eye Surgery Centre senior optometrist Danial Bin Bohan's office, and at social service organisation AWWA, with principal occupational therapist Elangovan Bhavani, so that visually impaired children may try them.
Lim has yet to find someone willing to sponsor the mass production of TOTS – a challenge that other designers of inclusive products also face. "Because these specialised toys are designed for a small group of people and may not be so lucrative, not a lot of people want to sponsor their production," she said.
Instead of being deterred however, such public resistance only makes the young product designer more determined to create more inclusive designs in future.
"I believe those with special needs should have the opportunity to enjoy what the rest of us enjoy," she stressed. "For instance, it is just as important for visually impaired children to play at a young age, and they shouldn't be excluded simply because they cannot have access to the right toys that are able to engage them."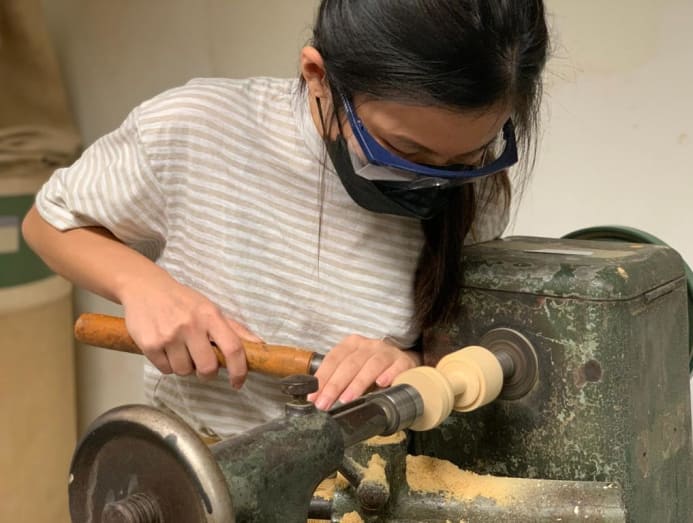 "I designed TOTS to show manufacturers and designers that with a bit of adaptation, we can create products that every child, not just visually impaired children, can use to play with food and explore new foods," she said.
She added that such toys can be targeted at the masses and be economically viable for manufacturers to produce as well.
"Inclusive design is very important in our world today. It is not enough that products meet the needs of most people. As a society, we should try to include as many people as possible. We cannot ignore the needs of a group of people just because we don't face the same problems as them," she stressed.
Addressing the invisible barrier for the uniquely abled, she added: "Ultimately, I hope we can design products that provide equal opportunity for different types of people, such as the visually impaired. I also hope that inclusive design can bridge the gap for such children so that those who can see and those who are visually impaired can play together."
CNA Women is a section on CNA Lifestyle that seeks to inform, empower and inspire the modern woman. If you have women-related news, issues and ideas to share with us, email CNAWomen [at] mediacorp.com.sg.