By women for women: This mum is making halal baby food to help working parents
After starting Anya Meals to plug the gap in the halal baby food market, Jayina Chan now wants entrepreneurs to work on caring for postpartum women. She explains why, in the first of our International Women's Day series about women innovating for women.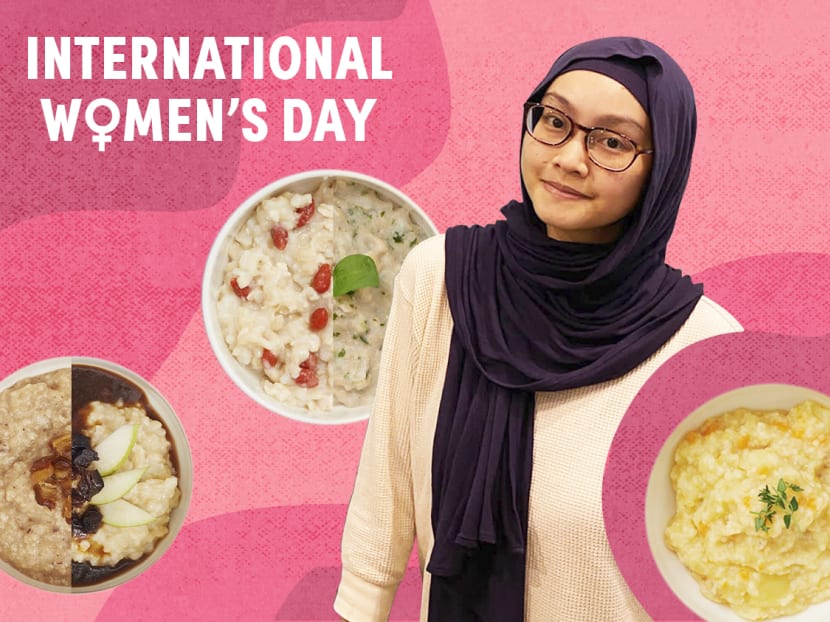 Beef and spinach brown rice congee. Potato leek soup. Oatmeal porridge in flavours like stewed apricot, pear and prune, and sticky date. These are foods most of us would happily order off a menu, especially if we're on a health kick. 
Jayina Chan, 34, makes them – for babies. 
Her commitment to preparing nutritious meals for babies began in 2017, after the birth of her daughter Anya. 
At first, she was only using Instagram as a food diary, posting pictures of little Anya using her fingers to eat instead of being fed, a method known as baby-led weaning. Chan would also display pictures of the meals she created for her daughter out of "experiments" with fresh ingredients and cooking methods that "naturally enhanced" their flavours. 
"Parents and caregivers started to approach me for advice about baby weaning and even asked me to prepare meals for their little ones. That was when I noticed the gap in the halal baby food market," she told CNA Women. 
STARTING HER BUSINESS
Chan started her home-based business that same year, naming it after her daughter. Anya Meals offered colourful frozen cubes of stock and pureed fruit and vegetables, with instructions on how to melt them in a pot and mix them for a variety of flavours. 
You could, for example, put cubes of pureed pumpkin and chicken stock in a pot along with brown rice to make an easy, balanced meal; or you could soak the pumpkin cubes in milk, parmesan, unsalted butter and thyme to make the sauce for a pumpkin macaroni and cheese.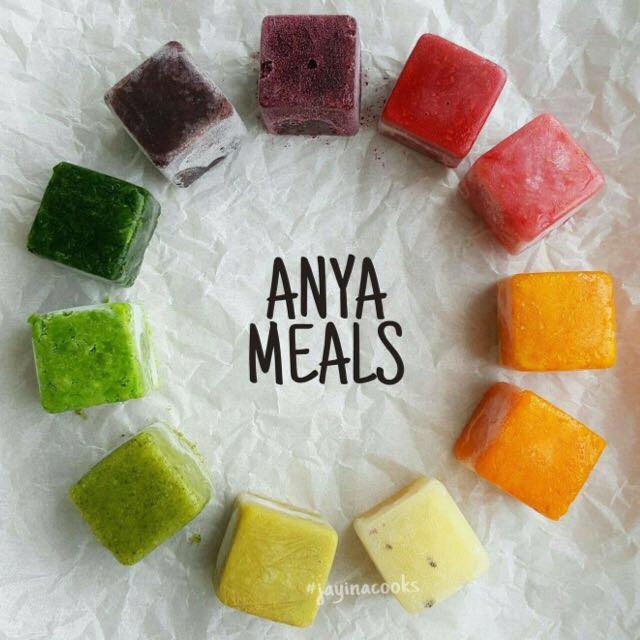 The cubes were a hit. Customers gushed about them on social media, including some who described Chan's frozen chicken stock as "handy", "wonderful" and "godsent". Many said they were not particularly nifty in the kitchen but that the cubes gave them the "motivation" to cook. 
Amid steady growth, Chan and her husband Aiman Majid began making moves to streamline their operations and scale up the business. They consulted an infant dietitian to help them improve on their products and to teach them how to better advise customers on weaning and nutrition. 
The colourful cubes soon made way for food-safe and microwaveable tubs, preventing contamination and allowing for Anya Meals to be travel-friendly.
Today, Anya Meals include products that are free from dairy, eggs, tree nuts, peanuts, wheat, crustacean shellfish and soy, to be inclusive of children with allergies. The products are also said to not contain salt, monosodium glutamate, preservatives, colouring and additives. Any sweetness is due to the use of fruit and vegetables, the company said. 
Additionally, everything is cooked fresh, left to cool and frozen immediately, then delivered to customers on a weekly basis. Customers have to visit their website every Sunday afternoon to see which items are up for pre-order and make payment. The products are then delivered a week later. 
"When we first planned out the menu for Anya Meals, they were items that I had already made for Anya and were nutrient-dense. We had to make very minor adjustments to the meat proteins in our congee based on the advice of our dietitian, but that was all," said Chan. 
At the start of the pandemic in 2020, the demand was so overwhelming – mainly due to COVID-19 restrictions, which made parents worried they would not be able to get the groceries they needed to prepare food for their kids – that the couple had to place caps on orders to maintain quality control. 
"At our peak, Anya Meals was raking in close to S$300,000 of annual revenue," said Chan. 
"NOT LAZY, JUST UNMOTIVATED"
Love and grit are values Chan repeats several times during her conversation with CNA Women, attributing her personal growth and business success to having these in her life.
"As a child, I felt very muted and didn't believe I would be able to accomplish anything. I was too afraid to put my thoughts into action because people around me always told me I was doing it wrong and that I was very lazy. 
"When people did not believe in me, I could not believe in myself. Talking to Aiman over the years allowed me to assess my childhood and heal myself so I could be better for myself and my family," she said.
"I finally realised I'm not lazy, just unmotivated," Chan said, adding that a big lesson for her over the years has been that life is "not smooth-sailing, but grit, love and faith will carry you through".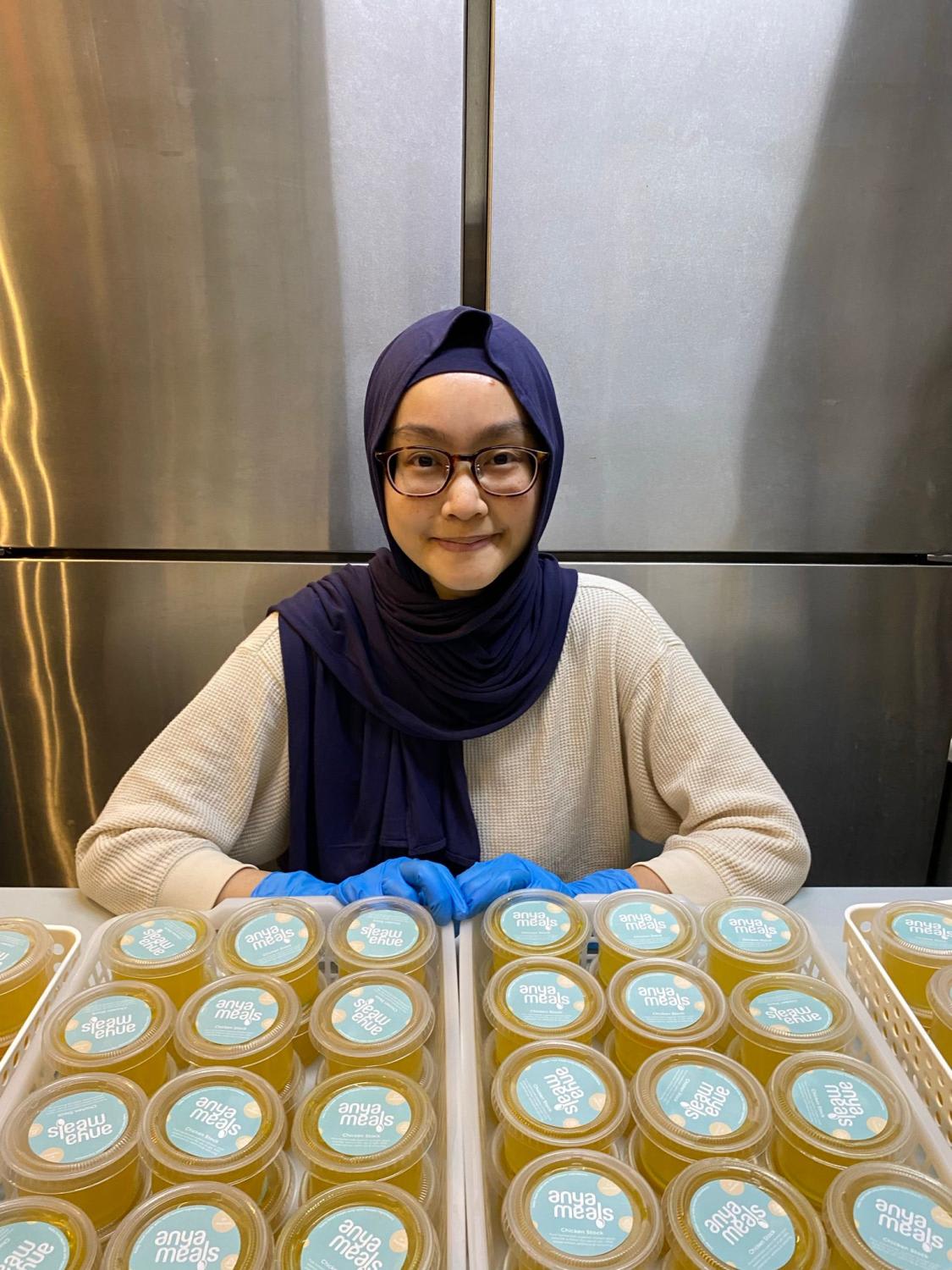 Chan met her husband when they were working as cabin crew, an experience she said was a lesson in humility, grit, sincerity and teamwork for both of them. 
"The intention for every decision we make in our lives now is rooted in our desire to better ourselves and our community, and I believe it has served us well. But even if we do have the best ideas and plans, it takes a good team to carry and share the load," she said. 
"Marrying well is not an accomplishment in itself; building a strong foundation in our partnership is. I'm proud of us and what we have accomplished together. Knowing that we are always in each other's corner gives me so much hope for the future," she added. 
Another key lesson that has moved the needle for her in life and in business is learning how to set personal boundaries. 
"This took awhile for me (but) while teaching my children (Anya is six and her son, Adam, is three) about personal boundaries, I realised that I was not practising what I preached. I was letting them into my personal space the entire day, often leaping at any request or allowing them into the bathroom with me. As a result, I would be worn out and overwhelmed by the end of each day.
"Making the habit to observe boundaries taught them patience … I believe that in doing this, I'm able to recoup myself better through the most testing periods and preserve my sanity, and ultimately be a kinder person to my family," she said. 
MORE CARE FOR POSTPARTUM WOMEN
As she reflected on the meaning of International Women's Day, Chan raised the need for more products and services for women recovering from childbirth. 
"The biggest gap in the market for women right now would be postpartum care in all aspects – physically, mentally and emotionally. The shift in focus after delivering a child often goes towards the infant and mothers put themselves last," she said. 
The business owner said she "suffered in many different ways" while caring for Anya.
"I had spent my pregnancy days researching the ways to care for my child and got everything ready for her but I barely prepared anything for myself. Unaware of halal confinement packages, I would often forget to eat and drink.
"Beautiful nurseries are ready months before the arrival of a child, but have mothers adequately prepared for themselves?" she said. 
"It takes a village to raise a child but the care is often not extended to new mothers. Mothers do not have to be martyrs to raise happy and healthy children," she added. 
This story is part of CNA Women's series marking International Women's Day on Mar 8. CNA will be hosting its annual Leadership Summit on this day, themed Women Inspiring Change. It will spotlight the social, economic and political achievements of women, and will feature speakers such as Rappler CEO and Nobel Peace Prize laureate Maria Ressa, and Trip.com CEO Jane Sun. Watch it live here on Mar 8, 1.30pm to 5pm. Details of the event and speakers can be found here.
CNA Women is a section on CNA Lifestyle that seeks to inform, empower and inspire the modern woman. If you have women-related news, issues and ideas to share with us, email CNAWomen [at] mediacorp.com.sg.