By women for women: The 'doll director' changing the face of optometry – and painting it pink
In the second instalment of our International Women's Day series about women innovating for women, we talk to Cassandra Tan, founder of beauty company byCaxs, about standing out, imposter syndrome and the power of wearing pink.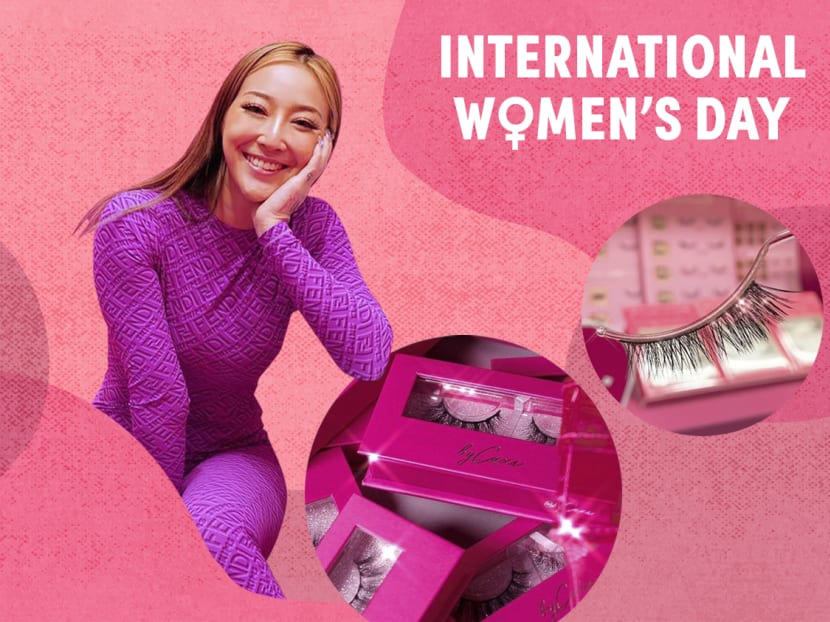 The entire shop is pink. Hot pink. The kind of pink that makes you think the circus is in town – and is starring the entire cast of Barbie.
Floating above the pink floors is a sign that says "Doll Parlour", its perimeter dotted with glowing light bulbs. Behind the cash register is the only thing that isn't pink – a heavyset red velvet curtain you would normally see on a stage. 
On the fuchsia shelves are rows and rows of false eyelashes, liquid eyeshadow and eyeliners. There are also contact lenses in natural colours dubbed "Doll Dailies" and in more striking colours called "Doll Eyes". 
It feels like you're backstage at a musical, but no – the Doll Parlour is a shop at Tampines 1, the first brick-and-mortar location for local beauty company byCaxs (pronounced "by Cass").
Founded by beauty influencer Cassandra Tan in 2017, byCaxs started out selling a small range of what you might describe as "fancy" lashes with names like Xtina 3D Mink. About a year later, it started rolling out contact lenses and in 2020, the company debuted its makeup line featuring a signature adhesive eyeliner that pairs well with its lashes. All of the products are under the byCaxs in-house brand. 
It was a natural move for the 32-year-old, who has more than 40,000 followers on Instagram and is known for her videos teaching women how to get party-ready. 
She told CNA Women she wanted to make products that were easy to wear. "I wanted to try and create things I would personally really use. I'm always on the go so the products had to make it easier for working people to doll up and go out," she said. 
"All of our products start from that basic necessity. They must be easy to use and carry around, and the prices must be accessible for everybody," she added. 
Today, byCaxs' in-house contact lenses come in more than 10 options, each with a varying colour and pattern combination. The Doll Dailies come with names like Everyday Latte and Monday Blues, and are designed to be worn on the regular. Those who want to stand out more might opt for something from the Crystal series, such as the "exotic and piercing" Crystal Grey, which features graphic prints. 
"Now our range speaks to more customers than when we first started. At first it was all about dramatic (looks) and loud colours but now we are more subtle. It's good to cater to people who have both kinds of days."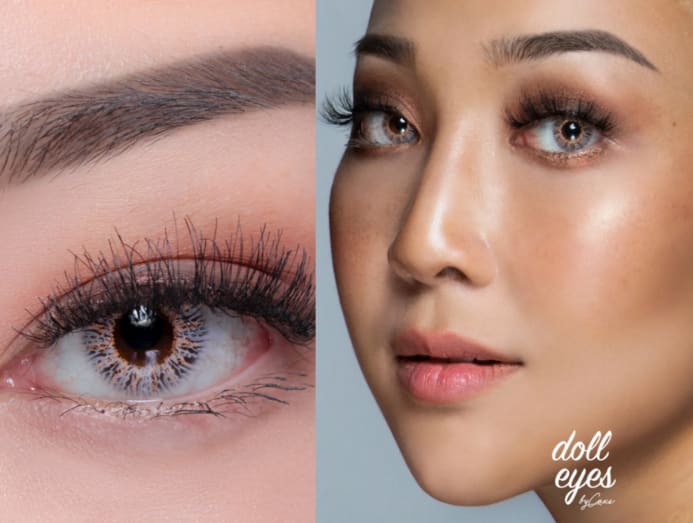 ByCaxs' contact lenses aren't just fashion lenses – the company has optometrists stationed at Doll Parlour to conduct eye checks for customers.
"I think it's cool that when you come and get your eyes checked, it's not in a boring environment. The optometrists are all licensed and registered – it's just that they're dressed in line with the brand," said Tan. 
BOLD OUTSIDE, DOUBT INSIDE?
As a rule, all who work at byCaxs (or dolls, as they're called) wear pink and other bright colours, or really anything they want, except black. 
"I don't like black. I love colours – not just pink – but all bright colours and glittery things," said Tan, who was dressed for our interview in a – you guessed it – pink tank top and a pink Adidas jacket. 
The self-proclaimed "doll director" also had the brightest hair in the cafe we met in, and sparkly, gem-studded nails.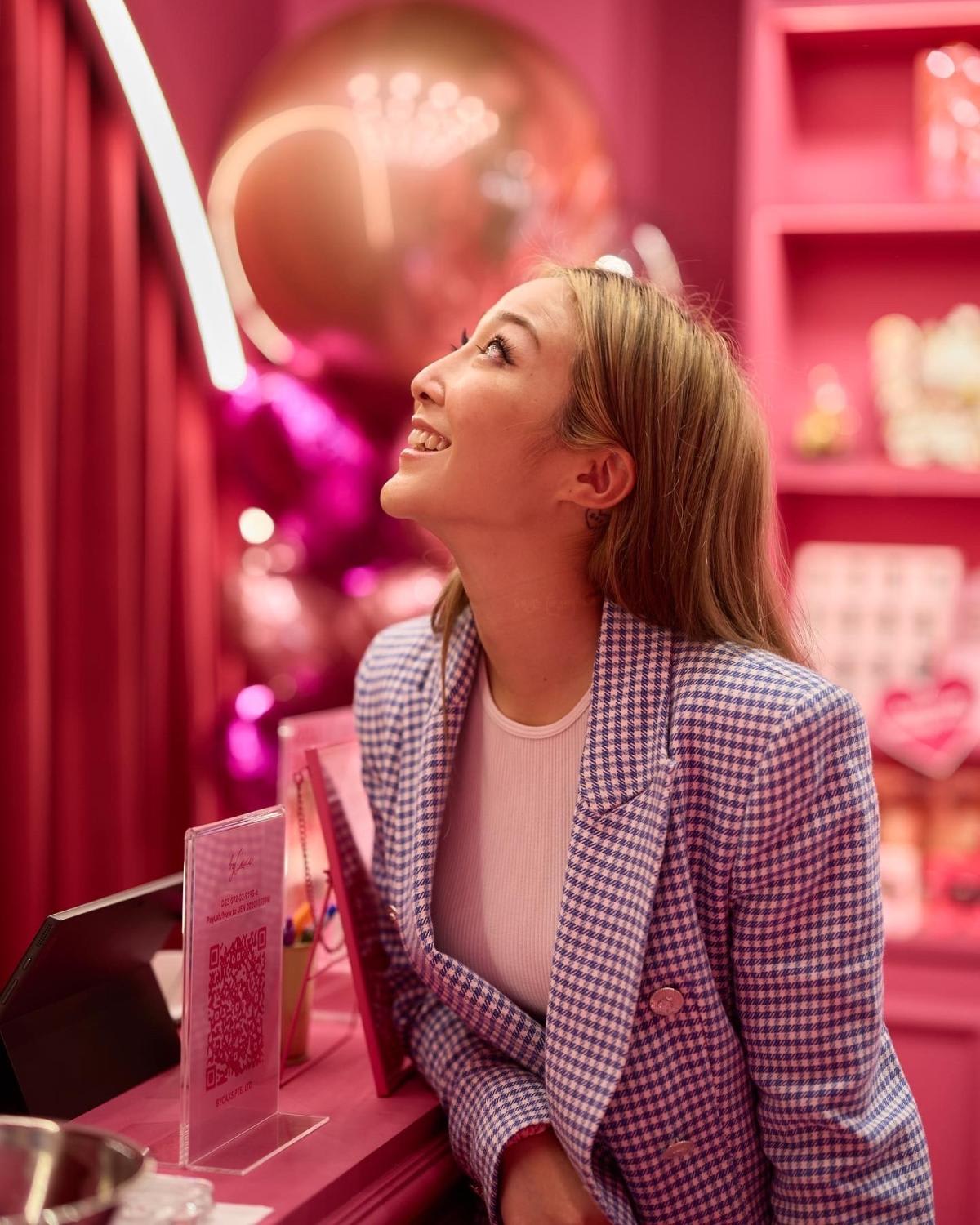 "I've envisioned myself like this since I was a little girl. My mum had a friend with super long nails with full glitter and I thought: 'When I grow up, I'm going to do that.' 
"My mum herself would wear the highest heels and I knew as an adult I'd want to wear them too. I grew up picturing this version of myself and now that I'm able to choose what I wear, I've subconsciously made that happen.
"I know it may seem like I wear the brightest things for attention. But it really just makes me feel more whole – this is who I am. I feel happiest being able to do and wear whatever I want," she said.
You'd be forgiven for thinking she has a loud personality, too. That's a misconception, she said. 
"Before I opened the Doll Parlour, I didn't really talk much. I'm quite quiet. It's ironic because influencers tend to be louder," said Tan.
"I'm open to recording my life on the phone (Tan often shares snippets of her personal life on Instagram) but generally I'm quite reserved."
Another thing that might surprise you: Tan struggles with imposter syndrome. 
They have this idea that I don't know what I'm doing or I'm not capable enough as a businesswoman. 
"When I get interview requests, I'll call my best friend. I'll say: 'Why do I think I can do this? What have I done to actually deserve this? Am I anything special?' I tend to talk down to myself. I've always had a lot of self-doubt," she said.
Self-doubt can set one back in any situation, but especially so when one is a business owner, she said.
"Being a woman is already hard. Being the kind of woman I am is even harder. I don't blame them but people expect you to be a certain person, especially when you put your life out there like I do on Instagram. They have this idea that I don't know what I'm doing or I'm not capable enough as a businesswoman. 
"I don't bother (trying to) act more proper to show I'm serious about my business. I'd rather let our work speak for us," said Tan. 
She recalled how, in the process of starting the company, people would question her knowledge of the beauty industry.
"When I first started and wanted to do distribution (for our in-house brand), the first step was to get an appointment with optometrists. Even that was difficult. They would tell me – and they were mostly men – that women don't want to wear these lenses, that they wouldn't like these lenses.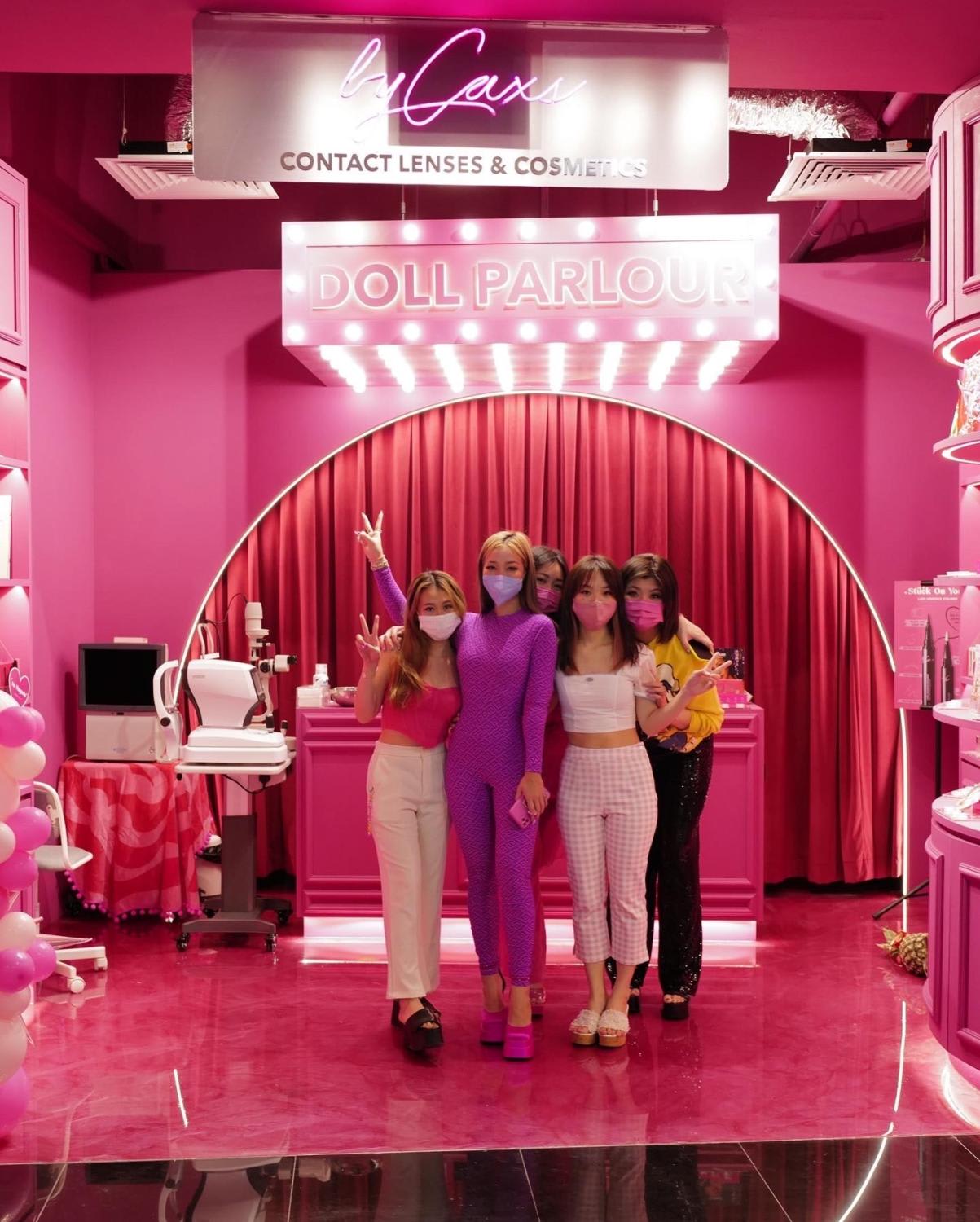 "But they're talking to a woman – wouldn't I know what a woman would like? I've also had talks with men who didn't take us seriously because our business was all-pink," she said. 
Tan told CNA Women her solution to naysayers was simple: Just "show up", a term understood to mean performing to the best of your ability. 
"You can doubt me, but I'm just going to show up. It really is just a principle of mine that I show up no matter how bad my day is," she said. 
Tan said she sometimes gets customers who don't believe the eye check is "legit just because of the colour of the store and what the optometrists wear". 
"Because they're not in lab coats, they don't look serious," said Tan.
Many customers are drawn to the brand's bold aesthetic, however, especially after getting a chance to interact with its "doll director", who fronts the brand's marketing campaigns and is often at the store herself. 
"Even though they don't dress like me, when they see me this way, it encourages them … to try things that are different," she said. 
THE CHANCE TO BE HERSELF
ByCaxs prides itself on its ability to draw customers out of their shell. The company currently has 12 employees, including optometrists and sales assistants, whom Tan said are trained to get to know the customers well. 
She told CNA Women the word "dolls" represents a behavioural framework that staff abide by, outlined by the following values: Dedication, (being) observant, (good) listening, learning and synergy. 
"We also call (ourselves and our customers) Dolls – it kind of bridges the gap between us and them. We don't want them to feel like just customers.  
"I always tell my girls it's important to try to remember what they came for and what their preferences are, even if the last time they visited us was two years ago," Tan said, adding that byCaxs "really encourages women who are perhaps a bit different to be the way they are and feel comfortable". 
Just being who I am has given me all the opportunities that I have today. That's why I think it's so important to be who you really are.
"When they take a step with us, I notice that they really do enjoy dolling up and trying something different. I think it's important for a woman to have a product, a company or friends who let you be the person that you are," she said. 
The entrepreneur said she was not always so comfortable with herself. 
Before starting her business, she had been in what she described as an "unhealthy" relationship for 13 years. 
"I was in a very bad place. When I was in the relationship, everything was stagnant and I'd started to accept life the way it was. I thought: 'Okay, I'll just get married, do this job, buy a flat and do all these normal things. 
"But eventually I realised it wasn't a healthy relationship. It restricted me from doing a lot of things. The way I dressed, the woman I was ... he would say that it was too much. I toned down to make the relationship work," said Tan, adding that a lot of her self-doubt stemmed from those years. 
"When it ended, I felt like I had nothing more to lose, so I stepped out of my shell ... I'm way happier now. I'm completely free to be the person that I am," she said.
IGNORING TRENDS
Staying true to who she is has not only shaped her company, it also helped her carve out a niche in the influencer industry. When Tan first started posting tutorials of her "doll-like" make-up on her Instagram page in 2016, it was the era of the "no make-up, make-up look". 
She was also doing Muay Thai regularly and would post photos of herself working out or wearing exercise gear. 
"Fitness and sports are huge among women now but back then, women didn't want abs. Beauty clients wanted to focus on natural beauty so I thought I wouldn't get jobs," she said.
Still, Tan stuck to what felt right – and it paid off. In 2017, US company NYX Professional Makeup invited her to Los Angeles to attend its Face Awards – a gig she described as "one of my biggest breaks". 
"I realised then that I could do whatever I was doing and still get jobs. Just being who I am has given me all the opportunities that I have today. That's why I think it's so important to be who you really are.
"If you live your life the way you want and people take interest in your life, that's good, right? I'm happy there are people who take an interest in my life but it doesn't hurt me if they don't. Popularity and followers are not my goal. The fun is in conceptualising and being creative," she said. 
These days, you're more likely to find Tan out at sea than in the gym. The competitive wakesurfer counts the sport as "the only thing I do to relax outside of work".
"It was so tough when I first started, but I managed to do it and now, I'm doing it competitively. Whenever I'm trying a new trick on the water, I always tell myself: 'Remember how when you first started you thought you'd never be able to do it? Now you're doing it. So you know you can do it. Let's try again.'"
As she reflected on the meaning of International Women's Day, Tan said she hoped more women would develop a taste for adventure.
"It's important to be adventurous so you can be more accepting of the things around you. If you allow yourself to try different things, to be different, then you'll realise (what you see around you) is normal ... And you get less judgmental," she said. 
This story is part of CNA Women's series marking International Women's Day on Mar 8. CNA will be hosting its annual Leadership Summit on this day, themed Women Inspiring Change. It will spotlight the social, economic and political achievements of women, and will feature speakers such as Rappler CEO and Nobel Peace Prize laureate Maria Ressa, and Trip.com CEO Jane Sun. Watch it live here on Mar 8, 1.30pm to 5pm. Details of the event and speakers can be found here.
CNA Women is a section on CNA Lifestyle that seeks to inform, empower and inspire the modern woman. If you have women-related news, issues and ideas to share with us, email CNAWomen [at] mediacorp.com.sg.