exclusive Women
Sport climbing's golden girl and Olympic champ Janja Garnbret tells Singapore fans the secrets to her success
"You keep going because you know that better days are coming." Janja Garnbret was recently in Singapore and CNA Women got an exclusive on what makes her the GOAT – and her tips for climbers. Watch the video at the end.
In the last two weeks of September, there had been a perceptible sense of excitement, a buzzing of sorts among a particular community. And no, it wasn't because of the return of the F1 races to Singapore after COVID-19 slammed the brakes on life in general. It was the arrival of a certain Olympic champion on our shores.
For climbing fans who have been catching Janja Garnbret on the International Federation of Sport Climbing (IFSC) World Cup circuit via YouTube – and no doubt, marvelling at her prowess and dominance in these world-class competitions – seeing her in person was a unanimously "surreal" experience.
Looking every bit she does on screen – blonde ponytail, lithe but powerful limbs and those steely blue eyes peering from underneath a cap – the 23-year-old Slovenian climber walked into Boulder+ at The Chevrons with her coach Roman Krajnik, fresh from winning the season's last lead climbing world cup in Jakarta and securing the women's overall lead climbing trophy for 2022.
This was an athlete who became eligible for IFSC lead climbing and bouldering competitions at age 16 in 2015 and as of September, had already garnered 37 world cup titles and 56 podium finishes.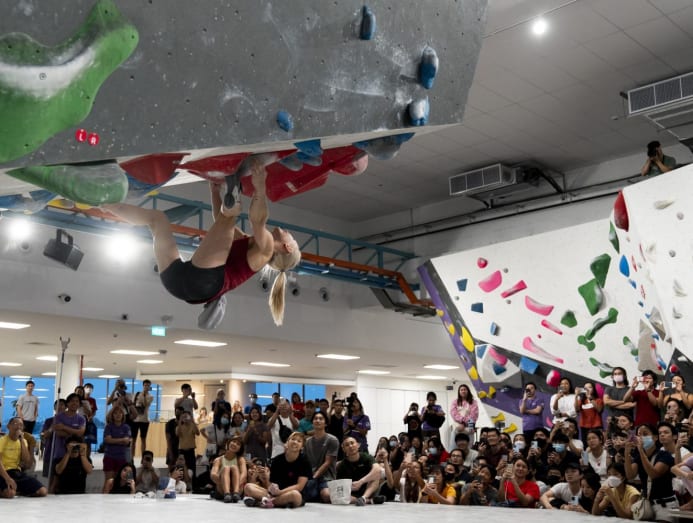 A few months after becoming an Olympic champion, she became the first woman to onsight 8c – a grade and feat accomplished only by a few men in the world. Next on her list is the famous Spanish route, La Dura Dura, which has only been climbed by two others (climbing luminaries Adam Ondra and Chris Sharma, if you're wondering) so far.
But for all her accomplishments, the fan-dubbed GOAT (that's Greatest Of All Time to the uninitiated) isn't without her losses. Just this year, she missed out on two gold medals in Edinburgh, Scotland, and on home ground in the Slovenian city, Koper. In 2018, her gold-winning streak was broken when she took silver at the Salt Lake City world cup.
"SHE'S AN ICON, SHE'S THE GOAT"
The 300-strong crowd that congregated on a weekday night to watch her boulder with four of Singapore's top climbers cheered, whooped and pleaded for more as she swung from slopers, grabbed pinch holds on the fly and made scaling up a 70-degree incline look like child's play.
It was a showcase of her mastery over strength, balance, flexibility and dynamism – the key aspects of climbing, be it bouldering or lead climbing. And certainly, a rare chance to witness her signature leg arch in person, which she famously uses to counter dynamic movements that threaten to pull her off the wall.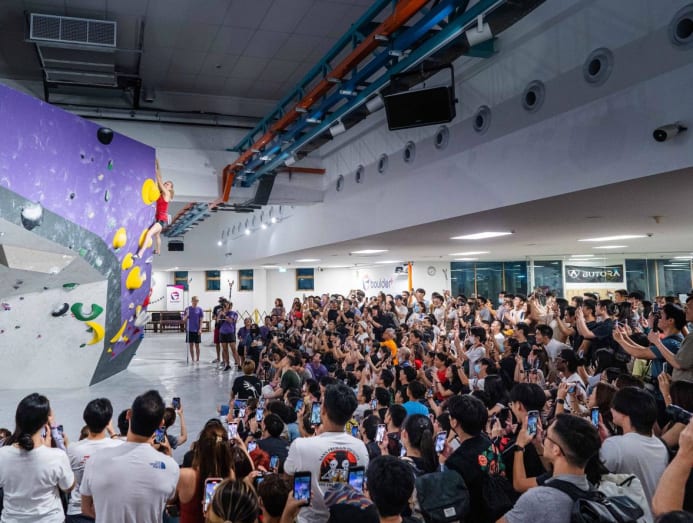 "She is already amazing on the monitor when we watch her. Seeing her in real life is super amazing as you get to see her moves in 3D," said Grace Ng, 26, a consumer insights analyst. "And it really illustrates how good she is at what she does. For me, it's been very inspiring."
For Ranvir, a 17-year-old international student, it was akin to meeting his superhero in real life. "My friends and I look up to her. She's an icon, she's the GOAT, as we call her."
Even those who weren't that easily won over by an impressive medal tally warmed up to her, especially after attending one of her two workshops held over the next two days. "I was actually very impressed with how dedicated she was in helping the participants with a climbing problem," said Soemoe Swe, 32, a Singapore-based cyber security engineer.
"It actually took quite a bit of effort to move her from one route to another because she was so invested in helping an individual overcome one particular problem. That says a lot about her character," he said.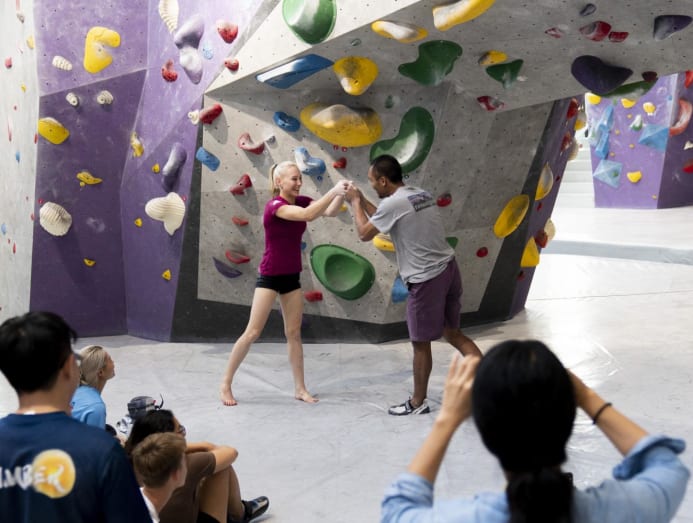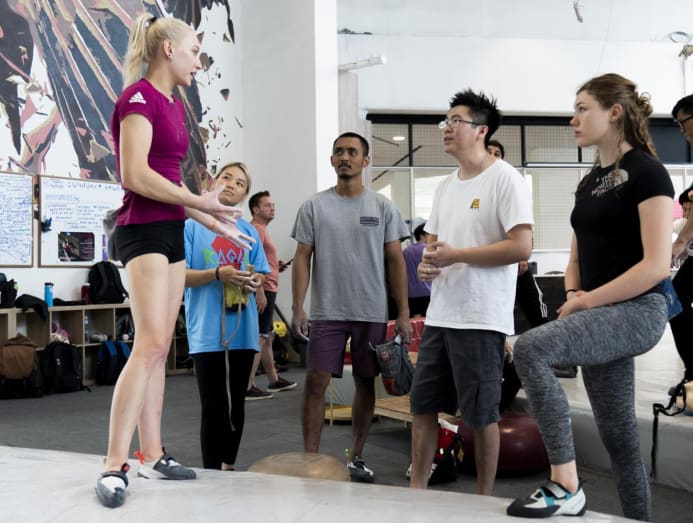 SECRETS TO SUCCESS
Interestingly, the world's most successful sport climber trains on an old-school setup consisting of 35-degree and 45-degree spray walls and campus boards. She doesn't train on hangboards or does board climbing.
Just Coach Roman's endurance routes and training plans, and her fierce determination to go harder and get stronger. When she needs to train for lead climbing, she drives four hours to Innsbruck, Austria, to climb in their mega gyms. Slovenia, according to Garnbret, only has four climbing gyms.
"I think I've always had strong fingers when I was younger," she said. And might we add, very good endurance, too, for signing autographs and posing for pictures non-stop for nearly two hours. 
As for finger injuries, which are common among climbers, "you have to stop climbing", she said. "If it hurts when you climb, you have to heal the injury first." 
It is a lesson she learnt the hard way. She had chipped off part of the bone on her middle finger in 2013 and was still climbing a few weeks after that. "It was not good. I had to have a cast on for three weeks and then I came back to climbing again."
Garnbret's journey to Olympic gold is documented in the film, The Wall: Climb For Gold. "Basically when I trained for the Olympics, I trained 10 hours a day. So my life then was really just training, eating, sleeping and repeating," she said. 
She shared that there were certainly struggles that people didn't see because "99 per cent of what you see are competitions". "There are hard trainings, hard conversations, crying when training because sometimes, it's not easy," she said.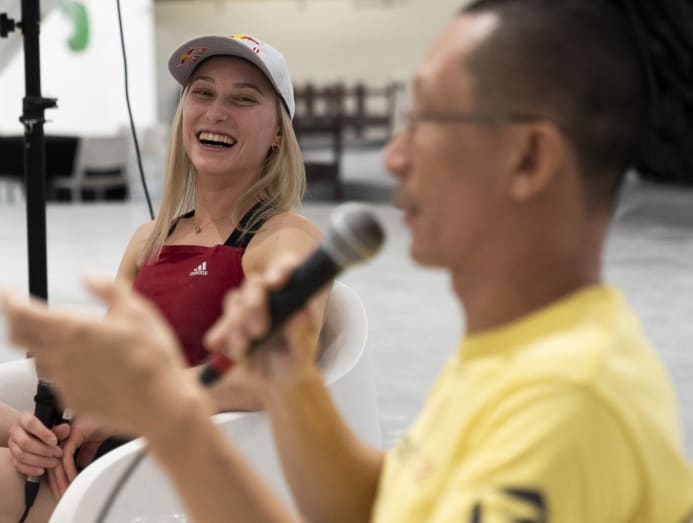 What kept her going on bad days was "definitely the progress". "The feeling that you know you're stronger than last year, that's my biggest motivation. On days when I'm not motivated, it's about discipline. You know what you have to do for the training and you keep going because you know that better days are coming."
Not content to rest on her laurels – nor wallow in self-pity as was the case after her defeat at Koper – Garnbret shared with the crowd that she tried the men's routes after the world cup ended. "I didn't top but the routes felt easier than the women's routes", she said to uproarious applause from the audience. 
Her advice to climbers trying to do better is to not climb alone, especially when bouldering. "Have someone who climbs at a level higher than you. It'll motivate you to do better." The second thing, she said, is to mix up your training. "If you keep repeating the same exercises, you can actually get weaker. For instance, if you train on the hangboard all the time, you won't see any progress."
Try this on for size, said Garnbret, if you're trying to level up your game: If you're climbing at V6, do three V5 routes in a row and throw in a V7 project. It doesn't matter if you can't top it, just try to work out the moves. "But even so, don't work on the project all the time. Mix it up," she said.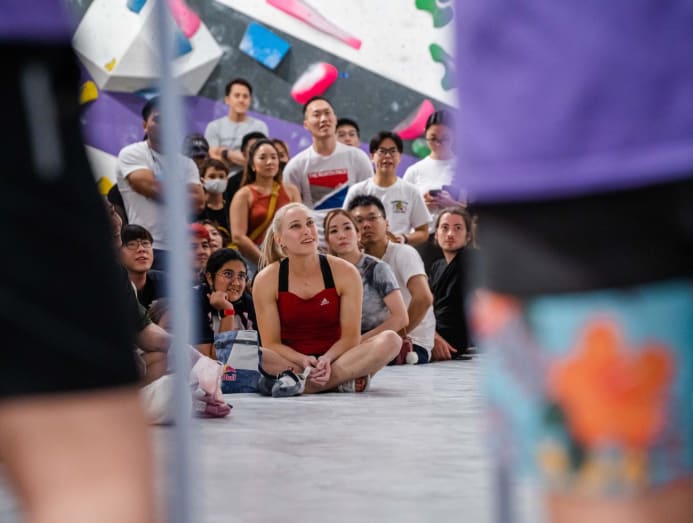 As for how Garnbret feels about climbing in Singapore's humidity, and whether she reads your comments on Instagram and Facebook, read on:
How has it been climbing in Singapore's humidity?
I have super dry and super tough skin, so I actually need humid weather to have good grip. Humidity gives my skin a bit of moisture, which is good. I kind of forget that it's humid and just climb. I don't think about slipping off or anything like that.
Last night's demonstration climbs were the first time many Singaporean climbers, including some very young ones, saw you in action in real life. Growing up, who were your role models?
My role models were Slovenians Maja Vidmar and Mina Markovic. They were primarily lead climbers. I probably watched every YouTube video about them just to learn from their movements and I just wanted to have the same results as them. Over the years, my role models became my rivals at the world cup, which is a crazy thing.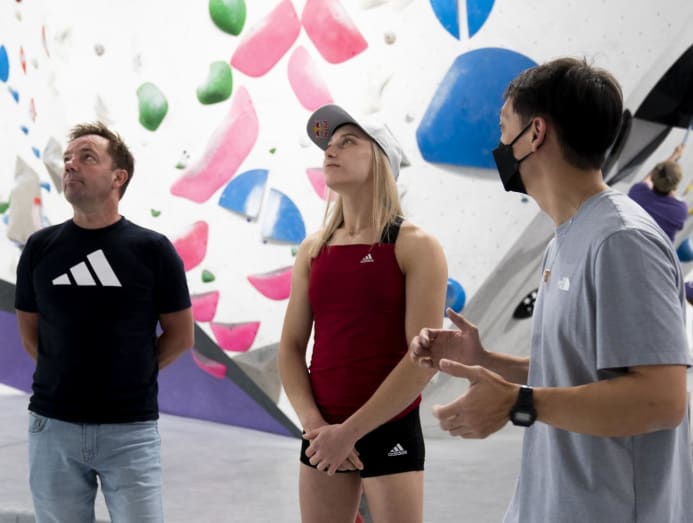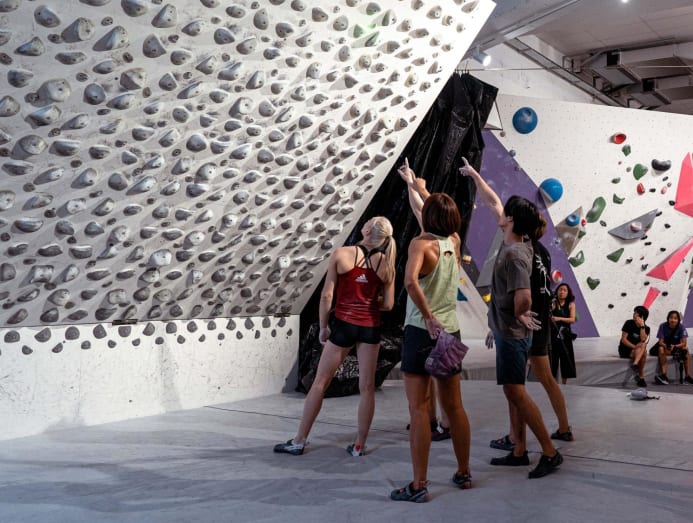 How does a small country like Slovenia (population 2.1 million) produce many world-class athletes such as yourself and in other sports, too, such as Tour de France cyclists?   
I think Slovenians, in general, are a very stubborn people. We are a small country but we want to prove to the world that we belong with the big players. That's why we have so many good athletes from all kinds of sports.
When I started, I had role models to look up to – and my role models had role models. There were climbers like Martina (Cufar Potard), Natalija (Gros), Maja, Mina, then me. Our history in winning (in climbing) isn't long. Martina was the first woman world champion from Slovenia in 2001.
Every year, every generation after that, we had one good climber and we were all looking up to her and wanting to have better results than her. The younger girls who have come up, we are pushing each other to do better. So I think that's why we have so many good climbers.
In Slovenia, sport climbing is probably the most recognised sport now because of the Olympics and the success of the Slovenian climbers. Everybody climbs. If I'm talking to a stranger, he's likely climbing or he has a friend who is climbing.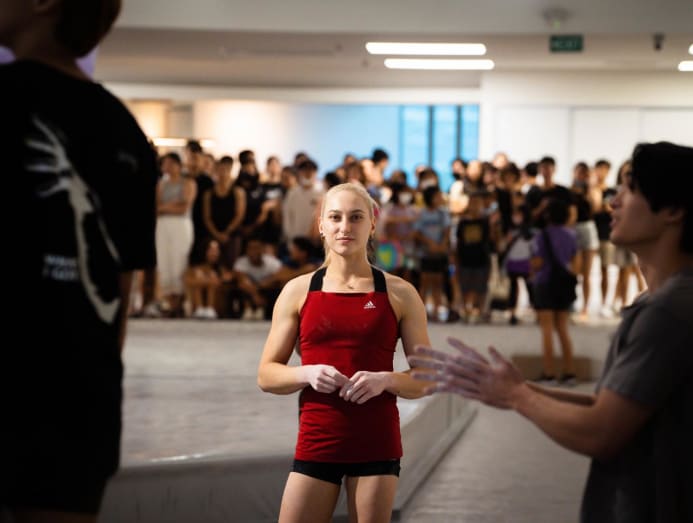 You are considered one of the strongest climbers in the world. Have you considered competing against men?
People always ask me if I want to do that. I mean, I'm still a woman. It doesn't really make sense to do that just to prove something. I train with the boys all the time and I can climb as hard as they can. I like that because they're pushing me to do better and showing me what's possible from the other perspective.
I think we can all climb the same stuff. We should probably do more often in competitions what we did today, where both men and women climbed the same routes. It was super fun and we can learn from each other. I can show them something and they can show me something.  
How did you get into climbing in the first place?
I started climbing when I was seven years old but it was mostly on trees, doors and closets, basically everywhere. I was a hyperactive child. I wanted to try everything. I didn't want to sleep through the night or nap in the day. 
My parents were not climbers, so they didn't know about the sport. Actually, nobody knew about sport climbing because it was not well known (in the early 2000s). My first time climbing on proper holds was at a Sunday event for kids in my hometown. The belayers were super impressed with me because I got to the top on my first try. They told my parents that they should sign me up at the local recreation club.
My parents did just that because they wanted me to do something else besides school, be it sports, dancing or playing a musical instrument. Also, I would get tired and sleep easier!
What were your parents' reactions when you chose not to enrol in university to focus on the Tokyo Olympics?
If I try to step into the shoes of my parents, I could imagine it was really hard for them. It is common in Slovenia to go to university and get a degree. I was already successful in climbing in high school, so they were okay with me not going to university when I finished high school at 19. But I imagine if I wasn't as successful, I'd probably have to enrol in university as Plan B.
My parents were super supportive of my decision. When I started climbing, throughout my career, they were with me all the way, driving me to competitions when I was younger, buying me my first harness and shoes. Actually, they grew with me on my climbing journey.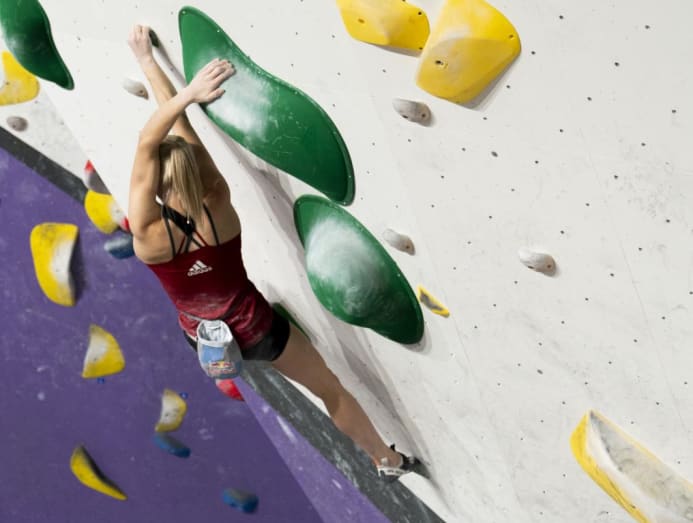 What were you like as a student?
Everybody knew that I was a climber because I was already a world champion at the beginning of high school. But I was not a super popular high-school girl. I didn't have straight As either; I was somewhere in the middle.
Still, I had to have good grades, so that my mum would let me go for training and take part in competitions. School started at seven or eight in the morning and finished at around 1pm. I'd go home and spend an hour or two studying. After that, I'd train from, let's say, 4pm to 7pm. I'd come home, study again – and do it all over again the next day. It helped that I had super good teachers who let me postpone an exam or take it earlier.
When I think back now, I sometimes wonder how I did it because there were also interviews and sponsorship obligations. It helped that I was super organised and I planned my day from hour to hour. Nobody planned it for me.
It also helped that I have always been a super independent person. I became a member of the youth team when I was 14 and since then, I'd been travelling without my parents to youth competitions. I liked it and I knew how to take care of myself. For a year and a half now, I've been living on my own.
How do you feel about social media? Do you post your own posts and read the comments?
Right now, I manage my social media accounts myself. I get help from others from time to time but mostly it's me. I try to read everything, especially when people write me. I try to get back to them because they've shown me support. But it's super hard because I get tons of messages every day and to get through them all is sometimes draining.
I am using social media to really show my life: The failures, successes, good days, bad days… the real Janja. I'm also trying to share my opinions on what I really stand for. So social media can be a very good thing if you know how to use it.
How do you deal with negative comments and trolls?
I definitely get them from time to time. I try not to read too much into them or I forget about the bad comments and just do my thing or what I think is right. To be completely honest, I don't really read news about myself. Because if you build your confidence based on articles and other people's opinions, your confidence can be shattered by one singular negative comment.
People will have opinion on everything that I do. What I learned over the years is, the most important thing that matters is what I think: What I think of myself, how I perceive myself. I shouldn't care what other people think and just do my own thing.
Janja Garnbret is the first Olympic gold medallist in sport climbing. The 23-year-old Slovenian was recently in Singapore to meet her fans.
CNA Women is a section on CNA Lifestyle that seeks to inform, empower and inspire the modern woman. If you have women-related news, issues and ideas to share with us, email CNAWomen [at] mediacorp.com.sg.