This postpartum doula in Singapore supports mum and baby for up to 1,000 days from the time you're pregnant
Kathy Rougier is a postpartum doula in Singapore who helps birth parents navigate their way from pregnancy to birth, motherhood and beyond. She tells CNA Women why her job is crucial to a new mother's wellbeing, especially in the era of a pandemic.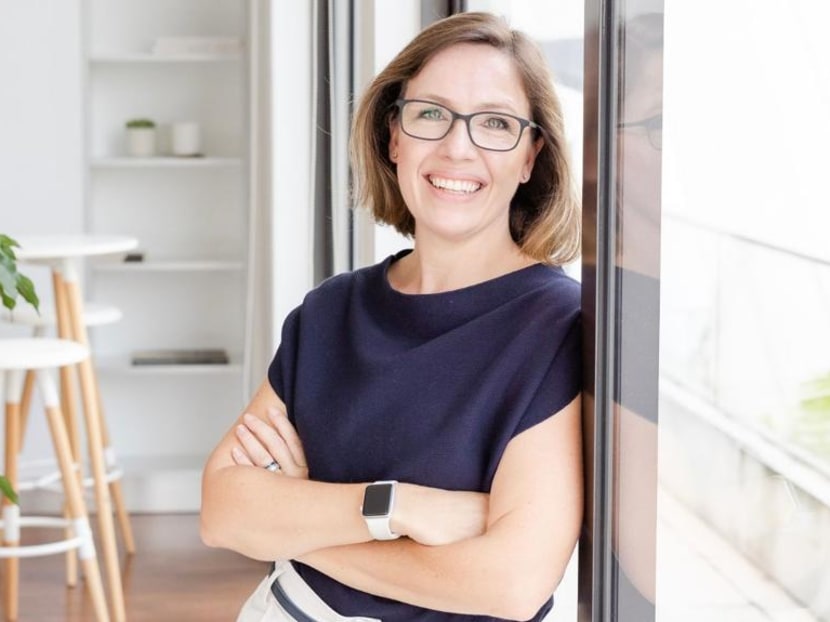 Expectants mothers are most familiar with the midwife who supports the mother during the birth process, as well as the birth doula (pronounced doo-la), a trained professional who provides support during labour and delivery. Now, enter the postpartum doula.
In Singapore, Kathy Rougier is a dedicated postpartum doula who is essentially the "mother's helper". The 44-year-old, who is originally from the United Kingdom and came to Singapore in 2011, founded Empowa, a postpartum support service for expectant and new mothers, as well as their babies from newborns to up to age two. 
It started at a low point in her life – what she describes as "a monumental full stop in my life".
Despite a successful 20-year corporate career as an insurance broker, Rougier found her journey to motherhood challenging. She suffered three miscarriages before finally having her daughter in Bangkok, Thailand, in 2017, where she had moved to in 2014.
It was a pivot point for her as nothing had fazed her before but the transition to motherhood stopped her dead in her tracks.
Rougier recalled: "I suffered physically and most significantly, I suffered from long-term postpartum anxiety, which was at times, almost crippling. I suddenly felt lost at sea, unprepared and alone."
It was at this time, in 2018, that she decided to train to be a doula. She moved back to Singapore with her husband and daughter that year.
WHAT A DOULA DOES
At its heart, a doula is a trained professional who provides informational, emotional, and physical support to expectant mothers and new parents. The word is from ancient Greek and means "a woman who serves".
There are several types of doulas – birth, postpartum like Rougier, fertility and even bereavement doulas, to name a few. Their sole purpose is to provide services and support to people who need the information and care during these life-changing moments.
Major life transitions and milestones like having a new baby were never meant to be experienced in isolation.
As a postpartum doula, Rougier specialises in home-based care and guidance for the birth parent in the first 1,000 days from conception.
This means, from the time a woman conceives until her baby is about two years old, Rougier shares evidence-based guidance in areas of pregnancy concerns, postpartum recovery, lactation, and feeding, including introducing solids.
"My priority is to support the mother and provide evidence-based information, plus a referral network of specialists both pre-natal and perinatal for any decisions they require," she said.
Her personal experience is something of a passion: She specialises in helping parents transition from this stage of life and back into the workplace.
THE DIFFERENCE BETWEEN A MIDWIFE, CONFINEMENT NANNY AND DOULA
People get these roles mixed up, particularly between a midwife and a doula, because they are oftentimes interconnected.
Midwife
A midwife is a trained medical professional that provides medical care during pregnancy, birth and in the immediate postpartum period. In Singapore, a midwife would assist the obstetrician and gynaecologist, and care for the mother before and after delivery. Usually, one would need to complete a nursing degree or diploma and be accredited by the Singapore Nursing Board.
Birth doula
A birth doula is a trained professional who provides continuous support during labour and delivery to ensure that the birth parent's needs are met. They offer pain relief techniques and comfort options, and communicate with the parents as well as the medical staff on options available.
A common misconception of a doula is that they only support non-medical births and breastfeeding. In fact, a doula's role is to support the birth parent, whichever way they prefer to give birth or feed their baby.
They help parents make decisions based on evidence-based information, research and using shared experiences to support their clients with no judgment.
Confinement nanny
A confinement nanny is one who has experience in traditional, cultural, nutritional and even herbal considerations for the mother. They have a clear job scope in the initial few weeks: Newborn care and caring for the mother.
Postpartum doula
A postpartum doula like Kathy Rougier has an evolving job scope over a longer period of time. Whilst their priority is that of supporting the mother, postpartum doulas are also infant-care specialists, with lactation training to help breastfeeding mothers, while supporting their emotional and physical well-being in this new phase of life.
WHY A POSTPARTUM DOULA?
Rougier finds that doulas are becoming increasingly popular in Singapore for births and for postpartum mums. She deduces that it's a result of modern life.
"As more families in Singapore are living in nuclear households, with one or two generations only, this suggests that families don't often have the hands-on support for childcare and recovery post-birth," she said.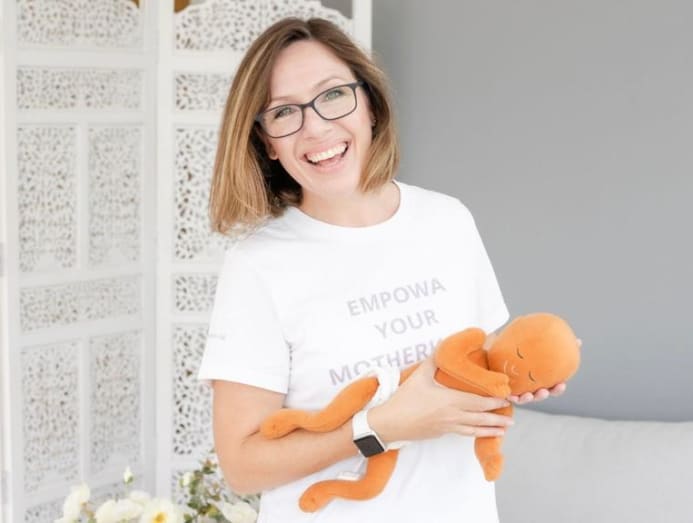 This also means young families do not have the subtle influences that older generations bring to this important life transition. "The size of modern homes is a practical consideration, due to the lack of privacy and space, this leads families to seek 'live-out' support, in contrast to confinement nannies," she added.
Rougier added that major life transitions and milestones like having a new baby were never meant to be experienced in isolation. Modern life made this more commonplace, and COVID-19 made it worse.
The isolation and social distancing during the pandemic resulted in many young families having no support network, she observed. Physical support like caregiving aside, mothers also found it challenging to seek support for postpartum depression (PPD) during the pandemic.
"There is research to show that mums who have support during this time are more successful in adapting than those who don't. We also know that women who feel supported have greater breastfeeding success, more self-confidence in themselves as new mums and less postpartum depression (PPD).
"The postpartum doula has a role model aspect in their work, and this allows new parents and every member of the household to learn how to best adapt to the new family member," Rougier said.
Parents can benefit from this hands-on education on what to expect from a newborn to feeding, sleeping and settling skills, bonding, attachment and essentially, how to cope with this new life they've created.
She asserted: "From a practical perspective, one of the most measurable impacts is timely referrals by postpartum doulas to competent and appropriate professions that leads to increased positive outcomes for young families."
BECOMING A DOULA
It is not a legal requirement to be certified to operate as a doula. However, it is important to have a minimum standard for certification. This is important for birth doulas in Singapore who accompany their clients to give birth – they must be registered with the hospital.  
In Singapore, there are currently 32 birth doulas registered with the society, Doulas of Singapore, with many others who work independently and for other companies. The Doulas of Singapore actively work with hospitals and obstetrician-gynaecologists with the goal of helping new parents and their children.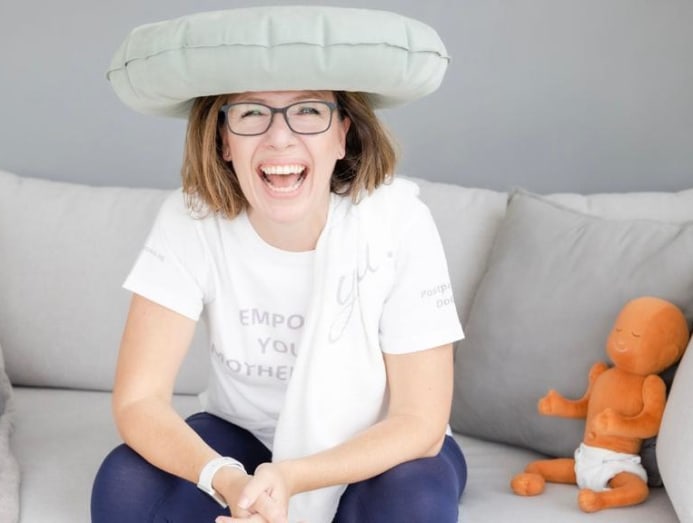 In 2018, Rougier got her certification from DONA International, or Doulas of North America, one of the world's leaders in providing doula training and certification. In addition, she got her most recent certification from ProDoula, another leading certification organisation for doulas.
Rougier started Empowa in 2020 after Singapore's circuit breaker. She had already clocked a few years of experience, being a doula on a voluntary basis.
"I decided to leave my corporate career of 20 years to establish this postpartum support service business because it was breaking my heart to hear stories of families giving birth in isolation, without grandparents visiting or to assist, nor were confinement nannies able to enter Singapore."
She was also concerned about the increased risks of PPD and feeding complications. Having had her own experience with PPD, she took the plunge.
"I decided to do something about it."
SUPPORTING NEW PARENTS AND THEIR BABIES
According to Rougier, in Singapore, the most sought-after services are pre-natal education and birth support. However, home-based, live-out postpartum support is gaining popularity, and through Empowa, Rougier offers two-hour home support visits, which can be extended to 96 hours spread over the weeks and months following childbirth, if needed.
She is also seeing a growing demand for support for new parents who are heading back to the workplace.
Her company offers specialised consultations to guide parents through this transition of leaving their infant with caregivers and the demands it creates on family members, such as child development and career progression.
In addition, she's seeing increased interest from companies keen to include such support in their employee benefits, from facilitating mothers support groups in the workplace to funding for their employees to access postpartum services at Empowa.
Rougier also organises a bi-annual event, Pregnant and Popped, a baby fair for mums where parents can seek support from the 70 perinatal service providers present, attend free workshops and talks.
She hopes that through such events and Empowa, new parents wouldn't have to feel alone or lost in their transition to parenthood like she did.  
"Training to become a postpartum doula was a part of my own healing process but soon I realised it was my calling – to help other new parents avoid the confusion, loneliness and anxiety I felt," she said.
CNA Women is a section on CNA Lifestyle that seeks to inform, empower and inspire the modern woman. If you have women-related news, issues and ideas to share with us, email CNAWomen [at] mediacorp.com.sg.