Parents, here are 10 last-minute school holiday treats for the kids
With one more week to go, here's how you can make the most of the June break, in and outside of your home.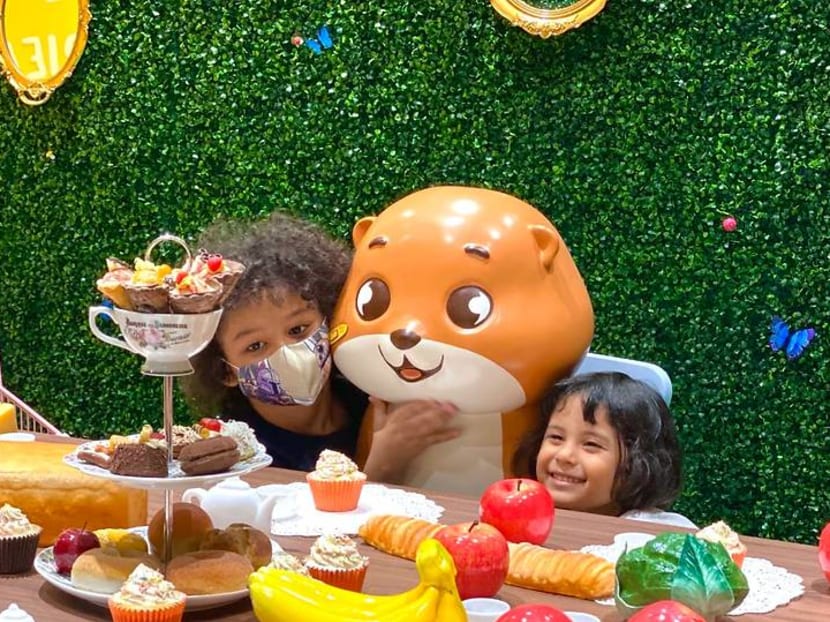 We're down to the last week of the June school holidays and you know what that's like. The kids are well aware that in less than a week's time, they – and you – will be back to the school routine of waking up early, homework, spelling and tests. 
Not to mention those mid-year exams that were pushed backed when Singapore went into Phase 2 (Heightened Alert) and schools moved into home-based-learning in mid May.
For parents who want to pack in one final week's worth of school holiday fun, CNA Lifestyle has curated this fun list of things to do.

NATURE DISCOVERY
Nature lovers and young minds who prefer outdoorsy activities will enjoy these discovery trails and off-the-beaten-track options.
SLIMY & SLITHERS JOURNEY – AN INTER-TIDALS EXPLORATION BY THE CRIMSON EXPLORERS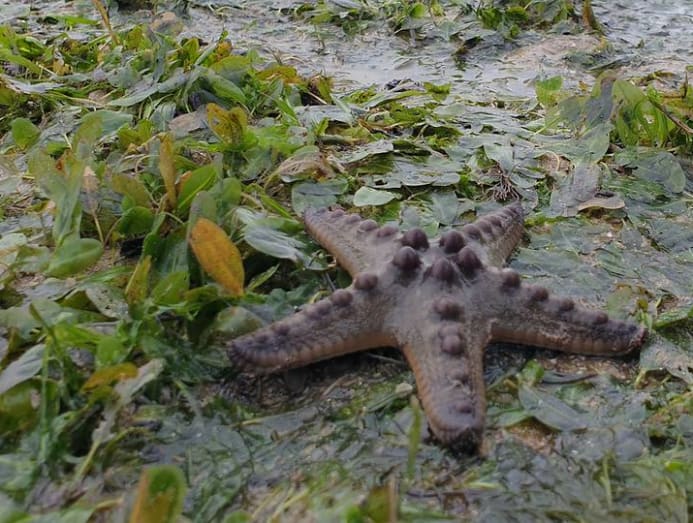 Catch the early morning low tide on the beaches and see wonderful creatures that appear only when the waters recede – oft unseen marine life like starfish, crabs and different worms.
These small-group tours discover unique animals by the beach, in mangrove swamps and forests. Led by The Crimson Explorers, their mission is to create eco-field trips for people to search, discover and share. All guided tours are conducted with naturalists who are specialists in their field and have a wealth of knowledge to share.
The next tour, Slimy & Slithers, is on Jun 27, Changi Beach Park, at S$65 per person.
Bookings can be made via email: crimsonexploreers [at] ecofieldtrips.com. For more information on their other tours around Pulau Ubin and other swamps, see here.  
As this is an eco-focused tour, photography is allowed and encouraged. Participants are advised to admire the creatures but not disturb them or remove them from their habitats.
EXPLORE OUR GREAT PARKS AND CONNECTORS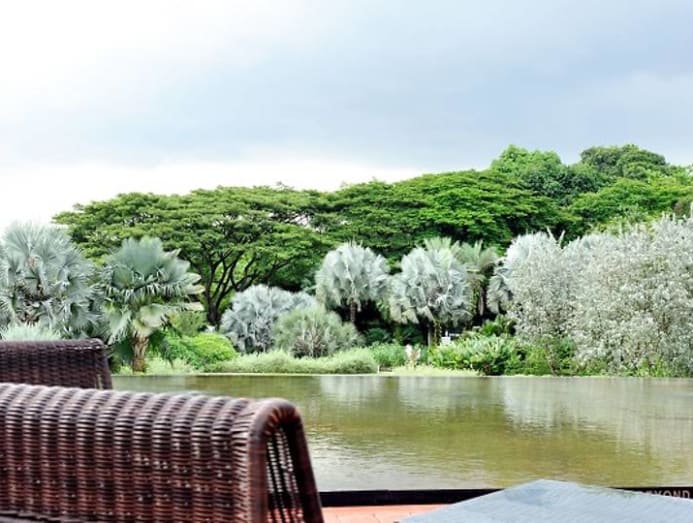 Singapore has a great number of parks that connect estates and reservoirs or green spaces to one another.
Check out the National Parks (NParks) list of 44 DIY walks across the island. Whether you like the peace of nature trails or if you prefer a walk in the city, with more historic monuments, there is a walk for everyone.
NParks lists them out by district and then by interest. You can download the e-brochures that map out the walks, show the highlights, and what to expect. This way, your children can be well prepared for the walks.
The HortPark and Southern Ridges trail is a 10-km expanse of green spaces that stretch from Harbourfront MRT to Kent Ridge MRT. The walk can take from three to five hours and spans six spots including Mount Faber, Henderson Waves, HortPark, Labrador Nature Reserve and the historic Kent Ridge Park.
Expect to see a rich biodiversity including birds like the pink-necked green pigeon and the spotted doves and rare Nipah palm, indigenous to mangrove swamps.
Younger eco-lovers may prefer a shorter hike like Tampines Eco-Green, which resembles a savannah of marshlands, secondary forests across 36.5 hectares. Bring your camera because this place is home to over 75 species of birds, 35 species of butterflies, 32 species of spiders, and 20 species of dragonflies.
This park is only accessible by foot and takes approximately two hours over 3km.
For more information and brochure downloads by walk, see here.
All walks require groups of no more than five and masks are required at all times, unless running. Parents are also advised to check crowd levels before their visit at NParks' Safe Distance @ Parks site.

IMMERSIVE EXPERIENCES
These online and offline events will inspire your children to let their imaginations run wild.
STORYFEST 2021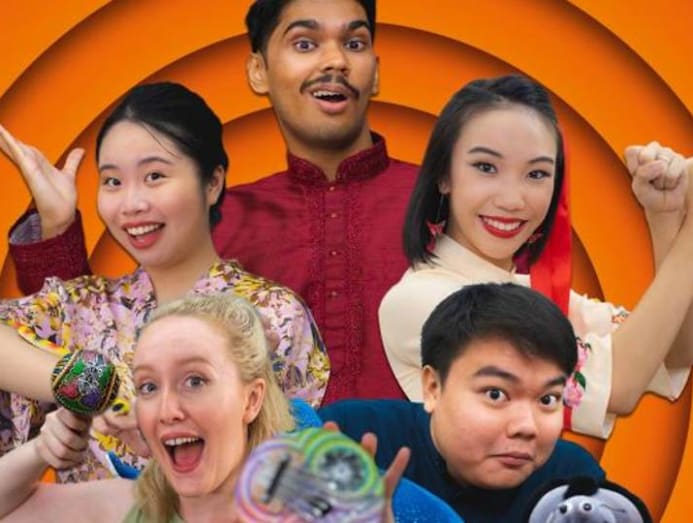 The annual StoryFest is back from now until Jul 11. Storytelling goes digital this year, with livestreamed performances and workshops.
Programmes include workshops on handmade puppetry or learning about using comedy in public speaking. For the family, there's an interactive storytelling session which includes songs, movement and animals that talk in Awesome Adventures.
Another is the Young Storytellers Showcase, Stories From Our Shores, which is a showcase of emerging talents across different performances about our island's early heroes.
The StoryFest 2021 includes free and paid programmes. For more information, see here.
OTAH & FRIENDS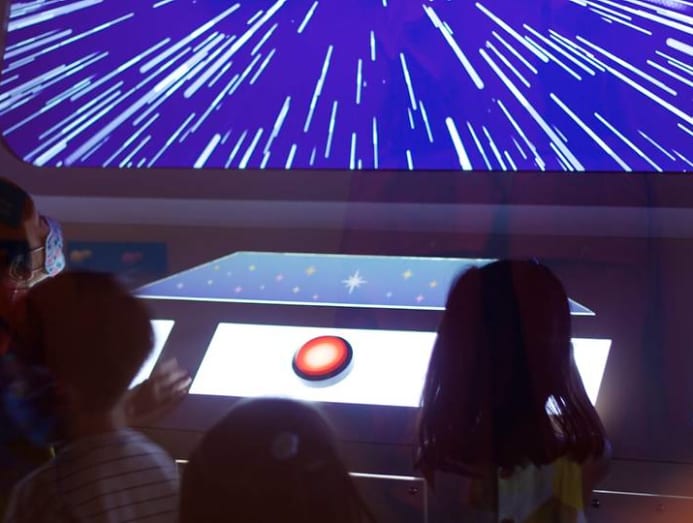 Take your children on an otter-themed escapade across different quirky settings with Otah the otter. Your children will help Otah and his hornbill friend Billy, or the boar Luckee, as they complete their tasks to create a fun experience.  
There are two volumes, each over 55 minutes long. In Volume 2: Blast Off, your children will race against time to find the seven missing tools to launch a rocket into space. Set in a schoolhouse at the Gardens by the Bay Supertree Grove, expect storytelling and songs, as your kids explore eight unique spaces within the school compound, including Otah's school bus, library and even a basketball court.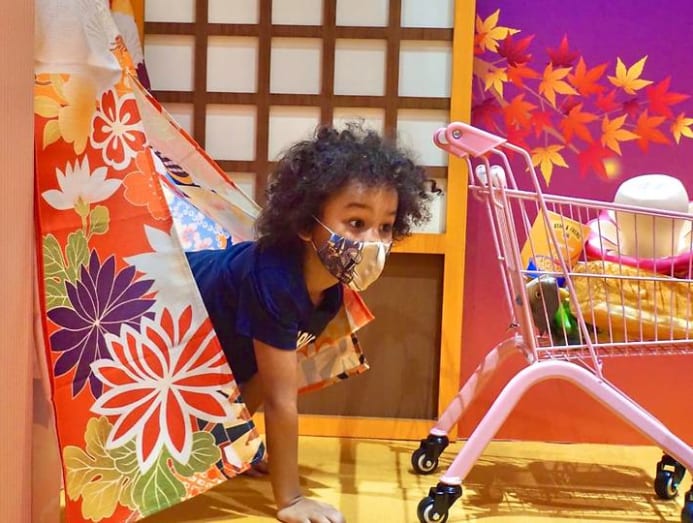 Volume 3: Grocery Run follows Otah as he hosts his first tea party with Luckee. Visit the supermarket with him and gather the right groceries. Get through the fruit and veg section, a cheese counter and even a special sushi bar to get eight items on the list before celebrating at Otah's garden tea party.
Otah & Friends Volume 2: Blast Off is held at Gardens by the Bay, Supertree Grove while Otah & Friends Volume 3: Grocery Run is held at #01-486 North Wing, Suntec City.
Tickets are S$24 each, or S$19 each for a group of five. For more information, see here.

TRAIN YOUR JUNIOR MASTERCHEF
If you have a budding chef at home, these DIY kits will give them more practise. Step-by-step guides to creating delicious snacks or meals are a click away. Gordon Ramsay not included.
BAKERI X LITTLE MISS BENTO BAKING KIT – KITTY CHEESE TART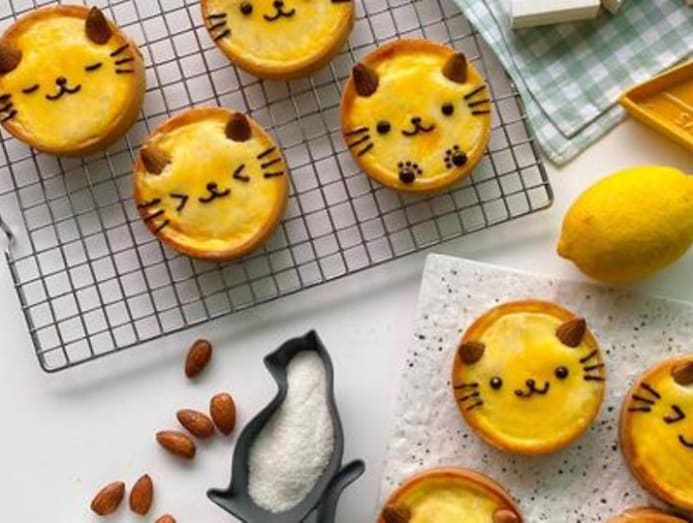 Little Miss Bento, famous for her bento meals and bakes, has teamed up with Bakeri to create this kit, which includes all you need to make the cutest cheese tarts.  
All you'll need are eggs, mixing bowls and basic kitchen utensils like spoons and a small knife. Each eight-tart kit costs S$38.
Bakeri also has other DIY kits which may pique your little one's interest (and appetite). For more information, see here.
PIZZAEXPRESS PIZZA MAKING KIT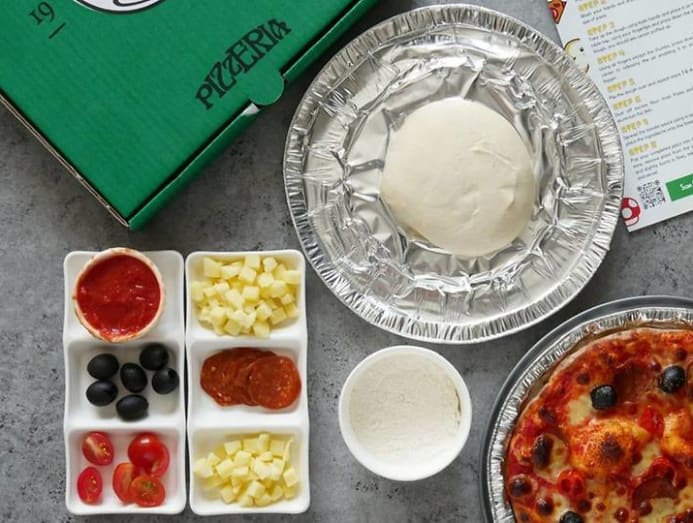 For children who are comfortable making their own food, PizzaExpress has a Pizza Making Kit which includes pizza dough, Italian passata tomato sauce and a choice of four toppings. What's more, the kit includes a chef's hat and a kid's apron.
The order will also include instructions on which goes where and how long the pizza needs to be in the oven. But otherwise, let your kid go crazy with this pizza.
The PizzaExpress Pizza Making Kit, S$21, serves one child, and can be ordered via Oddle. A minimum order and delivery fees apply.

FUN WITH ART
Ignite your child's creativity with art through these free-form art opportunities at a studio or a guided art-jam session in the comfort of home.
SPLAT PAINT HOUSE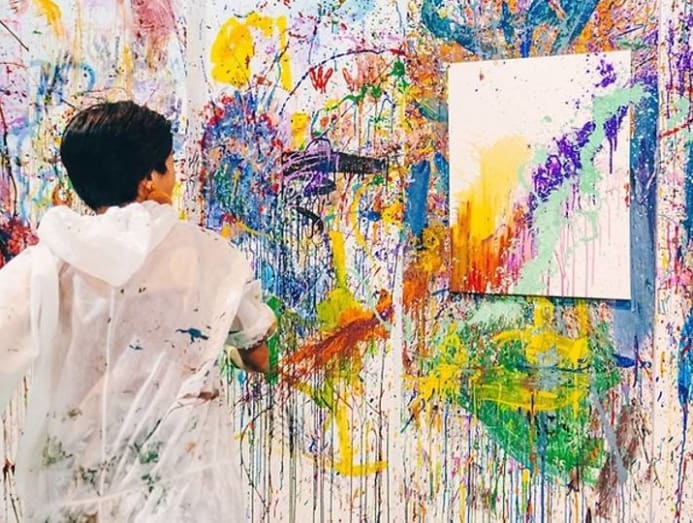 If your kid loves to colour outside the lines, maybe Splat Paint House is the place to be. Here, they can express themselves through free form canvas painting (and even the walls!) with no rules.
This is a purely DIY zone with no structured classes. Some techniques will be introduced to guide their first few strokes, but the rest is up to your child's creativity.
The paints used are child-safe tempera paint from New Zealand, and these are non-toxic and environmentally friendly. Fret not, coveralls, shoe covers, and hair nets are provided in case the kids get too passionate.
As there are restrictions on group sizes, do book ahead here.
STAY HOME ART JAM BY BOULEVART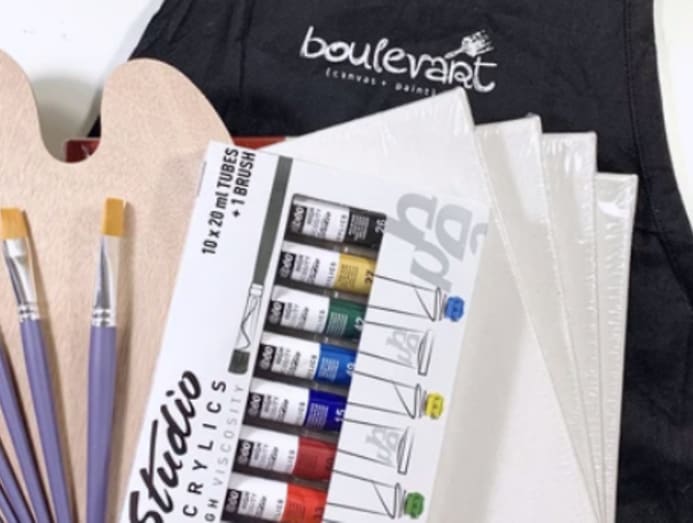 For those who prefer to ideate at home, Boulevart has you covered with their Stay Home Art Jam kit. It's a step-by-step kit which allows you to create multiple pieces with different episodes of their Art Jam courses online. 
This kit includes four canvasses as well as an artist's palette, six brushes, a set of 10 acrylic paints, an apron, as well as access to all BoulevArt Jam series online. No matter which artistic style theirs is – Jackson Pollock or classical Monet – there's a jam session for your child.
For more information, see here.

SCIENTISTS IN THE MAKING
Get your children excited about STEAM (Science, Technology, Engineering, Arts and Mathematics) topics with these fun kits at home.
BUILD A THEME PARK
Get your kids to work together to create a theme park at home, using over 200 components that challenge the laws of physics while learning more about mechanical function.
This isn't just a toy. The components, together with a motorised panoramic wheel and carousel wagon, allow for 20 models to be built.  It also has an app to work on the design and create additional models, allowing for hours of creativity.
The Clementoni Mechanics Laboratory Theme Park, S$69.90 is suitable for children eight years and above.
For more information and to buy the kit, see here.
MAKE YOUR OWN DROID
For Star Wars fans, this is the perfect way to create your own R2D2.
The Little Bits Droid Inventor Kit, S$88, comes fully equipped for your children to build and control their droid. It features sticker designs and accessories, as well as step-by-step video instructions. What's more, they can put their Droid to the test with over 16 missions and activities.
The Droid uses Bluetooth for Smart connectivity and for parents to manage screen time. PS: We're sure the Dads will get interested in this too. You can buy it here.