Meet SK-II's first female global CEO: 'You can be an effective leader with your own personality and style'
Lee Sue-Kyung, who famously wore a short playsuit when she first addressed P&G Korea as its CEO, says women should not need to conform to expectations and gender stereotypes to be successful in the workplace and should always be unafraid to be themselves.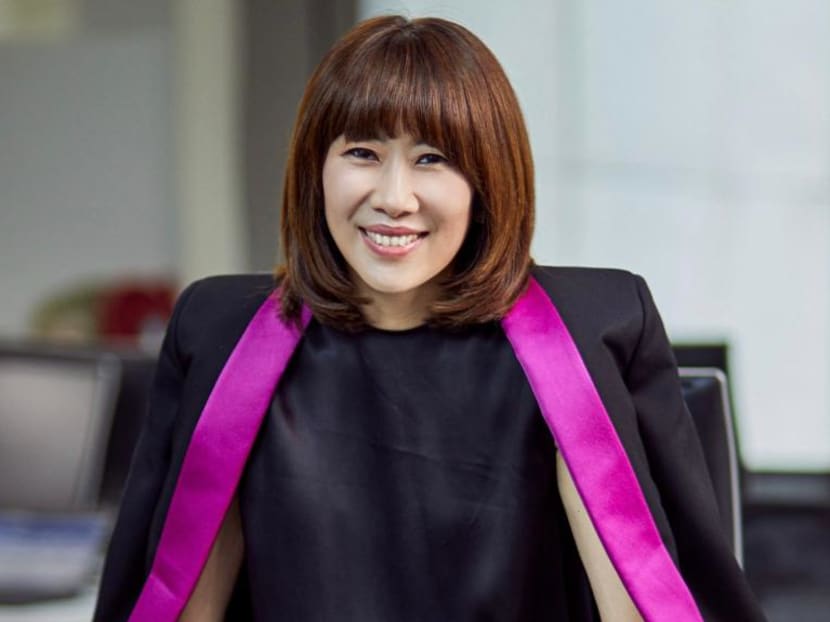 As the global chief executive officer of SK-II, Lee Sue-Kyung has always felt that she has an affinity with the beauty brand. "I feel like I'm destined to work for SK-II because of my name," she chuckled. Her initials are the same as the brand.
Lee, who is from South Korea and is currently based in Singapore, started in advertising, then did brand building and marketing at consumer giant Procter & Gamble (P&G), where she rose up the ranks and worked in several markets.
She is now responsible for the end to end of SK-II, which is owned by P&G, which includes everything from the design, innovation and brand proposition to the communication, packaging, execution and even customer experience.
THE CAMPAIGN THAT GOT THE WHOLE WORLD TALKING
Lee recalls a brand campaign - SK-II's 2016 Marriage Market Takeover in Shanghai, China - that people are still talking about.
For the uninitiated, the marriage market, as it's called, is located in the heart of the city at People's Park. Here, parents with single children, although more often parents with unmarried daughters, would gather every weekend to look for prospective partners for their unwed children. Think of it as a matchmaking service fronted by the parents.
During the campaign, SK-II removed the notices that were meant to attract potential suitors, and replaced them with posters of single women and their accompanying messages, such as, "Even if I'm alone, I will be happy, confident and have a good life."
The brand wanted to deliver the message that women should be free to lead and live their own lives.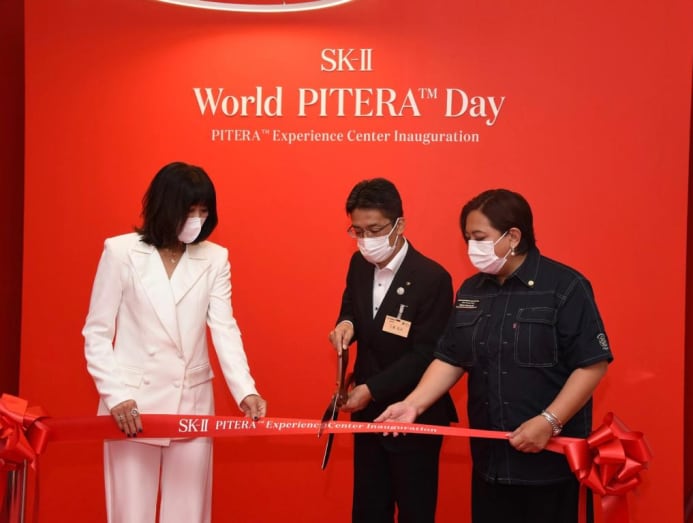 In addition, the campaign also included an online film that depicted the parents' emotional reactions to their daughters' posters.
"It started in Shanghai and then it spread all over Asia, and the world, shedding light on this social pressure that women face," Lee, who is her 50s, recalled.
"When we took over the marriage market, we essentially declared that this is a limitation that we impose on ourselves, that this is the box we are imposing on ourselves.
"And at SK-II, we really wanted to support the young women to get out of this box, to be more diverse, happier and to pursue life on their own terms, regardless if it included marriage or not."
Lee added that the campaign created a "phenomenal conversation" because no other brand, international or local, had ever brought the issue to light as SK-II did.
"As a woman, I could totally understand the pressure because I went through it from my parents too. And as a brand to really bring this issue up, I think that was really, really meaningful. So I'm really proud of what we did through this campaign and it's still one that's particularly talked about by many of the consumers, even up till now."
BREAKING THE GLASS CEILING  
Being the first female global CEO for SK-II, as well as the first female CEO of P&G Korea from 2012 to 2015, Lee knows a thing or two when it comes to breaking the glass ceiling and challenging gender stereotypes.
Lee said that as a Korean returning to her home country from Singapore, where she was based for almost four years, to lead P&G Korea, she was naturally excited. But what surprised her was what her mother said to her after she broke the news. "She asked if I was going to throw away all my clothes," she recalled.
"This is because in Korea, the image of the boss of a company is usually associated with serious, middle-aged men. And I obviously do not fit this stereotypical image. It's why my mother was worried that because I didn't look the part, it could affect me negatively on how I would be perceived as a leader."
It hit her hard, she admitted. But it also made her think about how she would portray herself within the company, in the industry and even to customers.
"I wondered if I would have to accommodate and adjust myself to go along with that expectation and meet that stereotype. Deep down, it made me insecure and uncomfortable because I knew from the bottom of my heart that it was not me."
And after much thinking, Lee said she came to the decision to just be herself.
On her first day meeting the entire organisation, Lee said she wore a jumpsuit to give her opening speech. And it wasn't just any jumpsuit. It was a "super short jumpsuit with a deep cut in the back," she smiled.
My mother was worried that because I didn't look the part, it could affect me negatively on how I would be perceived as a leader.
"When I went up to the stage to address the company, everybody was shocked. Of course, I knew what I was doing, dressed in something totally inappropriate.
"But I wanted to deliver a message to everyone present, especially the younger folks, to embrace the diversity that the company believes in. I wanted to display the possibility that by being yourself and developing your strengths, you can also be a successful leader in this company."

Lee said she isn't sure if the message was conveyed but it gave her more courage to be herself and be as authentic as she can be.
"I still have that (jumpsuit) it in my closet. But sadly, I'm unable to wear it anymore."
CHAMPIONING WOMEN'S RIGHTS AT THE WORKPLACE   
If there's one thing that Lee is extremely passionate about, it would be championing women's rights.
At P&G, she has worked on policies that support women in breaking gender barriers in the workplace. In fact, from 2018 to 2019, she pushed female representation at the P&G APAC managerial level up to 50 per cent. Another win was the opportunity to harmonise maternity leave across all the Asia-Pacific markets.
"It was such a wonderful experience seeing other women being rewarded for their achievements and effort at work. Women face expectations from society and ourselves, and it is my passion to help other women break through gender barriers – in and beyond the workplace."
LEADING WITH COURAGE AND KNOWLEDGE 
When it comes to women leaders, many often say they're difficult to work with and rule with an iron fist. But that's another stereotype that Lee would like to break.
"There is this kind of automatic perception that all effective female leaders have to be a certain way, and it's usually someone in a power suit, talking loudly, very aggressive and assertive. But I don't believe in that. You can be an effective leader with your own personality and style," she said.
She added women should always be courageous. "Courage to not cave in to the pressure of living up to high expectations from society, courage to carve new paths with our extraordinary ideas, and courage to listen within to know what we really want and need, while staying true to who we are."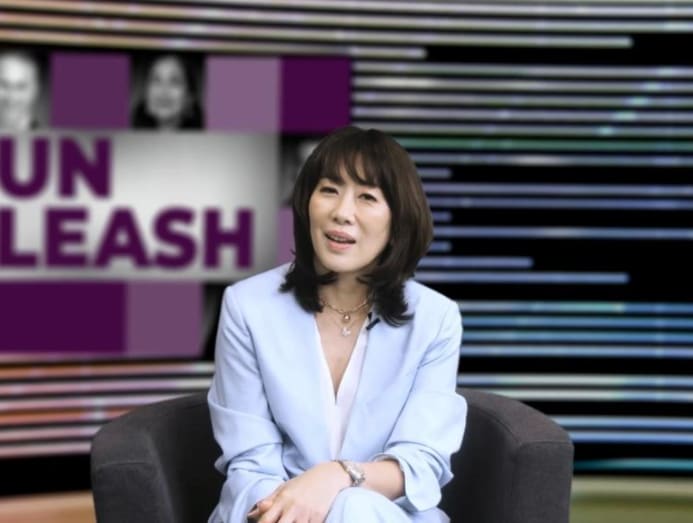 So what's Lee's leadership style like?
"I believe in listening to the people who are closest to the business. And in our business, the most important people are our consumers and shoppers.
"What I value the most is talking to the broader organisation, the people who talk to our consumers and those who are closest to the data in the market. I value their point of view because this knowledge helps me make the decisions I need to. It's not based on hierarchy nor the number of years you are with the company."
FINDING THE BALANCE BETWEEN WORK AND FAMILY 
"I want to claim that I do have it all, but I don't think I do," the wife and mum of one said. It takes hard work and sacrifices to make family life and career work, she told me.
Her family is not with her in Singapore so she doesn't get to see them every day. "If you were to speak to my husband, he'll probably talk for hours on all the sacrifices he's made. [It] would probably be the same for my son too," she said.
Lee revealed that she still struggles at times with the distance, especially after a particularly stressful day at work. "I would ask myself: What am I doing? Why is my husband having a meal alone at home? Why is his wife working away from home in a foreign country?"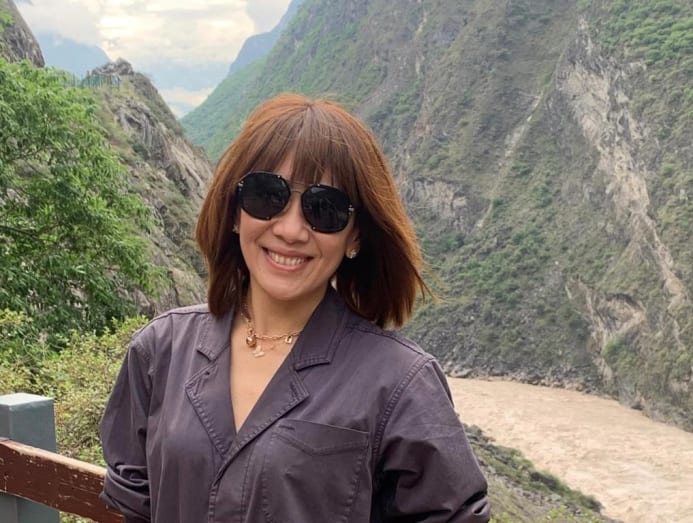 But Lee emphasised that there is no perfect solution between juggling career and family, especially when both are equally important to her.
"I think there is compromise and sacrifice. It is a constant balancing act and adjustment – sometimes family is priority and at other times, work comes first." And it's something she has been doing for the last 30 years of her career.
"It was my choice to get married and to pursue my career. It's not somebody else's, neither was it my parents putting pressure on me. So, I have to make this work."
Lee said she has been fortunate that her family and bosses are understanding of her situation. One boss would even routinely check in with her and ask when she last saw her husband in person.
YOU DO YOU
If she could share one piece of advice to young women, what would it be?

"I recently read the book, The Midnight Library, by Matt Haig. And there was a passage that really resonated with me deeply.
"It goes: 'Aim to be you. Aim to look and act and think like you. Aim to be the truest version of you. Embrace that you-ness. Endorse it. Love it. Work hard at it, and don't give a second thought when people mock it or ridicule it. Most gossip is envy in disguise… Keep your head down. Keep your stamina. Keep swimming.'"
In fact, it's what Lee said she would tell her younger self too.
"Aim to be you, since only you can decide who you are. And have courage to stay true to yourself, despite what society and stereotypes dictate about your life and career," she added.
CNA Women is a section on CNA Lifestyle that seeks to inform, empower and inspire the modern woman. If you have women-related news, issues and ideas to share with us, email CNAWomen [at] mediacorp.com.sg.