Heartbroken to see her kids' bloody scratches from eczema, this mum started a business to help them
Yong Qiao Qing would cry every time she saw her baby's blood seep through her clothing and decided to take matters into her own hands – she started Little Warriors, clothing made for kids with eczema to protect their skin from scratching and allow their wounds to heal.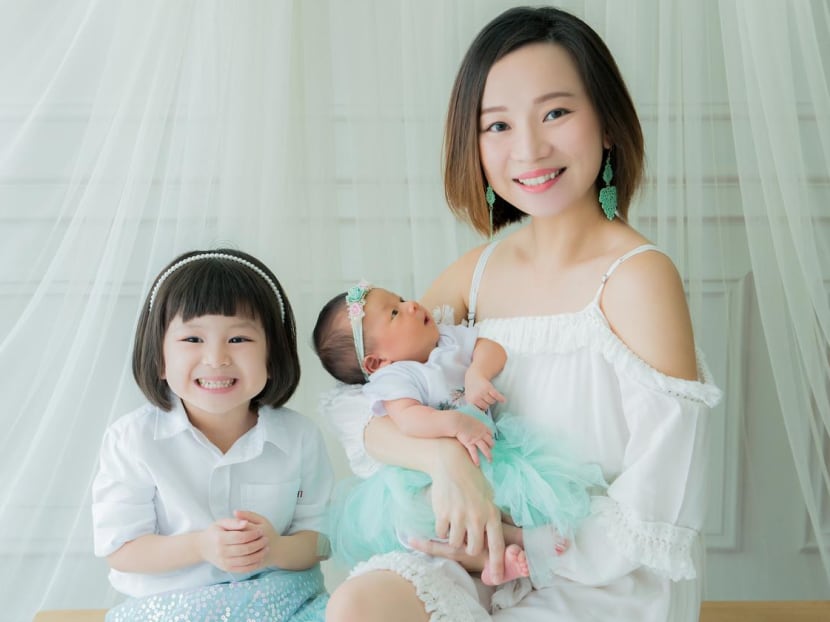 When she first introduced formula made with cow's milk to her first child, Yong Qiao Qing noticed rashes forming on her daughter's neck and limbs. Shan En was only two months old then.
It got worse after her daughter, who was born in 2016, started preschool at two. The rashes erupted all over her body, her eyelids began to swell and she scratched until she bled from her wounds.
At the time, Yong did not have much knowledge about food allergies and eczema, and began a journey of learning more.
Shan En's eczema is triggered mostly by dairy, nuts, seafood and eggs. As she grew older, her condition caused Yong to reconsider her career as the head of a customer service team in a local hospitality company. Yong quit when Shan En was three, to help her manage her skin condition.
To help keep the outbreaks at bay, Yong prepared food and packed lunches for her daughter to consume in school. "Her skin condition is kept under control and she will only experience flare-ups if she eats something she shouldn't have or comes into contact with harsh cleaning chemicals and even alcohol sanitisers."
Shan En, now six, carries her own alcohol-free sanitiser wherever she goes. Her family also brings along a sensitive-skin cleanser to use instead of normal hand washes in public spaces, as commercial hand washes aggravate the girl's eczema.
THE WRITING ON THE WALL WITH NUMBER TWO
In 2020, Yong had her second child, Shan Min. She realised she had another eczema baby when she discovered rashes on her second daughter on the day she was born.
"The nurses gave her her first bath and when she was returned to me, I peeled back the swaddle to see her and found bright red rashes. I knew immediately I had my second eczema baby," Yong recounted.   
By then, Yong believed she was a seasoned parent on allergies and suspected food allergens to be the cause of her second child's skin condition. "While breastfeeding her, I went on an elimination diet – removing foods which had dairy, eggs, nuts, seafood and gluten. I struggled with removing so many foods from my diet."
Yong was also stricken with "mum guilt" every time she ate something which caused Shan Min to itch.
Her second child's condition was a lot worse. By the time Shan Min was six months old, the infant suffered from red and weepy rashes on her cheeks, calves and arms.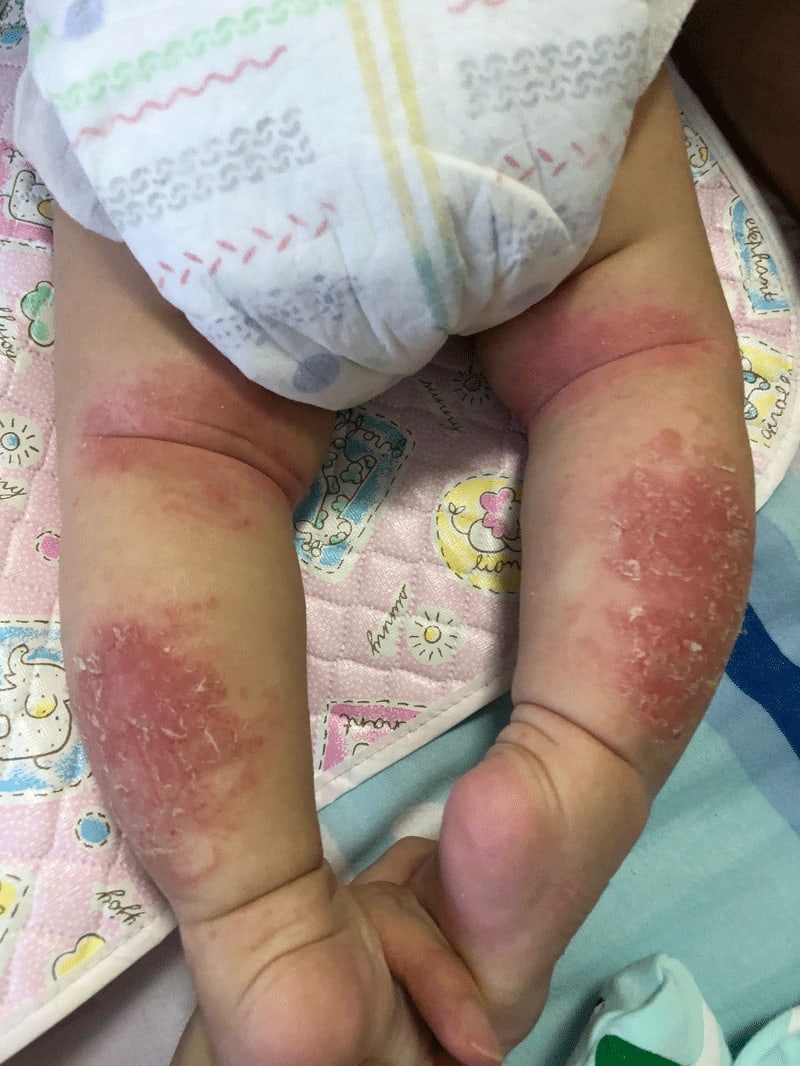 Yong recalled: "She cried a lot from the discomfort the itch caused and would often rub and scratch herself till her clothes were soaked in blood. Conventional mittens did not work because she would pull them off."
It got so uncomfortable that clothing with Velcro, zippers, buttons or any embellishments would become a tool for Shan Min to scratch herself. "These created deep open wounds on her skin and wherever we went, she would be the object of stares, rude questions and even hurtful comments."
ELIMINATION, CREAMS AND DAILY RECORDS
On top of dropping allergens from her diet while breastfeeding, Yong also bought every remedy possible. "I used to joke that my collection of skincare products at home could rival that of a retail pharmacy. Every brand you can name, we would have probably tried it at some point. But nothing seemed to help."
Together with her husband, Gerald Tan, 43, a regional sales manager in the oil and gas industry, Yong dressed their younger daughter's wounds daily in bandages. They spend hundreds of dollars on wound dressings and even more time to clean and wrap her wounds.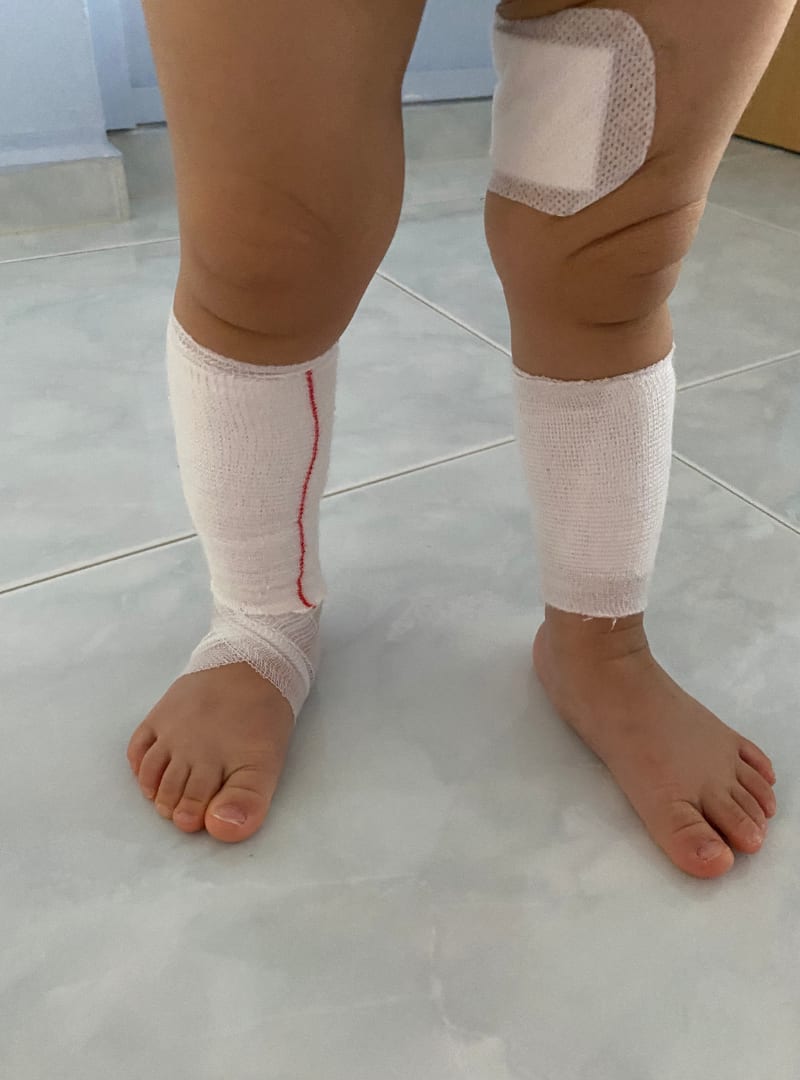 She tried seeing many doctors, including dermatologists, and when the solutions didn't work, Yong turned to alternative practices such as naturopathy, and Traditional Chinese Medicine (TCM). Shan Min got prescribed TCM herbs which were boiled and mixed into her meals.
When Shan Min started solids, all her meals were cooked from scratch and Yong made records of all the ingredients and everything her child ate.
At 11 months old, when Shan Min weaned off breast milk, Yong found milk alternatives and made healthy wholesome meals daily.
"At night, I would sit down with an A4 folder and pore over the daily records – what she ate and her skin condition each day. This way I could identify trends and spot potential allergens. Our goal was to formulate a list of 'safe' foods that we knew for certain wouldn't cause her to itch, while meeting her nutritional needs."
LITTLE WARRIORS – AN IDEA BORN OF DESPERATION
The only thing which stopped her daughter from scratching herself bloody was protective garments with mittens that did not have any embellishments, Velcro, zippers or buttons.
At wits' end, Yong asked her husband to source for garments that could protect Shan Min's skin while keeping her comfortable in Singapore's heat. The garments also needed to include padded mittens to stave off scratches from the baby's nails.
Yong's mental health was hanging by a thread. "At that time, I was struggling mentally and crying every night for the pain my children were going through."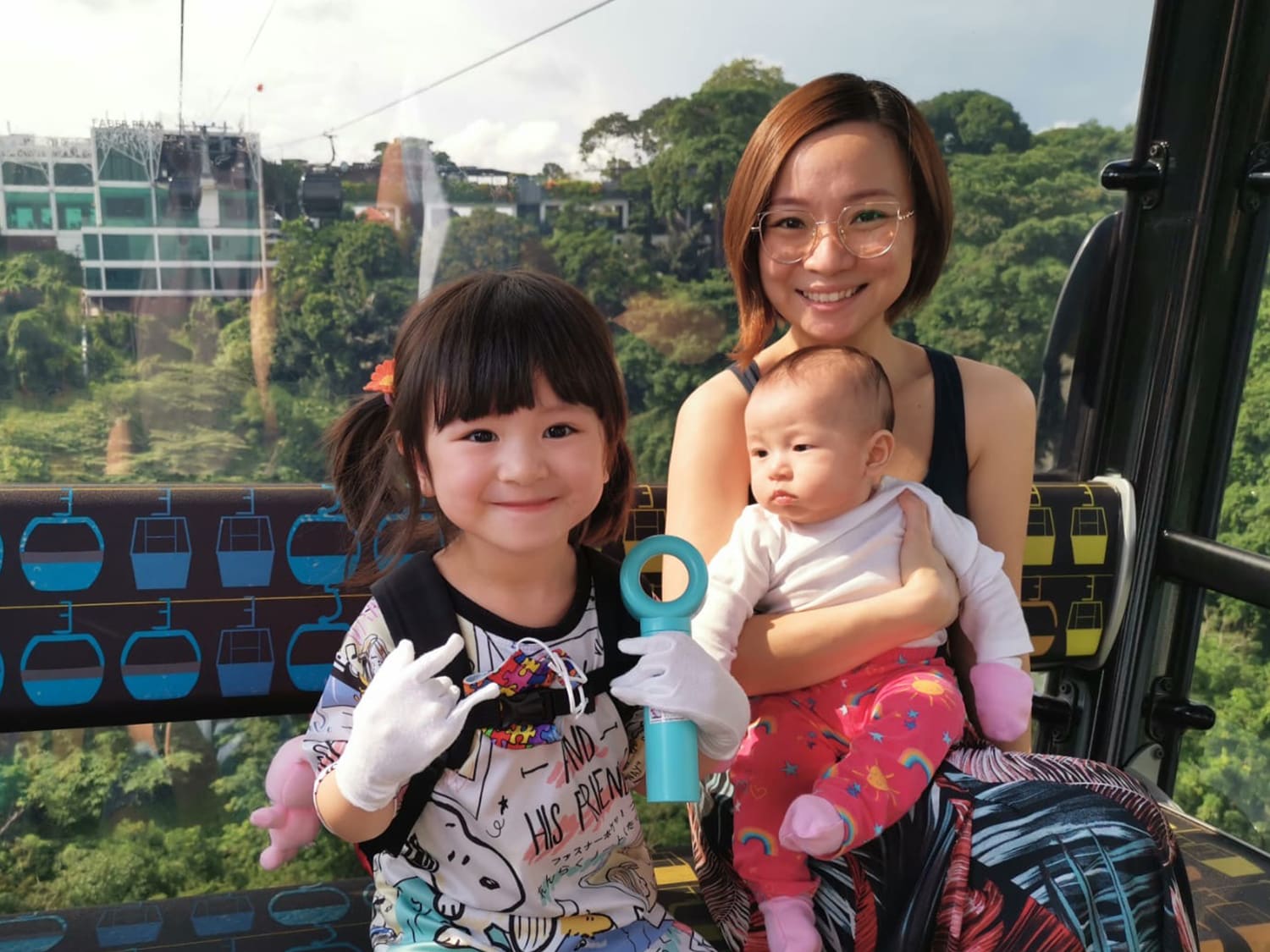 Her husband mounted a search and found local and overseas tailors, garment makers and even fabric suppliers. He came up with the idea for using the couple's combined experience in sales, marketing and customer service to create clothing which would help other families like themselves who were facing similar difficulties.
He succeeded in convincing his wife and she said, "I decided to give the idea a go because I needed a higher purpose in life to pull me out of the trenches."
Together, they launched Little Warriors on Shan Min's first birthday in 2021, with a single product – the Eczema Protective Sleeves. Using super soft bamboo fibre blend, and attached with padded mittens, it can be worn over or under any outfit. The breathable fabric also helps affected children withstand the hot and humid Singapore weather.
The couple take their sourcing and product R&D seriously. They work with a local garment supplier with factories in Vietnam. They chose a local supplier over an overseas partner in order to manage quality control.
"Our local supplier has decades of experience in the industry – this way, we can touch and feel the fabric samples without second-guessing on quality. We can also work closely with them on samples," Yong said.
This year, Little Warriors launched the Eczema Protective Pants to help children who scratch their legs with their feet.
Sales has been unexpectedly brisk. "We have helped hundreds of families with such little warriors. Many parents have reached out to thank us and some have even said our Protective Sleeves are 'life-changing'."
"Our return customer rate is over 50 per cent and they come back to order anywhere between four to nine additional pieces. The children don't just wear the Protective Sleeves to bed – they wear them at home and at school.
"Parents who have experienced our sleeves then share their good feedback with other parents. We've heard that some of their kids don't even notice the extra layer of clothing."
THE ECZEMA JOURNEY SO FAR
Shan Min recently turned two and is faring much better than her infant days. By the time she was 18 months, her parents had identified 22 safe foods which did not cause further reactions. All her meals are made with those 22 ingredients.
The family also saw an allergist at KK Women's and Children's Hospital who administered a skin prick test on Shan Min. They found the same list of allergens her sister reacted to but also discovered new additions – fish, sesame and soy.
"I was consuming these while I was breastfeeding her," Yong disclosed. However, with this discovery and subsequent elimination from her diet, there was improvement in Shan Min's skin.  
The little one became an entirely different person. "Once we removed her allergens, instead of crying for hours each day, she started to smile and laugh."
There are three creams which provide itch relief for Shan Min, Yong said. "After trying dozens of brands, the answer was in our diaper bag all along. The thing which worked best to heal her open and weepy wounds was diaper cream with zinc oxide."
Shan Min's skin is almost healed fully and she attends preschool daily. She still has to bring her food to school but doesn't scratch from itch and wears both the Little Warriors' Protective Sleeves and Pants at all times.
Older sister Shan En is also improving – she avoids certain allergens but otherwise enjoys her time at her preschool with her friends.
While there have been requests for adult-sized eczema-wear, Yong is putting her priority on customer service and quality, gathering feedback and improving her current inventory. "For now, our priority is still on children with sensitive skin and we may expand our product line to help these children."
CNA Women is a section on CNA Lifestyle that seeks to inform, empower and inspire the modern woman. If you have women-related news, issues and ideas to share with us, email CNAWomen [at] mediacorp.com.sg.