What do you do if a dish fails? We've got cooking tips from these MasterChef Singapore contestants
CNA Women checks in on the four remaining female contestants of MasterChef Singapore Season 3 and learned about how they began their culinary journey, what they love cooking, their best kitchen hacks for home cooks and more.
All set for the next episode of MasterChef Singapore on Sunday (Jun 5)? Four female contestants are now left in the cooking competition, making up half of the group. Alfa Matnoor, Sharlene Tan, Shamin D'Souza and Fiona Celeste Seow are now more than halfway through the competition. 
The women, aged between 38 and 48 years, are a mix of teachers, managers and homemakers. One has her own edible garden where she plants herbs like basil and vegetables like okra; another can cook up to five different cuisines, from local food to Indian, Italian, Korean and Thai; the third is a certified cardio jamming and yoga coach; and yet another took three years to make the perfect, airy loaf of sourdough bread.
ALFA MATNOOR, 48, CORPORATE SERVICES MANAGER
A certified coach for cardio jamming and yoga and now a contestant on MasterChef Singapore, Alfa Matnoor does it all. When working-from-home during the pandemic, Alfa started experimenting with various dishes, desserts and drinks, creating opportunities for her family to bond.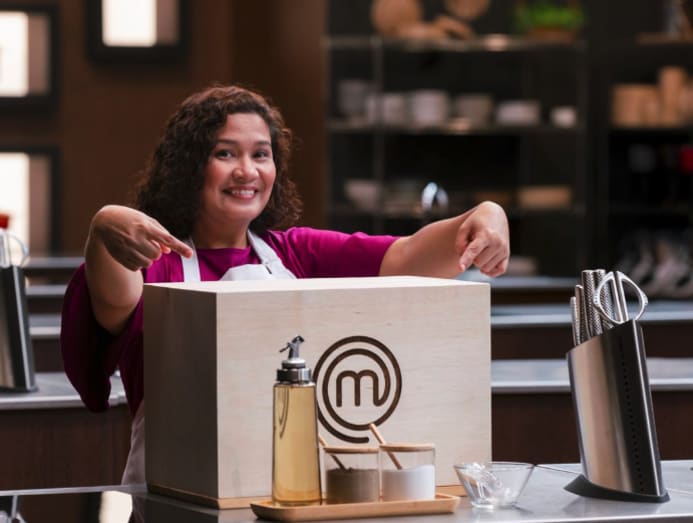 On making it this far: "I am just a Mummy that cooks what my family enjoys eating. Going this far in the competition has been such an achievement for me."
Her top tips for aspiring home chefs: 
Cook with love.

Taste as you go along, no matter how bad or good it looks.

When you think you have failed at cooking something, modify it and make it good, do not throw out your ingredients. You never know, it might just be the next best dish you've ever created.
What inspires her: "Years of learning and eating Mum's food. Always do something you are passionate about and never give up. No matter how hard life sets you back, you and only you can pick yourself right back up and create the life you deserve."
How her cooking has evolved over the years: "My cooking has evolved for sure, especially with the pandemic, where people were willing to share and explore recipes with one another through social media. Creating various dishes, desserts and beverages became a norm. I love having my family at meal times – that's when we chat, share and laugh the most."
SHARLENE TAN, 39, TEACHER
Sharlene Tan is a nutrition and food science teacher who dreams of one day opening an omakase-style cafe serving "soul-warming" food. Tan started cooking for her family at a young age, taking over the role from her mum, who was sickly. That set her on the path to developing a real love for cooking as she challenged herself to perfect each dish. Cooking is a life-long journey, she said – "a never ending research project".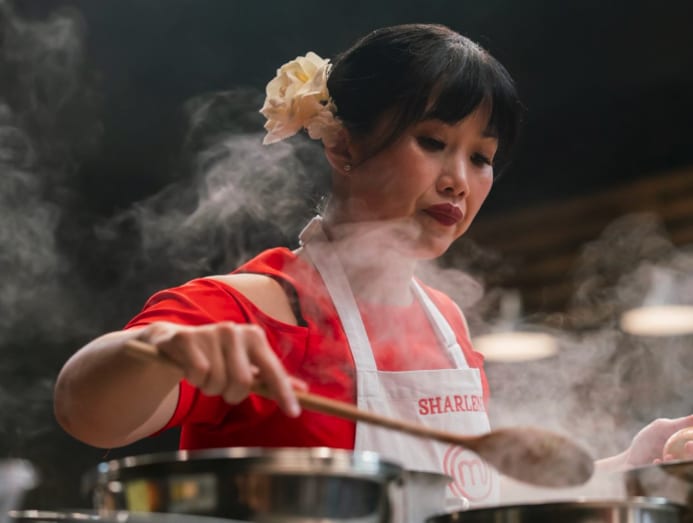 On making it this far: "Somehow, I survived, day by day, challenge by challenge. I try not to focus so much on the winning as it gives me unnecessary pressure and stress. I just do the best I can at each challenge."
Her top tips for aspiring home chefs:
You don't need exotic ingredients to make good food, but you must understand your ingredients and think about how they will affect your final dish.

Always taste as you cook, and adjust along the way.

Keep trying and practising. 
What inspires her cooking: "My mum is probably my earliest influence. She would cook all kinds of food, from regular Chinese dishes to Indian biryani. She used to be a stewardess and was well travelled. I suppose I am very much like her in this aspect. I love travelling and trying new cuisines. My culinary skills and knowledge of food have developed over the years because my passion for food makes me want to learn more."
How her cooking has evolved over the years:
"Being able to cook and perfect a dish is like a personal challenge.
Being stuck at home during the lockdown gave me the time
to practise making sourdough bread every day until I finally succeeded. I have been trying for three years to get a decent airy loaf, so that was quite an achievement in my book."
SHAMIN D'SOUZA, 46, FORMER CABIN CREW TURNED HOMEMAKER 
From the modeling runways to the skies, to the kitchen, Shamin D'Souza's life experiences have helped her develop an adventurous palate. Travelling all over the world, D'Souza was able to try a wide range of cuisines and get her hands on different ingredients. She cooks five different cuisines: Indian, Italian, local food, Korean and Thai.
On making it this far: "I feel a jolt of adrenaline after each episode to excel even further. My self-learning journey in the past few years has equipped me with much needed culinary skills required to advance in this intensely competitive challenge."
Her top tips for aspiring home chefs: 
Explore a wider range of cooking styles and techniques.

Experiment with new ingredients.

Once you feel you've found your unique cooking style, start practising over and over again. 

Don't be afraid to make mistakes.
What inspires her cooking: "The culinary training I received together with travelling around the globe as a stewardess boosted my passion for cooking. My family has also been very supportive. My son constantly motivates and pushes me to explore new possibilities, by borrowing cook books from his school library (especially in baking, as I have much to explore in this area)."
How her cooking has evolved over the years: "I believe in reducing wastage, so I've started incorporating more locally grown produce in my daily cooking."
FIONA CELESTE SEOW, 38, STAY-AT-HOME MUM
With her Peranakan-Eurasian mother-in-law as her biggest food critic, Fiona Celeste Seow grew to love spices and Peranakan food. She describes herself as an "old school home cook", who takes time to prepare the ingredients before the cooking begins.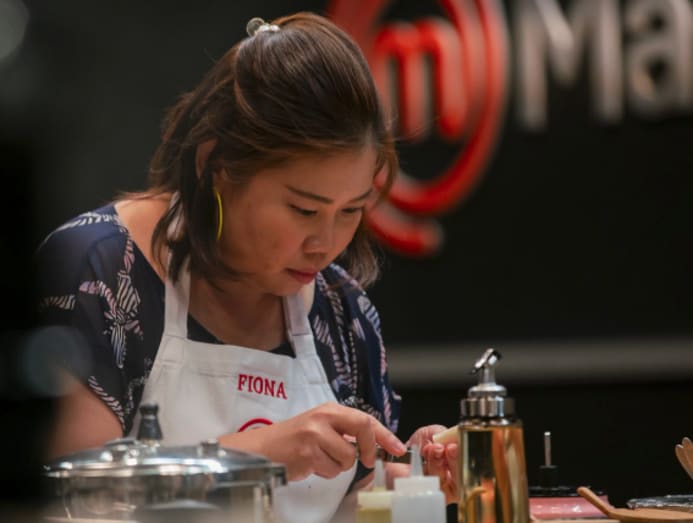 On making it this far: "I think I have perseverance and strive to do my best in each challenge, but I do know I have constraints when it comes to my creativity."
Her top tips for aspiring home chefs: 
Think out of the box. 

Do not limit yourself. 

Cooking is not that difficult, you just need to kickstart and rev up your engine.
What inspires her cooking: "People around me know I love to cook food that requires long hours of preparation, but I also love to cook fast with my Thermomix whenever I'm busy."
How her cooking has evolved over the years: "I have my little 'corridor garden' where I grow my own edible herbs and veggies, like basil and okra. I'm even trying to grow pumpkin! I also try to help food suppliers to clear food that is near their expiry dates, or select 'ugly' fruits and veggies that might otherwise be discarded. I have really begun to understand how to reduce my carbon footprint, support food sustainability, and upcycle food waste."
MasterChef Singapore Season 3 airs on Sunday at 9.30pm, on meWATCH and Channel 5.
CNA Women is a section on CNA Lifestyle that seeks to inform, empower and inspire the modern woman. If you have women-related news, issues and ideas to share with us, email CNAWomen [at] mediacorp.com.sg.