Meet 13 women athletes who won their 1st medal at the Tokyo Olympics
From a triathlete who almost quit the sport to a badminton player's third and final try at the Olympics, CNA Lifestyle pays tribute to the sportswomen who have made it to the podium so far.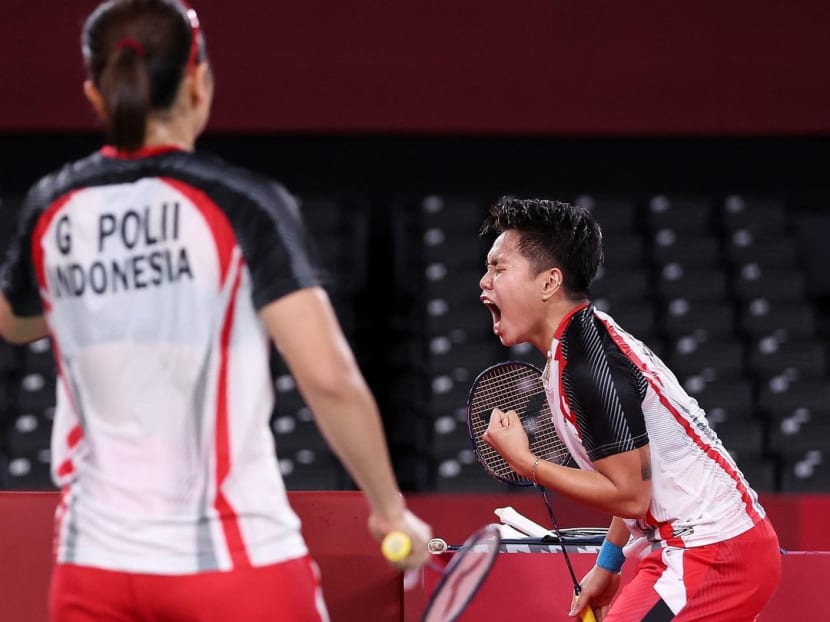 As the pandemic-postponed Games comes to a close on Sunday (Aug 8), here is a quick look at the women athletes who have won their first medals. 
THE GOLD MEDALISTS  
TATJANA SCHOENMAKER, SOUTH AFRICA: SWIMMING 
Schoenmaker's Olympics debut was phenomenal. The 24-year-old brought home South Africa's first Olympic gold medal in the women's 200m breaststroke on Jul 30. 
Her victory was even sweeter as she broke the world record for the event with her 2 min 18.95 sec swim, beating Denmark's Rikke Moller Pedersen's 2013 time of 2 min 19 seconds. 
ANASTASIJA ZOLOTIC, USA: TAEKWONDO
Zolotic, 18, is the first female Taekwondo athlete in the country's history to claim a gold medal, and at her debut too.  
American taekwondo athlete Steven Lopez took the previous gold medal in 2004 in Athens, Greece.
FLORA DUFFY, BERMUDA: TRIATHLON 
The triathlete came up tops in the women's triathlon finals on Jul 27, making Bermuda the smallest nation to win a gold medal. 
"I was Bermuda's first medal hope in many years. I wanted to achieve this for myself and my country," she said in an interview with Associated Press.
The 30-year-old had previously stopped competing after the 2008 Beijing Olympics, and only returned 13 years later after multiple injuries and an anaemia diagnosis in 2013. 
GREYSIA POLII AND APRIYANI RAHAYU, INDONESIA: BADMINTON
The duo's gold-medal win on Jul 27 was also badminton-crazed Indonesia's first Olympics medal in the women's doubles competition.
The pair beat their Chinese opponents in two sets: 21-19, 21-15.
It is the third time that 33-year-old Polii was competing in the Olympics, and she had said in an Instagram post on May 28: "I haven't got any medals yet but whether I get it or not, the history will always be there."
Victory was all the sweeter for her badminton partner, 23-year-old Rahayu, who made her Olympics debut in Tokyo, having won medals in the Asian Games and World Championships in 2018 and 2019. 
THE SILVER MEDALISTS 
POLINA GURYEVA, TURKMENISTAN: WEIGHTLIFTING
Weightlifter Guryeva, 21, claimed Turkmenistan's first-ever Olympic medal since it gained independence from the Soviet Union in 1991. 
Coming in second in the women's 59kg class on Jul 27 was a feat for Guryeva, who shifted from the 64kg class last year.
"That's how I had the chance to come to the Olympics. It was so hard. I tried and trained so hard," she said in a Reuters interview.
NESTHY PETECIO, PHILIPPINES: BOXING 
Petecio, who started boxing when she was 11, became the first female boxer in the history of the Philippines to bring home a silver medal. 
In a country where boxing remains a male-dominated sport, the 29-year-old's historic win is an inspiration to young women boxers in the country. 
THE BRONZE MEDALIST
ALESSANDRA PERILLI, SAN MARINO: SHOOTING
Perilli became the first trap shooter to bag a bronze medal for San Marino, a small country of about 34,000 people, situated along the Adriatic coast of Italy, on Jul 29.
The 33-year-old, who was born in Italy, started shooting at the age of 15 and became a citizen of San Marino three years later. She had previously placed fourth at the 2016 Rio Olympics, making her achievement in Tokyo her best Olympics showing. 
"This is not my first Olympics, but this is the first medal for me and for my country. We are a small country but very proud," said Perilli to news agency Agence France-Presse. 
WINNERS IN THIS YEAR'S DEBUT SPORTS
SURFING
American Carissa Moore, 28, became the first gold medallist in the women's surfing competition on Jul 27. 
South African Bianca Buitendag brought home silver, followed by Japanese Amuro Tsuzuki's bronze.  
SKATEBOARDING
The Japanese – 19-year-old Sakura Yosozumi and 12-year-old Kokona Hiraki – took home the gold and silver medals respectively, at the women's skateboarding park finals on Aug 4.
Sky Brown, 13, who is ranked third in the world, won a bronze medal for Great Britain. 
Catch the Olympics Games Tokyo 2020 LIVE with 14 dedicated channels on meWATCH. Sign in now at mewatch.sg/tokyo2020 and get into the action with Mediacorp, Singapore's Olympics Network.
CNA Women is a section on CNA Lifestyle that seeks to inform, empower and inspire the modern woman. If you have women-related news, issues and ideas to share with us, email CNAWomen [at] mediacorp.com.sg.