Why did I lose my baby? 10 miscarriage myths explained and debunked by medical experts
Was it because you had sex while pregnant? Was it something you ate? From avoiding certain types of food to wondering if miscarriages are hereditary, CNA Women looks at whether there's any truth in some common beliefs about miscarriage.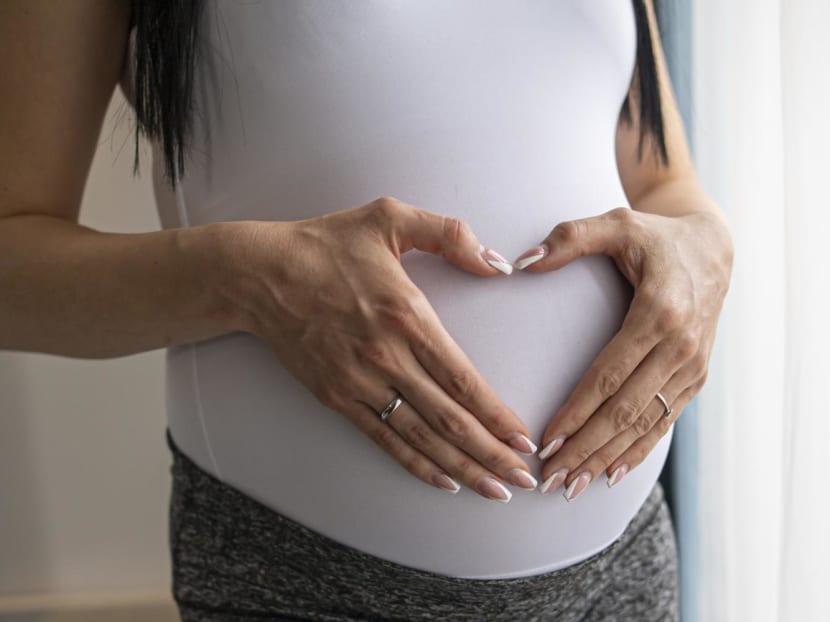 Miscarriage is not an easy topic to talk about, even among your closest and dearest. And it's also more common than most people realise.  
About 15 to 20 per cent of pregnancies end in miscarriage, said Professor Tan Hak Koon, Chairman and Senior Consultant with the Division of Obstetrics and Gynaecology, at KK Women's and Children's Hospital (KKH).
Prof Tan said that most miscarriages occur before the first trimester (or week 12) of pregnancy as the foetus is not developing normally due to genetic or chromosomal disorders.
"Medical conditions such as uncontrolled severe diabetes, hyperthyroidism or autoimmune disease can raise a woman's risk of miscarriage," he explained.
As well, advanced maternal and paternal age, previous miscarriage, low blood progesterone levels during pregnancy, and chronic alcohol and/or substance abuse, may be contributing factors.
Pregnancy loss can also happen after the first trimester. Dr Seng Shay Way, a specialist in Obstetrics and Gynaecology and consultant at Raffles Women's Centre, said the probability of a miscarriage occurring during the second trimester is 1 to 5 per cent.
Pregnancy loss after week 24 is termed a stillbirth and its causes would "usually include maternal and pregnancy-related problems", he added.
CAN A MISCARRIAGE BE PREVENTED?
According to Dr Seng, most miscarriages occur because the foetus isn't developing as expected. "About 50 per cent of miscarriages are associated with a genetic defect, which often results from errors that occur by chance as the embryo divides," he explained. In most situations, such incidences are completely random.
However, there are some factors that can increase the risk of miscarriage, Dr Seng said.
Age: The older you are, the higher your risk of miscarriage is. "At age 35, you have about a 20 per cent risk. At age 40, the risk is about 40 per cent. And at age 45, it is about 80 per cent," he said.
Weight: Being underweight or overweight has been linked with an increased risk of miscarriage.
Uterine or cervical problems: Certain uterine conditions or weak cervical tissues (incompetent cervix) may increase the risk of miscarriage.
Invasive pre-natal tests: Some invasive pre-natal genetic tests, such as chorionic villus sampling and amniocentesis, can carry a slight risk of miscarriage, said Dr Seng. Both tests are used to detect conditions such as Down syndrome in the baby.
Smoking, alcohol and illicit drugs: These all carry a greater risk of miscarriage.
But what about common miscarriage beliefs such as whether exercising, eating raw fish, and more recently, receiving a COVID-19 vaccination while pregnant can lead to pregnancy loss? CNA Women asked the experts to shed light on 10 miscarriage myths.
MYTH #1: IF YOU'VE HAD A MISCARRIAGE, CHANCES ARE YOU'LL MISCARRY AGAIN
False. "Most women who miscarry go on to have healthy pregnancies after," said Prof Tan.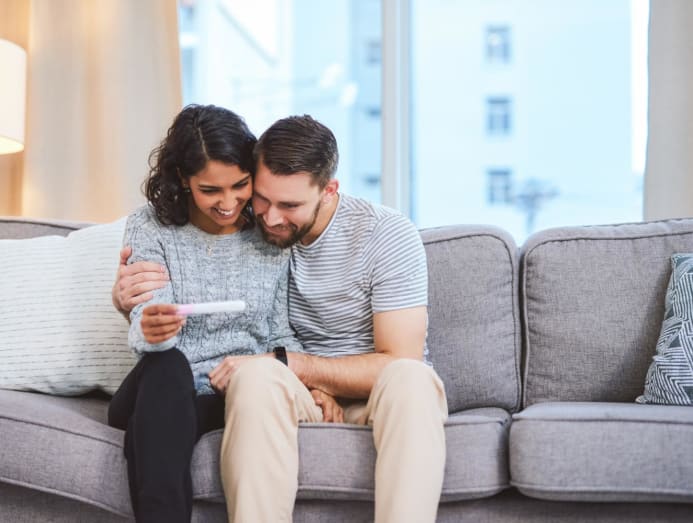 However, he said that losing "three or more pregnancies is defined as recurrent pregnancy loss", and that a woman should seek treatment as there are many conditions and a diverse range of causes that can lead to it.  
Some contributing factors could be medical problems, like autoimmune or blood clotting disorders, and genetic causes, added Dr Seng.
MYTH #2: GETTING AN MRNA VACCINE CAN CAUSE A MISCARRIAGE
False. Despite what you might have read, Prof Tan said that "real-world data demonstrates that the mRNA vaccines are safe in pregnancy". Also, getting a COVID-19 mRNA vaccine will not give you or the baby the virus.
Studies have shown that more than 230,000 pregnant women in the US have received an mRNA vaccine (either Pfizer BioNTech or Moderna), and there have not been any safety concerns raised, he explained.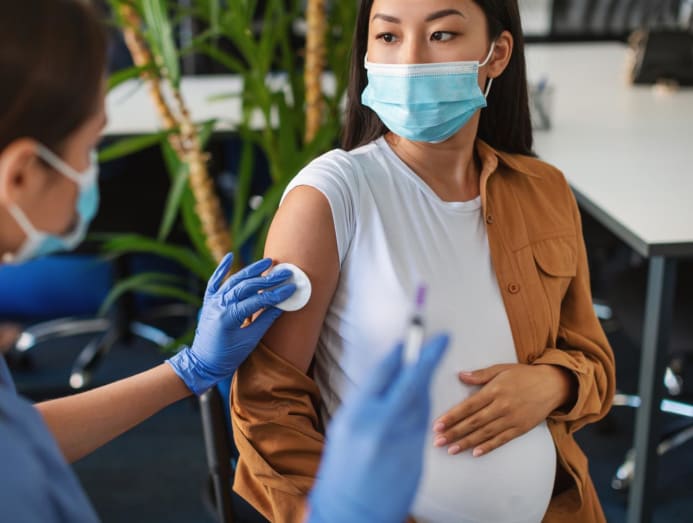 Current scientific data also shows that pregnant women who received the COVID-19 vaccine had no increased risk of other pregnancy complications, such as pre-term birth, stillbirth, growth restriction or birth defects, as compared to those who did not, Prof Tan said.
Various studies have also shown that antibodies from the mRNA vaccine were found in umbilical cord blood, illustrating how the vaccine protects both mother and child.
MYTH #3: YOU DON'T NEED MEDICAL TREATMENT FOR A MISCARRIAGE
False. As 15 to 20 per cent of threatened miscarriages, which presents as vaginal bleeding especially in early pregnancy, can lead to spontaneous miscarriage, Prof Tan said it is crucial for a woman to seek medical help as soon as possible.
"While most threatened miscarriages may not be preventable, some pregnancies can be stabilised with the use of progestogens, a steroid hormone," he explained.
A KKH study showed that a blood test that measures the progesterone level in the body can be used to screen and triage women with threatened miscarriages, which in turn helps guide hospital clinicians in the management of the patient.
More importantly, the findings showed that this protocol was able to prevent a miscarriage in 30 per cent of high-risk pregnancies, said Prof Tan.
MYTH #4: MISCARRIAGES RUN IN THE FAMILY
False. Miscarriage usually does not run in the family, unless there is a family history of a rare genetic medical condition.
"Most miscarriages occur because the foetus is not developing normally due to genetic or chromosomal disorders," said Prof Tan. However, he added that some hereditary medical conditions, such as uncontrolled severe diabetes, hyperthyroidism or autoimmune disease can raise your risk of miscarriage.
MYTH #5: AFTER A MISCARRIAGE, YOU SHOULD WAIT A WHILE BEFORE TRYING FOR ANOTHER BABY  
False. While it can be physically and emotionally draining on a woman after a miscarriage and she is encouraged to get adequate rest, both Prof Tan and Dr Seng say it is perfectly fine to start trying for another baby once your menstrual cycle resumes.
Prof Tan also recommended taking folic acid daily at the same time, as the B vitamin not only helps improve one's chances of conceiving, it also helps in the production of red blood cells and can help reduce the baby's chances of developing spina bifida, a spinal tube defect.
MYTH #6: HAVING SEX WHILE PREGNANT CAN HURT THE BABY AND CAUSE A MISCARRIAGE
False. Sexual activity during pregnancy is generally safe, said Prof Tan. This is because during intercourse, the uterus which houses the foetus, is never penetrated.
However, he advised that if you have "suffered from threatened miscarriage anytime during your pregnancy or antepartum haemorrhage (bleeding from the genital tract) in the second half of pregnancy, to avoid sexual activities until your condition is stable".
MYTH #7: CONSUMING TOO MUCH CAFFEINE CAN LEAD TO A MISCARRIAGE 
Interestingly, there is some truth behind this.
A meta-analysis of 60 unique publications published in the European Journal of Epidemiology in 2014, found that greater caffeine intake was associated with an increase in spontaneous abortion, stillbirth, pre-term delivery, low birth weight and small-for-gestational-age infants.
Prof Tan advised women to avoid consuming excessive caffeine during pregnancy as "it is a stimulant", which could lead to an elevation in the mother's heart rate. This, in turn, can put stress on the baby, and potentially increase the risk of miscarriage, he said.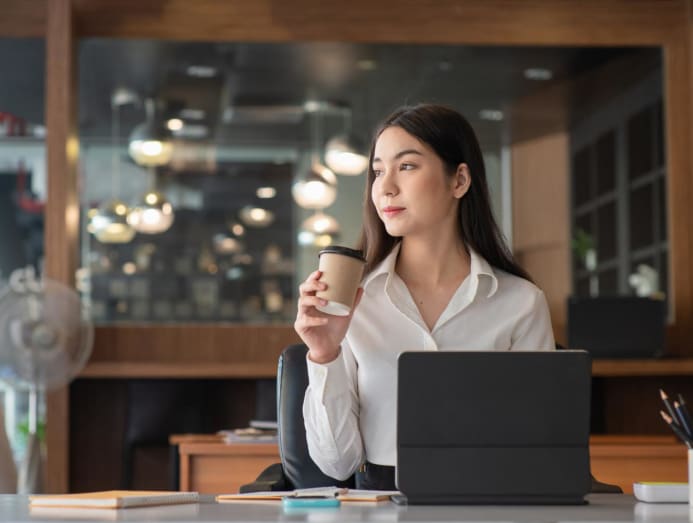 The World Health Organization advises expectant mothers who consume more than 300mg of caffeine per day to reduce their intake, added Dr Seng.
Limit it to 200mg of caffeine daily, or approximately two cups of regular coffee or tea, Prof Tan advised.  
MYTH #8: EATING SUSHI/SASHIMI AND UNPASTEURISED FOODS LIKE CERTAIN TYPES OF MILK AND CHEESE CAN CAUSE PREGNANCY LOSS
True. According to Dr Seng, these foods may contain a kind of bacteria called listeria, which can cause listeriosis, an infection that is particularly dangerous for pregnant women (and newborns), as it can "lead to miscarriage or stillbirth".
MYTH #9: EXERCISING TOO MUCH OR NOT RESTING ENOUGH CAN CAUSE A MISCARRIAGE
False. Not exercising or doing very little while consuming added calories during pregnancy can do more harm than good to both mother and child.
This is because excessive weight gain can increase the risk of gestational diabetes, which in turn, can lead to adverse consequences, such as foetal macrosomia (where the foetus is significantly larger than average, often 3.8kg and above, which can cause complications), stillbirth or foetal congenital malformations.
In addition, both mother and baby are also at risk of developing Type 2 diabetes later in life.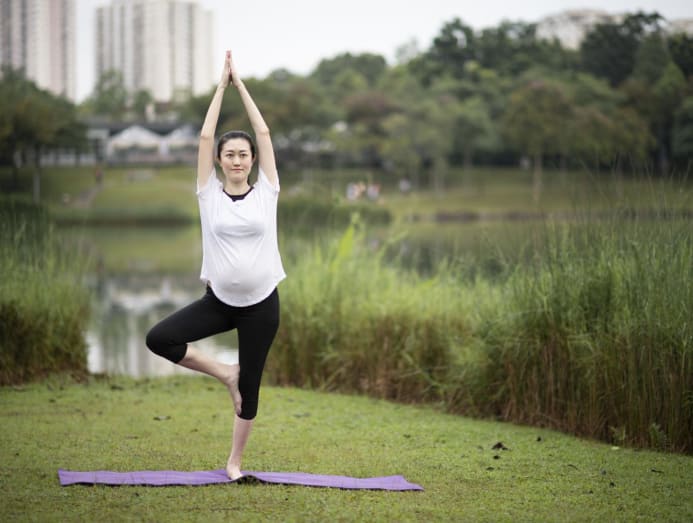 A study led by KKH in August 2019 found that the prevalence of obesity in pregnancy among Singapore women is high – about 24 per cent of the women surveyed were overweight and 11 per cent were obese.
This is why exercise is highly recommended during pregnancy. To that end, in January 2020, Singapore launched a set of guidelines on physical activity and exercise during pregnancy.
For healthy women with uncomplicated pregnancies, the rule of thumb is to engage in at least 150 minutes of moderate physical activities a week, like brisk walking, swimming, stationary cycling, low-impact aerobics, jogging as well as resistance training such as squats, push-ups and resistance band exercises.
To be safe, check with your gynaecologist before embarking on any exercise regimen. 
MYTH #10: MOVING HOUSE AND ORGANISING THE BABY'S ROOM CAN CAUSE MISCARRIAGE  
False. It is common for expectant women to go through a nesting phase, characterised as a burst of energy they get in the last few weeks of pregnancy that inspires them to clean and organise the house in preparation for the baby's arrival, and there is no medical evidence to prove that this should be avoided.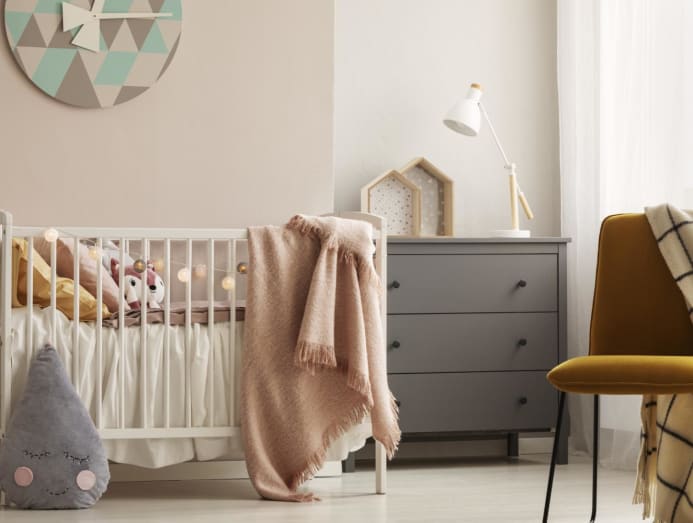 But it's also important to put your safety first, and avoid excessive physical exertion, such as carrying things that are too heavy or doing activities that can potentially cause falls, like climbing and standing on ladders, said Prof Tan.
Dr Seng also added that while minor falls are unlikely to cause a miscarriage, a major fall with head or abdominal trauma can lead to one. So carry out any cleaning and moving works with caution.
THERE IS HOPE AFTER MISCARRIAGE
At the end of the day, pregnancy loss is never easy, and it's common for women to wonder if they've done something to cause the miscarriage.  
"Inevitably, women blame themselves especially when they perceive it as their responsibility in preventing the miscarriage from happening," said Ang Lee Beng, master medical social worker at the Medical Social Work Department, and chairperson of the Bereavement Support Committee, at KKH.
To help both the woman and her husband cope with their loss and heal, Ang shared these simple pointers:
It is okay to cry. Crying is helpful and therapeutic.

It is normal to experience shock, confusion and feelings of extreme pain and suffering. "Many of these feelings can be frightening but parents must realise that it is normal and natural to be overwhelmed with the complexities of these emotions," Ang said.

You are not alone in this. So be gentle with yourself as it may take weeks or even months to come to terms with the loss.

It can be helpful to create memories of your child. "Tangible items like keeping photographs and journals, can provide comfort and healing to parents as they act as meaningful reminders of your child's existence," said Ang. In addition, these memories and keepsakes can also help you work through the complexities of emotions, especially in the early stages of loss.

Take time out for self-care. "It is important for grieving parents to take extra effort to have plenty of rest, a proper and balanced diet and to exercise regularly," said Ang. This can also include a short holiday, where a change of environment can help you work through your emotions.

Don't be afraid to ask for help. Talk to trusted family and friends, or even seek professional help from a trained counsellor, social worker or doctor if you find yourself overwhelmed with emotions, be it sadness or even guilt, or are unable to cope with the grief.
Most importantly, "grieving does not mean we cannot have snippets of happiness", said Ang. So don't feel guilty about focusing on self-care, enjoying recreational activities when necessary and reaching out for support to help with your recovery process.
CNA Women is a section on CNA Lifestyle that seeks to inform, empower and inspire the modern woman. If you have women-related news, issues and ideas to share with us, email CNAWomen [at] mediacorp.com.sg.