How 3 friends in the Philippines and Singapore are helping disadvantaged mums earn a living
Meet the women behind Mori, a social enterprise that bridged two countries. CNA Women discovers their story that involves long-distance friendship, inspiring mums and lots of sewing machines.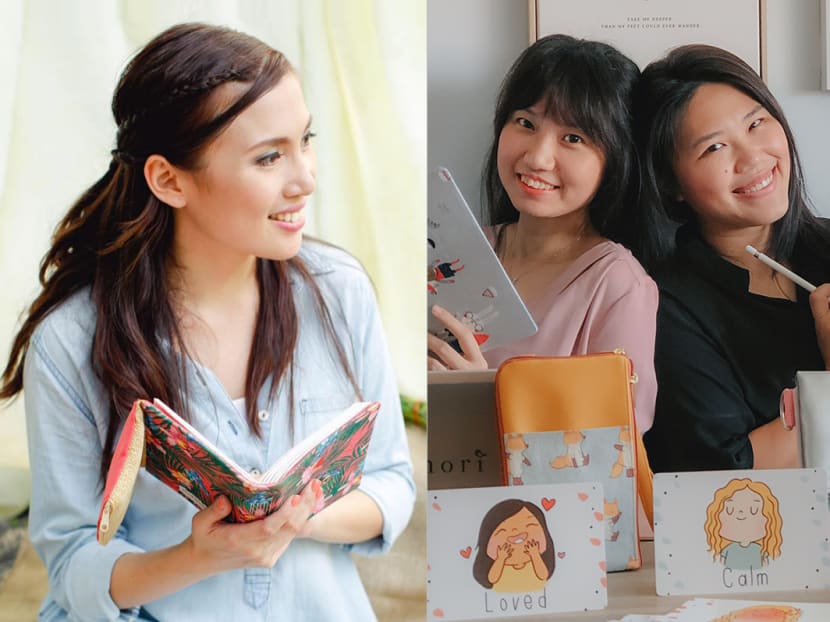 When Mitzi Uy left her marketing job in Manila back in 2011, she would spend a lot of her free time at home, armed with a journal and simply writing and reflecting on things.
During those "soul-searching" years, as the 35-year-old Filipino described it, there was one moment that would eventually change her life – and a lot of other people's lives, too.
One of my friends saw the journal that I made for myself and said, 'maybe you can turn this into a business'.
Uy recalled how, one morning, she saw her house helper crying – her sick daughter was back in her hometown and there was no one to take care of her.
The conversation struck a chord with Uy, who recalled thinking that no mums should be away from their children and that she would try to do what she could to help other Filipino mothers facing the same situation.
And the opportunity soon came from two deceptively simple things: Uy had always loved to create her own journals – and she found out her helper wanted to learn how to sew.
MORI WAS LAUNCHED AS A SOCIAL ENTERPRISE
"One of my friends saw the journal that I made for myself and said, 'maybe you can turn this into a business'," said Uy.
So, with a simple sewing machine (while trying to learn the basics on their own), the duo attempted to hand-sew 50 pieces of a "pursebook" – a purse combined with refillable notebooks – and sold them via Facebook during the Christmas period in 2011. 
It turned out to be a success, with all pieces quickly snapped up, and that was when Uy realised it could be a potentially viable business.
But more than just that, she wanted it to be a social enterprise that would specifically help stay-home mums earn a living through sewing, without leaving their homes – or their children.
While Uy's house helper and first partner-in-crime had planned to go back (and be with her children the following year), Uy decided to go ahead and materialise her plan.
When the new year rolled in, she wasted no time and immediately went to look for women from Manila's urban poor communities.
Working with the government, she eventually launched her new social business Mori, a variant of the Biblical name Moriel, which means "God teaches".
In early 2012, she started working with four mothers first, training them to sew quality pursebooks, which would then be sold in selected stores and online.
More importantly, the new business would help ensure that the mums were getting paid according to the local minimum wage.
EXPANDING THE BUSINESS TO SINGAPORE
The story doesn't stop in the Philippines. Three years later, National University of Singapore graduate Rachel Lin stumbled upon Mori's products online.
The 33-year-old had an e-commerce platform called Matcha5, which focused on social enterprises. It seemed like a perfect fit, so she reached out to Uy. 
The two started chatting online and quickly became friends. "I really like Mitzi's pursebooks, and somehow we just hit it off," said Lin, whose interest in social entrepreneurship began during a school trip to the Philippines in 2008.
While Lin's start-up eventually closed down, the two continued to stay in touch. And in 2017, their business paths crossed once again. Both Lin and Uy took part in a social enterprise accelerator competition in the Philippines.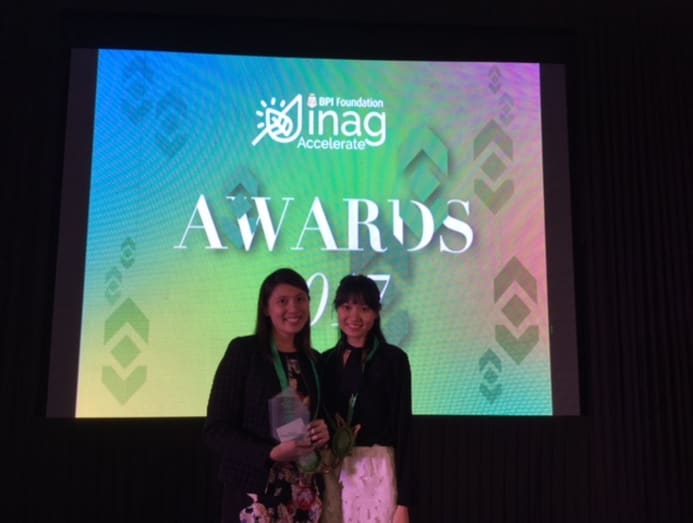 "We tried to join the competition because during that time, I felt like a lone wolf," said Uy. "As a social enterprise, or as a normal entrepreneur, you're working on your own right? So you really need to have that support system."
After two weeks of "bootcamp" with hundreds of other social enterprises, both of them reached the Top 10 – which inspired the two women to join forces and grow Mori even further.
The plan? Lin would handle marketing and product design in Singapore while Uy would continue to work with the mums in the Philippines.
THE MORI MUMS
Mori's group of enterprising mums has now grown to 28. And some of those who were part of the early years of the business are now even training other mums and also helping to develop new products.
One of these is Ate Remy, a 48-year-old mother of three, who used to make cloth rags to sell before joining the team. She's now Mori's head trainer and community lead in her area, and also earning at least 10 times what she used to.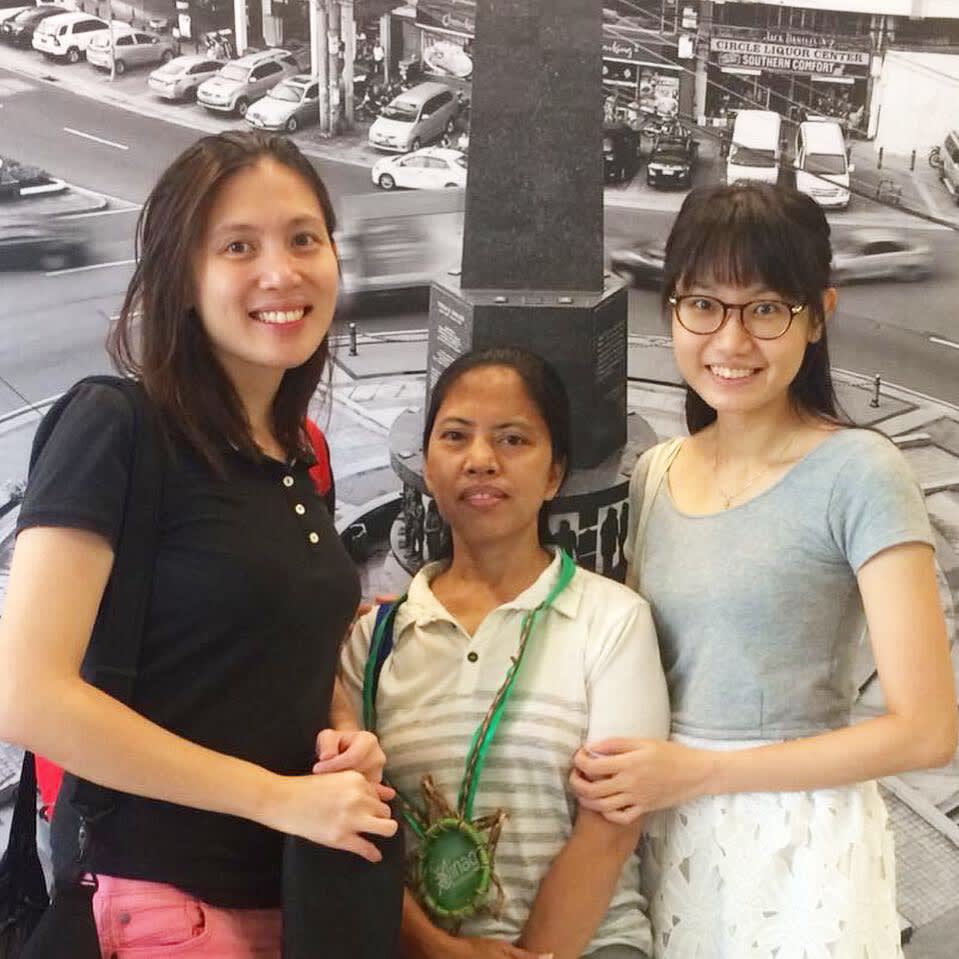 Like the other mothers, she makes Mori's signature products such as the pursebook and the dual-zip sling bag – proudly tagged with her name, which customers can see when they buy these in both the Philippines and Singapore.
But these "Mori mums" aren't just limited to Manila's urban poor who depend greatly on this livelihood. Uy pointed out that they're always open to working with anyone who wants to be able to spend quality time with their kids, including Singapore mums.
Case in point: 35-year-old Miranda Ling, one of Lin's university friends who was having difficulty in finding a job when she returned to Singapore last year during the pandemic.
Ling left her job as an insurance manager in 2018 before following her husband overseas for a work posting. During the close to two years that she was away, she home-schooled her two toddler sons.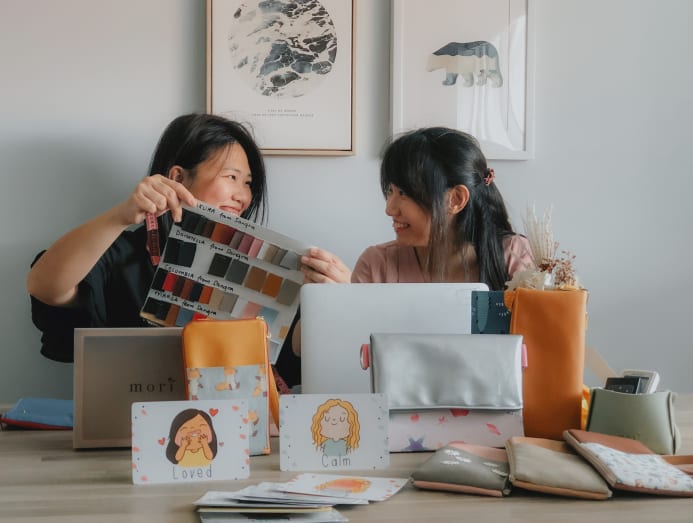 "I was actively looking for a job when I came back to Singapore, but I was depressed for a while as there weren't many jobs available in the market," said Ling.
"When I went for job interviews, I was really upset because a lot of employers asked me: How's your childcare arrangement going to be like? Who's going to take care of your children?"
She reached out to Lin and eventually joined in 2020 as the co-creator of Mori Mini, a lifestyle arm of the e-commerce business focusing on kids' products.
"Since I have children, I understand their persona, and so, it's easier for me to create (and modify) the products," added Ling.
Their first few creations together include the doodle bag and Christmas activity box to encourage family-bonding time.
This year, Mori also trained and hired a Singapore mum who works on custom lettering stencils to personalise the products with names. 
She was referred to Mori by Fei Yue Family Service's Thread of Courage, a non-profit initiative that enables lower-income individuals to earn a living from sewing opportunities.
MAKING THE RELATIONSHIP WORK IN TWO COUNTRIES
Running a social enterprise is hard enough as it is – but doing so from two countries might seem even more challenging. So how do they do it?
It's all about playing to one another's strengths. "Coming to know our personality and working styles is kind of a breakthrough for me, as technically we're like in a long-distance relationship," said Lin.
What's beautiful about our partnership is that we started out as people from different countries, but with the same values – and the same heart for people and beautiful products.
On the practical side of business, Uy continues to focus on the training and production side of things in the Philippines. Meanwhile, Lin and Ling are responsible for the demand side in Singapore.
And business has been good for Mori – in fact, Lin said that the orders have grown from about 100 in Nov 2019 to 600 orders last month.
Uy added that sales grew even more during the pandemic as businesses shifted online. "During the lockdown when everyone was at home, the mums could still continue working at home, and we were among the first to create reusable face masks in the Philippines," said Uy.
Their husbands play an important role in Mori's success, too, Lin said, from being their sounding boards to lending logistical support.
Reflecting on how Mori has slowly evolved – from the lightbulb moment of making pursebooks to the connection built between two people who wanted the same things – Uy said: "What's beautiful about our partnership is that we started out as people from different countries, but with the same values – and the same heart for people and beautiful products."
"That's why Mori was created with a mission and ambition to provide productivity and livelihood to women from different walks of life."
CNA Women is a section on CNA Lifestyle that seeks to inform, empower and inspire the modern woman. If you have women-related news, issues and ideas to share with us, email CNAWomen [at] mediacorp.com.sg.