What it's like to take care of kids in Singapore while your own son grows up without you
Iris Tuares Pahilga left her then two-year-old son in the Philippines to carve out a better life for her family. She tells CNA Women of the heartbreak of missing his milestones and seeing him only once a year, in this Mother's Day series on unconventional motherhood.
"It's very hard to be away from him," Iris Tuares Pahilga said as she stared at the photos of her 10-year-old son on her phone. "But I talk to him every day."
The 36-year-old came to Singapore in 2016 to work as a domestic helper and her situation is common. In search of a better job and income to take care of her family, the Filipino made the tough decision to work in a foreign country. 
Before Singapore, she spent just over a year as a foreign domestic helper in Saudi Arabia. At that time, Pahilga's only child, Aries, was around two years old – she left him in the care of her husband, who works as a contractor in the Philippines, and his sister.
She has now worked for seven years for the Tang-Ling family, caring for twins Scarlett and Sovereign since they were born in 2019. 
Pahilga only returns to her hometown, Iloilo City in the Philippines, once a year and for about a month. Her home leave is precious as it's the only time she gets to see and interact with her family face-to-face.  
THE CHALLENGES OF BEING AWAY 
Since she started working abroad, Pahilga speaks to Aries, and her husband, for about an hour every day via Facebook Messenger. 
During Pahilga's early years as a domestic helper in Saudi Arabia and Singapore, Aries was initially very shy during their video calls.
"He was so quiet, and sometimes he wouldn't even say much or want to talk to me," Pahilga said. "It broke my heart whenever that happened, and I know it's because he was younger than two years when I left home to work overseas."
But Pahilga continued with her daily calls.
And now, after nine years, her son is much more communicative and open with his mum. He tells her what's happened in his day, what he learned in school and the games he's played with his friends.  
Pahilga also finds solace in receiving daily photographs. They help her see Aries' growth over the years and allow her to witness his milestones from afar. She said it also prevents her from being too surprised if she were to return home after a year and find that her little boy has grown.
I miss him so much every day, and it's difficult being away from him for so long.
But it's not easy for her to be away from home. "I've been working overseas for eight years. Even though we talk every day, I still don't always know what Aries is doing and how he is, but I wish I could," she said.
Who's helping him with his homework? Does he get into trouble? Is he doing well in his studies? Does he have friends? Are his friends good? Pahilga replays these questions in her head every day, waiting sometimes impatiently for her one-hour video call with him where she can ask him directly.  
"I miss him so much every day, and it's difficult being away from him for so long, but I'm still communicating with my son – I'm happy I can talk to him." 
TAKING CARE OF ANOTHER MUM'S CHILDREN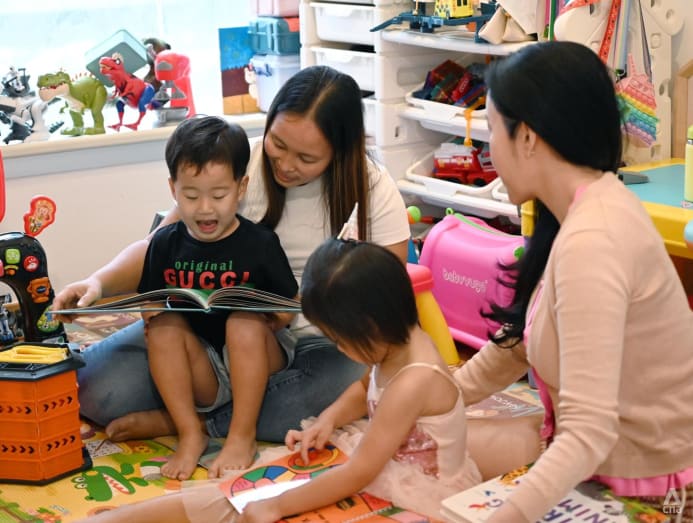 In the Tang-Ling household, she is fully trusted to take care of the three-year-old twins – and she treats the children as if they were her own. Pahilga cooks their meals, helps them with schoolwork, reads to them, plays with them, takes them to the playground, and accompanies the family on outings.
The children too, see her as a maternal figure, coming to her when they're upset or need help.  
And when they get into trouble with their parents, Pahilga is the first to reiterate the values her employers try to teach their kids. She recalled how she often reminds the twins to respect and speak well of others. 
But Pahilga can't help but think of her son whenever she observes the twins. 
"I always think of Aries when I see Scarlett and Sovereign," Pahilga said. "I see them play at the playground and do schoolwork, and I miss my son even more because I don't get to play with him, I don't get to see him at school."
In her daily calls with her son, Pahilga is open about her work and shares stories about the twins.  
"I can tell he gets jealous sometimes," she said. "He would stay silent and not look happy when I talk about what I did with the twins that day." 
But Aries is a sweet boy who tries to be understanding, she said. "He knows I do it for him, that I am working for him. He will always come around after we talk about his feelings. I'm thankful he understands."
COPING WITH THE DIFFICULTIES
It helps to have a community here in Singapore, Pahilga said, to help her cope with her longing for home. She meets her friends, who are mostly Filipino domestic helpers, on their days off and they celebrate holidays such as Christmas together.  
Pahilga also plays volleyball and does yoga with them during sessions organised by the Foreign Domestic Worker Association for Social Support and Training (FAST). 
These all make up a strong emotional support system which Pahilga said helps her when she's struggling. 
What's it like to be a mother who has to leave her child behind to take care of other children overseas? Iris Tuares Pahilga left her then two-year-old son in the Philippines to carve out a better life for her family.
"It is a huge sacrifice – the hardest decision I have ever made is to work overseas and away from my family," she said.
"But I do not regret working here in Singapore. I have a good employer, and I helped my family a lot with the money I earn here – I was able to support my late mother and my siblings when times were tough for everyone back home."
After years of working away from her family, Pahilga has developed a deep respect for mothers who make similar sacrifices for their loved ones. 
"In the future, as I build my savings, I want to be able to work somewhere close to my son," she said. "I want to be able to see Aries grow and be there for him for all his important life milestones."
"I may be far from my home, but my heart is always with my son, my family," she said.
CNA Women is a section on CNA Lifestyle that seeks to inform, empower and inspire the modern woman. If you have women-related news, issues and ideas to share with us, email CNAWomen [at] mediacorp.com.sg.
More unconventional motherhood stories: