'I know what it's like to be homeless and helpless': After her mum left the family when she was 15, she took over
After her mother abandoned them, Zulayqha Zulkifli became the mother figure to her three siblings, juggling her studies and working to put meals on the table. She tells her story to CNA Women in this instalment of our Mother's Day series on unconventional motherhood.
Mother's Day holds a different meaning for Zulayqha Zulkifli. While others celebrate the day with their mothers and shower them with affection, the 29-year-old instead remembers how her own mum left the family when she was a teenager. 
Zulayqha and her three siblings – older brother Zulhaqem, younger sister Zulastri, and younger brother Zulfeqar – grew up without a mother's loving care and presence.  
The four siblings had a relatively stable life until 2010 when they were in secondary school. Their parents divorced, and even as Zulayqha and her siblings did their best to deal with the changes in their lives, their mother's frequent absence began.  
"The most painful thing wasn't just that she was absent, it was that her presence was inconsistent," Zulayqha said. 
"It would have been easier if she had just left entirely, but she was around for a few days, then gone for the next, and we would have no idea where she went."
Her parents had sold the family home after the divorce, so the four children and their mother bunked in with relatives, starting with Zulayqha's maternal aunt. 
But it wasn't a happy situation. 
"Because our mother wasn't really around or if she was, she would be making a fuss by arguing with everyone, it was difficult for my aunt and her children … there was a lot of tension," said Zulayqha. 
The siblings spent barely a year with their aunt before they were asked to leave.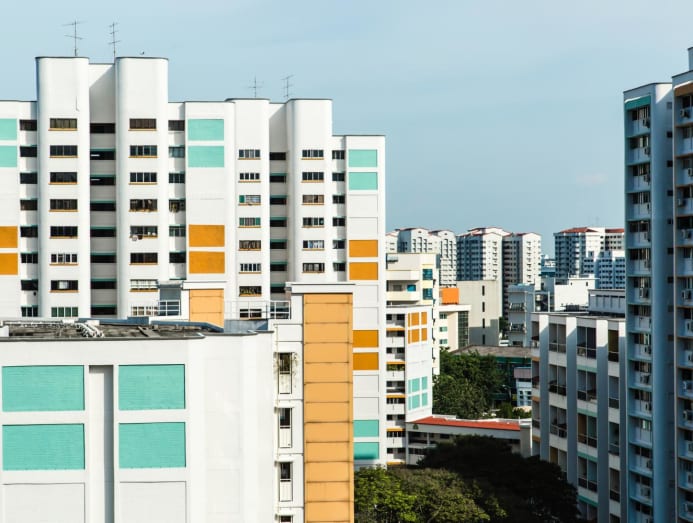 Zulayqha and her siblings then moved in with their father at his brother's home. However, the situation didn't improve. Further friction with the relatives led the siblings to seek refuge at a void deck near her uncle's house in 2012, where they lived and slept for several years.
STEPPING UP AS THE MOTHER FIGURE
While their father worked hard as a cleaner to alleviate the family's situation, Zulayqha took on the mothering responsibilities.  
She learned to be savvy with money, getting by with whatever they could on their father's earnings. When she wasn't in school,  she worked as a cashier at 7-Eleven to support her family.
Emotionally, even though their father was around, Zulayqha was the main source of comfort and support for her siblings. 
"Ever since my mum left, when my siblings are down, they would turn to me. When they quarrel, they look to me to handle it," Zulayqha said. "At that time, even if I didn't know what to say or do, I knew it was important to just be there."
She also ensured that her siblings were fed. Neighbours around the housing estate would give them meals or play with them at the void deck. 
These meals were precious offerings and Zulayqha and her siblings would share a single serving among themselves. They also relied on easy-to-cook instant noodles, which Zulayqha would bring home.  
It was always siblings first for Zulayqha, who would forgo meals if it meant her siblings would have enough to eat. She said her poor eating habits caused her to develop long-lasting gastric issues.
STUDYING HARD TO BUILD A HOME FOR HER SIBLINGS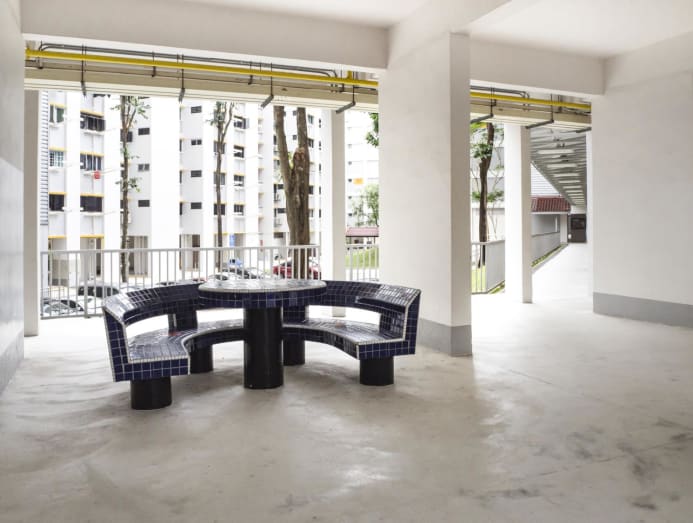 Throughout this difficult period, Zulayqha would echo her father's advice to her siblings: Focus on your studies.
"When we started sleeping at the void deck, it was around 2012 and I was in ITE," Zulayqha said. "I would make sure my siblings did their homework and we'd always study together at the stone tables."
After ITE, where she studied community care and social services, she got a place in Nanyang Polytechnic (NYP) to study social work in 2014. But the juggling and strain of supporting her siblings continued.  
It felt like I didn't have a life of my own, but I had to do what I had to do for my family.
Mornings were spent getting herself and her siblings ready for the day. She would study in school in the afternoons before heading to her cashier job in the evenings. After her shift ended, she would head back to the void desk to complete her homework or study and be around for her siblings.  
She paid little heed to how dire her situation was. Her main priority, she said, was to do well in school and make sure her siblings did too. She channelled her energy into working hard for their future – even if it meant spending all her time doing schoolwork at the void deck. 
"Looking back, it was crazy," Zulayqha said. "It was exhausting and intense, and it felt like I didn't have a life of my own, but I had to do what I had to do for my family."
The siblings decided to be as resilient, independent and self-reliant as possible, so not many, including some of their teachers, knew what they were going through. They stowed their belongings at different places, such as their uncle's house, and simply made do.
Her efforts in working hard paid off. Zulayqha received multiple academic awards in ITE and NYP, which help fund her studies and lift the financial burden on the family.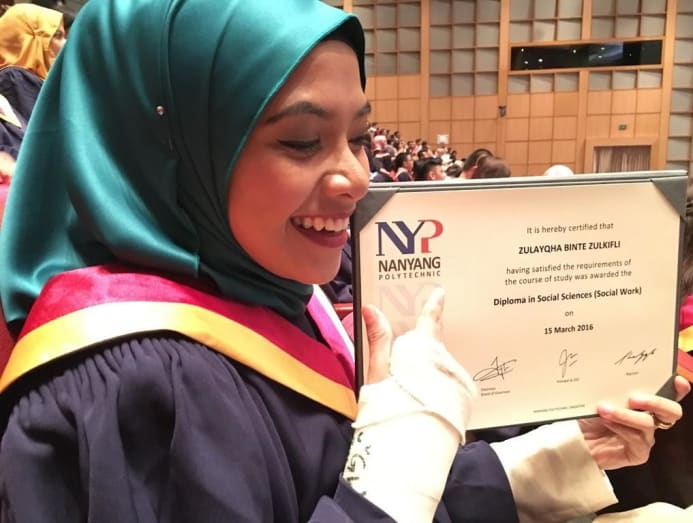 Older brother Zulhaqem also excelled in school, and the two oldest in the family would pool their bursary and scholarship money together and split it into four parts so that each sibling would get a share. 
As she embarked on her NYP diploma course in 2014, things also started looking up. Under the Housing Development Board's Interim Rental Housing scheme, the family managed to secure a home for themselves, a four-room rental flat.
THE BACKBONE OF HER FAMILY AND COMMUNITY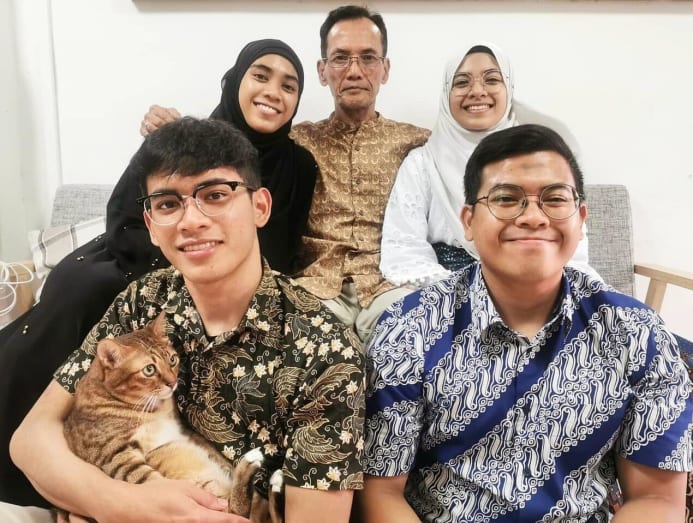 "It was a little better since we were no longer homeless, but my days were still jam-packed," Zulayqha said. 
"I had to take care of the house, ensure the bills were paid on time, go to school, make sure my siblings were doing fine, and support my father – there was a lot to manage. 
"I wanted to be there for my family. It was tiring, but what can I do? Our mother wasn't around anymore. So if it will ease things for my father and my siblings, I will do it."
In 2019, Zulayqha completed her degree in social work at the Singapore University of Social Sciences. Driven by a strong passion to support families that went through the same problems she did, she found a job as a social worker at the Foundation of Rotary Clubs Singapore Family Service Centre. 
Her siblings too, are doing well.  Older brother Zulhaqem, 31, is an analyst at the Prime Minister's Office; Zulastri, 28, is an art educator and Zulfeqar, 27, is a head pastry chef.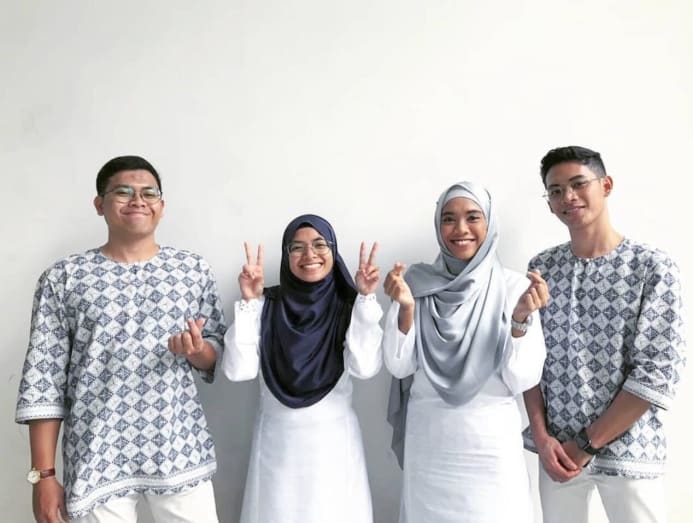 "But we are the exception – not everyone is as fortunate as my family and there's always something to improve in the system," Zulayqha added. 
"I know what it is like to be homeless and helpless, especially without the care of a mother. I do not want the same for others. My neighbours, who barely knew me, helped me and my siblings when we needed it, so if I can help them in any way, I would."
It was in 2020, during Singapore's circuit breaker, that Zulayqha noticed how many low-income families in her neighbourhood were suffering. She and Zulhaqem started Project Hills, a ground-up initiative that provided food and essentials to them, and the entire family of five helped out with distribution efforts.
Now, Project Hills supports more than 1,000 households living in rental housing estates around Mei Ling Street, Stirling Road, Jalan Bukit Merah, Spooner Road and Kim Tian Place. 
In addition to community-led donation drives and weekly lunch and dinner distributions to families in low-income areas, Zulayqha and her team go beyond surface-level issues. They conduct surveys and outreach efforts to better understand the families' situations, making their work more targeted and effective.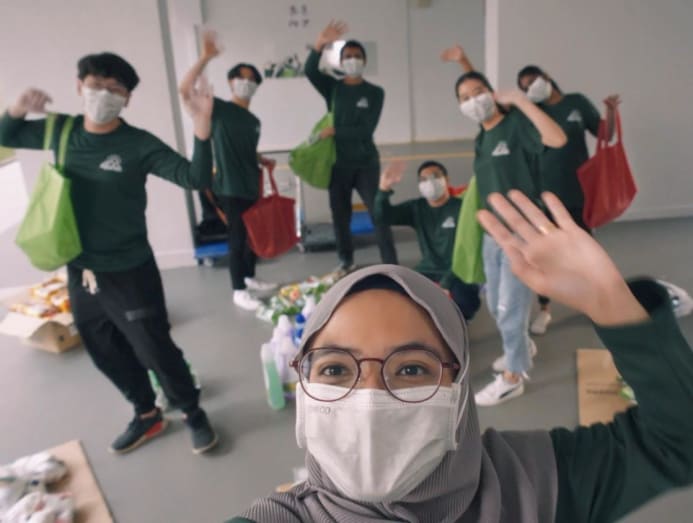 "A mother journeys her child's milestones and embraces their growth at every stage of their lives. She is a source of comfort and a safety net for her children," Zulayqha said. 
"I never got that love and care from my mother, but I managed to be that figure for my family and my community, and I am glad for the opportunity.
"I'm still healing from what happened. I'm also learning how to take care of myself while taking care of others," she said
More unconventional motherhood stories:
CNA Women is a section on CNA Lifestyle that seeks to inform, empower and inspire the modern woman. If you have women-related news, issues and ideas to share with us, email CNAWomen [at] mediacorp.com.sg.