'Inside, I was crumbling': How can we better support the mental health of mothers?
A recent online public workshop tackling the crucial early days of motherhood highlights how we can help do our part – as a family and as a community.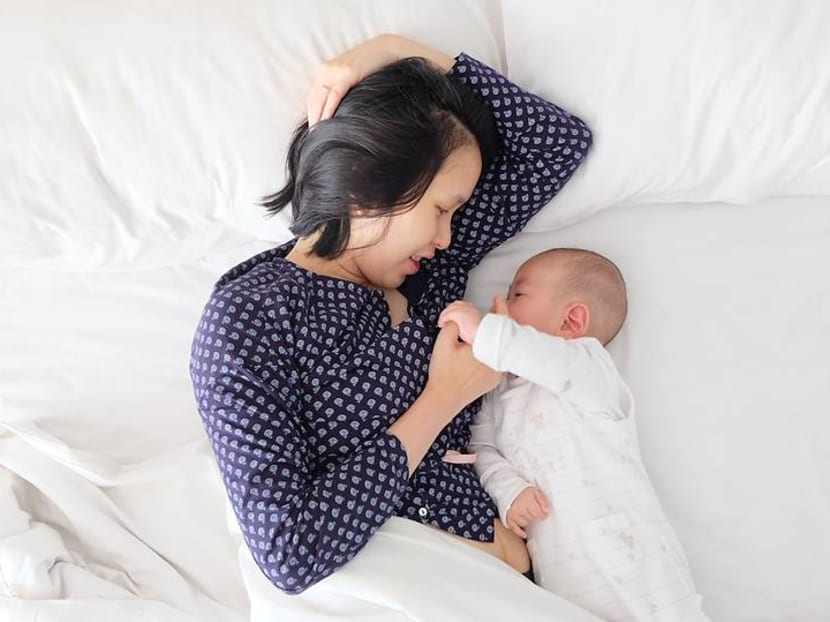 Guilt, loneliness, and self-doubt are among the many emotions that often cripple mothers and mothers-to-be. And oftentimes, it's because many have grown to immediately think the problems they're facing are all their fault.
"It goes from the so-called simple things like feeding your baby and breastfeeding to dressing your child. Instead of saying to yourself 'I don't know how to do this and I need to learn from mistakes', the first thing we say to ourselves is that I am a failure or I failed already as a mother because I can't do the most basic things," shared Karen Tan.
The Singaporean theatre actress was speaking at a panel discussion under the latest Temasek Shophouse Conversations public workshop. Held on Monday (Jun 7), the event titled First 1,000 Days – Maternal And Child Wellness explored various issues during these crucial early days of mother- and babyhood.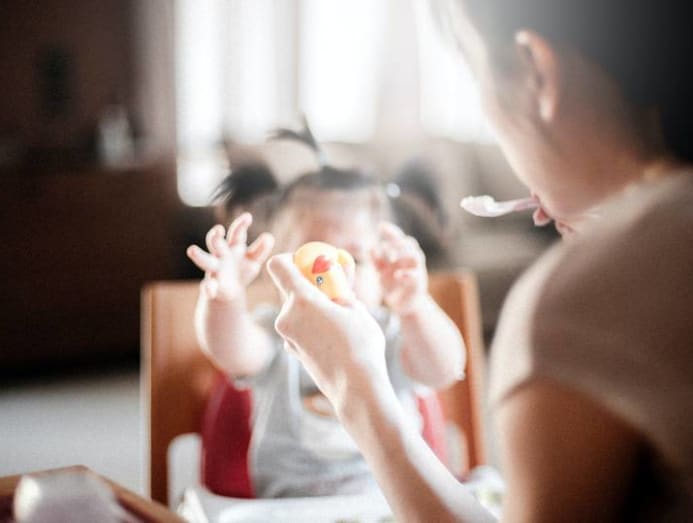 A CRITICAL WINDOW
Tan, who's been open about her experiences with postnatal depression, went on to share what it was like raising her two children.
"When I had my first child, I was alone in England; just the baby and my husband. You couldn't tell that I had depression at all because everything was perfect. My house was clean, my baby was clean, thriving and happy. But inside, I was crumbling."
Nine years later, after having her second child in Singapore, Tan shared she had gotten more support from her parents and a helper. She had also been working. But despite all these, it was still pretty hard.
"You don't have to be a first-time mother. You can be a second-time or third-time mother and you wake up one morning and realise that you don't know how to take care of this baby. And what do you do? You just have to swallow it," Tan explained.
And Tan's experience isn't an isolated case. Last year, there was tragic news of a second-time mother who had jumped to her death alongside her newborn.
The deceased had said that she "did not know how to take care of babies anymore" in two separate conversations with a colleague and a childhood friend.
On top of appearing stressed, depressed and lost, the 35-year-old woman had told her husband that she wanted to quit her job. When her colleague suggested hiring a helper, she rejected the idea as cost was clearly an issue.
The mental health of mothers and mothers-to-be and the problems that sometimes arise is a complex one that has both personal and social facets to it.
In his keynote address at the online event, Minister for Social and Family Development Masagos Zulkifli pointed out that the formative years of life are a critical window not only for the child but for the mother, too.
"What happens from the point of conception till a child is two years old has profound implications on the way we design our social policies and services," he added.
A local finding from the Growing Up In Singapore Towards Healthy Outcomes (GUSTO) study showed that a holistic and integrated support for the mother – which includes public education, screening for antenatal depression, early intervention, and better workplace support  – is crucial in supporting maternal and child health needs.
But the question is: What will it take for Singapore to better support mothers in need?
As the workshop revealed, it's about everyone chipping in, whether it's institutional initiatives, or one's family or wider social circles, or even relationships at the workplace.
NEW INITIATIVES FROM INSTITUTIONS
The KidSTART Home Visitation Programme is one such initiative. It's partnered up with KK Women's and Children's Hospital (KKH) to provide antenatal care for mothers, from mental health needs to preparation for delivery.
"We facilitate on the importance of self care, stress management, mental wellness, and give them tips on how to take care of their emotional wellbeing," said KidSTART's Ng Wei Chern. "We also conduct mental health screenings for both mothers and fathers to flag concerns."
One key component of the KidSTART programme is KIDS0-3, which also provides vulnerable mothers and children with health and social care.
Another example is the Integrated Maternal and Child Wellness Hub at Punggol Polyclinic, where both mother and child can receive wraparound care and services.
And earlier this year, an inter-agency taskforce was set up to develop a national strategy to provide comprehensive support for the health and mental wellbeing of women and their children. One of the things they're reviewing, according to Minister Masagos, was how to make services more efficient and affordable for women.
THE IMPORTANCE OF FRIENDS AND FAMILY
However, while improving services is important, it's not enough on its own, said Dr Tim Moore, a Senior Research Fellow at the Centre for Community Child Health (CCCH) at the Murdoch Children's Research Institute in Melbourne's The Royal Children's Hospital.
Dr Moore pointed out that the living conditions of people also have a great impact on their health.
Meanwhile, having a support community for mothers is essential to help them realise they're not alone in dealing with problems and coping with challenges.
One advice for mothers who are struggling is to reach out and involve extended families, said Dr Ho Yiling, a clinical psychologist who is leading the development of a trauma service for women at KKH.
"It may also be about telling them that it's okay to ask for help from friends, workplaces and community agencies," said Dr Ho.  
Associate Professor Helen Chen, who heads the Department of Psychological Medicine at KKH, told CNA Lifestyle after the workshop: "Help can really start from within the family – for the husband to be reassuring and hands-on or for the grandparents to provide sensitive support. It could also move beyond the village – from neighbours offering to pick up diapers when doing a grocery run, to employers and colleagues who might be understanding and supportive of a new mother's needs and challenges."
Meanwhile, Jennie Wan, who's the head of the MindCare mental health division of AMKFSC Community Services, shared that her team starts off by talking to the family members and caregivers.
"Sometimes, as social workers, we need to take a more proactive approach as not many could be upfront. It's also a stigma that comes with asking for help. Asking for help does not mean that I am not a good mother. It's important to remove the labelling," she explained.
As for the small things a friend or family member can do, a WhatsApp call or a message can go a long way, she added.
LEANING IN ON THE COMMUNITY
Outside of immediate social and family circles, there are a few organisations and programmes that can help facilitate things.
For example, the Temasek Foundation ParentWise Programme, done in partnership with the Seed Institute, provides parents and caregivers with caregiving skills, tools and support to help their children reach their full potential as well. 
Mothers can also join learning groups to get advice on parenting highs and lows – as well as contribute theirs.
MindCare's Wan pointed out that the most important thing when working with women experiencing postnatal depression is to provide a safe platform for them to share without judgement.
"A lot of them come to us due to the lack of emotional and community support. These couple of months, we have several cases expressing financial difficulties due to COVID-19 as well," she said.
Since 2019, MindCare has provided counselling through phone calls and home visits to ensure that both mother and child are safe.
Of course, the COVID-19 situation has made things a bit more complicated.
Dr Tedbabe Degefie Hailegebriel, Senior Adviser for Maternal and Newborn Health at the United Nations Children's Fund, shared that there is increased anxiety and stress due to disruptions in service and fears of being infected.
There is also limited social support system due to physical distancing measures.  
Wan added: "Some said that they wanted to find a helper and seek family support from overseas, so it's important that the community could provide support. A mother shared with me that the neighbours used to open their doors and provide great support. However, the current situation did not allow that and this has resulted in her feeling isolated and lonely."
PSYCHO-EMOTIONAL SUPPORT AT WORK
For those who are working, employers and companies could do more to provide a helping hand to employees.
Minister Masagos highlighted how we could extend more "psycho-emotional support" to employees and colleagues, whether they're pregnant or adjusting back to the hustle after maternity leave.
For example, flexible work arrangements could be considered. Employers could also be more understanding when the need arises for employees to occasionally be away.
Responding to an email query from CNA Lifestyle, KKH's Associate Professor Chen pointed out that it is particularly difficult for pregnant women when the dramatic physical changes affect their work functioning.
For example, having to climb the stairs or lift heavy items, or sit for long in a cramped space.
Associate Professor Lourdes Mary Daniel, Head and Senior Consultant of KKH's child development department, explained to CNA Lifestyle: "Bosses and colleagues can play a big role in supporting the mental health of mothers as they work side by side with them. They can be taught how to look out for signs of perinatal depression. Schedules can be made flexible enough so that breastfeeding mums can pump their milk without feeling guilty."
Whether it's immediate family, institutional initiatives or different social and work circles, it's all about building a support ecosystem.
According to Minister Masagos, public education to rally awareness and engagement remains a huge part of their inter-agency taskforce. "This will require us to continually engage with stakeholders, including parents, grandparents and service providers so that we can triangulate our insights and make our recommendations relevant," he said.
And of course, coupled with these are embracing soft skills – like empathy.
"Awareness is everywhere, what with posters at bus stops and lift lobbies, but posters don't teach you empathy," said Tan.
Ultimately, however, with the knowledge that there's a host of support systems around them, mothers do need to speak up.  
Said Tan: "It does start with mothers who have gone through depression to reach out to other mothers and say it's okay – instead of waiting for other people to do it. And that passes on to others."