Mumpreneur Norfasarie Mohamed Yahya is training her tween daughter born with one arm to be an entrepreneur
When the actress found out during her pregnancy that her baby was missing part of her right arm, she was devastated. Today, she and her husband, former Singaporean footballer Baihakki Khaizan, are determined to bring up Moza Alyka like other children – and even started Myla Moza together. From heartache to courage, this mother shares her moving story with CNA Women.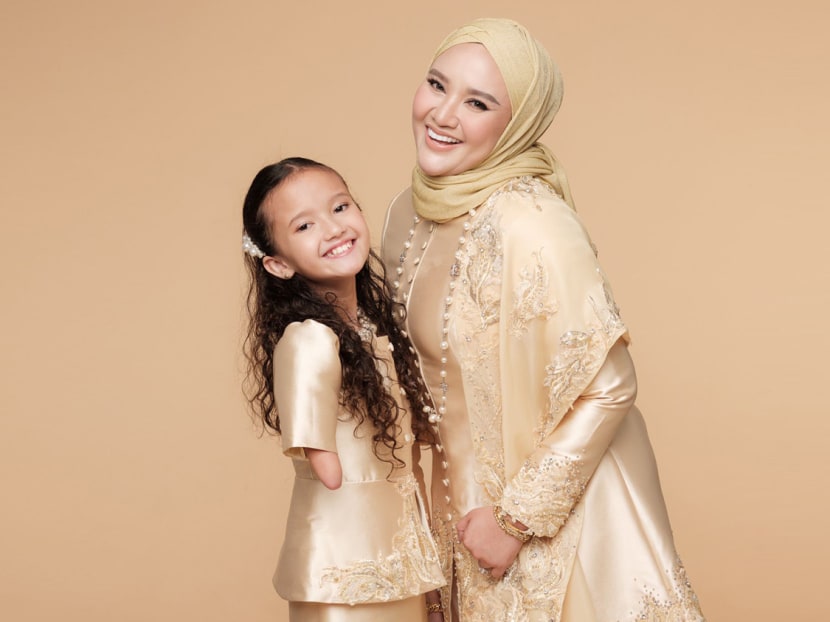 Norfasarie Mohamed Yahya still remembers going for her six-month prenatal scan 11 years ago. She was then pregnant with her second child, Moza Alyka Baihakki. "The technician turned the monitor to me and said, 'I can see her heart, kidney, two eyes, nose and two feet. Everything looks perfect. This is her left hand and her five fingers. But I can't find her right forearm and fingers," she recalled.
The entrepreneur, actress and singer, who has starred in Mediacorp Suria programmes and also released an album and a single, was later told by her gynaecologist that her baby was affected by a condition known as amniotic band syndrome, which hindered the growth of her right hand. In fact, her 2011 single, titled Seikhlas Hati was dedicated to Moza.
Norfasarie remembers the torrent of tears that came pouring down as she struggled with her doubts. "Is her brain going to be okay? Does she have to go to a school for special needs? Would she crawl? Would she get married? I even briefly thought about terminating the pregnancy," confessed the 39-year-old.
However, her gynaecologist reassured her that although her baby was missing an arm, she was healthy. Norfasarie decided to keep the child.
"I remember that after giving birth to Moza. I didn't cry. When they pushed me back to the ward where my parents were waiting, I just felt numb," she recalled.
"It was only after my parents left, and I breastfed her for the first time that she suddenly used her right stump to push my breast away. It was so strong! I was shocked because I had no idea her right stump would be so strong. I looked at the baby in my arms and broke down crying. I just cried and cried and cried," she said.
Her infant daughter's unexpected strength, however, gave Norfasarie the resolve she needed. "From that day onward, I decided I would not cry, especially not in front of Moza. I would bring her up as a normal child," she said.
And that's what Norfasarie and her husband, Singaporean footballer Baihakki Khaizan did. "There were a lot of things she couldn't do, such as crawling. Even when she was learning to walk, whenever she fell, she didn't have two hands to break her fall and would have a bump on her head. Despite all these, we just treated her like our firstborn," Norfasarie shared.
"She wanted to learn swimming, ballet, piano, violin and guitar, so we let her try them all. Today, she swims and plays the piano very well using her left hand to play the melody and right stump to play the chords. She is a very confident girl," said Norfasarie.
Moza grew so much in strength and resilience that this year, at only 11 years old, her mother decided to teach her the ropes of running a business, and jointly launch Myla Moza, a small accessories brand, with her.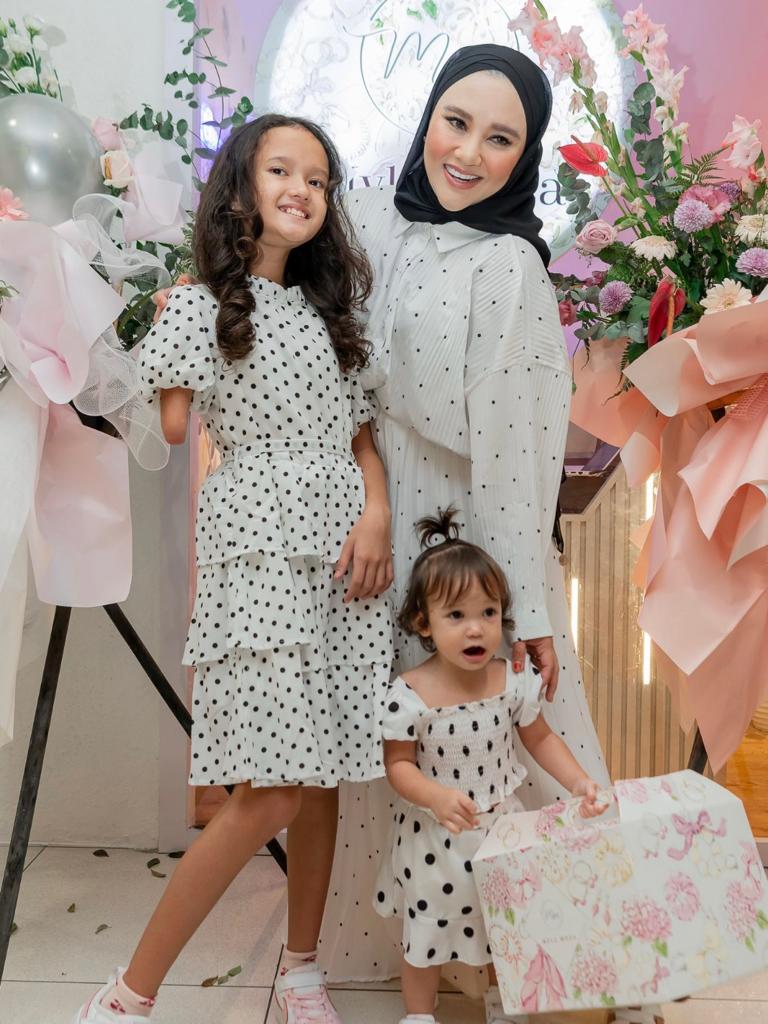 AN 11-YEAR-OLD'S ENTREPRENEURSHIP JOURNEY
The mumpreneur shared that it was the birth of her second daughter Myla in May 2021 that planted the seeds for this new business.
"I have two sons and two daughters, and wanted to leave a legacy for each of my daughters. While I had already named Moza Aesthetics after my eldest daughter Moza, I had nothing for my youngest daughter Myla. So I thought of starting another new business, Myla Moza – combining both my daughters' names," she said.
Today, she swims and plays the piano very well using her left hand to play the melody and right stump to play the chords. She is a very confident girl.
When she floated the idea to Moza in April this year, her daughter shared her enthusiasm. "She immediately started drawing three to four logos, and from these, we chose one," she said.
"She came up with the idea of selling scrunchies and a detangler brush because she knew of an American girl on TikTok who started a small business selling scunchies and is now able to buy her parents a house.
"Moza said she also wanted to buy me a bigger house. Though I always tell her not to spend so much time on TikTok, at least something good came out of it," she laughed.
The 11-year-old put her ideas together and presented them to her parents, including her projection for how much the business could make and the initial investment needed.
"She even told me she chose scrunchies and a detangler brush because they have no shelf life. It was quite impressive. It was a bit like Shark Tank," she said, referring to the American reality show where aspiring entrepreneurs pitch their idea to investors.
Norfasarie initially invested S$5,000 into Myla Moza to create the branding, and to professionally design and trademark the logo, as well as acquire the products and packaging that Moza sourced for.
"She started very small, offering just one box with five scrunchies with a detangler brush, priced at S$68. She packed it at home herself and even wrote different inspirational quotes for each box, that she'd sourced from the Internet or read in a book," Norfasarie said.
Moza sold these during the Hari Raya festive period in May on Instagram and TikTok via the handle @mylamoza. She also sold it to friends and relatives who visited the house throughout the festive period.
"She sold 50 boxes altogether. I was kind of surprised that my 11-year-old made more than S$3,000 in sales. Perhaps because Moza is uniquely-abled, she is a really good sales person. You can tell from the way she talks to people," she added.
"So in August, after Hari Raya, I told Moza that I had a space in Moza Aesthetics that I could convert to grow Myla Moza. I asked her if she wanted to take the space. She said yes," Norfasarie said.
Together with the S$3,000 they had earned from scrunchie box sales, Norfasarie pumped in another S$10,000 to renovate a small area within the beauty salon and officially launch Myla Moza on Oct 1. They decided to expand their offering to include necklaces, bracelets, brooches, earrings, rings, other hair accessories and handbags.
EMBRACING HER UNIQUENESS
Today, mother and daughter work hand-in-hand to develop Myla Moza, with Moza working closely on sourcing and brainstorming for new ideas.
"Because Moza is young and fresh, she knows what her friends or other teenagers want and what's in trend now," Norfasarie said.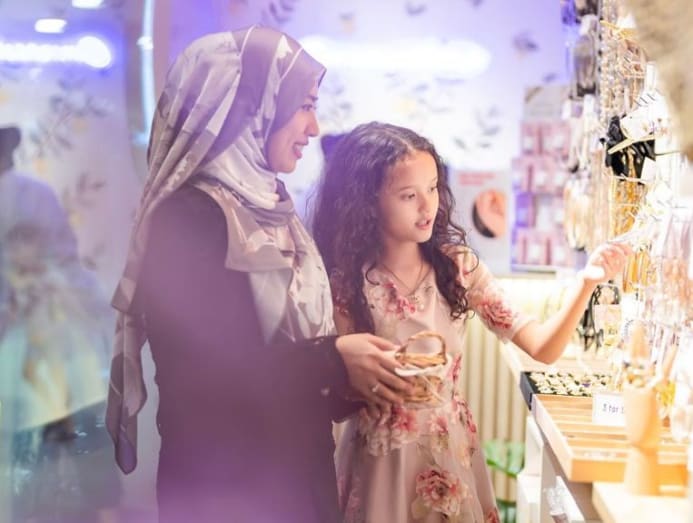 "She tells me what bags and accessories are 'in'. She also comes up with ideas such as a back-to-school kit with black hairbands, clips and rubber bands because she and her friends always lose these items. And she tests samples such as brushes, claw clips and headbands to make sure they are not too tight or painful," she added.
"I guide her to do market research and check out what competitor brands already have, and help with pricing. I also make sure she juggles her studies and only works on Myla Moza after finishing her homework because her PSLE is next year," Norfasarie said.
 As part of the entrepreneurship experience, Norfasarie also empowers Moza to give back to the community, donating 20 per cent of their proceeds from the first day of Myla Moza's launch to a charity of her choice. Moza chose Enabling Village, an integrated community space that promotes a more inclusive society for the uniquely-abled, like her.
"My advice for other uniquely abled people is: Don't let people look down on you. Know that you are unique and have your own special way of doing things," said Moza.
It may seem like Moza and Norfasarie have beaten great odds to get here, but the latter shared that it remains a challenging emotional journey for both of them.
"I still remember a time when Moza was six years old and went for a track and field trial class. When she introduced herself, one of the girls said 'Ew, what happened to your hand. I don't want to touch that.' Moza cried and cried at the stadium that day," she recalled.
"Even today, when she has gotten used to stares and people asking to touch her stump, sometimes it still hits her. For example, recently during Halloween, some adults thought her stump was a Halloween costume and asked her how she did it," she added.
"Though she is 11 years old and tougher today, she still has bad days where she says, 'Mummy, how come I don't have a hand?' I keep reminding her to be strong and that God created her special for a reason," she said.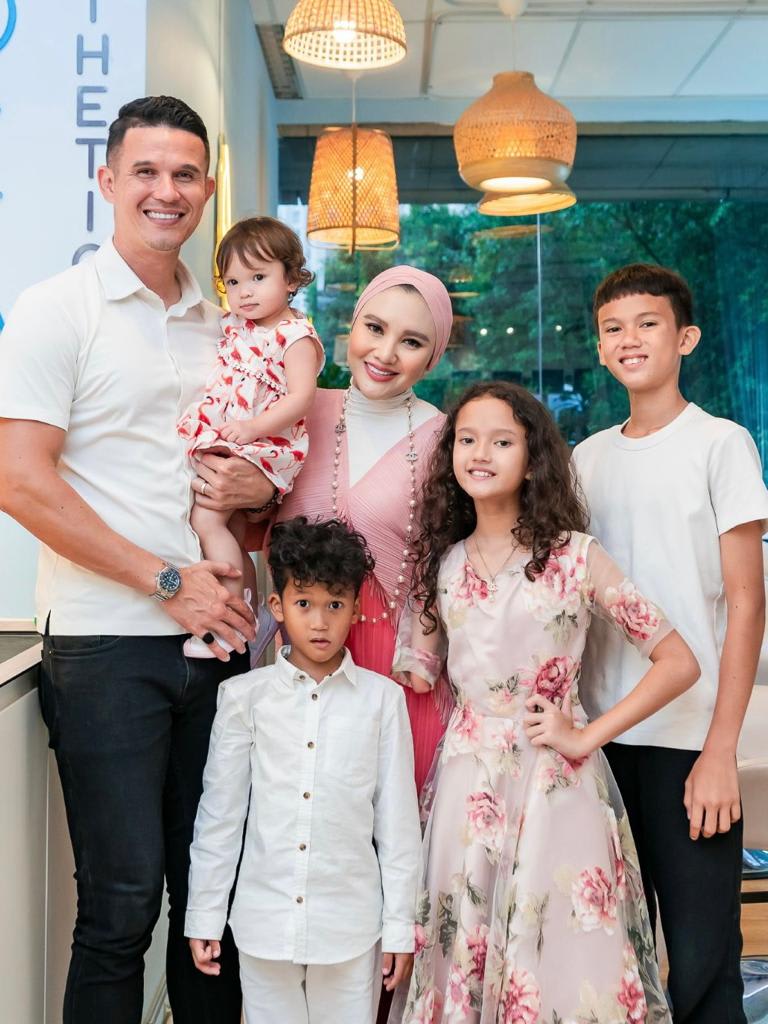 That's one of the reasons Norfasarie is so determined to teach Moza the ropes of entrepreneurship. "I have been in business for almost 12 years and I believe there are a lot of good qualities and values in entrepreneurship," she said.
"Though I do want her to complete her PSLE, O-Levels and degree, I don't want her to think that the world is so small that you have to go through the traditional route of education and be like everyone else to succeed," she reflected.
"Being an entrepreneur requires a lot of creativity, mental strength, resilience and a never-give-up attitude. Just like in life, if you fall, you stand up again. These are qualities I see in Moza because she is uniquely-abled. I want her to develop them so that she will be successful in future in her own way," she said.
Read this story in Bahasa Melayu here.
CNA Women is a section on CNA Lifestyle that seeks to inform, empower and inspire the modern woman. If you have women-related news, issues and ideas to share with us, email CNAWomen [at] mediacorp.com.sg.