NDP 2021 composer Linying shares life choices, favourite food and The Road Ahead
Singer-songwriter Linying kicks off our National Day series on Singapore women, speaking to CNA Lifestyle about writing The Road Ahead and being Singaporean, including the time she ran after someone because of her favourite food.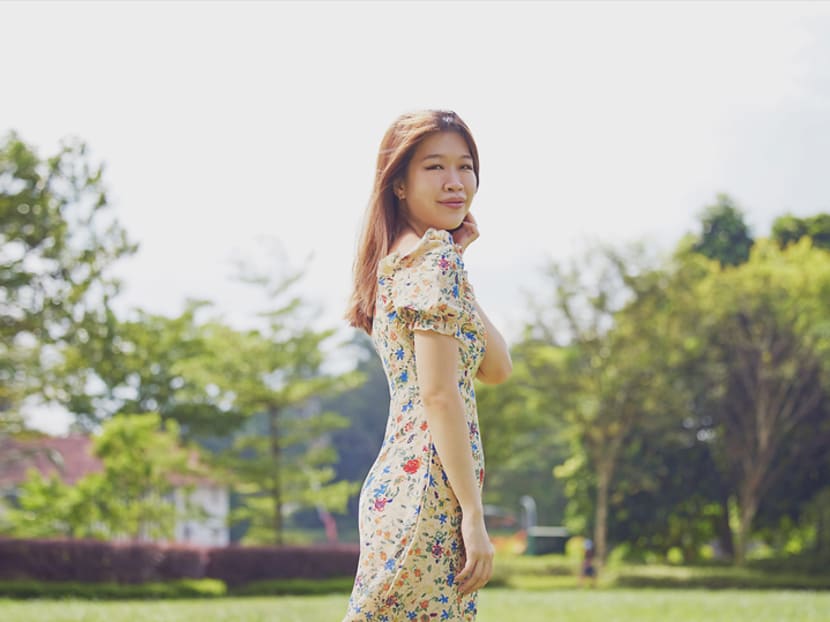 Linying hasn't been this busy since her songwriting career started. The 27-year-old, whose name is Lin Ying, is the composer of this year's National Day theme song, The Road Ahead, along with music producer Evan Low, and is also featured in the video. 
It's a good kind of busy, of course. Over most of July, she's been shuffling between National Day Parade rehearsals (which has since been postponed to Aug 21), fulfilling a slew of media interviews and working on a new album. 
And in between all that, there was the release of her new single Daylight Blows Into One Door on Jul 13 with American producer Chris Walla from indie rock band Death Cab for Cutie. "It was a big moment in my life to be considered a peer collaborator with a hero of mine," she shared. 
View this post on Instagram
But despite these consecutive wins, Linying said she isn't ambitious. "I don't really want to achieve for the sake of achieving," she told CNA Lifestyle in a face-to-face interview just before Singapore's current Phase 2 (Heightened Alert) started. "I just want to have an eventful life."
THE START OF HER CAREER 
Her first brush with singing started when she was in Secondary One at CHIJ Secondary, when she took part in a school singing competition. "Looking back, I don't know what I was thinking. I wasn't a popular kid or anything, but I randomly decided to join it – and I won," she said.
A few years later, she started sharing videos of her singing on YouTube. In her first post, she sang Blood Bank by US indie folk band Bon Iver, one of her music inspirations. 
She had gained a small following of fans on YouTube then, and received the attention of French electronic dance music producers who noticed her knack for songwriting and distinctive angelic voice. "They listened to my videos on YouTube and wanted me to write a song." 
She went on to write the lyrics on top of the produced track, making her professional debut in the music industry. 
The song was picked up by a big electronic dance music label called Armada Music. 
"Then I started getting flooded with emails from deejays, especially in Europe, asking me to write on a song," she shared. "The European electronic dance music scene was quite buzzing then."
One of the emails was from German producer Felix Jaehn who shot to fame during the same period. He's most well-known for his remix of Jamaican singer Omi's Cheerleader, and the song was at one point at the top of US Billboard's Hot 100 chart in 2015.
Linying worked with him on the song Eagle Eyes, which was played at the iconic arts and music festival Coachella. "I started seeing videos of people tagging me in it and it was just crazy because I was still (studying history at the National University of Singapore) at the time. My voice was at Coachella, and I haven't even been there."
View this post on Instagram
The best part? The duo went on tour all across Europe before Linying graduated from university. "There was a tour bus and I had an experience of a lifetime. And this all came from YouTube. So that's really crazy to think about," she said. 
HER LOVE FOR MUSIC AND THE ARTS
While she may have started singing only at 13, she's always had a love – and an ear – for music. "My mum told me that it was my first or second birthday party where I started playing some songs on a little electric keyboard."
As a child, Linying thought she would either become a pianist (she completed her Grade 8 exams at 15) or an artist. Yes, she's artistically inclined too – having hand-drawn the cover of Daylight Blows Into One Door.
"It started out as (Danish illustrator) Kay Nielsen fan art that I drew over Christmas while watching The Crown because I needed the therapy, but then it suddenly became the guiding light for all of the artwork that followed," she explained on Twitter. 
Her favourite mediums are oils and watercolours, she said. Doing the artwork on her album covers helps her "gain closure" after the songs are produced, she said.
There was a time, she told CNA Lifestyle, that she considered becoming an art historian, even though it would mean moving to Italy. "I love that history gives you the context to understand all kinds of art. Whether you are watching a movie, reading a book or writing a song, when you have historical context, your experience becomes more rich."
WORKING ON THE ROAD AHEAD
She tapped into her background in history when writing the chorus: 
Come whatever on the road ahead
We did it before, and we'll do it again
Linying said she was making reference to the historical context of her parents and the older generation, and the adjustments they had to make moving from their kampung days to the era of smartphones.
"I will never understand that kind of hardship that they've gone through. And it's something that I want to pay my respects to."
The song is personal, Linying said, adding that she wanted it to remind herself and listeners about being hopeful about change.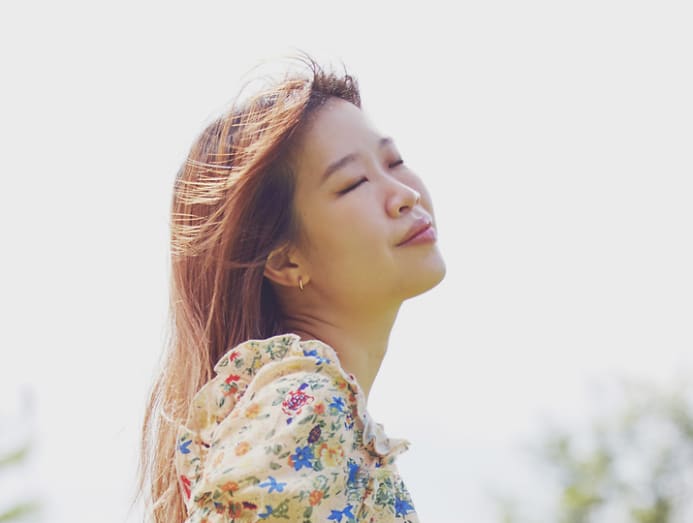 Linying and co-producer Low started working on the song last September during Singapore's tightened measures for a safe re-opening. While Linying took the lead in the writing, Low focused on the production side of things. 
The two only met in person once to write the melody together. Thereafter, they took the song home to work on separately.
View this post on Instagram
"I was making revisions to the lyrics, and Evan was producing it concurrently. We made sure to check in with each other every step of the way to make sure that we both liked it," she said.
"I spent a week in my bedroom writing the chorus and going through revisions." By December last year, the skeleton of the song was ready.
Linying recorded a demo of the song in her bedroom, and "had the aircon blowing". Fun fact: "The voice that you hear in the final song is the exact demo vocal. I never really re-recorded it."
"It's not good quality. But it's the best. And every time I tried to record it professionally, it never turned out as well."
View this post on Instagram
Undoubtedly, there were challenges in writing The Road Ahead amid the pandemic. Figuring out the tone of the song was the hardest, Linying recalled. And it was going to be difficult to determine what people were going to feel eight months from when they started writing it in September 2020.
"We didn't want to do something that was so hopeful that it felt out of touch. And we also didn't want it to be something that felt too much of a downer," she said.
What made it easier, however, was the support she had from her friends. "I showed an early demo of the song to a close friend who's a frontline worker, and it was quite heartening for me because she loved it and 'felt' something after hearing it." 
Noting that the song would be reaching people who aren't her typical audience, Linying says she wants to dedicate The Road Ahead to healthcare frontliners and hawkers. 
"Maybe the song can really just cheer someone up," she said. 
POSITIVE RESPONSES FOR THE ROAD AHEAD
National Day songs, while there to rally Singaporeans, are ironically, often more brutally criticised than highly praised, from the melody to lyrics to the choice of singers and music arrangement.  
Prior to The Road Ahead's release on Jul 2, Linying had steeled herself for the criticism.
It was, after all, her first NDP song. And Low, who has worked on the last four NDP songs, had warned her to be "mentally prepared" for negative comments.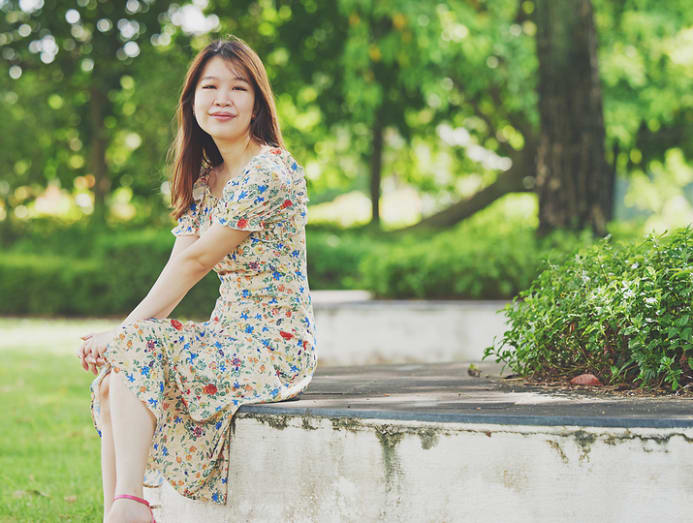 Perhaps it was also how her parents had instilled in her a "healthy realism" to her music. "My mum was a math teacher, and my dad has his own business. So they knew the importance of values such as discipline and self-control. They also taught me to focus on my portfolio and transferable skills."
The positive reactions surprised her. 
On the official music video posted on YouTube, one commenter said: "One of the best National Day songs comes at a time when Singapore faces one of its toughest challenges." 
Another comment went: "This touches my heart. Our forefathers went through hardship to be on this island."
"I don't think I am an optimistic person, but I do like it when I'm able to feel hopeful about something," she said, adding that she was thankful and happy about the public's response.
A TRUE FOODIE AT HEART 
What do Singaporeans love to do but eat? So we asked Linying about her favourite hawker food.
"I have been preparing my whole life for this question," she laughed. "The best thing about being a Singaporean is that we are all very intense about food. Everyone is spoilt for choice and that's one thing I really love."
To that end, her favourite vegetarian stall is Delicious Vegetarian Food at Serangoon Garden Market and Food Centre, and the Hokkien mee from Xiao Di Fried Prawn Noodle in Serangoon North.
"I loved this uncle (from the Hokkien mee stall) so much that I was heartbroken when he had to move. But one day, I saw his son at the bus stop, and chased after him to find out where his father's stall had moved to."
It turns out he had shifted his stall to Toa Payoh and had imparted his skills to a new generation of hawkers. "I love these second-gen hawker stories, and I love preserving the hawker culture story which I identify with the strongest as a Singaporean," she said.
HER PERSONAL LIFE GOALS 
From what she wanted to study in university to how she writes her songs, the self-professed introvert is clear about what she wants in life.
"I chose to do history because I would like to do something that I won't regret. And that governs a lot of decisions in my life," she said. 
Her approach to music is similar: "I try not to pander to people's tastes with my songwriting because I don't want to live my life writing to the expectation of what other people want to hear."
Her non-musician friends are a grounding force in her life, she said. "In order to be the kind of artiste that I want to be, I need to remain rooted in my relationships with people who do things that are different from me." 
Her first music inspirations, like Bon Iver, Death Cab for Cutie and Bright Eyes, have shaped her perception about music as well. "(They) taught me that music can really bring consolation and understanding to situations that otherwise might be quite difficult to process."
"Many of my life events have been accompanied by these great songs that follow me through my life, and I want to be able to be part of that for someone else's life," she shared. 
If there's one thing she could change about herself, however, it is that she hopes to not take things too seriously. "I do wish that (negative comments) don't affect me so much, and I wish I could laugh at myself a bit more."
View this post on Instagram
For now, Linying is just happy to live in the moment, working on her new album from the studio, which she refers to as her "sanctuary".  
"I am proud that if I die at any point now, I will die without regrets. And that's how I would want to live my life," she said.
CNA Women is a new section on CNA Lifestyle that seeks to inform, empower and inspire the modern woman. If you have women-related news, issues and ideas to share with us, email CNAWomen [at] mediacorp.com.sg.