Breast cancer update: AI to read mammograms, 3D nipple tattoos, promising drug combo, device to shrink tumours
New research, both in Singapore and globally, is giving breast cancer patients hope when it comes to fighting the disease. CNA Women gets the lowdown on advances in treatment and breast reconstruction.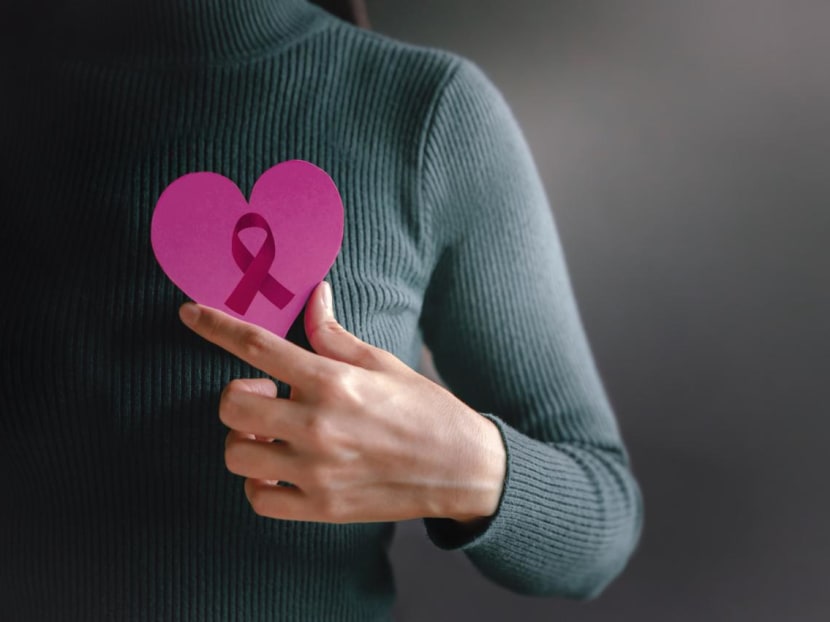 Breast cancer is the most common cancer in women. In 2020, more than 2.3 million women were diagnosed with breast cancer and 685,000 died from the disease globally. According to the United States-based Breast Cancer Research Foundation, a woman is diagnosed with breast cancer every 14 seconds. The statistics are staggering.
Dr Mikael Hartman, Associate Professor at the Saw Swee Hock School of Public Health at the National University of Singapore (NUS), and a Senior Consultant of Breast and Trauma Surgery at the National University Hospital, said: "Before, one in 35 women were found to have breast cancer, and it is now one in 13. Soon, this figure will be one in 10."
Although there is an increase in breast cancer, these occurrences are in women aged 50 and above, he said. "Breast cancer in women, especially below age 35, is very rare." 
NEW TECHNIQUES IN BREAST CANCER DETECTION    
Dr Hartman, who is also the Programme Leader for Breast Cancer Prevention Research at the NUS Saw Swee Hock School of Public Health, added: "Since we have minimal means to prevent the disease, we must focus our efforts on finding the disease early.
"Breast cancer treatments then are less complicated, with higher chances to save the breast and limited need for chemotherapy."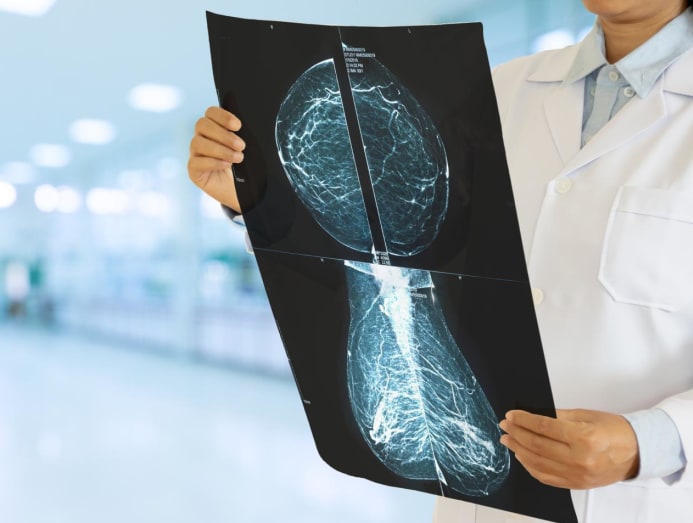 He outlines a few challenges for this – the first being women are not testing early enough. "In Asia, compared to the US and Europe, we still see women coming in too late. It's essential that women after 50 attend their mammogram screening appointments, so that any cancer can be detected and treated as early as possible."
Early detection through breast imaging with mammograms significantly improves treatment outcomes, he added.
MAMMOGRAM SCREENING FOR DETECTION
Breast Cancer Foundation (BCF) Singapore recommends that all women above 40 years old be screened for breast cancer.
For those between 40 to 49, an annual screening is recommended, and for women aged 50 and above, it is once every two years.
Mammogram screening is available at all polyclinics and for women aged 50 and above, the first screening is free for blue and orange CHAS card holders. This is funded by BCF Singapore.
For women without the blue or orange CHAS cards, those going for repeat scans, and women aged 40 to 49 years old, the cost is S$50, and it can be deducted from Medisave.
There is also a Mammobus which drives around the various neighbourhoods for screening and this is free for women aged 40 and above doing a mammogram for the first time. For those who are screening again, the cost is S$10. The Mammobus scheduled can be found here.
Although it's currently the best way to screen for cancer, Dr Hartman said: "Mammograms are inherently difficult to read. So both in Singapore and around the world, implementing artificial intelligence or AI to read mammograms and assist radiologists increases the efficiency and the accuracy of the diagnosis."
He is also going one step forward with screening – he is working with several researchers to develop techniques to test specific risks for the disease.
"This risk can be assessed with a simple questionnaire about reproductive factors, and a swab to identify any genetic markers. The aim is to screen the women most at risk and allocate our efforts to help women with increased risk."
NEW BREAST CANCER DRUG TREATMENT UNDERWAY
Earlier this year, positive results for breast cancer treatments were shared.
These include a novel combined therapy using Letrozole, a type of hormonal endocrine therapy and Lenvatinib, a drug often used in the treatment of thyroid, liver, kidney and uterine cancers.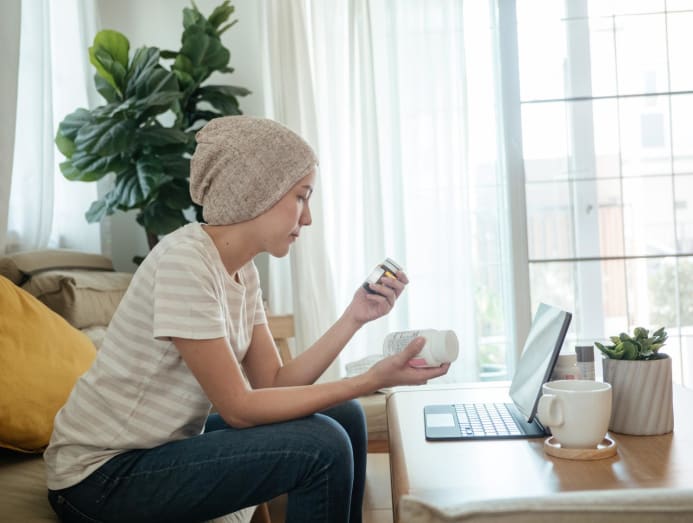 This combination was discovered from a local research study which involved 43 patients with metastatic breast cancer or with Stage Four hormone receptor breast cancer that had not responded to prior therapies over two years.
Using the Letrozole-Lenvatinib combo over six months, one in two patients saw their tumour shrink or had better control of their condition. What's more, patients in the study were able to continue their usual activities and maintain good quality of life while on the treatment.
The research's lead investigator, Professor Lee Soo Chin, Head and Senior Consultant of the Department of Haematology-Oncology at the National Cancer Institute of Singapore (NCIS) and Senior Principal Investigator at Cancer Science Institute of Singapore (CSI Singapore), said the findings show evidence that the therapy is effective in the treatment of breast cancer, even in patients whose disease is no longer well-controlled by conventional hormone therapy options.
Co-investigator Dr Joline Lim, who is a consultant at the same department in NCIS  and a joint fellow at CSI Singapore, added that a late phase trial is underway to compare the current standard treatment against the Letrozole-Lenvatinib combination.
Prof Lee said: "Further clinical trial findings will provide insights, identify the most appropriate patients to be treated, and expand the pool of patients who may benefit from the treatment."
SHRINKING BREAST TUMOURS THROUGH PULSED MAGNETIC THERAPY
Another treatment involves employing the use of non-invasive pulsed magnetic therapy. A team at NUS, led by Associate Professor Alfredo Franco-Obregon, developed the OncoFTX System – used together with chemotherapy, it shrinks tumours in a painless manner.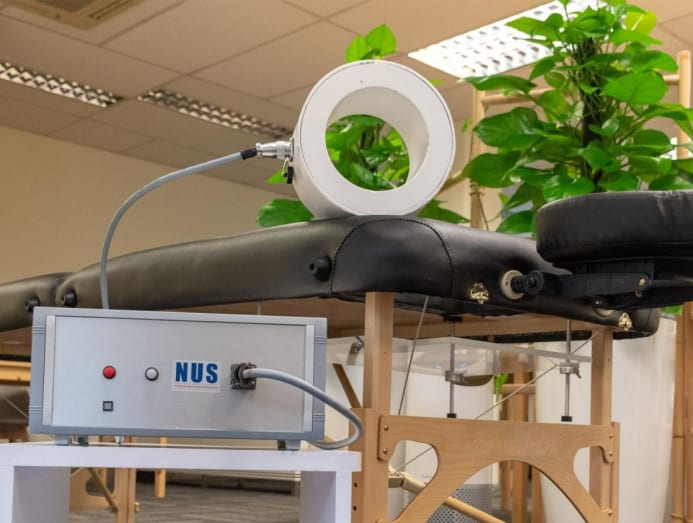 Patients lie face-down on a massage-bed looking device with their breasts inside a wheel-like coil. The pulsed magnetic field exposure causes the cancer cells to "hyperventilate" and die.
What about the healthy cells? They are safely immune, said Assoc Prof Franco-Obregon.
With more research, the hope is that pulsed magnetic therapy on its own or in combination with chemotherapy, will help to shrink tumours with minimal side effects, not just for breast cancer but also other type of cancers.
BREAST RECONSTRUCTION TECHNIQUES
For women who suffer from breast cancer, sometimes a mastectomy to remove the breast may be one of their best options for treatment. With this, many patients are offered breast reconstruction as part of their treatment.
It is done with either implants or using one's own body tissue. The breast implant is placed in the newly created pocket after the breast tissue is removed. If the patient decides to use her own body tissue, this is taken from her lower abdomen or her back.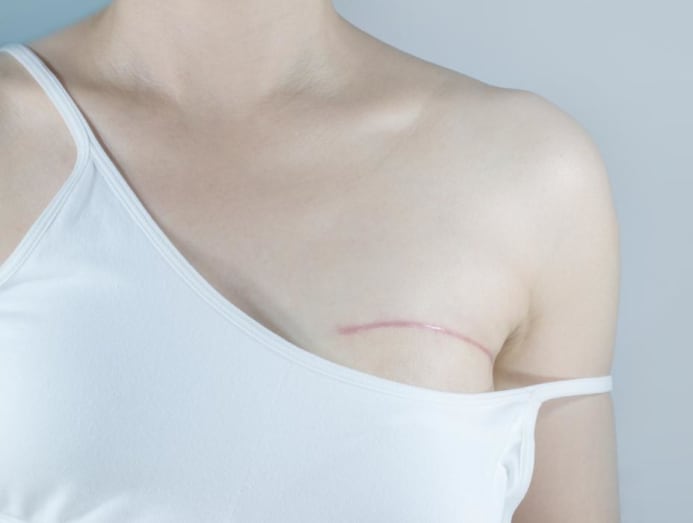 Dr Ong Wei Chen, a Ministry of Health accredited plastic surgeon and medical director for WC Ong Plastic Reconstructive Surgery at Gleneagles Medical Centre, said: "Using one's own tissue can allow the reconstructed breast to move as naturally as her own breast. Results improve with time as surgical scars fade and the reconstructed breast settles into the pocket to match the opposite breast.
"When a new breast is reconstructed immediately following mastectomy, the woman wakes up from surgery without the emotional trauma of the 'loss' of her breast. Breast reconstruction helps the woman better accept her condition and move on with further treatment."  
The nipple can be tricky to reconstruct, especially if one or both were removed during mastectomy. You can choose to have surgery, tattooing or both, to recreate the nipple and the areola (the darker shaded area surrounding the nipple).
Most plastic surgeons recommend waiting a few months post-breast reconstruction to have nipple reconstruction or tattoos. "This interval also allows the reconstructed breasts to heal and 'settle' into the breast pocket. Nipples are then positioned accordingly to follow the position of the breast," said Dr Ong.
Usually, nipple reconstruction surgery uses skin from where the nipple will be to form a new one. Later on, the reconstructed nipple may be tattooed to create the areola. This type of reconstruction is more natural as the new nipple looks much like what the woman is used to.
Another way is 3D nipple tattoos. Pigments are inserted into the skin and the tattoo artist creates the illusion of a physical nipple but it is actually flat.
However, these options may not work for patients who suffer from damaged breast skin from radiation treatments. Or if the skin is too thin when tissue was removed in the mastectomy, lymphedema (swelling due to build-up of fluid in the body) or a history of infections on the breast.
The best thing about breast reconstruction is it can be done anytime – immediately after the mastectomy or months and years later.
Dr Ong said: "Breast reconstructive procedures have been shown to be safe – it does not delay cancer treatment or interfere with chemotherapy or radiation therapy, should either be needed. It also has no effect on cancer recurrence or survival."
She added, "Almost anyone at any age can have breast reconstruction as long as they are medically fit to undergo the operation. I have performed such surgery on patients in their 20s to those in their 70s."
Read more breast cancer stories:
CNA Women is a section on CNA Lifestyle that seeks to inform, empower and inspire the modern woman. If you have women-related news, issues and ideas to share with us, email CNAWomen [at] mediacorp.com.sg.