Amateur futsal team Nighthawks: Building community main focus amid lack of support for female footballers
Female futsal and football players in Singapore feel they have discipline and skill yet struggle from an absence of support and recognition. For the Nighthawks, considered top performers in Singapore's amateur women's futsal scene, the focus now is on solidarity, community and a sense of identity. This story is the final edition of CNA Women's series on women in Singapore football.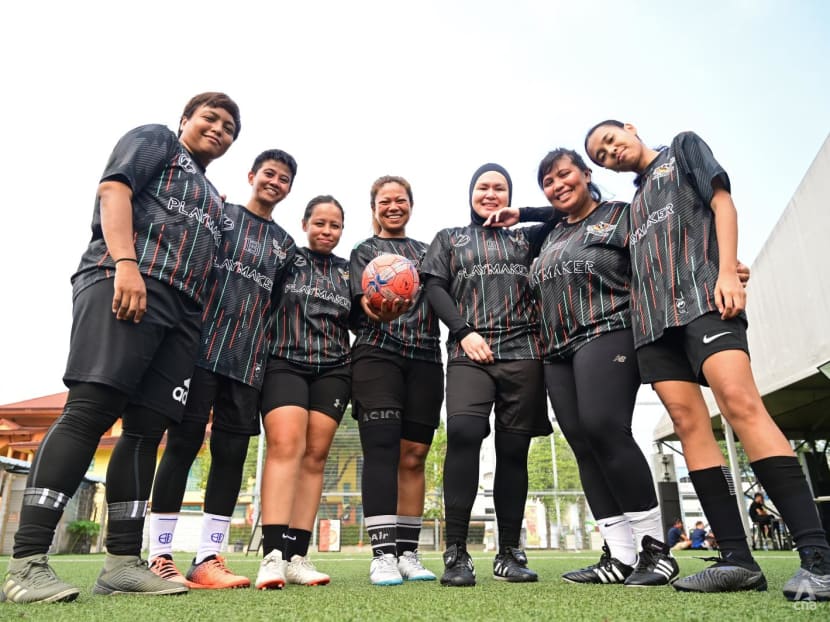 "Nice pass!" someone said as a player attempted a goal-assist, even as the ball didn't end up where it was meant to. 
I was at a half-day-long tournament – the Women's Futsal Crazy League regularly organised by local company D2D Sports, which holds monthly sporting events for organisations. 
That kind of shout-out is a shot in the arm common in the sporting world, typically offered by members belonging to the same competitive team, but this particular holler came from a member of the opposing squad, who had been watching from the bench, waiting to be substituted at any point in the 10-minute match.
Futsal matches work like football except on a smaller scale. Each team typically consists of five players, the games are shorter, and matches are played mainly indoors on hardcourts rather than large fields of natural grass. 
As futsal courts are smaller, it is also easier, I observed, for onlookers to offer live feedback to the players.
It didn't seem to matter whether they were teammates or rivals – the women (including supporting spectators) cheered each other on and helped each other up, both literally and figuratively. 
"A GREAT ATMOSPHERE"
"The atmosphere at these women's league tournaments is largely great. The players intermingle and sometimes even hold picnics after the matches.
"Despite them ultimately being competitors, there is a very good sporting spirit among the teams, unlike with the men," said Rasvinder Singh, executive director of D2D Sports.
Shadowing one of the top and longest-participating teams of the futsal league, the Nighthawks, I quickly learnt what he meant. 
The atmosphere was like that of "Sunday football", with the different teams greeting each other spontaneously, catching up and cracking up over inside jokes.
It was like meeting at a coffee shop, except they were all women wearing football jerseys. 
On the pitch, however, it was, quite literally, a whole new ball game.
Hearing such words from rival teams — especially amid a high-octane match – one could sense it was not simply encouragement but an attempt to discourage a defeatist attitude. Each team displays a level of mental fortitude, skill and fitness that experts, including Rasvinder, have described as rare in women's football, especially in the amateur scene. 
But for the Nighthawks, futsal is not simply a hobby – it is community. For some, it is a large part of their identity.
Nur Hidayah Mohamed Shah, for example, told CNA Women ahead of the tournament that the team "has always given (her) a sense of identity and fulfilment, and most definitely a sense of community".
"It's nice to be around others who share your passion."
Fardina Nahar, a member of the Nighthawks since 2019, said her time so far with the team has been a "real eye-opener".
"It is such a great experience to do this with friends who have played for many years. I've learned so much from them and if it was not for their guidance, I would not be the person that I am today," she said.
Nighthawks' member Nurshikin Razali, a freelance web designer, also told CNA Women: "I grew up watching men's football and if you do too, you can easily tell the difference.
"(The men) are competitive, not just against their opponents but also against their teammates. That's because everyone wants to be credited as the best player; everyone wants the ball," she said. 
LACK OF OPPORTUNITY
Hidayah, a 32-year-old full-time executive who joined the Nighthawks a decade ago, said the local women's futsal community not only keeps her committed to leading an "active lifestyle", but also gives her a sense of purpose.
"I get to ensure that my passion for the game stays ignited for as long as possible," she said.
Hidayah's love for what is universally described as "the beautiful game" can be traced back to her secondary school days. At the time, football was not a co-curricular activity at Temasek Secondary School, so she would play casual games with the boys in the neighbourhood every chance she got.
Similarly, when she became a first-year student at Temasek Polytechnic, there wasn't a women's football team – at least not until her seniors "worked hard" to fight for it.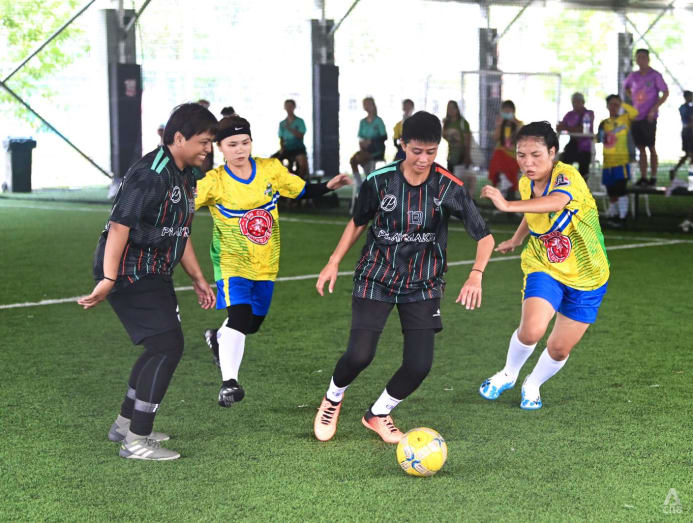 Since then, Hidayah has continued to play competitive futsal, although she admitted she still gets the jitters before every competition.
"But once the match starts, I automatically put my whole heart into the game and (my) nerves simply die out."
Fardiana, a 28-year-old senior executive, shares this sentiment.
"I started playing competitively really late – only in 2018 or 2019. I always had a passion for the sport but growing up, there weren't any opportunities to do so because competitive women's teams were not common. I ended up pursuing other sports instead, like netball, hockey and floorball.
"If I wanted to play football, the only opportunity was to do so leisurely with friends in public spaces such as the void-deck and in the multi-purpose hall. It was quite frustrating.
"It was only in university that I finally got the chance to play competitively," said Fardiana, who faced challenges similar to Hidayah's, both of whom only received the opportunity to play football at a more advanced level when they were older. 
"It was exhilarating and yet I was so scared because I felt I lacked experience on the field. I didn't want to let my teammates down and I knew I had to do a lot to keep up in terms of my technical skill. The learning curve was very steep for me – it was my first time playing competitively and by then I was already 24.   
"If I'd been given the opportunity, I would have started way earlier," said Fardianah.
A RENEWED SENSE OF IDENTITY
The Nighthawks weren't always the Nighthawks.
More than 10 years ago, Hidayah heard about Soccer Ladies, a team that comprised several of her acquaintances. She joined the team and over the years, many left but still many stayed on, and as the latter grew closer and became more committed to competing regularly, they started brainstorming names, initiated by a former member and ex-Lionesses sports trainer Munah Sativan.
"Munah just threw out all these random names and Nighthawks kind of stuck because we usually play at night and hawks are often associated with having a keen eye," explained Hidayah. 
Rather unusually, the Nighthawks do not have a captain – every participating individual is empowered with the agency to take on any duty they can afford.
"We don't have an active captain or assistant captain. We try our best to ensure each player has the opportunity to lead or take up the captaincy role in every competition we participate in," Hidayah revealed.
But Hidayah has taken it upon herself to be the "point person" for organising games, something she said can "indeed be a challenge".
"I first ask in the group chat who is available for a friendly (game). Then I source for and suggest available locations that are convenient for everyone. If we don't have enough players for a standard casual five-a-side, I check in with my personal network to see if there is anyone willing to join us.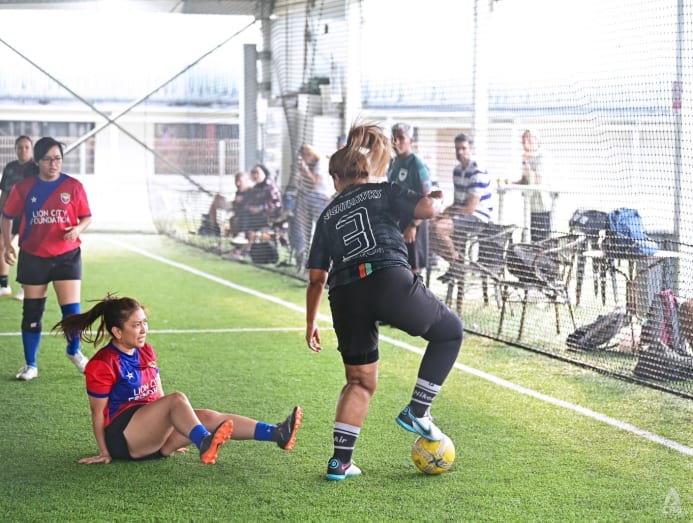 "Sourcing enough players for a match is something my teammates and I do together, actually, because we need at least 15 to make booking a location financially sustainable," she explained.
Fardiana agreed.
"Sometimes it feels impossible to bring the team together because we all have so many commitments, but we always make it work. 
"I'm thankful for Hidayah because without her relentless efforts to organise, it would definitely be a lot harder," she said.
Despite the challenges, the Nighthawks were unanimous on one thing: "It's all good vibes."
"There's definitely a sense of community and belonging. There's just something about playing with the Nighthawks that I really enjoy – something I hadn't experienced before when I used to play with others.
"The camaraderie, how we understand each other both on and off the pitch, and the drive and passion we possess as a team is really something else.
"At the end of the day, we all enjoy the game and enjoy each other's company and that's all that matters."
BETTER SUPPORT FOR WOMEN FOOTBALLERS 
For the Nighthawks, life is broadly fulfilling and it shows. After having spent half a day with them, it was clear – at least to me – that they each maintain a buoyant attitude towards life.
"We all need an avenue through which we can 'let things out', especially as we get older and have more responsibilities in life.
"Having joined the Nighthawks, I now not only get to pursue a sport I love, I'm also always surrounded by like-minded people who are, incidentally, also amazing people," said Fardiana.
For most of the Nighthawks players, the goal is to see football organisations do their part in further encouraging the formation of women's football – and futsal – teams.
"I hope the local football association gives us the opportunity to start a national futsal team, for example, and offers the support needed to build it up so it can achieve great results both locally and regionally.
"Women should be encouraged not only to play but to also receive specialised coaching from experienced trainers. Often, coaches do not adapt their practice to cater to women," said Nurshikin. 
Hidayah agreed: "Over my years of playing football, I've observed that the intensity of the training provided by many coaches is catered to men, whose physicality and physiology are different from women's."
"Small things like these are what I hope for. To others, it may seem unnecessary, but any work put into this can really uplift women and ultimately, change the game for the better," Nurshikin added.
CNA Women is a section on CNA Lifestyle that seeks to inform, empower and inspire the modern woman. If you have women-related news, issues and ideas to share with us, email CNAWomen [at] mediacorp.com.sg.