Ria 89.7FM's Nity Baizura on spooky on-air encounters and TikTok challenges
In the latest episode of CNA Lifestyle's podcast series Pyjama Party For 2, the radio personality tells us about taking on TikTok challenges with her kids, and also shares some hair-raising tales from the time she's spent on lonely midnight shifts.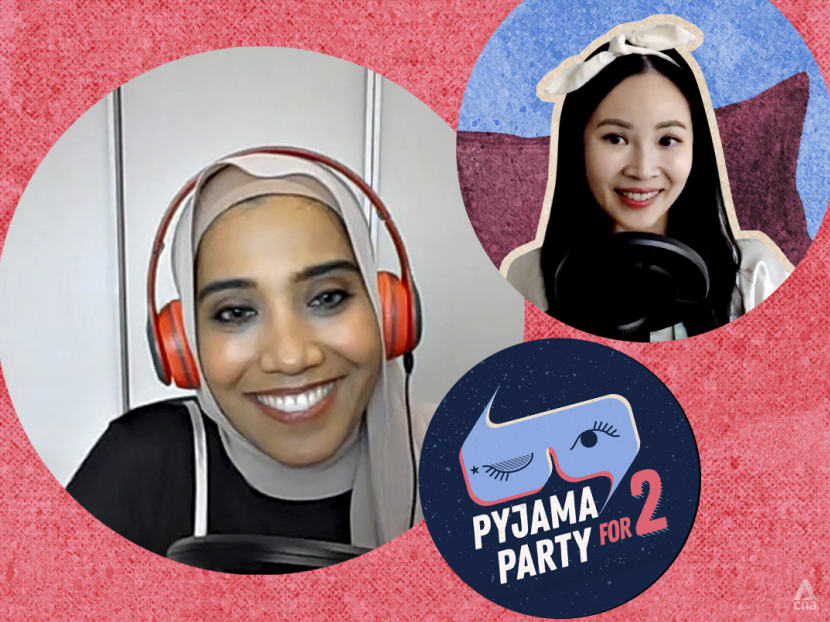 It's not easy being a radio personality these days – juggling on-air shows, cultivating a social media presence and catching up on paperwork – especially when you're also a mum of three. Ria 89.7FM DJ Nity Baizura knows this full well. But although the pressure is real, it's not stopping her from trying new things. Like TikTok.
The social media app looked like fun, so she decided she'd try it out in earnest, the 38-year-old said during a conversation for CNA Lifestyle's podcast series Pyjama Party For 2.
She even took on a TikTok outfit challenge, going through seven colour-coordinated outfits with her kids for a 15-second video. "It was quite crazy. It took me about four hours!" she said.
Interestingly, even though she'd never shown her oldest son her content, he came home from school one day saying, "You are on TikTok!" One of his friends had seen her on the platform, she recalled with a chuckle. We're sure that must have been good for her street cred.
As a mum, she makes it a point to be herself on social media, Nity said.
"My followers want to know about my activities with my children. When I'm having a tough time with my kids, I show it. I won't say everything's perfect. I feel it's important for us to show the real thing to other mothers, so that they know."
The heartening part is when "I receive DMs saying, 'My children are the same! Don't worry Nity, you are not alone.' That feels so good… when you know that you are not the only one trying to survive, or trying to be your best."
Having a strong support system that includes family and friends doesn't just buoy you up mentally – it also helps to, er, protect you from spooky apparitions.
Recalling her days in the radio studios of the old Caldecott Broadcast Centre, she revealed having her fair share of unexplained creepiness – and even had to call on her mum and husband for help.
During the time of the move from Caldecott to the new Mediacorp Campus, Ria 89.7FM was the last station to move out of the premises, she remembered. And it didn't help that the radio building was old; had bare, clinical corridors; and was notorious for spooky happenings.
"I think I was the only (show) that was going on air during that time," she said, adding that she ended quite late at night.
"When I went on air, I would leave the door open, because I couldn't take it any more. I would see flashes – black flashes," she divulged.
She also heard sounds of doors being closed, "but when I checked, the door was open".
To make it worse, she was pregnant then. "When you're pregnant, you're very sensitive. And these 'things' like pregnant women!" she said.
"I think the 'things' knew that there was no one else there except for me."
She was so spooked that she asked her boss if she could have her husband accompany her at work. "He gave me the permission because I was heavily pregnant." And, "I was quite lucky because my sister was working in the newsroom, so once in a while, I'd ask her to come by and accompany me, because I was too scared."
Once, "I went on air, and then I heard some CD covers falling from the rack. When I turned around, there was nothing – the CDs were in place," she said.
And, on another occasion, while on a midnight shift, "I heard someone shout. Like, 'Ha!' That was really creepy. I called my mum and asked her to stay on the line until I finished my shift."
It could have been worse, though. "One of my colleagues told me that she saw a pontianak," which stood staring with "that blank stare". "I was like, 'Oh, my goodness. I hope I will never experience that!"
In spite of the increased heart rate, she stayed on, braving whatever might or might not have been there in the studio with her. Why? Because radio has been her passion for the last 16 years, asserted Nity.
"I love radio. I love broadcasting. I feel really blessed that I get to do what I love," she said.
"It's the intimacy with the listeners – they know you, and they feel like you are talking to them, one-on-one. It's a very special medium for me. Really, it's a theatre of the mind. You could be looking like this, but the way you describe yourself, people might think you look like Jennifer Lopez. Actually, you came to work wearing pyjamas. Nobody knows!
"It's something very unique. On TV, you have to be on point; you can't wear slippers to work. But in radio, you don't need all that. You just need the poise, the passion, the content, and voila, you're good to go. On TV, when you host, you have to follow the script. But on radio, it's just you and your personality, sharing the content in your own way."
Listen to the full Pyjama Party For 2 podcast to find out how Nity Baizura got her start in radio – she actually rarely talked when she was young – how she copes with social media mum pressure, and why having a good cry is her way of de-stressing.
New episodes of Pyjama Party For 2 are published every Sunday at cna.asia/podcasts.