Finding love on Tinder, CMB or Bumble? The hard truth about dating apps
Stress, anxiety and low self-esteem – looking for romance online can be a headache. CNA Lifestyle weighs the relationship pros and cons.
If you're a single woman who finds online dating somewhat crazy-making, you're not alone – and it's not your fault.
Take the story of Rachel Tan, a 32-year-old single mum who spent a year on dating apps but has now sworn off these for a reason.
 "Since 2015, I had been concentrating on raising my daughter, who's now five. Then, I purchased my own home in 2018. Finally, I felt my life had settled down nicely," recalled the former bank executive.
"So I set a resolution to just go on one date in 2020."
And so she downloaded a few dating apps: Tinder, CMB (Coffee Meets Bagel) and Bumble. As a newbie, it was a steep learning curve. "How to filter the fake accounts, sidestep would-be scammers, print-screen the person's image and do a reverse Google search, and adopt a 'if he looks too good to be true, he probably is' mindset," she shared.
'FREE-FOR-ALL-BUFFETS'
For Tan, it all felt a bit unusual. "While apps allow me to get out and meet more people, they feel like free-for-all buffets when you actually prefer a-la-carte dining. You've got to sift out the good from the bad. You swipe based just on a few photos and a short introduction, then wonder if perhaps you might have swiped away the right match," she shared.
"Then you have to filter the ones who are keen. You worry some might be weird or obsessive, based on their texting patterns. After that, you have to talk to them for a bit before deciding to meet them in person. Some back away when I tell them I have a kid," said Tan.
"No matter how secure you are, you always have it at the back of the mind that the guys you meet could be telling you white lies," she continued. "In most probability, they're meeting other people at the same time and to be honest, so am I – it's like a game of roulette. While out on dates, I notice them texting other women. Some say 'Oh, I'm only talking to you and another lady', or 'I've quit Tinder', but my friends will send me screenshots of the guy still being active on the app."
Despite making it clear from the start that she's looking only for a meaningful and committed relationship with single men, she has encountered men who later disclose that they want "friends with benefits" arrangements, who aren't technically divorced yet, or who're still married.
Sometimes though, friendships are forged. "I met someone who, like me, is keen on entrepreneurship. I also met someone with a passion for mixology, so we catch up occasionally for cocktail and spirits tastings," she shared.
"To me, the best outcome would have been to find someone who really likes you and wants to quit the app with you. However, this hasn't happened yet. I want to set a good example for my daughter by having high standards in terms of the company I choose to keep," she said.
Having recently started a new job as a private client development partner in the alcohol industry, Tan said: "I'm meeting a lot of new people organically so I've stopped the apps for the time being, and hopefully one day I'll meet someone who's right for me."
A GAMIFIED EXPERIENCE
We're keeping our fingers crossed for her – but have you also thought about the science behind all of these dating apps?
Well, it turns out it really is a bit like a game, literally. According to the online article The Psychology Of Using Dating Apps by Megan McClintock, dating apps are designed to offer a gamified experience, with cute badges to mark usage or membership status, frequent alerts reminding you to engage, and so on.
Psychologist Dr Loren Seiro was quoted saying: "Playing games on your phone releases endorphins, your body's exogenous painkiller. This can reduce your anxiety levels, which feels great, or can even spark the feeling of being 'high'."
Furthermore, "matching with someone … floods your brain with adrenaline because you feel like you've won something … unpredictable rewards cause more activity in reward regions of the brain. While the neurochemical reward systems can lead to excitement and short-term pleasure, it can also lead to addiction, burnout, and feelings of loneliness and isolation".
Another article, 6 Key Psychological Truths About Dating Apps on Psychologytoday.com, observes that "dating sites are in the business of keeping you swiping, looking at their advertisements, and (often) paying monthly fees, rather than finding you true love."
And then you've got all the lying that's happening. The same article highlighted a study that revealed 81 per cent of online daters admitted lying in their profiles about their age, height and weight.
And it's not even that successful in what it does – only 10 per cent of online matches lead to two people actually meeting up.
The way these apps seem to place limitless dating possibilities at your fingertips, creates a sense of FOMO, while making people casually "discard" a prospect with as much indifference as they would a disposable face mask.
WOMEN BURNING OUT
For women, this virtual ecosystem has a significant impact on their wellbeing.
One US study by Pew Research in 2020 found female users experiencing different levels of harassment. Around six in 10 said they continued to be contacted after they explicitly mentioned not being interested – and around the same number report receiving a sexually explicit message or image. Elsewhere, they get called an offensive name or even get threatened with bodily harm for the rejection.
No wonder statistics show that women are 54 per cent more likely to feel burned out by the whole process.
According to one article titled Associations Between Social Anxiety, Depression And Use Of Online Dating Platforms, which came out in October 2020 in peer-reviewed journal Cyberpsychology, Behavior, And Social Networking, "social anxiety and depression symptoms were positively associated with the extent of participants' dating app use".
THE EFFECTS ON MENTAL HEALTH
Enneagram trainer and relationship coach Cindy Leong, 34, has seen increasing numbers of clients presenting with mental health issues resulting from their use of dating apps.
"In a 2016 study, Tinder users were found to have lower self-esteem and more body image issues than non-users. Low self-esteem is a risk factor of a large number of mental health issues, including but not limited to depression," she said.
"Spending too much time on apps may also result in the person not having the real mental capacity for real people around them. It can also become addictive; one of my female clients was so addicted that even when she was out for dinner with friends, she spent all her time scrolling through dating apps."
She added: "If they are scammed online, it's even more complicated. One of my female clients met a guy, who even had an 'aunt' who spoke to her over Whatsapp, which made the story more credible. The lady went to Australia in an attempt to meet the guy, only to realise it was a scam."
Leong's advice? "To protect your sanity, agree to meet within a week of chatting. Reduce the number of hours you spend on dating apps. Don't take rejection personally. These people don't even know who you are. It's really unrealistic for someone to reject you only based on looks. There's more beauty in you than what's shown in the profile."
Meanwhile, Tan recalled that when she was "stressed by many baffling (online dating) encounters", she would meet girlfriends to "bitch and vent over wine", talk to guy friends or watch videos by dating advice expert @thematthewhussey for male perspectives, and exercise to keep fit "because self-love is more important than someone who doesn't appreciate you".
Despite the bad press, there's no denying dating apps are here to stay, having overtaken schools, universities, and offices as the preferred means of meeting potential partners since the early 2010s.
YES, THERE'S ALSO A PLUS SIDE
But it's not all doom and gloom. Used judiciously, these apps could result in stronger marriages – once people get hitched, of course.
Rachel DeAlto, Match's "chief dating expert", told theknot.com: "With these apps, there's a lot of intentional people coming to them. They really want to have a relationship. And when you have that intention and know what you're looking for, you enter into a relationship in a different way and I think that makes a huge difference."
Meanwhile, Cecily Gold Moore, Bumble's director of community experience, added: "When you have the strength and self-love to define how you want to be treated in a relationship, you can stay true to who you are throughout the process. Dating requires clear communication, setting boundaries, intentions, and expectations – and an understanding that if your intentions don't align, it's okay to move on."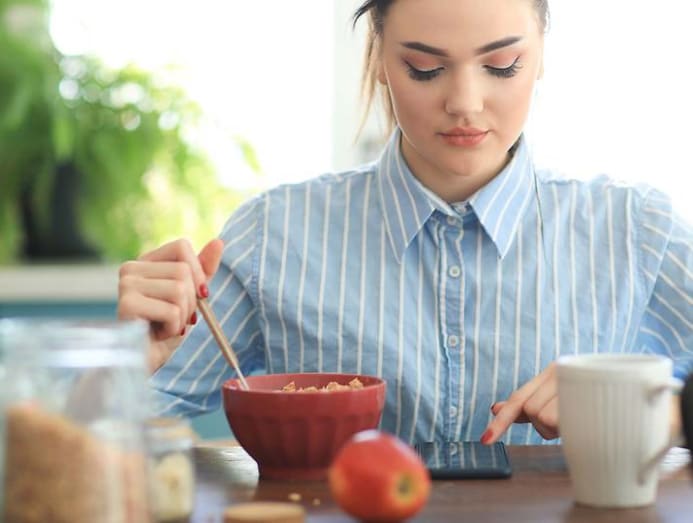 Ying Ying, a 45-year-old freelance producer who used CMB and Bumble after her divorce, recalled her experience.
"I knew I didn't wish to get remarried and didn't want kids, but wanted a serious, committed relationship with someone who wanted the same things," she said.
"I would always ask the guy on a first date to share why he's single and what he's looking for, to describe where his life is right now, and his most interesting or horrific experiences on the dating apps. Most didn't make it past the first or second date."
Eventually, after six disheartening months of meeting guys from the dating apps, a process which she likens to "trying to find a diamond in a dumpster", and where she occasionally despaired that she might be too old, she met her fiance.
"By the fourth enjoyable date where we talked for hours about everything under the sun, I told him I really enjoyed getting to know him better, and said I was looking for a serious relationship – not necessarily with him," she said.
"In the meantime, for us to forge a connection based on trust and honesty that could potentially lead to a relationship, we should both only see each other. Anytime he felt this arrangement wasn't working out and wanted to date around, all he had to do was say so, and we'd go separate our ways, without tears or drama."
They got engaged and moved in together after dating for a year and a half, and will celebrate their third anniversary in a few months.
So have they changed their minds about getting remarried?
"Well, after having been together a few years, we're open to tying the knot eventually — like when we're 70," she quipped.